Thursday, November 15, 2012
AMERICA'S

BEST

RACING

Thoroughbred Notebook


Presented by

NTRA



PHOTOS OF THE WEEK
top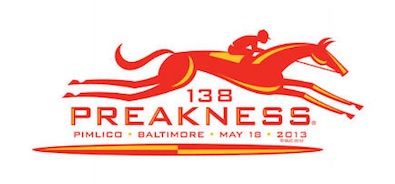 The Preakness Stakes has unveiled its 2013 logo (Image courtesy of a Maryland Jockey Club press release)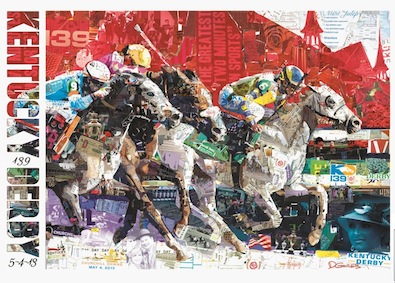 The official artwork of the 2013 Kentucky Derby (Image courtesy of a Churchill Downs press release)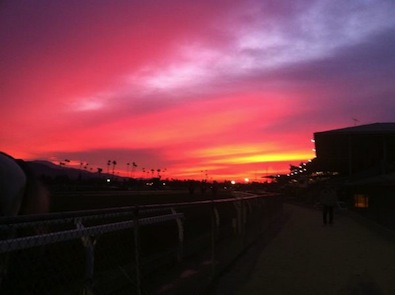 A spectaular sunrise over Santa Anita Park in Arcadia, CA (Image via the @ClockersCorner Twitter feed)
FOLLOW US ON TWITTER

@ABRLive
top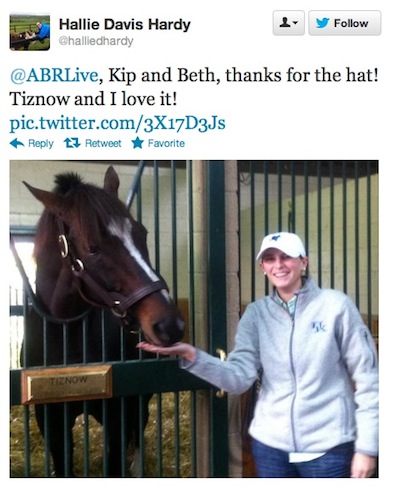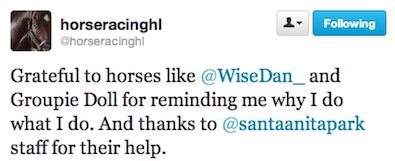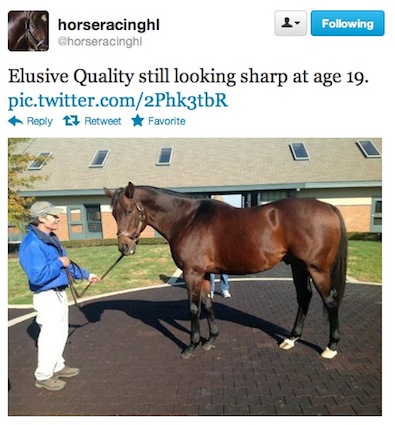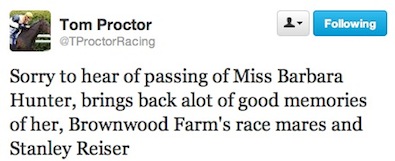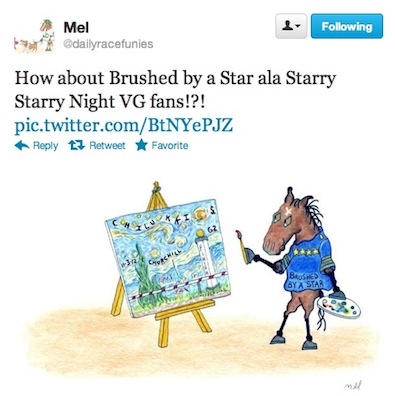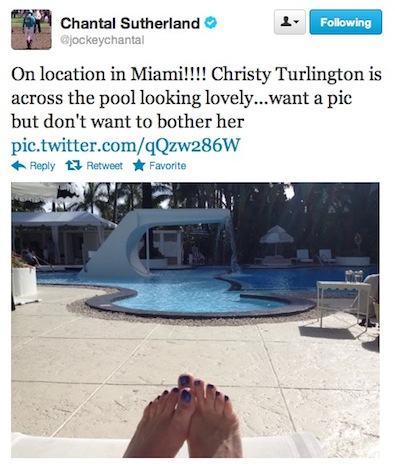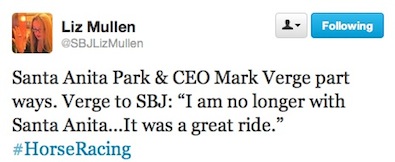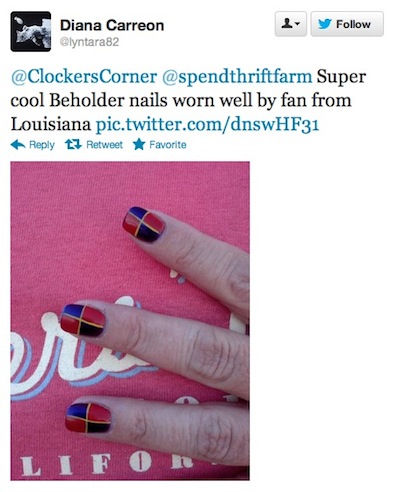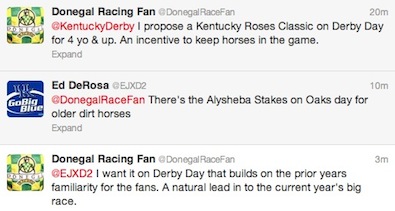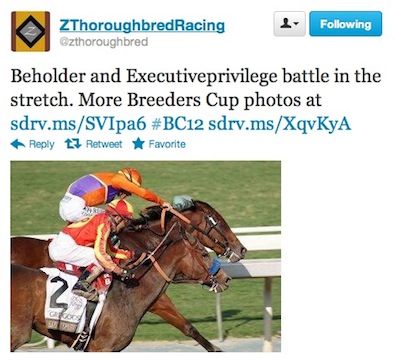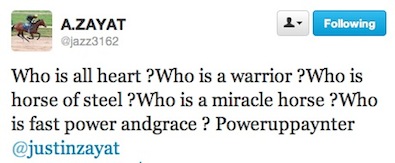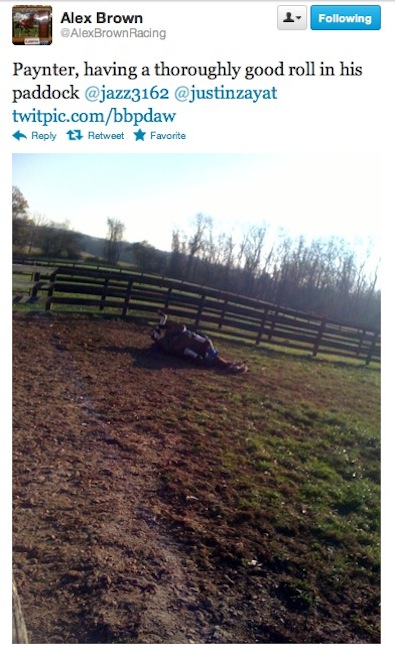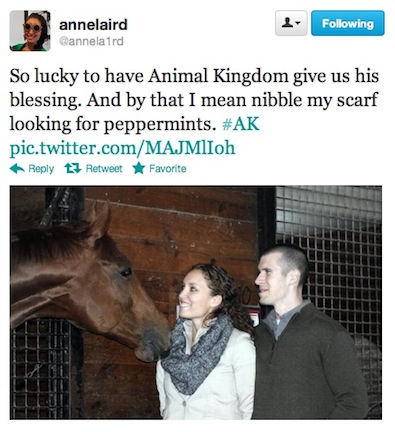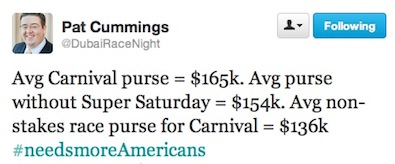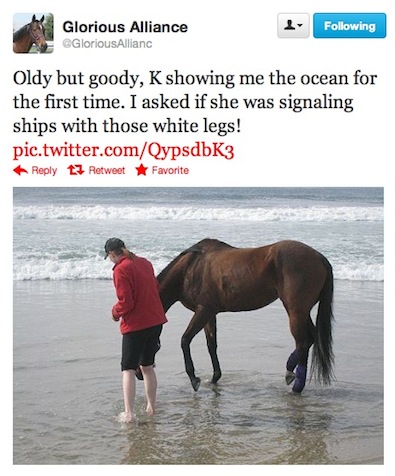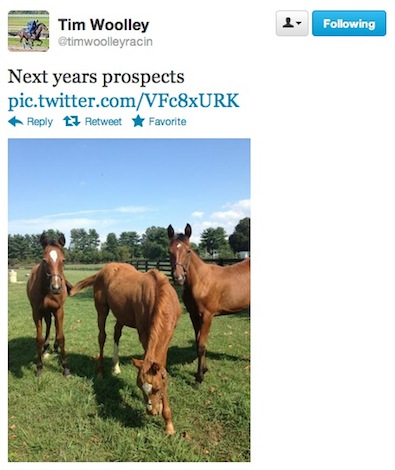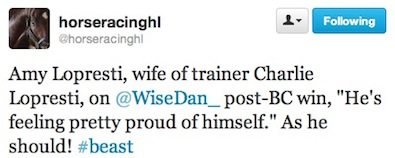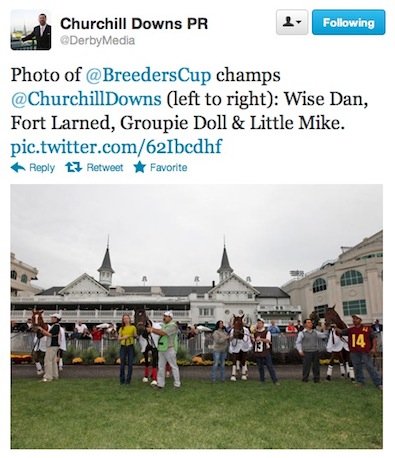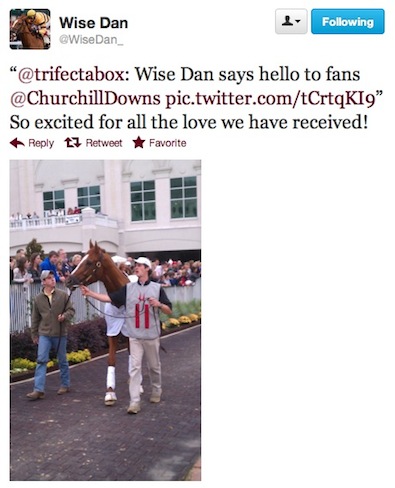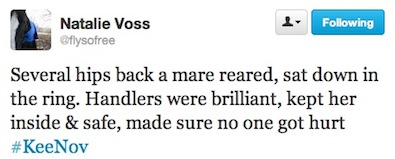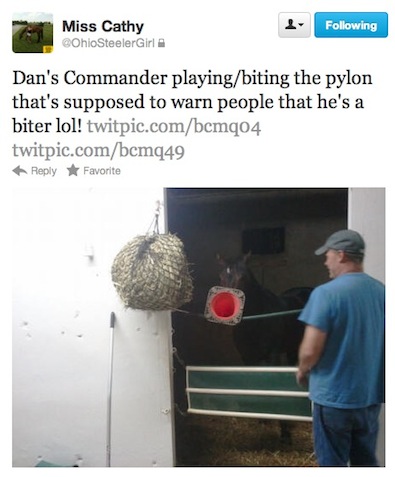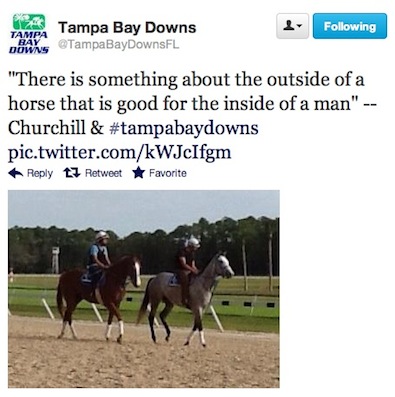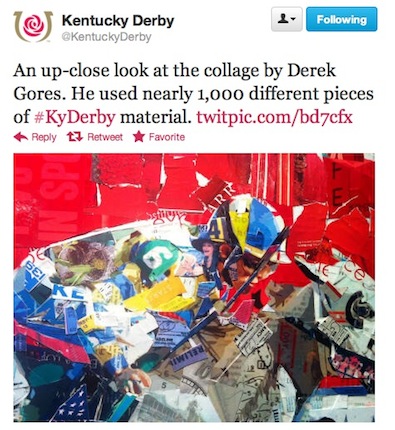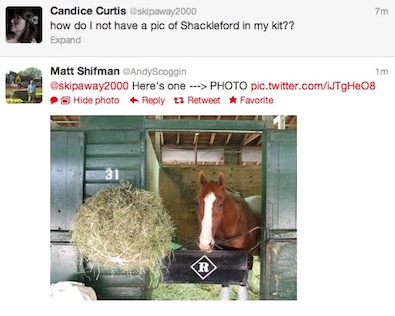 | | |
| --- | --- |
| (Image courtesy of HRH Princess Alia Al Hussein) | Born February 13th 1956, HRH Princess Alia Al Hussein is the eldest daughter of his late Majesty King Hussein Bin Talal of Jordan. Finishing school in Amman and the UK, Princess Alia then graduated from the University of Jordan with a BA in English Literature and later was awarded an honorary Doctorate in Veterinary Medicine from the University of Science and Technology, Jordan. Princess Alia's prime concern for humanitarian issues has been a driving force in the various work she has been involved with. Working and supporting organizations both locally and internationally, such as National Society for Meningitis, Development of Rural Women, President of the Royal Jordanian Equestrian Federation, The Brooke Hospital, Compassion in World Farming, member of the honorary committee of the Spanish Riding School, Vienna, Governor of the British Arab Horse Society, board member of Intercultural Journeys USA, honorary president of the UK based Peace and Prosperity Trust, among others. Last but not least, Princess Alia is the founder and president of the Princess Alia Foundation (PAF) which works to promote compassion and respect towards all creation and has a number of projects, including Equine therapy for children on the autistic spectrum and other special needs, massage and riding therapy for the rehabilitation of retired and/or injured horses, youth development, education, community support and development, conservation of wildlife, slaughterhouse reform, to name a few. HRH is living in Jordan and is married with three children. |
TWO MINUTE LICK WITH HRH Princess Alia Al Hussein
top
Name: Alia Al Hussein

What I do for a living: Too much - and not enough!

How and when I was introduced to Thoroughbred racing: National Velvet (the book) and subsequently Dick Francis.

My favorite racetrack: Ascot

My favorite Thoroughbred racing event: The Melbourne Cup

Other sports/teams I follow: Endurance riding, Nashama polo, show jumping, World Cup soccer, tennis, fencing, Tae Kwon Do, MMA, gymnastics.

What I would like to see more of in Thoroughbred racing: Individual respect for the horse, whatever its success.

What I would like to see less of in Thoroughbred racing: Poor sportsmanship between owners, less waste of horses (over-breeding) leading to meat-markets.

Three words that define what Thoroughbred racing means to me: beauty, excitement, potential.

First Thoroughbred track I ever attended was: Melbourne

Favorite all-time Thoroughbred: Black Caviar

My personal best moment in the sport of Thoroughbred racing: My late father predicting the winner to me in the collecting ring (against the hopes of those around us), and being proved correct

Best racetrack food can be found at: The track at which one is hungriest on that day!

My favorite jockey: Lester Piggott

My favorite trainer: Santiago Lopez

My heroes: The horses, all of them, from winners to non-runners.

Person in Thoroughbred racing I'd like to have dinner with: My lovely sister Haya.

My philosophy on life: Creation is one indivisible whole. What touches any part of it touches us all. We owe it to ALL of Creation (and most particularly to ourselves) to treat ALL with compassion and respect. There is no such thing as "No point in trying", nor "What difference can I make?" EVERY miniscule positive act, from a prayer, to a smile, to a physical act CAN make a huge difference for the good, and despite the fact that we may not be conscious or aware of the eventual effects of what we do, we are responsible for them and effects they DO HAVE.

Favorite quote or motto: Privilege does not excuse discourtesy.

Favorite animal other than a horse: Cat and dog

Favorite non-Thoroughbred racing sports event I have attended: Sydney Olympics

Favorite food: Bread and butter

Favorite vacation spot: Palm Beach

Favorite city: Amman

Favorite Musician/band: Chris Rene, The Bee Gees, Cat Stevens

Favorite all-time movie(s): The Lord Of The Rings trilogy, The Harry Potter films, The Message, The Shawshank Redemption, Star Wars, Lawrence of Arabia, Ben Hur, Sense and Sensibility, The Mask of Zorro, Phar Lap, The Man from Snowy River, Seabiscuit, Secretariat, The Magnificent Seven, True Grit.

Favorite TV show: Fawlty Towers, Dad's Army

Favorite hotel: Chalets of Ritz Carlton (Al Manama)

What I drive: Range Rover

Pet peeve: Hypocrisy, selective memories, double standards, preaching opposite of what one practices and, worst of all, when not apparently seeing that one is doing it!

Favorite movie about horse racing: Seabiscuit

Alma Mater: University of Jordan

Favorite radio shows/channels: Radio One

Best book I recently read: Master and Commander series (all of them!)

Favorite memento: Special ring

Favorite dessert: Raspberry sorbet

Favorite drink: Lemonade

Favorite scent: Magnolia

What I like about my job: It's a chance to really DO something to (hopefully) make a difference for others, and it is absorbing (thus can help to focus and get other issues in proportion inside). It is certainly humbling, not just how much we take for granted, how much we SHOULD be far more consciously thankful for and content with, but also how much decency and good there is around us in the most unexpected places and people.

Favorite Tech gadget: iPhone (the music-internet-camera and phone advantages combined in such a user-friendly way are a great).

No. 1 Bucket List Item: This is going to sound super corny but, truly, peace of mind!
FAN PHOTO OF THE WEEK top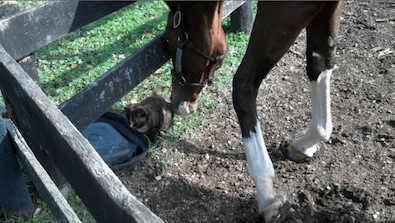 Congratulations to photographer Crystal Conway, winner of this week's Fan Photo Contest! From Crystal: "Get Stormy at Crestwood Farm 11/4/2012 . 'Clyde' was much more interested in checking out what the barn cat was doing rather than visitors that came to see him. Everyone loves those white stockings on Get Stormy!" Want in? E-mail your submissions with a brief caption to photos@NTRA.com!
VOICES
top
FROM THE GRANDSTAND
top
Elliott Walden, President and CEO of WinStar Farm, quoted in Thoroughbred Daily News on safeguards WinStar took during the recent sale of Summer Bird to the Japan Bloodhorse Breeders' Association:
"We worked the deal out so that WinStar has the option of buying back Summer Bird at the end of his stallion career, and we'll hold money in escrow to ship him back to the United States at that time so that he can enjoy the proper retirement."
Trainer Sir Henry Cecil, quoted in Thoroughbred Daily News, on his trainee Frankel being named Cartier Horse of the Year for a second straight year:
Frankel, with his brilliance, has been a great ambassador for British racing and has captured the hearts of so many people, some of whom have never been racing in their lives. Thank you Frankel, and to everyone that has voted for him."
---
MULTI-MEDIA top
Video: Can't wait to see Zenyatta's little sister run on Friday? Here she is training for her debut race (@TVG's Twitter feed)

Photos: Haskell winner Paynter continues down the road to recovery (The Blood-Horse)

Video: Victory Garden brings a new life into the world with her first foal (Team Valor's Facebook page)

Video: Looking back at last May's Iroquois Steeplechase day (@TNSteeplechase Twitter feed)

Photos: Fall's fashions have an equestrian theme (New York Post)

Photo: Need a vintage horse racing dress for Triple Crown season? This one is pretty cool (Etsy)
---
IN THE NEWS
top
Breeders' Cup Juvenile Sprint winner Hightail among nine entered in Delta Downs Jackpot (Daily Racing Form)

Zenyatta's 3-year-old half sister to make racing debut Friday at Betfair Hollywood Park (The Blood-Horse)

Dominguez breaks record for annual earnings record by a jockey (Daily Racing Form)

A Horse of the Year paradox? Not really (Daily Racing Form)

Verge out as Santa Anita CEO (Daily Racing Form)

Baffert planning all-out attack on CashCall Futurity (Daily Racing Form)

Five notable horse retirements (The Saratogian)

Cigar Mile a possibility for Groupie Doll (Daily Racing Form)

Animal Kingdom pointed toward $10 million World Cup in Dubai—again (The Baltimore Sun)

Animal Kingdom targets Gulfstream Park Turf Handicap as prep for Dubai World Cup (The Blood-Horse)

Shackleford not yet retired (SunHerald.com)

Fair Grounds to open Thanksgiving day (The Blood-Horse)

Louisiana Derby being cross-promoted with local road race (WWLTV.com)

Q&A with trainer Al Stall (Louisville Courier-Journal)

Judging horse racing by TV ratings is illogical (ESPN)

Idle periods for 2-year-old Thoroughbreds: Negative or Necessary? (The Horse)

Kansas native Janis Whitham has winning horse Fort Larned at Breeders' Cup (The Garden City Telegram)

Locally-bred horse finishes fifth in Breeders' Cup Marathon (My Eastern Shore Md.com)

Classic keyed another McGoey comeback in BC Betting Challenge (America's Best Racing)

Kentucky winners still create Thoroughbred sales success (The Lane Report)

Want to get paid to go to top horse racing events and spread the word about the greatness of the sport? Apply to ride on the ABRV (America's Best Racing)

NTRA's Horse PAC reports success in recent election cycle (The Horse)

Latest debate over gambling in Michigan tied to proposal at horse racing tracks (Michigan Live)

Unbeaten Frankel gallops away with award (UK.Eurosport.yahoo.com)

Dettori in spotlight after positive test for banned substance (BBC)

Breakfast of Champions: What's in the nosebag? (CNN.com)

Australian racing's problems with EPO (News.com.au)

Horse racing accounts for 78% of gaming revenue in South Africa (The Citizen)

For military veteran Aaron Heliker, horses prove the best therapy (The Register-Guard)

Rewards for Ex-Racing Thoroughbreds (Horse Channel.com)

OTTB Showcase: Alydeed's Leader (a.k.a. "Norman") (Paulick Report)

Arkansas scores one for the OTTBs in his first Grand Prix Win (The Chronicle of the Horse)

Owners abandoning livestock as hay prices skyrocket (KOAA)
---
IN THE BLOGOSPHERE
top
Horse racing community joins together in the wake of Hurricane Sandy (Paulick Report)
Animal Kingdom: The comeback kid (Past The Grandstand.com)
Is three enough for My Miss Aurelia to win an Eclipse? (Horse Racing Nation)
Taking a look at some of the Horse of the Year candidates (All Equine All the Time)
Scouting the 2-year-olds (Daily Racing Form)
Pino Power (WBAL.com)
Why I like "At the Races with Steve Byk" (Horse Racing Business.com)
My fantasy horse racing league draft (Xpressbet.com)
Catching up with Kerry Thomas, founder of Thomas Herding Technique (Gina McKnight)
NHC NEWS
top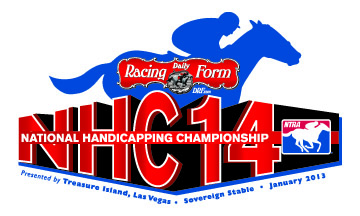 IT'S COMING DOWN TO THE WIRE TO GET QUALIFIED!
Three NHC seats are up for grabs in the DRF BETS NHC Wild Card Challenge. Make eight (8) $20 Win wagers on Saturday, November 17 on Aqueduct, Hawthorne, Hollywood Park or Woodbine races. There is a $40 registration fee. You must be a DRF Bets Member to participate. Click here to join now. Click here for contest details.
Horsetourneys.com will be hosting online events November 17, 18 and 24. Sign up today!
NHCQualify.com will be hosting an online event on November 25. Click here for contest information.
Thistledown will be hosting a live NHC event on November 17. Get registered today! Click here for the official rules.
The 2012 Aqueduct Racetrack Handicapping Challenge is taking place on November 17-18. There is a $400 entry fee, and all entry fees are returned as cash prizes! Click here for registration information.
TwinSpires.com has started a new series of $35 satellites. The twenty-seat TwinSpires Online Handicapping Championship is quickly approacing and the time to qualify is running out. Check out the satellite schedule and choose the one right for you. Earn your chance to compete for twenty seats to the NHC on November 24 at Twinspires.com.
The Hawthorne Super Qualifier is back on November 24-25. The cash prize pool is set at $60,000 and eight NHC seats are up for grabs in this huge NHC November event. Click here for details and registration information. Don't miss out on one of the last on-track contests in 2012!
Can you best two of the best handicappers in the country? Fair Grounds is hosting a "Beat the Champs" contest December 15. Three seats for NHC 14 will be awarded and cash prizes will be paid out to all players who finish ahead of past NHC Champions and Louisiana natives, Judy Wagner and Michael Beychok. Click here for details and entry form.
DAILY RACING FORM NHC TOUR LEADER BOARDS
Curtis Meyer (Parker, CO) is atop the second-half Leader Board with 10,337 points. Mark Streiff (Mission Viejo, CA) is showing the way on the full Leader Board with 15,648 points.
Click here to view the overall full Leader Board standings.
Click here to view the second-half full Leader Board standings.
| | | | |
| --- | --- | --- | --- |
| Name | 2H LB Points | Name | Full LB Points |
| Curtis Meyer | 10,337 | Mark Streiff | 15,648 |
| Mark Streiff | 8,675 | Mark McGuire | 13,804 |
| Jacque Hong | 7,521 | Christopher Larmey | 12,089 |
| Judy Wagner | 6,477 | Curtis Meyer | 11,150 |
| Ron Rippey | 6,186 | Rhonda Sylvester | 10,803 |
Player Profile

Joe Scanio

Joe is from Brooklyn, NY. This will be his ninth NHC appearance. For the last two years, Joe has been acting in an Off Broadway play called "Big Gay Italian Wedding".

Click here to read Joe's complete NHC player biography.
CALENDAR
top
RACING TO HISTORY
top
Nov. 15, 1990: Alydar, one of the top sires in America and runner-up in all three Triple Crown races to Affirmed, was euthanized at Calumet Farm.
Nov. 15, 1995: Jockey Julie Krone rode her 3,000th career winner, in the fourth race at Aqueduct, aboard Dustin's Dreamer.
Nov. 16, 1951: The Pimlico Special, then a winner-take-all $15,000 contest, became the first race to be televised nationally. The winner was C.T. Chenery's Bryan G.
Nov. 16, 2009: Hall of Fame trainer Bobby Frankel died at age 68 in Pacific Palisades, Calif., after a long battle with lymphoma.
Nov. 18, 1961: Jockey Eddie Arcaro rode his last career race, finishing third on Endymion in the Pimlico Futurity. He retired with a then-record $30,039,543 in purses.
Nov. 18, 1972: Secretariat capped his two-year-old racing season with a 3 1-2 length victory in the Garden State Stakes at Garden State Park. The winner's share of the purse was $179,199, the most Secretariat ever won in a single race.
Nov. 18, 1979: In the eighth race at Aqueduct, Laffit Pincay Jr. had his 4,000th career win, aboard Gladiolus.
Nov. 18, 2011: Trainer Steve Asmussen registered his 6,000th career victory when he saddled Basalt to win the first race at Remington Park in Oklahoma City. Asmussen, 46, became the youngest trainer to hit the 6,000-win plateau and the fifth trainer overall to reach that mark.
Nov. 19, 1956: Jockey Fernando Toro won his first career race at the Hipodromo in Santiago, Chile.
Nov. 19, 2003: Hall of Fame jockey Russell Baze reached the 400-win mark for the 11th time in the last 12 years when he guided Hooked On Niners to victory in the third race at Golden Gate Fields.
Nov. 20, 2004: Trainer Steve Asmussen established a new single-year record for victories when Coronado Rose won the 9th race at Delta Downs in Vinton, La. The victory was Asmussen's 497th of the year, surpassing the previous record set by Jack Van Berg in 1976. Asmussen went on to win a total of 555 races in 2004.
Nov. 21, 1971: Secretariat completed his preliminary training at Meadow training center.
Nov. 21, 2011: Five-year-old gelding Rapid Redux registered his 20th consecutive win, scoring in a starter allowance race at Mountaineer Park in West Virginia. The 20th straight victory represented a modern, North American record.
Nov. 22, 1990: Jockey Pat Day notched his 5,000th career winner aboard Screen Prospect in the Falls City Handicap at Churchill Downs.
Nov. 22, 2003: Trainer Bobby Frankel established a new single-season record for Grade/Group 1 wins (24) when Continuously won the Hollywood Turf Cup. The previous mark of 23 was held by Irish trainer Aidan O'Brien.
Nov. 23, 2006: Horse racing returned to the Fair Grounds in New Orleans for the first time since the devastation wrought by Hurricane Katrina. A record opening day crowd of 8,732 watched the action on a warm Thanksgiving afternoon.
Nov. 23, 2007: Trainer Todd Pletcher saddled five winners and broke his own single-year earnings record of $26,820,243 set in 2006.
Nov. 25, 1997: Officials from Churchill Downs and the Maryland Jockey Club announced a new method for drawing post positions for the Kentucky Derby and the Preakness Stakes. The traditional blind draw would be held to establish a selection order, then a horse's owner/trainer or authorized agent would choose his preferred post position among those still available.
Nov. 25, 2007: Hall of Fame jockey Bill Hartack died of a heart attack at age 74. Hartack, along with Bill Shoemaker, was one of two jockeys to win the Kentucky Derby five times.
Nov. 26, 1946: American Air Lines transported six horses from Shannon Airport, Eire, Ireland, to Newark, N.J., completing the first trans-Atlantic flight for Thoroughbreds. The plane arrived in the U.S. on Nov. 27.
Nov. 26, 1992: Sandy Hawley became the ninth North American rider to win 6,000 races. His record victory came aboard Summer Commander in the second race at Greenwood Racecourse.
Nov. 26, 2001: "Seabiscuit," Laura Hillenbrand's best-selling book about the rags-to-riches story of a 1930s Thoroughbred champion and the colorful people associated with him, was honored with the United Kingdom's prestigious "William Hill Sports Book of the Year" award.
Nov. 28, 1982: The brilliant Landaluce, who won her five lifetime starts by a total of 46 1/2 lengths, died of a viral infection. She was buried in the infield at Hollywood Park, where she had won her first two races. Trained by D. Wayne Lukas, Landaluce was later voted champion two-year-old filly of 1982 over another undefeated filly, Princess Rooney.
Nov. 28, 2009: After an eight-year slumber, Miami's Hialeah Park opened its doors to Quarter Horse racing, attracting a crowd of 26,874.
---
WEEKEND STAKES RACES top
SATURDAY, NOVEMBER 17
Delta Downs Jackpot Stakes, 2yo, $1,000,000, Grade III, 1 1-16M, Delta Downs
Delta Downs Princess Stakes, 2yo fillies, $500,000, Grade III, 1M, Delta Downs
Mrs. Revere Stakes, 3yo fillies, $175,000, Grade II, 1 1-16M (T), Churchill Downs
Discovery Handicap, 3yo, $150,000, Grade III, 1 1-8M, Aqueduct
Delta Mile Stakes, 3&up, $150,000, 1M, Delta Downs
Treasure Chest Stakes, 3&up (f&m), $150,000, 1M, Delta Downs
Safely Kept Stakes, 3yo fillies, $125,000, 7F, Laurel Park
Commonwealth Turf Stakes, 3yo, $100,000, Grade III, 1 1-16M (T), Churchill Downs
TUESDAY, NOVEMBER 20
Cornucopia Stakes, 3&up (f&m), $75,000, 6F, Parx Racing
WEDNESDAY, NOVEMBER 21
Fabulous Strike Handicap, 3&up, $200,000, 6F, Penn National
Day Lilly Stakes, 3&up (f&m), $100,000, 6F, Penn National
Swatara Stakes, 3&up, $100,000, 1 1-16M, Penn National
THURSDAY, NOVEMBER 22
Falls City Handicap, 3&up (f&m), $150,000, Grade II, 1 1-8M, Churchill Downs
Fall Highweight Handicap, 3&up, $150,000, Grade III, 6F, Aqueduct
Hollywood Prevue Stakes, 2yo fillies, $100,000, Grade III, 7F, Betfair Hollywood Park
My Charmer Handicap, 3&up (f&m), $100,000, Grade III, 1 1-8M (T), Calder
Thanksgiving Handicap, 3&up, $100,000, 6F, Fair Grounds
---
MORE
TURN OF FOOT
top
Turn of Foot: Who do you like in this Saturday's Delta Jackpot? Tweet your answers to @ABRLive!