Thursday, April 12, 2012
AMERICA'S

BEST

RACING

Thoroughbred Notebook


Presented by

NTRA



PHOTOS OF THE WEEK
top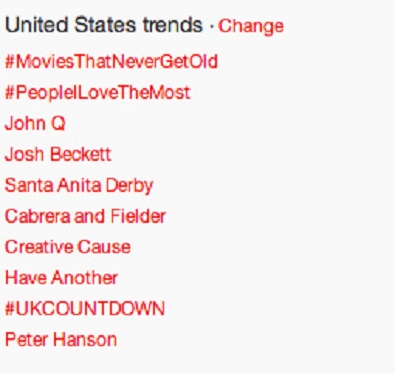 The Santa Anita Derby rules Twitter on Saturday, making up 1/3 of the most-talked about subjects on Twitter in America with I'll Have Another, Creative Cause and the Santa Anita Derby all trending nationally.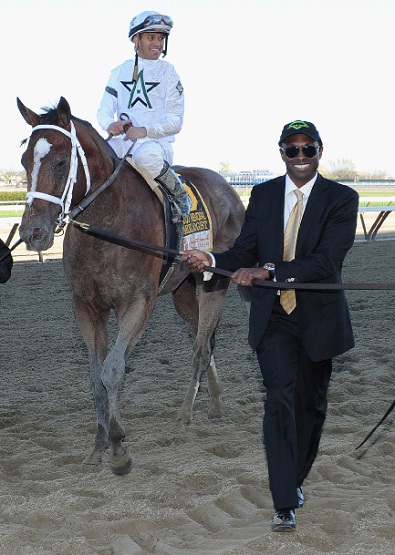 New Jersey Nets head coach Avery Johnson helped lead Gemologist into the winner's circle, and took part in the winning presentation with owner Elliott Walden of WinStar Farm, jockey Javier Castellano, and trainer Todd Pletcher. Johnson is a close friend of Walden and Kenny Troutt, owner of WinStar Farm. (Image courtesy of NYRA, Adam Coglianese)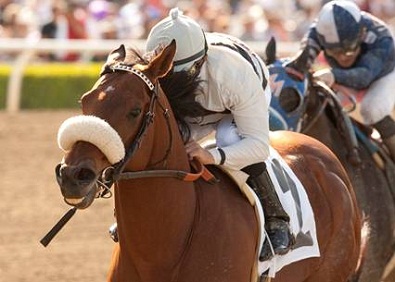 Mike Smith scores his 5,000th career victory aboard Amazombie in the Grade II, $150,000 Potrero Grande Stakes in front of a crowd of 33,166 at Santa Anita Park. (Image courtesy of Benoit Photo)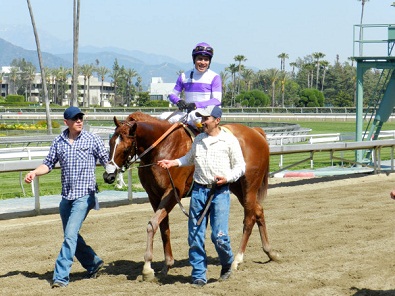 I'll Have Another looks very proud of himself returning to the Santa Anita Derby winner's circle after his gutsy duel with Creative Cause. (Image courtesy of Penelope P. Miller)
FOLLOW US ON TWITTER

@ABRLive
top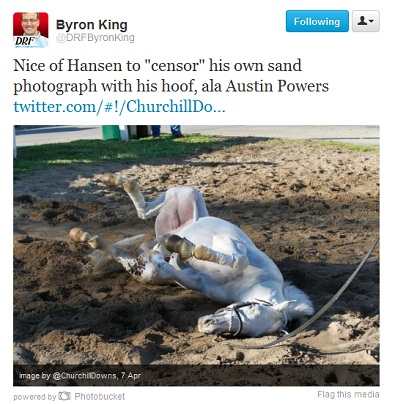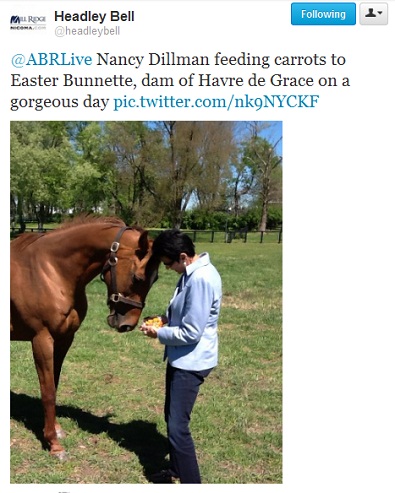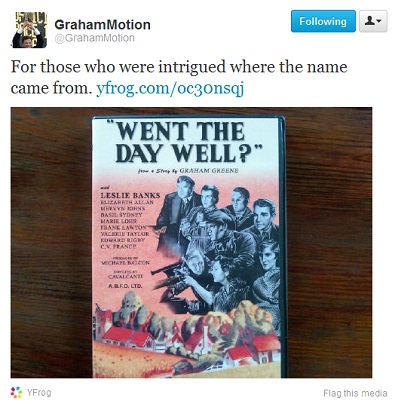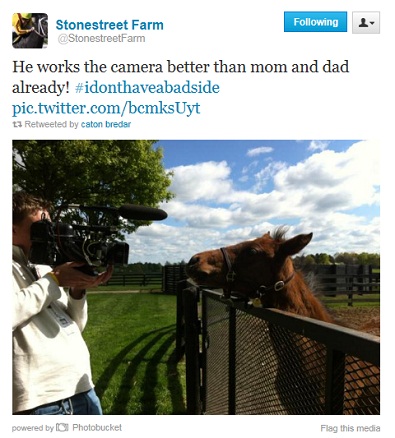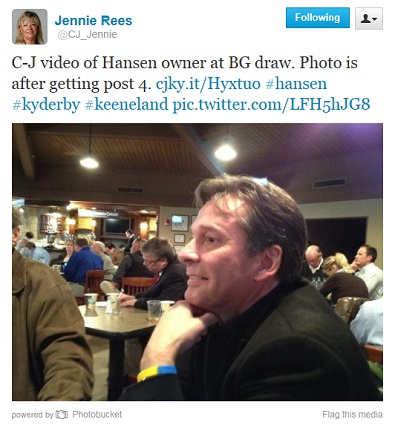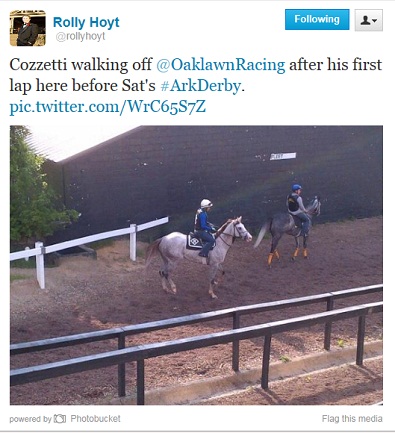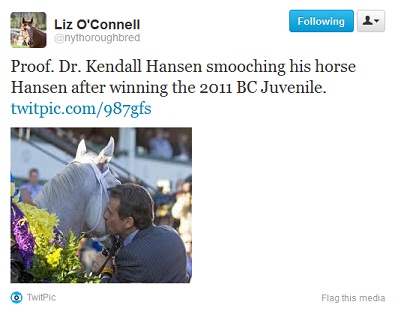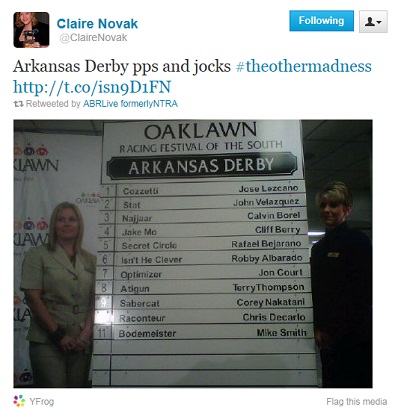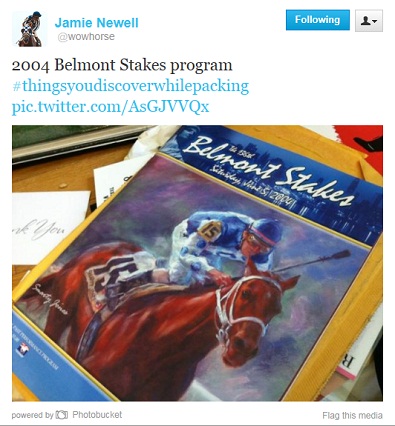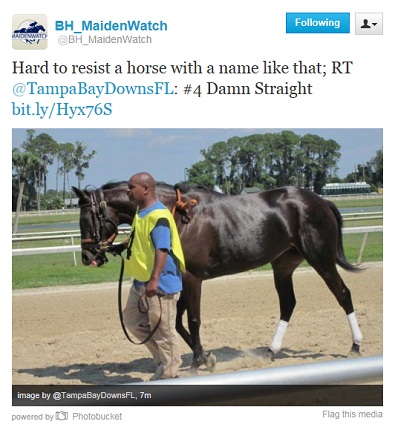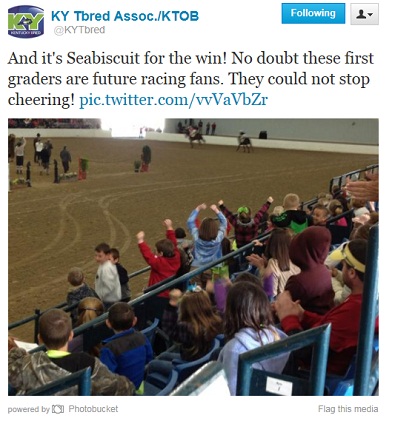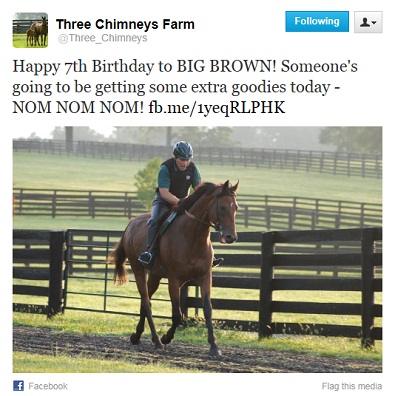 | | |
| --- | --- |
| Image courtesy of HorsePhotos.com | Longtime track announcer Dave Johnson was the voice of the Triple Crown for a quarter century and is best known for his signature line — "And down the stretch they come!" He has won Media Eclipse Awards for his work in both television and radio, and he currently hosts the popular horse racing show "Down the Stretch" on Sirius/XM satellite radio. He also is a favorite horse racing guest of TV talk show host David Letterman. |
TWO MINUTE LICK WITH DAVE JOHNSON
top
Name: Dave Johnson

Birthplace: St. Louis, Missouri

My favorite childhood memory: Going to Fairmount Park in Collinsville, IL, with my mom, dad and grandparents.

Most influential person in my career: Bill Fisher, who hired me as the track announcer, replacing Fred Caposella, at Hialeah Park for the 1971 season.

My out-of-the-box idea for Thoroughbred Racing: Have the winning lottery numbers (for a big city like New York) determined by a live, televised horse racing every evening during the late news. Ten horses racing, with numbers (0-9) given in the paddock randomly, after the lottery has closed. This race would not be for pari-mutuel betting, just for the lottery. Can you just imagine how many new players horse racing could get through this televised two minute excitement every night? This is how we would educate the guy on the street about our sport when they see how much fun can be had for a buck! They would watch, and the station that telecasts the race would get a huge bump in their number of viewers. Makes for a win/win situation.

-Or-

The running of major races at half-time of football games (like we did at ABC Sports for the Woodward one year).

How I was introduced to Thoroughbred Racing: My parents and grandparents at Fairmount Park.

Other sports/teams I follow: Baseball (Yankees and St. Louis Cardinals), football (Redskins, Rams, Seahawks) and tennis.

Why I love competing in Thoroughbred racing: Because at age 70, I can still compete, even if it is against other bettors through the windows.

My Heroes: My mom and dad, Stan Bergstein, Michael Bloomberg and Franklin Roosevelt.

My favorite athletes of all-time: Stan Musial, Sam Huff, Bob Gibson, Bob Pettit, Bill Bradley, Bill Shoemaker, Bill Hartack and Eddie Arcaro.

Most treasured possession/memento: My Eclipse Awards and my Actor's Equity Card.

A Pet Peeve: When classless track announcers steal my signature phrase and my delivery of "and down the stretch they come." Why don't they come up with something original that is their own signature?

What book(s) I am reading or have recently read: Unbroken, John Kennedy: Elusive Hero, Ghost Light

Favorite Magazines: Horseplayer Magazine, Travel and Leisure, The Nation

Favorite websites I visit daily/weekly: Paulick Report, Huffington Post, The Daily Beast, ESPN.com, Playbill, DRF.com

Gadget I cannot live without: Laptop computer

Hobbies away from Thoroughbred Racing: Broadway shows (I have been involved in the production of two successful Broadway hits: Noises Off and The Producers), piano jazz, and gardening on my terrace.

Favorite movies: The Producers (1968), Bananas, Phar Lap, Down Argentine Way, Casablanca, The Magic Face, The Shawshank Redemption, Best in Show, Waiting for Guffman, any movie with Fred Astaire.

TV shows I watch: Hardball, Late Night with David Letterman, Charlie Rose, SportsCenter, American Dad, Morning Joe.

Favorite foods: Pasta putanesca, enchiladas suiza (non-frozen), crab cakes, cold chicken curry soup.

Favorite vacation spot: London during Royal Ascot.

What I drive: Rental cars, since I gave away my 1986 Honda Prelude after 9/11.

If I could be a guest on any TV talk show it would be: Charlie Rose

If I could appear on any television show it would be: Saturday Night Live

If I could be on stage with any musical group I would play what instrument: Percussion, with Foster the People

Favorite Musician/Band: Tony Bennett

Favorite Actor: Rod Steiger

Newspaper I read daily: New York Times

Favorite artist: Al Hirschfeld

I'd like to have dinner with the following three people: Living: Bill Clinton, Fidel Castro, Mel Brooks; dead: Franklin Roosevelt, Joe Hirsch, Lady Di.

Best racetrack food can be found at: Fair Grounds in New Orleans! Best soup: shrimp and corn chowder; best po-boy: corned beef; then, finish with bread pudding – the best meal in the country for less than $15.

Accomplishment I am most proud of: I guess, all those race calls of mine from the 1960s though the next 50 years that are floating out there in cyberspace. Long after I am gone, someone will punch up a replay of some ancient ABC or ESPN race that I called, and it will be the audio history of that event for that moment, which is a very humbling thought.

My philosophy on life: From Charlsie Cantey: "Don't sweat the small stuff, 'cause it's all small stuff."

Favorite quote or motto: "The more things change, the more they stay the same."

Things I collect: Horse figurines of all styles and all periods.

Favorite charities: Don MacBeth Fund, the Thoroughbred Retirement Foundation, Recycle for Ex-Racers (TampaTROT.org), Broadway Cares/Equity Fights AIDS.

Celebrity/prominent personality friends include: Tim Conway, Sam Huff, Chris McCarron, Charlsie Cantey.

Favorite authors: Frank Rich, John Grisham, David Baldacci, David McCullough, Laura Hillenbrand.

Favorite animal other than a horse: Dogs… especially Cocker Spaniels and Pulik

What actor would play me in a movie: Kevin Spacey, Robert Wagner or Nathan Lane (if it's a musical).

Favorite non-Thoroughbred racing sports event I have attended: 1967 World Series- three games in St. Louis. The St. Louis Cardinals beat the Boston Red Sox in 7 games.

3 words that define what Thoroughbred Racing means to me: Excitement, style, gambling

What historical figure do you most identify with: Regis Philbin – he's always busy working, seems to enjoy life, his work, living in New York City, and the people he works with....what more can one ask for?

What living person do you most admire: Jimmy Carter: after being President of the United States, to do so many good things around the world in diplomacy and peacekeeping realms and then make such an impact with Habitat for Humanity. He sets a high standard for us all.

No. 1 Bucket List Item: To go to the Melbourne Cup.
FAN PHOTO OF THE WEEK top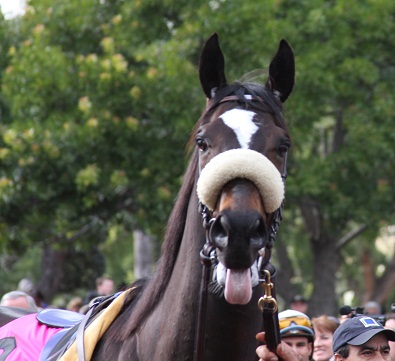 Congratulations to photographer Tammy Stawicki, winner of the April 11 Fan Photo Contest! From Tammy: "It's Zenyatta in the paddock before the 2010 Santa Margarita." Want in? E-mail your submissions with a brief caption to photos@NTRA.com!
WING'S WATCH
top
NTRA.com's Eric Wing offers up insights on who he thinks are the Top 40 Triple Crown contenders. (Wing's Watch PDF)
VOICES
top
FROM THE GRANDSTAND
top
Havre de Grace owner Rick Porter, quoted by Mary Rampellini in Daily Racing Form, on the decision to bypass the Apple Blossom Handicap:
"When you take a horse like Plum Pretty, who won the Oaks, ran a minus Ragozin number galloping in the Cotillion at Philadelphia, and we've got to spot her six pounds, you just can't give a horse of that quality six pounds."
Dr. Kendall Hansen, co-owner of Hansen, on how he is coping with his case of "Derby fever":
"It's bad. I've actually told my nurses to keep an eye on me and make sure I'm focused. I've never had a freaking tremor in my life, and a couple days ago there was a time where I had a little essential tremor here, and the only thing I could figure--it was the 5th of April, just exactly 30 days [before the May 5th Kentucky Derby]. And I'm like, 'Oh my God, I've got adrenaline kicking in 30 days ahead of time. How am I going to handle this for 30 more days?'"
Barry Irwin of Team Valor International on Toyota Blue Grass Stakes entrant Howe Great:"He's the lousiest horse we've had who can run. You cannot judge how he's doing by how he trains."
---
VIDEOS OF THE WEEK top
A preview of next Tuesday's edition of Night School, which will break down the handicapping process in a session called "Handicapping A to Z". Night School's hosts are Horse Player NOW's Joe Kristufek and Jeremy Plonk. Special guest this week is Steve Byk, host of Sirius/XM Satellite Radio's "At the Races". (HorsePlayerNow's YouTube Channel)

Baffert horses ship into Oaklawn Park for the Racing Festival of the South (America's Best Racing)

So Meta! Zoe Cadman films On Fire Baby…and Claire Novak films her too. (@zoecadman Twitter feed)

Flashback: A study in class and bravery, Edgar Prado risks everything to help another jockey regain his reins in a race at Saratoga in 2008. (claverarias YouTube channel)
---
IN THE NEWS
top
Hansen draws post 4 in a field of 13 in the Toyota Blue Grass Saturday (Daily Racing Form)

Baker's dozen entered for Toyota Blue Grass (ESPN)

Derby dreams ride in on a white horse (The New York Times.com)

Hansen highlights Toyota Blue Grass field with surprise in store (Bleacher Report)

Pair of Baffert-trained horses headlines Arkansas Derby (Washington Post)

Arkansas Derby a make or break race for Najjaar (Thoroughbred Times)

Kentucky Derby: Race for graded stakes cash intensifies (Daily Racing Form)

Gemologist unbeaten stays No. 2, Derby contender (WSJ.com)

Pedigree analyses: Went the Day Well and Daddy Nose Best (The Blood-Horse)

I'll Have Another – The Rodney Dangerfield of racing (The Kansas City Star.com)

With support from raucous contingent, I'll Have Another wins to get into Kentucky Derby (Daily News.com)

Wood Memorial, Santa Anita Derby exceeded expectations (Isportsweb.com)

Weight, this is ridiculous (ESPN.com)

Up the Backstretch: Unfair weights a matter of opinion (The Miami Herald.com)

Mike Smith not near finish line after 5,000th win (Greenwichtime.com)

Jackson Bend, Caleb's Posse set for rematch in Met Mile (Daily Racing Form)

NTRA Thoroughbred Poll (Chron.com)

Rick Dutrow's possible 10-year ban viewed as positive by much of horse racing industry(The Baltimore Sun.com)

Oaklawn then and now: The invaders (Grantland.com)

Monmouth Park operator selection challenged (NorthJersey.com)

Complaint could disrupt racetrack's opening (APP.com)

Lone Star Park in grip of 'vicious cycle' (Star-Telegram.com)

United Tote admits error with payouts at Keeneland for NYRA customers (Courier-Journal.com)

Profile of fashion designer and Thoroughbred owner/breeder Andrew Rosen (WSJ.com)

Photo essay: Horses at the ready as the Oklahoma Training Track at Saratoga nears its 2012 opening (Times Union.com)

Anita Madden honored as trailblazing businesswoman (Kentucky.com)

Cruguet to serve as celebrity handicapper for Oaks/Derby tourists (Sacbee.com)

Profile of England's popular and successful female jockey Hayley Turner (eadt.co.uk)

OTTB Showcase: Bing Bang (Paulick Report)

Comedian Santorelli to perform at Old Friends fundraiser (Thoroughbred Times)

Man O' War print being auctioned to support the Exceller Fund (SpecialHorses.org)
---
IN THE BLOGOSPHERE
top
Looking at Derby prep Beyer figures (Daily Racing Form)

Analysis of the latest Derby preps (Xpressbet.com)

Down and Derby - Sweet 16 (Zipse at the Track.com)

Team Havre de Grace is not the only one to blame (Horseracingnation.com)

Gemologist gives the Derby charisma (ESPN.com)

Parboo gives updates on Trinniberg and Giant Ryan (The Handicapper's Edge.com)

Where recent Triple Crown race winners have stood at stud (All Equine All The Time)
NHC NEWS
top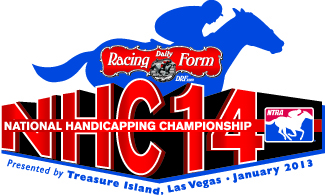 Ken Seeman remains atop NHC Tour leader board with 7,096 points Click here to view the current standings.

Surfside Race Place will begin its series of NHC contests on April 13, with a Friday mini tournament followed by a two-day contest, April 14-15. Click here for Surfside Race Place contest details.

Treasure Island to host 100% payback NHC Qualifiers May 6 and June 10 (NTRA.com)

Learn more about the 2012 Daily Racing Form NHC Tour (NHC)
CALENDAR
top
RACING TO HISTORY
top
April 6, 1954: Two future champions, Bold Ruler and Round Table, were foaled at Claiborne Farm, Paris, Ky.
April 7, 1973: In his second start as a three-year-old, Secretariat won the Gotham Stakes at Aqueduct as the 1-10 favorite. His time of 1:33 2-5 for the mile equaled the track record for that distance.
April 7, 1979: Jockey Steve Cauthen made his first race in England a winning one, with Marquee Universal (IRE), at Salisbury.
April 8, 1971: New York City Off-Track Betting opened for business. Two branches were available to accept wagers: the Grand Central Terminal in Manhattan and an outlet in Queens. Total handle, including telephone betting, was $66,091.
April 8, 1991: Rider-turned-trainer Bill Shoemaker was paralyzed after an automobile accident.
April 8, 2001: "Seabiscuit: An American Legend", by Laura Hillenbrand, took over the top spot on the New York Times bestseller list for nonfiction after just three weeks in the nation's bookstores.
April 8, 2010: Undefeated Hall of Famer Personal Ensign died at age 26 of natural causes at Claiborne Farm in Paris, Ky.
April 9, 1962: Jockey Ron Turcotte rode his first winner, at Fort Erie Racetrack.
April 9, 2009: Churchill Downs became the first racetrack to be accredited by the NTRA Safety and Integrity Alliance.

April 10, 1969: I Double Dareya was ridden to victory by jockey Gilbert Hernandez at Golden Gate Fields. Hernandez also happened to be the horse's owner and trainer, giving him a triple win.
April 11, 1945: Future Triple Crown champion Citation was foaled at Calumet Farm in Lexington, Ky.
April 12, 1948: After winning seven consecutive races, Citation lost the Chesapeake Trial Stakes by a length to Saggy, but rebounded to post 16 consecutive victories, including the Triple Crown.
April 12, 1969: Jockey Sandra Schleiffers, one of the first female riders in America and a former member of the Sisters of St. Francis convent in Clinton, Iowa, won her first career race at Turf Paradise. Schleiffers subsequently became the first woman to be admitted to the Jockeys' Guild.
April 13, 1872: The Louisiana Jockey Club held its inaugural meet at Fair Grounds. The first race, a two-mile hurdle, was won by Templo.
April 14, 1936: The first Maryland race result ever decided by a photo-finish camera took place at Havre de Grace in the second race, in which a 7-1 shot, Alit, was declared the winner.
April 15, 1940: With the start of the racing season at Jamaica, New York became the last major racing state to adopt electronic parimutuel wagering, thus eliminating on-track bookmaking.
April 15, 1941: In preparation for the May 3 Kentucky Derby, Whirlaway worked 1 1/8 miles in 1:52 at Keeneland.
April 15, 1943: With many of the country's young men joining in the war effort, women exercise riders were first employed at Pimlico Racecourse.
April 15, 2004: Jerry Hollendorfer became just the sixth trainer in history to win 4,000 races.
April 16, 1995: At age 25, Kent Desormeaux became the youngest jockey to reach the 3,000-win mark when he rode Maisonaire to victory at Santa Anita Park.
April 17, 1972: Future champion filly Ruffian was foaled at Claiborne Farm, Paris, Ky.
April 18, 1970: The New York State Legislature passed a bill enabling off-track betting.
---
WEEKEND STAKES RACES top
THURSDAY, APRIL 12
Vinery Madison Stakes, 4&up (f&m), $300,000, Grade I, 7F, Keeneland
Red Bud Stakes, 4&up (f&m), $100,000, 1 1-16M, Oaklawn Park
Carousel Handicap, 4&up (f&m), $75,000, 6F, Oaklawn Park
FRIDAY, APRIL 13
Apple Blossom Handicap, 4&up (f&m), $500,000, Grade I, 1 1-16M, Oaklawn Park
Maker's 46 Mile, 4&up, $300,000, Grade I, 1M (T), Keeneland
Instant Racing Stakes, 3yo fillies, $100,000, 1M, Oaklawn Park
Three Coins Up Stakes, 4&up, $75,000, 1 1-16M (T), Aqueduct
SATURDAY, APRIL 14
Arkansas Derby, 3yo, $1,000,000, Grade I, 1 1-8M, Oaklawn Park
Charles Town Classic, 4&up, $1,000,000, Grade II, 1 1-8M, Charles Town
Toyota Blue Grass Stakes, 3yo, $750,000, Grade I, 1 1-8M, Keeneland
Oaklawn Handicap, 4&up, $400,000, Grade II, 1 1-8M, Oaklawn Park
Jenny Wiley Stakes, 4&up (f&m), $300,000, Grade I, 1-16M (T), Keeneland
Count Fleet Sprint Handicap, 4&up, $250,000, Grade III, 6F, Oaklawn Park
Robert Hilton Memorial Stakes, 3yo, $250,000, 7F, Charles Town
Distaff Handicap, 3&up (f&m), $200,000, Grade II, 7F, Aqueduct
Sugar Maple Stakes, 4&up (f&m), $200,000, 7F, Charles Town
Commonwealth Stakes, 3&up, $175,000, Grade II, 7F, Keeneland
Calder Derby, 3yo, $150,000, 1 1-16M (T), Calder
Star Shoot Stakes, 3yo fillies, $150,000, 6F, Woodbine
Las Cienegas Handicap, 4&up (f&m), $100,000, Grade III, 6 1-2F (T), Santa Anita Park
Shakertown Stakes, 3&up, $100,000, Grade III, 5 1-2F (T), Keeneland
Northern Spur Stakes, 3yo, $100,000, 1M, Oaklawn Park
Videogenic Stakes, 4&up (f&m), $75,000, 1 1-16M (T), Aqueduct
SUNDAY, APRIL 15
Beaumont Stakes, 3yo fillies, $150,000, Grade II, 7F, Keeneland
Woodstock Stakes, 3yo, $150,000, 6F, Woodbine
Sunland Park Handicap, 3&up, $100,000, 1 1-8M, Sunland Park
Action Stakes, 4&up, $75,000, 1 1-8M, Aqueduct
Santa Lucia Stakes, 4&up (f&m), $75,000, 1 1-16M, Santa Anita Park
TUESDAY, APRIL 17
Trevose Stakes, 3yo fillies, $75,000, 6F, Parx Racing
THURSDAY, APRIL 19
Appalachian Stakes, 3yo fillies, $100,000, Grade III, 1M (T), Keeneland
---
RACING ON THE AIR

(All times Eastern)

top
April 14 Road to the Kentucky Derby, Toyota Blue Grass Stakes (Keeneland) and Arkansas Derby (Oaklawn Park), 6:00-7:00 p.m., CNBC
MORE