Thursday, April 5, 2012
AMERICA'S

BEST

RACING

Thoroughbred Notebook


Presented by

NTRA



PHOTOS OF THE WEEK
top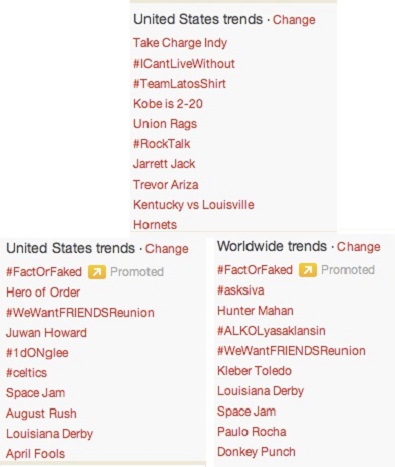 Horse racing rules on Twitter with Triple Crown prep races and contenders trending nationally and worldwide.
Take Charge Indy captures the Grade I $1 million Florida Derby (Image courtesy of Penelope P. Miller)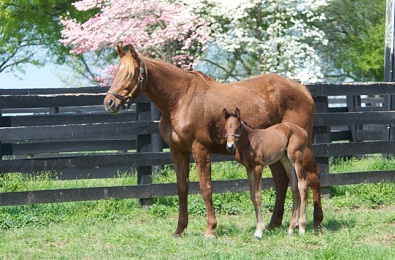 So Glitzy and her day-old Bernstein colt relax in the bluegrass of Claiborne Farm (Image courtesy of Dell Hancock)
FOLLOW US ON TWITTER

@NTRA
top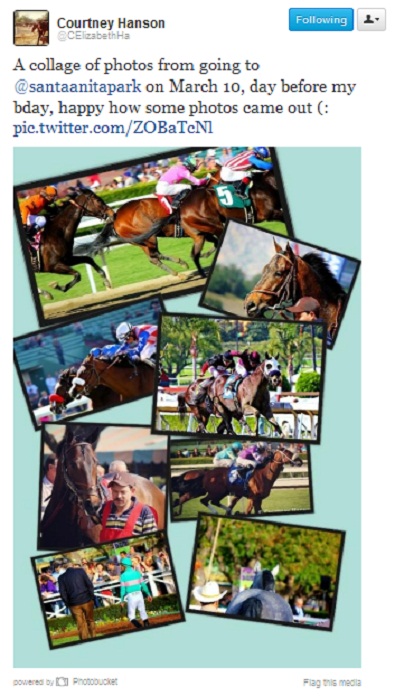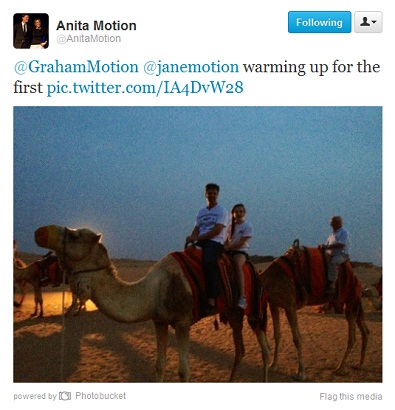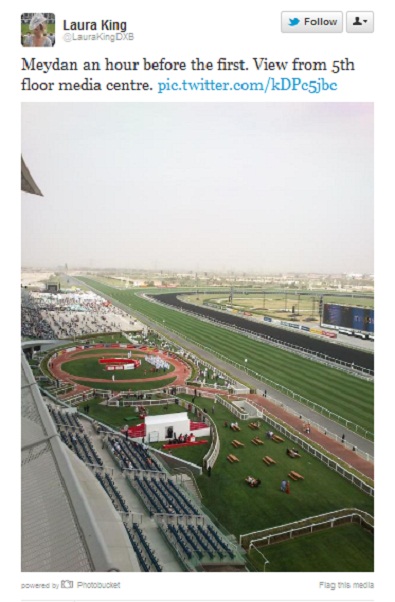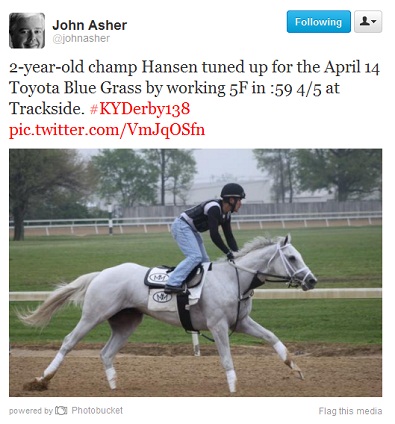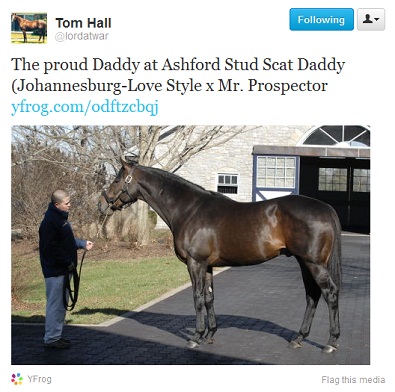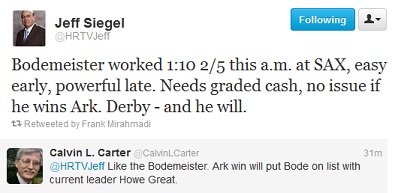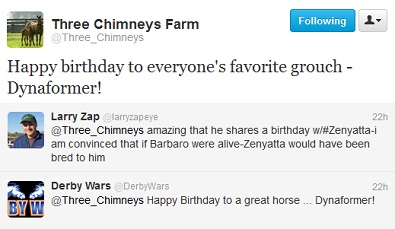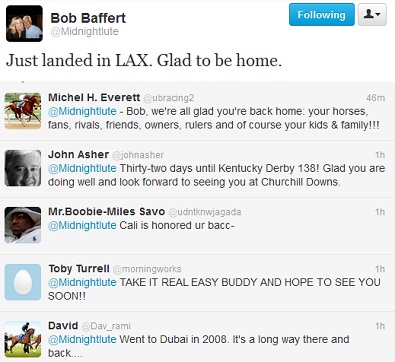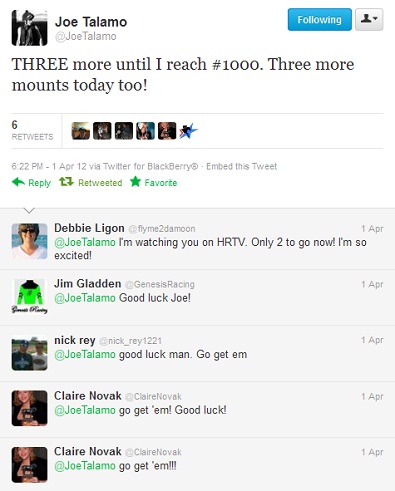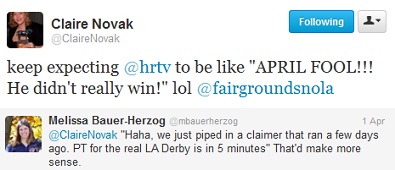 | | |
| --- | --- |
| Image courtesy of Credit | With the Keeneland spring meeting opening tomorrow, Kenny McPeek will be gunning for his fourth consecutive training title and fifth overall at the historic Lexington, Ky., racetrack. Born in Fort Chaffee, Ark., the 49-year-old graduated from the University of Kentucky with a Bachelor of Arts in Business Administration. After college, he went to New York to interview for a position as a stockbroker, but he instead took a job as a hotwalker for trainer Shug McGaughey. In 1985, he took out his trainer's license, and since then McPeek has won 123 stakes races, including 53 graded events. Among his most notable stars were Tejano Run, Harlan's Holiday, Take Charge Lady and 2002 Belmont Stakes winner Sarava. Recently, McPeek developed an iPhone and iPad app called Horse Races Now, available here. The app allows users to follow horse racing more easily and to watch live races. |
TWO MINUTE LICK WITH KENNY McPEEK
top
Name: Kenny McPeek

Birthplace: Fort Chaffee, Arkansas, but I grew up in Lexington, Kentucky.

Most influential person in my career: My mother, Ann.

My out-of-the-box idea for Thoroughbred Racing: Phone app that will call you when your favorite horses are loading in the gate with live video.

My favorite racetrack: Kenland, I mean Keeneland.

My fantasy job: Agent and Advisor to a loyal client with an unlimited budget who had no fear. We would be tough to beat.

What I like most about my job: The feeling of winning a big race.

Other sports/teams I follow: Kentucky Wildcats basketball

My Heroes: Winston Churchill, Leslie Combs II, and anyone who has served in the U.S. Military.

What about myself would surprise those who know me: I speak fluent Portuguese.

My favorite athletes of all-time: Larry Bird, Muhammad Ali, Zenyatta, and Manny Pacquiao.

Most treasured possession/memento: 2002 Belmont Trophy.

A Pet Peeve: Returning phone calls.

What book(s) I am reading or have recently read: Winston Churchill-CEO, by Alan Axelrod.

Favorite Magazines: Time

Favorite websites I visit daily/weekly: Equibase, Bloodhorse

Gadget I cannot live without: iPhone

Hobbies away from Thoroughbred Racing: Reading

Last concert I attended: Bob Seger at the Yum Center in Louisville

Favorite foods: Banana peppers, malted milk balls, and Brazilian barbeque.

What I drive: Mercedes ML 550

If I could be a guest on any tv talk show it would be: Letterman

If I could appear on any television show it would be: 60 Minutes

If I could be a guest on any talk radio show it would be: Howard Stern

If I could be on stage with any musical group I would play what instrument: Tom Petty and the Heartbreakers, guitar.

Favorite Musician/Band: John Mellencamp

Favorite Actor: Clint Eastwood

Newspaper I read daily: Louisville Courier-Journal

I'd like to have dinner with: The Queen

Best racetrack food can be found at: Meydan in Dubai.

Accomplishment I am most proud of: Winning five consecutive Graded Stakes with five different horses at Churchill Downs in 2011 and all my Keeneland training titles.

My philosophy on life: I've failed over and over and over again in my life, and that is why I succeed.

Favorite quote or motto: Twenty years from now you will be more disappointed by the things that you didn't do than by the ones you did do. So throw off the bowlines. Sail away from the safe harbor. Catch the trade winds in your sails. Explore. Dream. Discover. --Mark Twain

Things I collect: Keeneland Julep Cups.

Celebrity/prominent personality friends include: Jenna, my daughter. She is a star.

Favorite author: Tony Robbins

Favorite animal other than a horse: Chip, my dog.

What actor would play me in a movie: Vin Diesel

Favorite non-Thoroughbred racing sports event I have attended: Indy 500
FAN PHOTO OF THE WEEK top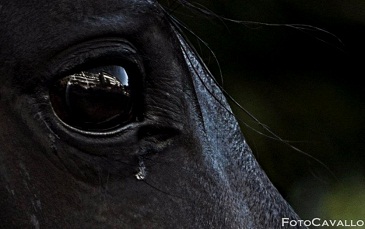 Congratulations to photographer Corinne Cavallo, winner of the April 4 Fan Photo Contest! From Corinne: "The Life of a Racehorse at Monmouth Park." Want in? E-mail your submissions with a brief caption to photos@NTRA.com!
WING'S WATCH
top
NTRA.com's Eric Wing offers up insights on who he thinks are the Top 40 Triple Crown contenders. (Wing's Watch PDF)
VOICES
top
FROM THE GRANDSTAND
top
Trainer Gennadi Dorochenko after winning the Louisiana Derby with Hero of Order, a $3,000 yearling purchase:
"I brought not expensive horses, but I make these horses expensive."
Trainer Larry Jones, quoted in Thoroughbred Daily News, on the upcoming weight assignment for Havre de Grace in the Apple Blossom at Oaklawn:
"I know she's going to be the top weight. She better be the top weight. She's earned it."
Trainer Bob Baffert, quoted by Jay Privman on Twitter, quipping from Santa Anita about how he feels since returning from Dubai where he suffered his heart attack:
"I feel like $100."
Trainer Sir Henry Cecil, quoted in The Guardian, on his stable star Frankel:
"Every sport needs its champions, right? Not just for the racing public but for other people who aren't interested in racing and get to learn about it from word of mouth and from the television. Watching Andy Murray has made me more interested in tennis and [Rory] McIlroy in golf, even though I can't play it. I enjoy watching the best and everyone likes to see stars. Frankel is in the public eye and it would be wonderful if he could continue to win races because it's important for the sport. When he comes to the races and even when he walks into the parade ring, people are lining up to see him."
Trainer Todd Pletcher on what he thinks about the mock Twitter account @NotTheToddster:
"He's pretty comical, actually."
---
VIDEOS OF THE WEEK top
Larry Zap takes us back to the 2010 Keeneland September sale when Paynter and Take Charge Indy, two Triple Crown contenders, went through the ring (larryzapeye YouTube channel)

A spoof of post-race interviews involving Irish jockeys (@JenRoytz twitter feed)

A video preview of next Tuesday's edition of Night School, which will focus on trip handicapping (HorsePlayerNow YouTube channel)

Graham and Anita Motion enjoying the convenient view from their hotel balcony in Dubai (@AnitaMotion Twitter feed)
---
IN THE NEWS
top
Alpha, Gemologist set to clash in Wood Memorial (The Blood-Horse)

Creative Cause to lose blinkers in Santa Anita Derby (ESPN.com)

One man's five favorite Santa Anita Derbies (Daily Racing Form)

Drew Brees owns a piece of Santa Anita Derby entrant Holy Candy (Los Angeles Times)

Kentucky Derby: Latest rounds of preps muddle picture (Daily Racing Form)

Todd Pletcher has a handle on Derby Fever (Bleacherreport.com)

Pletcher offers up his number one seeds for the Derby (The Blood-Horse)

Racing doesn't need a Triple Crown winner (RealClearSports.com)

Calvin 'Bo-rail' sitting on another Kentucky contender (USA Today)

Derby horse helps Byrne end long stakes drought (The Sports Network.com)

Let's be frank: Union Rags still favorite after loss (Kansas City Star)

Union Rags remains on top in Derby Wager (The Blood-Horse)

Santa Anita Derby, Wood Memorial and Ashland to air live on HRRN Saturday (Horseracingradio.net)

Transylvania Stakes highlights Keeneland's opener on Friday (Thoroughbred Times)

Keeneland optimistic among competitive forces (The Blood-Horse)

Luis Contreras returns to Woodbine with Walls' riding record in his sights (Winnipegfreepress.com)

The Jockey Club in proposed new rules, reiterates stance against raceday Lasix (Daily Racing Form)

The Jockey Club proposes ban on race-day medicine (New York Times)

The Jockey Club talks tough (The Saratogian.com)

Owner profile pages introduced on Equibase (The Blood-Horse)

An interview with respected vet Dr. Scott Palmer (Forbes.com)

Recrunching the New York Times numbers (Thoroughbred Times)

A sign of the Times (ESPN.com)

Jockeys' Guild to collect rider injury data (Daily Racing Form)

Woodbine Racetrack earns re-accreditation from the NTRA Safety and Integrity Alliance (Horse-Canada.com)

N.Y. race regulators put horse breakdown date online (lohud.com)

Rule to void claims of dead horses enacted in New York (The Blood-Horse)

Havre de Grace regains top spot in NTRA Poll (The Miami Herald)

Anonymous bidder pays $3,401 for Zenyatta's halter (Wall Street Journal.com)

HANA 2012 track ratings released (Horseplayers Association of North America)

Maryland Jockey Club cut losses in 2011 (The Baltimore Sun)

Dubai World Cup: U.S. runners head home to regroup (Daily Racing Form)

William S. Farish pledges $150K to the Texas Thoroughbred Educational Fund (Paulick Report)

Sir Henry Cecil says Frankel will help sell racing to wider audience in U.K. (guardian.co.uk)

Sutherland, Wilson, Turner on first female team for Shergar Cup (The Handicapper's Edge.com)

Kentucky first graders to attend re-enactment of Seabiscuit-War Admiral match race (Kentucky Horse Park.com)

Benefits proved in therapeutic riding (The Virginia Gazette)
---
IN THE BLOGOSPHERE
top
Dr. Kendall Hansen on Hansen (Courier-Journal.com)

Previewing the Illinois Derby (Chicago Dark Horse)

Mike Repole's Kentucky Derby hopes riding on Our Entourage in Illinois Derby (Bettor.com)

The special connection between Take Charge Indy and one of his former owners (The Blood-Horse)

Horse Racing: Countdown to the Triple Crown- Week: 5-April 3, 2012 (Isportsweb.com)

Hunger Games and the Triple Crown (Horseraceinsider.com)

The Jockey Club steps up to the plate (Pullthepocket.com)

#theothermadness, America's Best Racing have feel of a winner (Courier-Journal.com)

New York State Racing & Wagering Board hard at work (Brooklyn Backstretch.com)

A track veterinarian at Tampa Bay Downs thoughtfully discusses the many aspects of her job (Tampa Bay Downs.com)

Horseplayers: Are you a sheep or a wolf? (Equinometry.com)

The anatomy of a bad handicapping decision (ESPN.com)

Long time track superintendent Butch Lehr retiring after spring meet (Courier-Journal.com)

Dogwood, Eclipse Thoroughbred Partners announce joint ownership venture (aikenstandard.com)

An ode to Mike Smith (ArticlesBud.com)

A thrilled new voter in the NTRA Polls (HorseRacingNation.com)

All Hail Lord Kegasus (HorseraceInsider.com)

OTTB Spotlight: Doctor Decherd (The Blood-Horse)

On the therapeutic benefits of horses (Bufflehead.wordpress.com)
NHC NEWS
top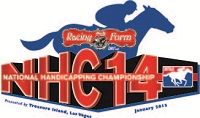 Ken Seeman remains atop NHC Tour leader board with 4,774 points Click here to view the current standings.
Treasure Island to host 100% payback NHC Qualifiers April 7, May 6 and June 10 (NTRA.com)
Surfside Race Place will begin its series of NHC contests on April 13, with a Friday mini tournament followed by a two-day contest, April 14-15. Click here for Surfside Race Place contest details.
Player Profile

Karen Richards
Karen qualified for the 2013 NHC this March on NHCQualify.com. Karen is from Pembroke Pines, FL and has been a member of the NHC Tour since it was established in 2008. This will be her fifth appearance at the National Handicapping Championship. Karen is married to Mark Richards and has three daughters.

Click here to read Karen's complete NHC biography.
Learn more about the 2012 Daily Racing Form NHC Tour (NHC)
CALENDAR
top
RACING TO HISTORY
top
April 6, 1954: Two future champions, Bold Ruler and Round Table, were foaled at Claiborne Farm, Paris, Ky.
April 7, 1973: In his second start as a three-year-old, Secretariat won the Gotham Stakes at Aqueduct as the 1-10 favorite. His time of 1:33 2-5 for the mile equaled the track record for that distance.
April 7, 1979: Jockey Steve Cauthen made his first race in England a winning one, with Marquee Universal (IRE), at Salisbury.
April 8, 1971: New York City Off-Track Betting opened for business. Two branches were available to accept wagers: the Grand Central Terminal in Manhattan and an outlet in Queens. Total handle, including telephone betting, was $66,091.
April 8, 1991: Rider-turned-trainer Bill Shoemaker was paralyzed after an automobile accident.
April 8, 2001: "Seabiscuit: An American Legend", by Laura Hillenbrand, took over the top spot on the New York Times bestseller list for nonfiction after just three weeks in the nation's bookstores.
April 8, 2010: Undefeated Hall of Famer Personal Ensign died at age 26 of natural causes at Claiborne Farm in Paris, Ky.
April 9, 1962: Jockey Ron Turcotte rode his first winner, at Fort Erie Racetrack.
April 9, 2009: Churchill Downs became the first racetrack to be accredited by the NTRA Safety and Integrity Alliance.
April 10, 1969: I Double Dareya was ridden to victory by jockey Gilbert Hernandez at Golden Gate Fields. Hernandez also happened to be the horse's owner and trainer, giving him a triple win.
April 11, 1945: Future Triple Crown champion Citation was foaled at Calumet Farm in Lexington, Ky.
April 12, 1948: After winning seven consecutive races, Citation lost the Chesapeake Trial Stakes by a length to Saggy, but rebounded to post 16 consecutive victories, including the Triple Crown.
April 12, 1969: Jockey Sandra Schleiffers, one of the first female riders in America and a former member of the Sisters of St. Francis convent in Clinton, Iowa, won her first career race at Turf Paradise. Schleiffers subsequently became the first woman to be admitted to the Jockeys' Guild.
April 13, 1872: The Louisiana Jockey Club held its inaugural meet at Fair Grounds. The first race, a two-mile hurdle, was won by Templo.
April 14, 1936: The first Maryland race result ever decided by a photo-finish camera took place at Havre de Grace in the second race, in which a 7-1 shot, Alit, was declared the winner.
April 15, 1940: With the start of the racing season at Jamaica, New York became the last major racing state to adopt electronic parimutuel wagering, thus eliminating on-track bookmaking.
April 15, 1941: In preparation for the May 3 Kentucky Derby, Whirlaway worked 1 1/8 miles in 1:52 at Keeneland.
April 15, 1943: With many of the country's young men joining in the war effort, women exercise riders were first employed at Pimlico Racecourse.
April 15, 2004: Jerry Hollendorfer became just the sixth trainer in history to win 4,000 races.
April 16, 1995: At age 25, Kent Desormeaux became the youngest jockey to reach the 3,000-win mark when he rode Maisonaire to victory at Santa Anita Park.
April 17, 1972: Future champion filly Ruffian was foaled at Claiborne Farm, Paris, Ky.
April 18, 1970: The New York State Legislature passed a bill enabling off-track betting
---
WEEKEND STAKES RACES top
FRIDAY, APRIL 6
Transylvania Stakes, 3yo, $100,000, Grade III, 1 1-16M (T), Keeneland
Prima Donna Stakes, 3yo fillies, $75,000, 6F, Oaklawn Park
SATURDAY, APRIL 7
Resorts World Casino New York City Wood Memorial, 3yo, $1,000,000, Grade I, 1 1-8M, Aqueduct
Santa Anita Derby, 3yo, $750,000, Grade I, 1 1-8M, Santa Anita Park
Central Bank Ashland Stakes, 3yo fillies, $500,000, Grade I, 1 1-16M, Keeneland
Illinois Derby, 3yo, $500,000, Grade III, 1 1-8M, Hawthorne
Carter Handicap, 3&up, $400,000, Grade I, 7F, Aqueudct
Bay Shore Stakes, 3yo, $250,000, Grade III, 7F, Aqueduct
Comely Stakes, 3yo fillies, $250,000, Grade III, 1M, Aqueduct
Potrero Grande Handicap, 4&up, $150,000, Grade II, 6 1-2F, Santa Anita Park
Providencia Stakes, 3yo fillies, $150,000, Grade III, 1 1-8M (T), Santa Anita Park
Jacques Cartier Stakes, 4&up, $150,000, 6F, Woodbine
American Beauty Stakes, 4&up (f&m), $75,000, 1M (T), Santa Anita Park
Bachelor Stakes, 3yo, $75,000, 6F, Oaklawn Park
WEDNESDAY, APRIL 11
Fantasy Stakes, 3yo fillies, $300,000, Grade II, 1 1-16M, Oaklawn Park
Infomint Stakes, 3yo fillies, $75,000, 6F, Aqueduct
THURSDAY, APRIL 12
Vinery Madison Stakes, 4&up (f&m), $300,000, Grade I, 7F, Keeneland
Red Bud Stakes, 4&up (f&m), $100,000, 1 1-16M, Oaklawn Park
Carousel Handicap, 4&up (f&m), $75,000, 6F, Oaklawn Park
---
RACING ON THE AIR

(All times Eastern)

top
April 7 Road to the Kentucky Derby, Resorts World Casino New York City Wood Memorial (Aqueduct Racetrack), Santa Anita Derby (Santa Anita Park) and Central Bank Ashland Stakes (Keeneland), 4:30-6:00 p.m., NBC

April 14 Road to the Kentucky Derby, Toyota Blue Grass Stakes (Keeneland) and Arkansas Derby (Oaklawn Park), 6:00-7:00 p.m., CNBC
MORE