Thursday, August 2, 2012
AMERICA'S

BEST

RACING

Thoroughbred Notebook


Presented by

NTRA



PHOTOS OF THE WEEK
top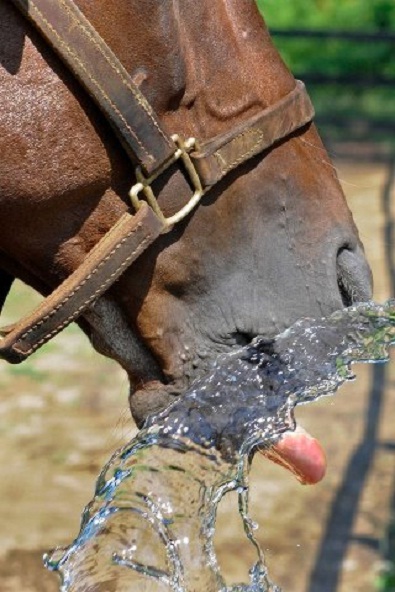 Commentator cools off at Old Friends at Cabin Creek: Bobby Frankel Division. Image via the Old Friends Facebook page.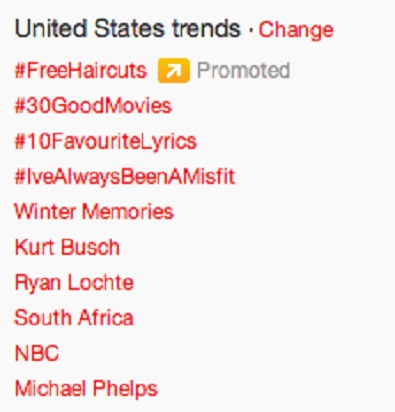 Winter Memories trends ahead of Olympic swimming superstars Michael Phelps and Ryan Lochte after her victory in Saturday's Grade I Diana Stakes at Saratoga.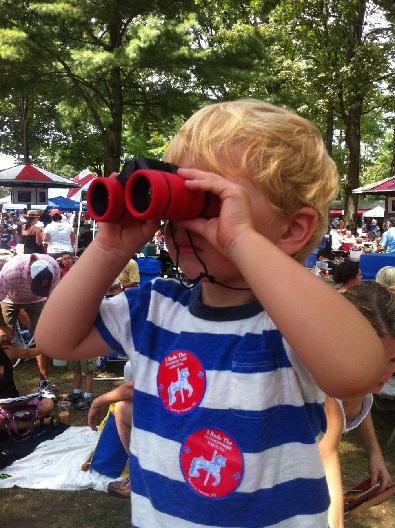 Four-year-old Charlie Zast gets in the game at Saratoga (Image via Vic Zast's Facebook page)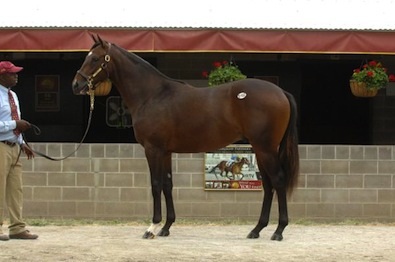 This year's Haskell winner Paynter as a yearling at Taylor Made Sales (Image via the @TaylorMadeSales Twitter feed)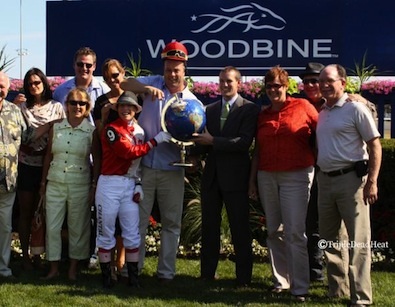 Jockey Chantal Sutherland and her brother Hugh Sutherland switch hats after his horse Awesome Fire wins the Wonder Where Stakes at Woodbine (Image via the @TripleDeadHeat Twitter feed)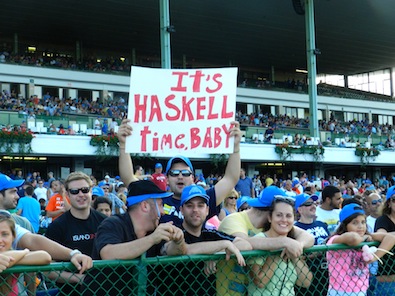 Fans at Monmouth Park celebrate the 2012 edition of the Haskell Invitational on Sunday (Image courtesy of Penelope P. Miller/America's Best Racing)

FOLLOW US ON TWITTER

@ABRLive
top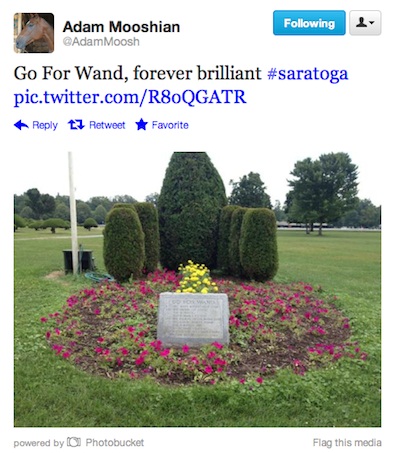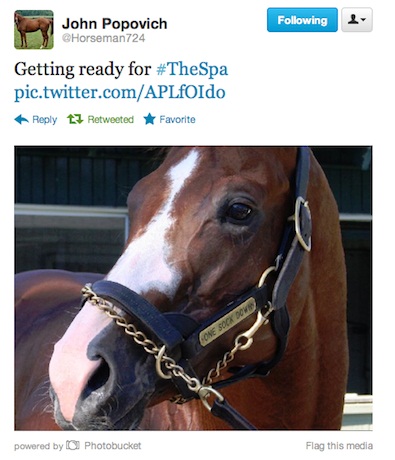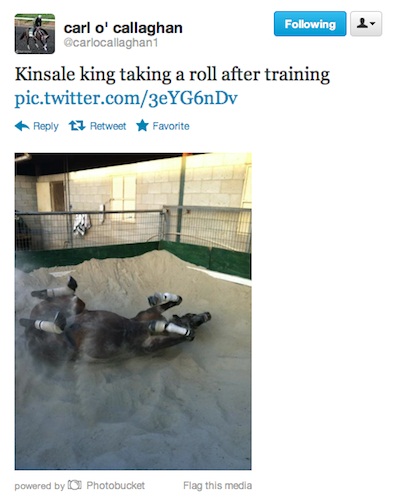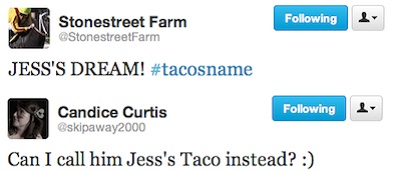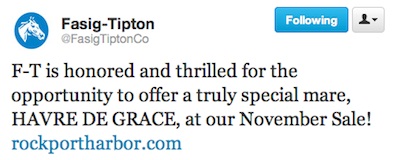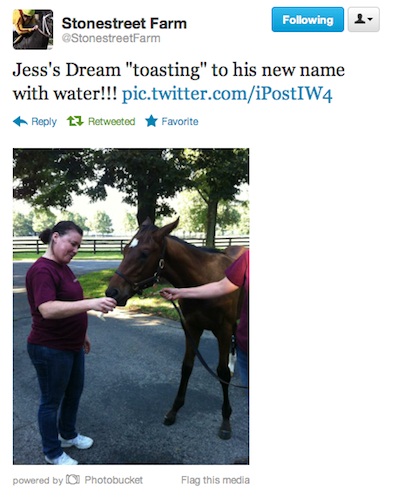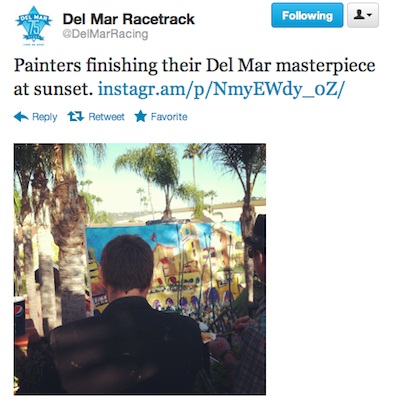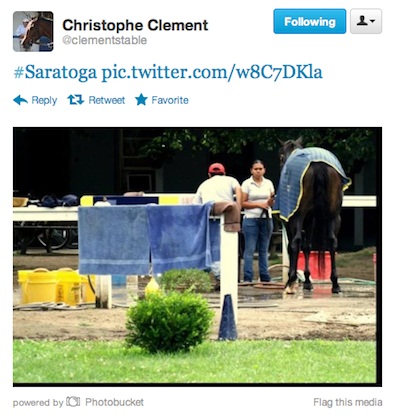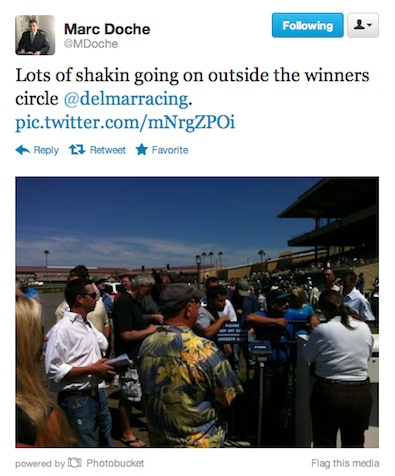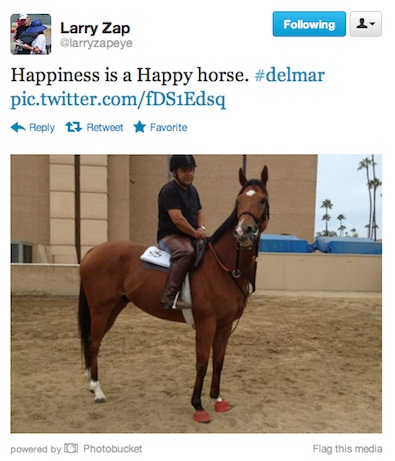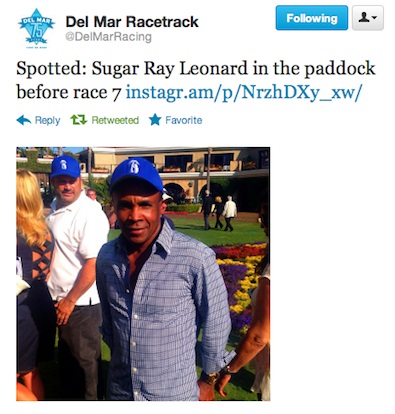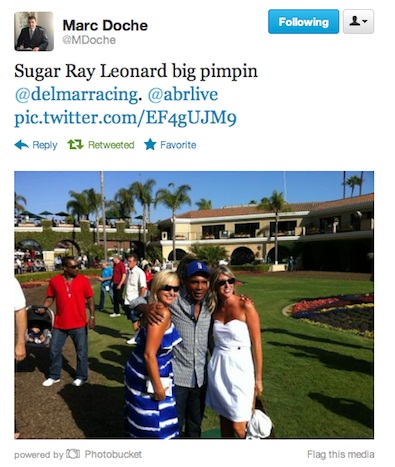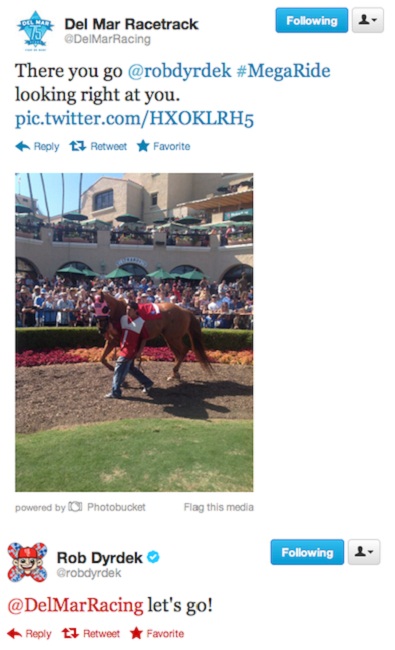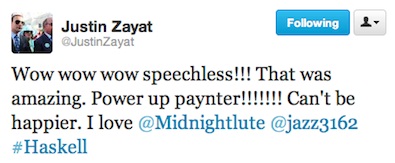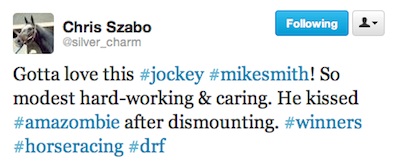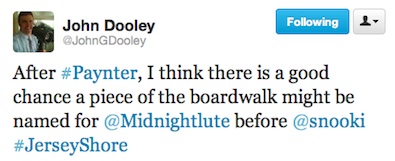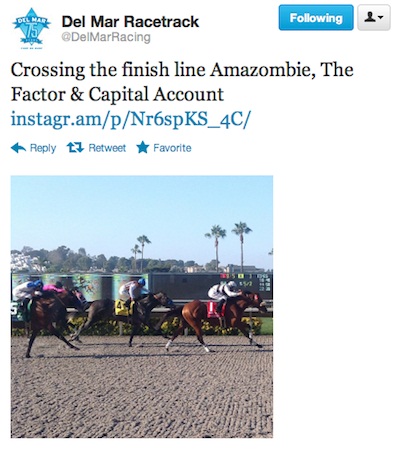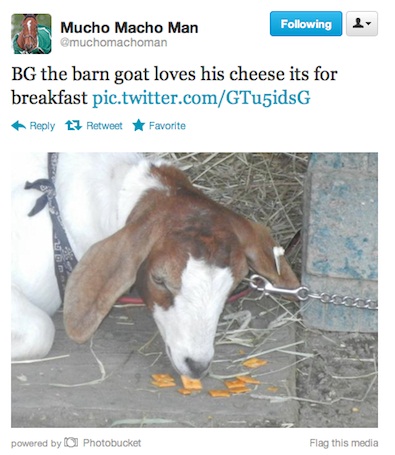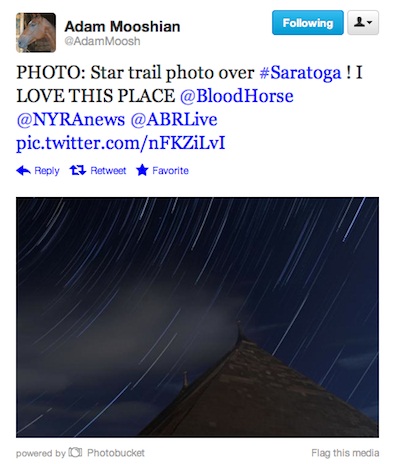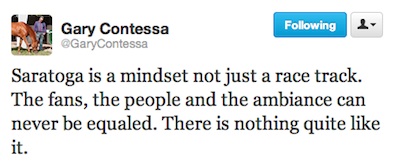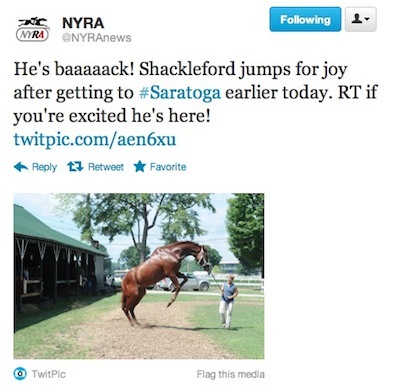 Image via Wikipedia

Known as the Queen of Saratoga, Marylou Whitney has celebrated a life of both racing and philanthropic achievement at the highest levels. In January 2011, she received an Eclipse Award of Merit for her extraordinary service as an owner-breeder, and for her incredible generosity and support of philanthropic causes.

During the 20th Century, the Whitney family, under the direction of her second husband, C.V Whitney, ran one of the most successful racing stables, owning more stakes winners than any other family in the history of U.S. racing. But during the 1980's, C.V. Whitney dispersed his breeding stock.

After Mr. Whitney's death in 1992, Marylou began a program to rebuild her racing and breeding business by locating and buying back "Whitney Mares." She found and bought Dear Birdie who proved to be the foundation for Marylou Whitney Stables. Dear Birdie was named Broodmare of the Year in 2004. She is the dam of 2004 Belmont Stakes and Travers winner Birdstone and champion filly Bird Town, who won the 2003 Kentucky Oaks. Birdstone, in turn, produced two classic winners in his first crop, 2009 Kentucky Derby winner Mine That Bird, and Belmont Stakes winner and eventual 3-year-old champion, Summer Bird. No stallion has sired two classic winners in his first crop since the late 1800s.

Mrs. Whitney has been instrumental in donating and raising much needed funds for worthwhile medical institutions. Over $44 million was raised for the building and establishment of the University of Kentucky Markey Cancer Center in Lexington. Marylou and her husband John Hendrickson donated $2.5 million for the Marylou Whitney and John Hendrickson Cancer Facility for Women at the Markey Cancer Center.

One of Whitney's favorite charitable projects is the Backstretch Appreciation program, which benefits the barn workers at Saratoga. Her work there includes providing meals, entertainment and giveaways to the unsung heroes of horse racing with events planned every night on the backstretch. Programs include "Learn English, Eat Spanish" nights with teachers and meals; "Barn vs. Barn Olympics"; casino nights; and movies.

Mrs. Whiney also supports such local institutions as the National Museum of Dance and Hall of Fame, the Saratoga Hospital, the Saratoga YMCA and the Saratoga Performing Arts Center (SPAC).
TWO MINUTE LICK WITH MARYLOU WHITNEY
top
Name: Marylou Whitney

Birthplace: Kansas City, MO

Most influential person in my career: Sonny Whitney

My out-of-the-box idea for Thoroughbred Racing: Owners should be responsible for their horses forever.

My favorite racetrack: Saratoga

My fantasy job: Commissioner of All Racing.

Other sports/teams I follow: UK Basketball.

My Heroes: God

My favorite athlete of all-time: Birdstone

Most treasured possession/memento: My memory.

A Pet Peeve: Negative people.

What book(s) I am reading or have recently read: Unbroken, The Hunger Games

Favorite Magazines: Blood-Horse

Favorite websites I visit daily/weekly: What's a website?

Gadget I cannot live without: I can live without all gadgets.

Hobbies away from Thoroughbred Racing: Painting, sculpting, and charities.

Last concert I attended: Sting with the London Philharmonic Orchestra at the Saratoga Performing Arts Center.

Favorite foods: A good hot dog.

What I drive: I gave up driving a few years ago.

If I could be a guest on any TV talk show it would be: I would ask Judge Judy to decide once and for all to get rid of race-day medication. The cleaner the sport, the better.

Favorite Singer: Frank Sinatra

Favorite Actor: Myself

Newspaper I read daily: I always read the local papers.

I'd like to have dinner with: My husband.

Accomplishment I am most proud of: Continuing traditions, and making new ones.

My philosophy on life: If you aren't sharing kindness every day, then you are not truly living.

Favorite quote or motto: I'm not dead yet.

Things I collect: Friends

Celebrity/prominent personality friends include: In my book, everybody is a celebrity.

Favorite authors: Laura Hillenbrand, John Grisham

Favorite animal other than a horse: dog

What actor would play me in a movie: Meryl Streep might be good enough.

Favorite non-Thoroughbred racing sports event I have attended: Yankees games

What historical figure do you most identify with: Mother Teresa (wink wink)

What living person do you most admire: My husband, John

Twitter Handle: Is that like a Love Handle?

People I follow on Twitter: I don't. That sounds naughty.

No. 1 Bucket List Item: Win the Kentucky Derby
FAN PHOTO OF THE WEEK top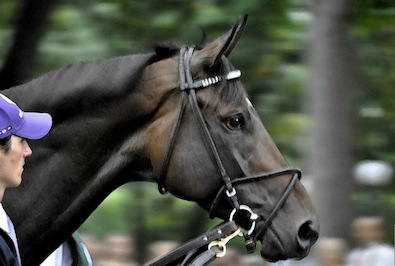 Congratulations to 10-year-old Josh Lynch, winner of this week's Fan Photo Contest! From his mother Barbara: "My son Josh is a budding photographer too and wanted to get in on the action by submitting this picture for the next Notebook Fan Photo contest. This photo called 'Game Face' is Royal Delta before the Delaware Handicap." Want in? E-mail your submissions with a brief caption to photos@NTRA.com!
VOICES
top
FROM THE GRANDSTAND
top
Conan O'Brien, on his TBS show Conan, after being told by guest Chantal Sutherland that a successful jockey loses about 80% of the time:
"So it's like comedy…Trust me, I can relate."
Dr. Kendall Hansen, owner of Hansen, on why he wants his horse's tail painted blue for Saturday's West Virginia Derby:
"We're just doing it for fun—for a lot of Hansen's younger fans and people who think they're young."
Dr. Kendall Hansen on whether the handicapper in him would believe that Hansen could go a mile and a quarter:
"Just on paper? No. But, I've got some inside information so I know more than a handicapper."
Reade Baker, trainer of Whitney Invitational longshot Hunters Bay, when asked his thoughts on his horse drawing the No. 2 post position for Saturday's race:
"I'd like a head start, really. The list of trainers you brought up here in front of me, I feel like a guppy in the shark pool. I would like someone to say they didn't like their post and are going to scratch, but everybody seems to love it."
Ashley Zayat, quoted by Joe DePaolo in the New York Times, joking about the second stringers (herself, her brother Justin and assistant trainer Jim Barnes) who represented Paynter at the Haskell Invitational:
"They call us the B team. But it seems like everywhere we go, we win."
Bob Baffert on winning his sixth Haskell Invitational with Paynter:
"When you win they always feel like the first one. They're all exciting and they never get old."
Dick Jerardi in Daily Racing Form on Bob Baffert:
"Who this side of Woody Stephens does what Baffert has done in the Haskell? Woody's five consecutive Belmont Stakes will never be duplicated or even approached. Baffert has won the last three Haskells and the last six where he has entered a horse, going back to his first with Point Given in 2001. Only Baffert has any chance to improve on that record and, even if his doctor suggests he can't have a Max's Hot Dog, nothing, it appears, can stop the man from winning the Haskell."
Trainer Bill Mott on his freakish tendency over the years to win a race at Saratoga on his birthday, July 29:
"It's like lions eating wildebeests, I suppose. It's part of nature's plan."
Thirty-year-old trainer Leigh Delacour, quoted in PennsylvaniaEquestrian.com, on the degrees in biology and economics that she earned at the University of Virginia:
"The diplomas are hanging in my mom's laundry room."
---
MULTI-MEDIA top
Video: America's Best Racing brings its Racing 101 Fan hub to Saratoga (Fox 23 News)
Video: The 2012 Haskell Stakes with commentary from winning jockey Rafael Bejarano (America's Best Racing)
Video: Amazombie on road to BC Sprint defense after Bing Crosby score (YouTube.com)
Video: Chantal Sutherland's appearance Tuesday night on Conan (Team Coco)
Photos: Where to Whitney, a first timer's guide to Saratoga (America's Best Racing)
Video: Episode 4 of Alex Brown's horse racing show (alexbrown4444 YouTube channel)
Video: Trailer for August 24 movie release, Wild Horse Wild Ride (social.entertainment.msn.com)
Video: In this episode of "Behind the Silks," jockey Tim Thornton talks about his favorite horse Peyote Patty (ArlingtonParkVideos YouTube channel)
---
IN THE NEWS
top
Ron the Greek heads Whitney (ESPN.com)
Switch wheels back in the Clement L. Hirsch (The Blood-Horse)
Shackleford cutting back for the Vanderbilt Handicap (Daily Racing Form)
Hansen takes on nine in Saturday's $750,000 West Virginia Derby (ESPN.com)
Hansen to race with blue tail (ESPN.com)
Baffert, Frankel stand out as racing's stars (Daily Racing Form)
Haskell Day 2012 (Thoroughbred Daily News)
After the Olympics, Michael Phelps might get into owning Thoroughbreds (The Baltimore Sun)
Olympic legend Phelps plans to buy Thoroughbred race horses (New York Post)
Ex-race horse war Buckaroo is Canadian Olympic Hero (Bleacherreport.com)
Cloned horses good enough for the Olympics, but Thoroughbred racing says "Neigh" (Forbes)
Pending legislation could mean sports betting at California racetracks (Las Vegas Review-Journal)
NYRA offering Racing 101 Fan Hub (Hudsonvalley.ynn.com)
Churchill Downs announces plans for finish-line "mansion" room (Courier-Journal)
David Willmot retires as Woodbine Entertainment Group Chairman (Horse-Canada.com)
A neigh to Thoroughbred IPOs (Wall Street Journal)
A big "Endorsement" for drug-free racing at Saratoga (New York Daily News)
Water Hay Oats Alliance launches website (Thoroughbred Times)
Star thoroughbreds thriving on Twitter (CNN)
Game on Dude first, Paynter enters NTRA Poll (The Miami Herald)
The week ahead at Saratoga Race Course (Times Union)
CNN names Saratoga Springs as one of its top 5 New York State getaways (CNN)
Del Mar resident turns passion for golf and horse racing into a vocation and avocation (Del Mar Times)
Q&A with Jay Privman on his new book about Del Mar (UT San Diego News)
At fabled Claiborne Farm, yearling training is kindergarten for horses (Lexington-Herald Leader)
Rachel Alexandra's first foal named Jess's Dream (Thoroughbred Times)
Canadian Horse of the Year Benburg dead (Thoroughbred Times)
John Velazquez back in the saddle again (The Brownsville Herald)
TVG launches racy promotion with Sutherland (Thoroughbred Times)
Saratoga jocks will take part in karaoke competition to help fallen jocks (The Blood-Horse)
$22,000 painting to benefit Permanently Disabled Jockeys Fund (Forbes)
Study: Jet lag benefits race horses (Equine Science Update)
Former steeplechase jockey Patrick Smithwick writes a book about his father, A.P. Smithwick (Saratogian.com)
2012 Hagyard Challenge Series needs Thoroughbred entries (NTRA.com)
Career2 Grand Finale to be held at Millbrook Horse Trials, Aug. 2-5 (The Chronicle of the Horse)
---
IN THE BLOGOSPHERE
top
Paynter: The other horse becomes THE horse (ESPN.com)

Hansen finally will run with blue-tipped tail in West Virginia Derby (Courier-Journal)

Early Travers thoughts and other stuff (Daily Racing Form)

Saratoga maiden win just the latest chapter in resolute filly's comeback story (The Blood-Horse)

The legacy of Frankel (Horseracingnation.com)

The McAnally-Argentine Pipeline lives on in Suggestive Boy (Horseracingnation.com)

The wedding gift (The Blood-Horse)

An Arazi update (Xpressbet.com)

The false rumor about ex-racehorses (All Equine All The Time.com)
NHC NEWS
top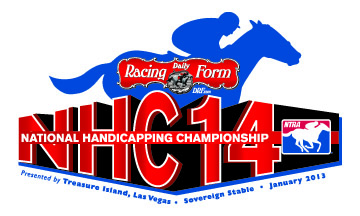 SOVEREIGN STABLE FREE ONLINE HANDICAPPING CHALLENGE AUGUST 18
Sovereign Stable, a presenting sponsor of the Daily Racing Form/NTRA National Handicapping Championship is hosting a free online handicapping contest on NTRA.com. Registration is now open for the August 18 online qualifier. Click here to enter. Tour points will be awarded to the top 30 finishers.
SOVEREIGN STABLE REPRESENTED AT TOBA NEW OWNERS SEMINAR IN SARATOGA

Rich Cristiano, Director of Business Development at NHC sponsor Sovereign Stable, will be speaking on Thoroughbred racing partnerships at the TOBA New Owners Seminar in Saratoga Springs on August 9th. The seminar will cover every aspect of Thoroughbred ownership. Click here for details and registration information.
Player Profile

Nicholas Alpino

Nicholas lives in Mt. Vernon, NY. He qualified for the NHC on July 13 at Surfside Race Place. Nicholas' entry fee was a Father's Day gift from his son, Vincent. Vincent has just started handicapping.

Click here to read Nicholas's complete NHC player biography.
CALENDAR
top
RACING TO HISTORY
top
Aug. 2, 1969: Jockey Robyn Smith, one of the first female jockeys in the U.S., won her first career race, at Ferndale.
Aug. 2, 2004: Smarty Jones, 2004 Kentucky and Preakness winner, was retired from racing to stand at Three Chimneys Farm in Midway, Ky.
Aug. 3, 1863: America's oldest Thoroughbred racetrack, Saratoga Racecourse, opened its inaugural meet with four days of racing. Since then it has been the site of some of racing's most famous upsets. Man o' War suffered his only loss in 21 starts while racing at Saratoga, and Triple Crown champion Gallant Fox was defeated by a 100-1 shot named Jim Dandy in Saratoga's 1930 Travers, prompting the track to be called "the graveyard of favorites."
Aug. 3, 1971: The yearling Secretariat was shod on his front feet for the first time and transferred to the Meadow training center for breaking.
Aug. 3, 1989: Jockey Jorge Velasquez notched his 6,000th career victory aboard three-year-old filly Maddie Bumpo in the third race at Arlington International Racecourse.
Aug. 3, 2000: Fred. W. Hooper, who won the 1945 Kentucky Derby with the first horse he ever owned and went on to develop one of Florida's leading racing and breeding operations, died in his sleep in Miami, at the age of 102.
Aug. 4, 1973: In his first race against older horses, 1-10 favorite Secretariat was defeated in the Whitney Stakes at Saratoga by Allen Jerkens' four-year-old trainee Onion, who beat him by a length. Secretariat was subsequently found to be suffering from a virus.
Aug. 4, 2005: Hall of Fame jockey Pat Day announced his retirement. Day retired with 8,803 career wins (fourth-best all-time) and record purse earnings of $297,941,812.
Aug. 5, 1988: Trainer Dale Baird won his 5,000th career race with Stuffed Johnnie at Mountaineer Park, becoming the second trainer in history, behind Jack Van Berg, to reach that mark.
Aug. 5, 2005: Steve Asmussen became the 18th trainer to register 3,000 career victories when he saddled Forest Music to win the Grade II Honorable Miss Stakes at Saratoga.
Aug. 6, 1951: The National Museum of Racing opened in Congress Park at Saratoga Springs, N.Y. More than 2,000 people attended the opening ceremonies presided over by C.V. Whitney.
Aug. 7, 1900: Trainer "Sunny Jim" Fitzsimmons had his first stakes winner, Agnes D., at Brighton Beach.
Aug. 7, 1988: Jockey Eddie Delahoussaye won his 4,000th race aboard a two-year-old filly named Fawn and Hahn in the fourth race at Del Mar.
Aug. 7, 2010: Zenyatta ran her record to a perfect 18-for-18 while winning the Grade I Clement L. Hirsch Stakes at Del Mar for a third time.
Aug. 7, 2010: Hall of Fame trainer Bill Mott saddled his 4,000th career winner when he sent out Mystic to capture the seventh race at Saratoga.
Aug. 8, 1970: Jockey Bill Shoemaker gained his 6,000th career victory, aboard Shining Count at Del Mar.
Aug. 8, 1987: Kent Desormeaux set the record for most stakes wins by an apprentice jockey, 13, aboard King's Snow in the Primer Stakes at Pimlico. The previous record, 10, was held by Steve Cauthen.
Aug. 9, 1999: Trainer, D. Wayne Lukas; jockey Russell Baze, and horses Miesque, Exceller and Gun Bow were inducted into the National Museum of Racing and Hall of Fame in Saratoga Springs, N.Y.
Aug. 10, 1868: "The Dinner Party Stakes," devised by a group of seven influential Thoroughbred owners after a dinner at Saratoga a few days before, was advertised with a request for nominations. The stakes race, designed to showcase racing in Baltimore, was to be run two years hence, in 1870, at the yet-to-be-built Pimlico Racecourse.
Aug. 10, 1982: Mary Russ became the first female rider to surpass the $1 million mark in earnings when she finished third aboard Bammer in the fourth race at Saratoga Racecourse.
Aug. 10, 1996: Cigar was denied a 17th straight victory when longshot Dare and Go passed him in the stretch of the Pacific Classic at Del Mar.
Aug. 10, 2002: Hall of Fame jockey Pat Day became the leading money-winning rider in history with $264,580,968 in purse earnings after guiding With Anticipation to victory in the Grade I Sword Dancer Invitational Handicap at Saratoga. The previous mark was $264,351,679 set by Chris McCarron.
Aug. 10, 2009: Breeders' Cup announced that it would adopt the standard colored saddle towel system, and that trainers who violate its medication policy would face an automatic one-year suspension. Trainers who violate the policy three times face a lifetime ban from the Breeders' Cup.
Aug. 11, 1972: In preparation for his stakes-racing debut, the Aug. 16 Sanford at Saratoga Racecourse, Secretariat worked five furlongs in :59.
Aug. 12, 1943: Representatives of Suffolk Downs donated $625,000 to the National War Fund, the single largest contribution by any sports venue in support of the war effort. Six weeks later, an additional $10,885 was contributed. The track had held an 18-day War Charity meet to fund the donation.
Aug. 12, 1938: In a $25,000 winner-take-all match race, Seabiscuit defeated Ligaroti by a nose at Del Mar. The race pitted father against son, with Charles S. Howard, owner of Seabiscuit, competing with his son Lin, who owned Ligaroti in partnership with crooner Bing Crosby. The race was so closely contested that the jockey for Ligaroti, Noel Richardson, kept rider George Woolf in a leg-lock for part of the stretch run.
Aug. 12, 2000: Hallowed Dreams, bidding to surpass the record of 16 consecutive wins she co-owned with Cigar and Citation, finished third in the Millennium Stakes at Evangeline Downs.
Aug. 13, 1919: Upset scored a win against Man o' War in the Sanford Memorial Stakes at Saratoga Racecourse. The defeat was Big Red's only loss in 21 starts.
Aug. 13, 1938: Mary Hirsch became the first woman to train a Travers Stakes winner when she sent Thanksgiving to victory for owner Anne Corning.
Aug. 13, 1951: At odds of 2-1, Greentree Stable's Tom Fool won his maiden race by four lengths at Saratoga Racecourse.
Aug. 14, 1942: One of racing's oddities occurred at Saratoga Racecourse when Rurales and Joe Burger finished in a dead-heat for first place, giving trainer W.O. Hicks, who saddled both horses, two winners in one race.
Aug. 14, 2009: Trainer Bob Baffert was among six stars inducted into Thoroughbred racing's Hall of Fame.
Aug. 14, 2010: Hall of Fame jockey Russell Baze registered his record 11,000th career winner aboard Separate Forest in the fourth race at Santa Rosa.
Aug. 15, 1972: The 15-race winning streak of England's Brigadier Gerard was ended by John Galbreath's American-bred Roberto, ridden to a three-length victory by Braulio Baeza in the Benson and Hedges Gold Cup at York Racecourse. Brigadier Gerard, who finished second in the Gold Cup, went on to post two more victories before retiring with a record of 18-17-1-0.
Aug. 15, 1987: Kent Desormeaux began his career as a journeyman jockey.
Aug. 15, 2000: Jockey Russell Baze rode three winners at Bay Meadows and surged past Angel Cordero into fifth place on the list of all-time winning riders with 7,059 victories.
---
WEEKEND STAKES RACES top
THURSDAY, AUGUST 2
A.P. Smithwick Memorial Steeplechase Handicap, 4&up, $100,000, Grade I, 2 1-16M (Steeplechase), Saratoga
Birdstone Stakes, 3&up, $100,000, 1 1-8M, Saratoga
FRIDAY, AUGUST 3
Honorable Miss Handicap, 3&up (f&m), $200,000, Grade II, 6F, Saratoga
SATURDAY, AUGUST 4
Whitney Invitational, 3&up, $750,000, Grade I, 1 1-8M, Saratoga
West Virginia Derby, 3yo, $750,000, Grade II, 1 1-8M, Mountaineer Park
Clement L. Hirsch Stakes, 3&up (f&m), $300,000, Grade I, 1 1-16M, Del Mar
Prioress Stakes, 3yo fillies, $300,000, Grade I, 6F), Saratoga
West Virginia Governor's Stakes, 3&up, $200,000, 1 1-16M, Mountaineer Park
Seagram Cup Stakes, 3&up, $150,000, Grade III, 1 1-16M, Woodbine
Lady Canterbury Stakes, 3&up (f&m), $100,000, 1M (T), Canterbury Park
Mountaineer Juvenile Fillies Stakes, 2yo fillies, $100,000, 6F, Mountaineer Park
Mountaineer Juvenile Stakes, 2yo, $100,000, 6F, Mountaineer Park
Senator Robert C. Byrd Memorial Stakes, 3&up, $100,000, 6F, Mountaineer Park
Super Derby Prelude, 3yo, $100,000, 1 1-16M, Louisiana Downs
West Virginia House of Delegates Speaker's Cup, 3&up, $100,000, 1M 70 yds. (T), Mountaineer Park
West Virginia Legislature Chairman's Cup, 3&up, $100,000, 4 1-2F, Mountaineer Park
West Virginia Secretary of State Stakes, 3&up (f&m), $100,000, 6F, Mountaineer Park
West Virginia Senate President's Cup, 3&up (f&m), $100,000, 1M 70 yds. (T), Mountaineer Park
SUNDAY, AUGUST 5
Alfred G. Vanderbilt Handicap, 3&up, $400,000, Grade I, 6F, Saratoga
Best Pal Stakes, 2yo, $150,000, Grade II, 6 1-2F, Del Mar
MONDAY, AUGUST 6
Richmor Aviation Waya Stakes, 3&up (f&m), $100,000, 1 1-2M (T), Saratoga
Manitoba Derby, 3yo, $75,000, 1 1-8M, Assiniboia Downs
WEDNESDAY, AUGUST 8
Sorrento Stakes, 2yo fillies, $150,000, 6 1-2F, Del Mar
THURSDAY, AUGUST 9
Mrs. Ogden Phipps Stakes, 4&up (f&m), $100,000, 2 1-16M (Steeplechase), Saratoga
---
RACING ON THE AIR

(All times Eastern)

top
August 11 Fourstardave Handicap (Saratoga), 6:00-7:00 p.m., NBC Sports Network
August 12 Saratoga Special Stakes and Adirondack Stakes (Saratoga), 6:00-7:00 p.m., NBC Sports Network
MORE
TURN OF FOOT
top
Who's your Whitney pick? Tweet your answers to @ABRLive!