Thursday, August 16, 2012
AMERICA'S

BEST

RACING

Thoroughbred Notebook


Presented by

NTRA



PHOTOS OF THE WEEK
top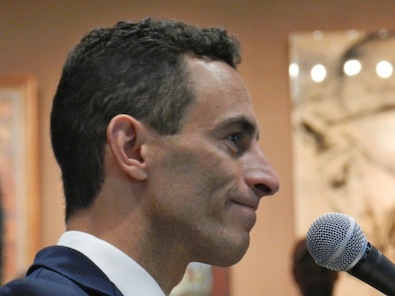 Jockey John Velazquez is emotional at his induction to the Racing Hall of Fame (Image courtesy Penelope P. Miller/America's Best Racing)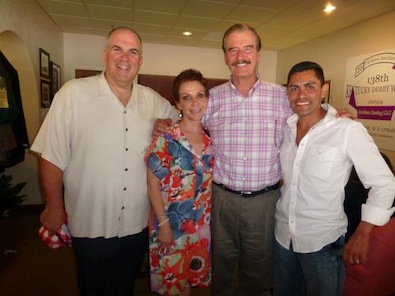 Former Mexican President Vicente Fox at Del Mar with owner Dave Henney and exercise rider Humberto Gomez (Image courtesy of the Doug O'Neill Racing Stable Facebook page)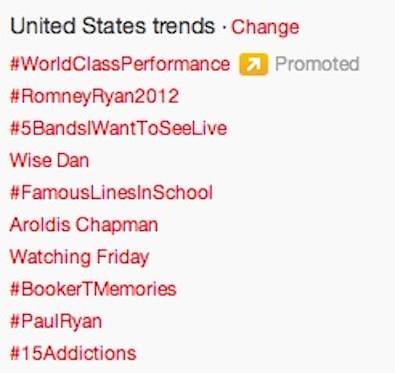 Wise Dan trends nationally following his victory in the Grade II Fourstardave Handicap at Saratoga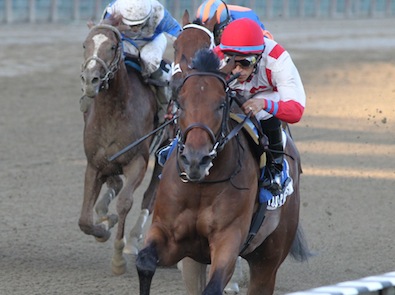 Spurious Precision takes the Grade II Saratoga Special (Image courtesy of HorsePhotos.com)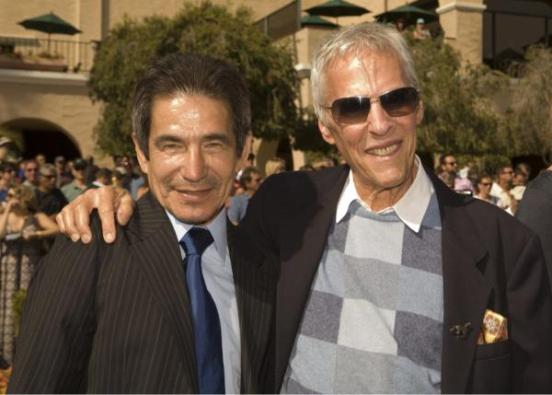 Two legends meet at Del Mar: Hall of Fame jockey Laffit Pincay and musician Burt Bacharach (Image courtesy Benoit Photography)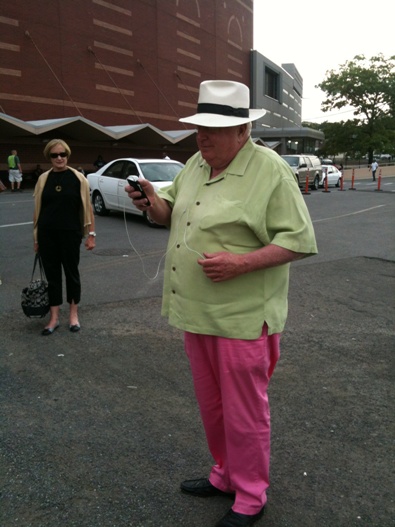 NYRA race caller Tom Durkin wears his pink pants every time his Standardbred, Coraggioso, competes in a harness race (Image courtesy of Joan Lawrence)

FOLLOW US ON TWITTER

@ABRLive
top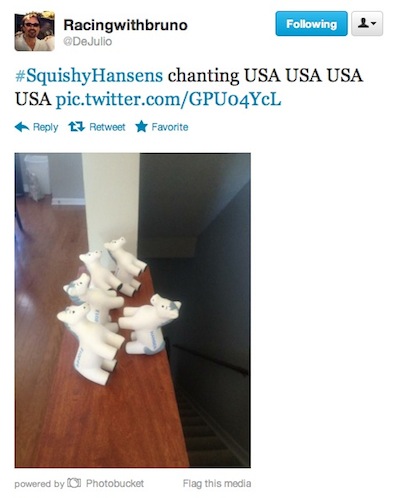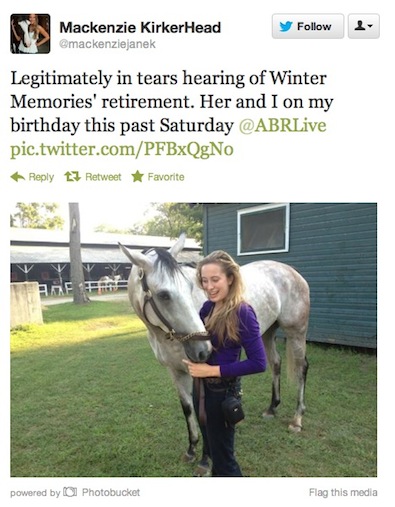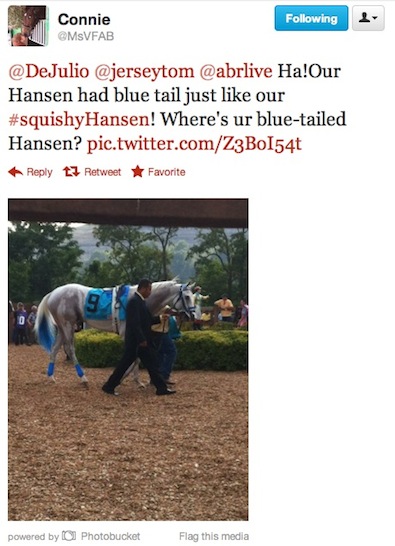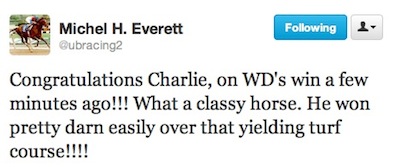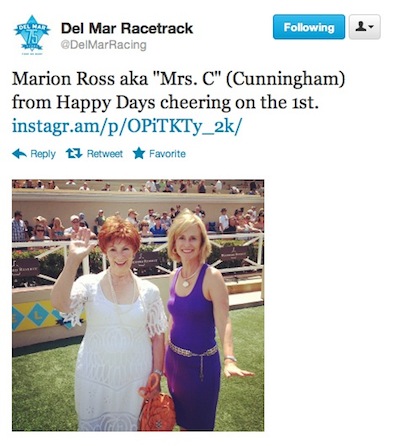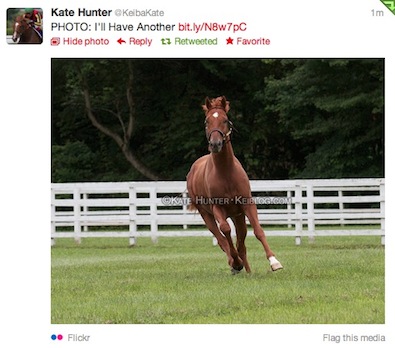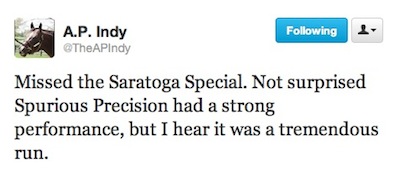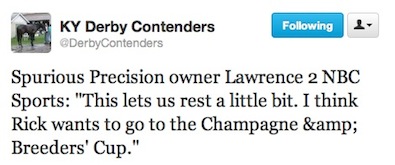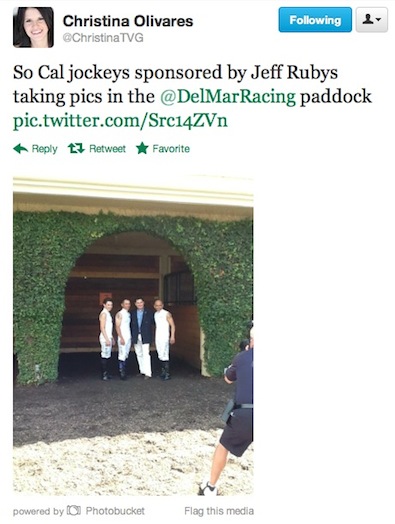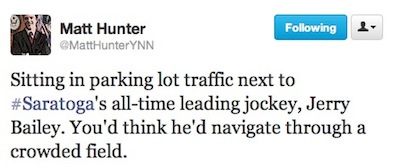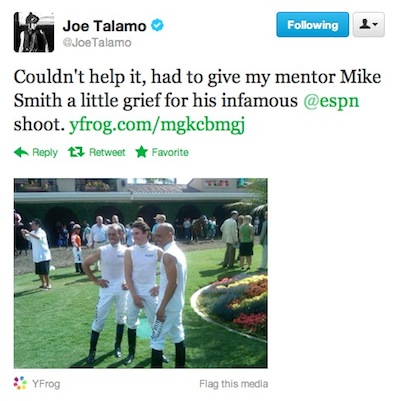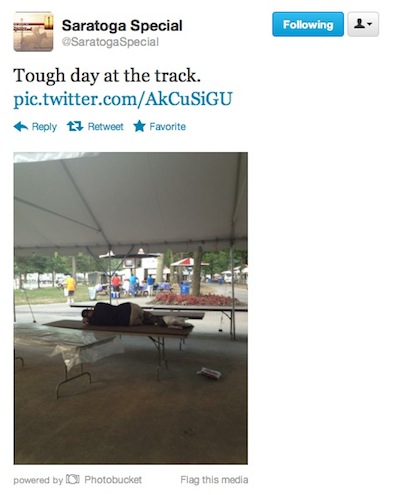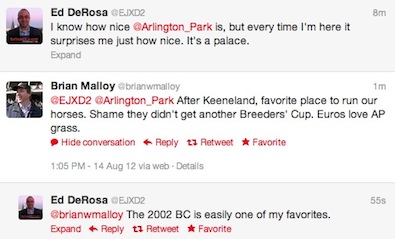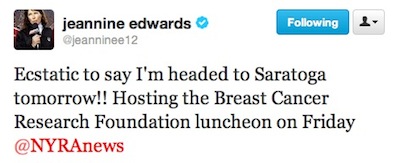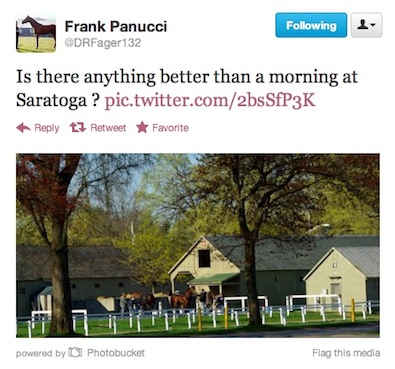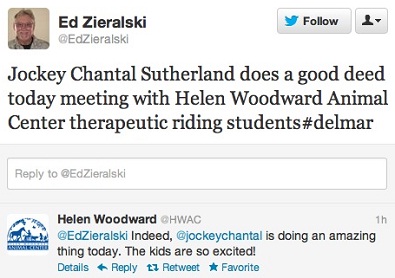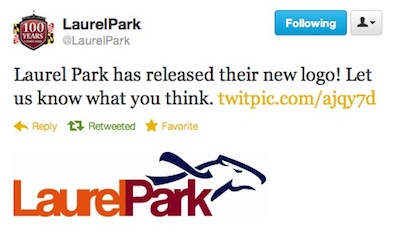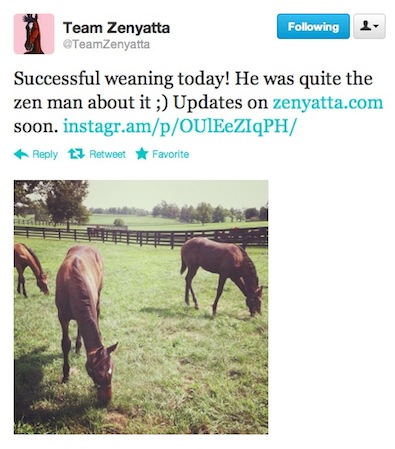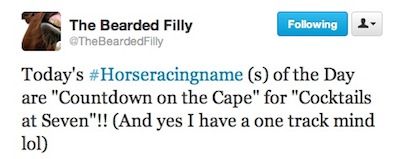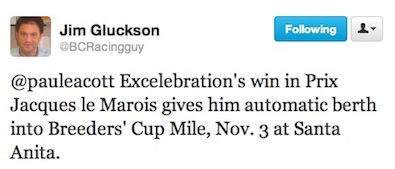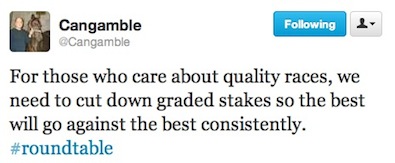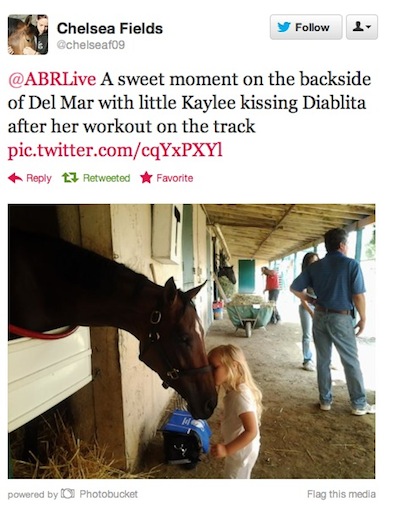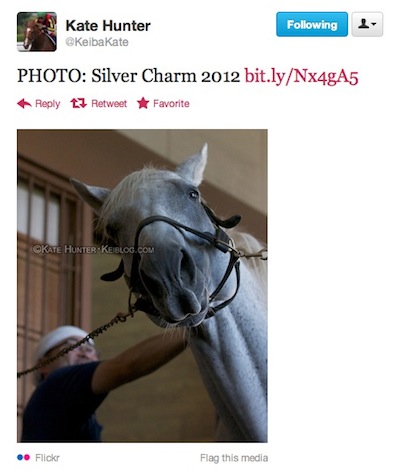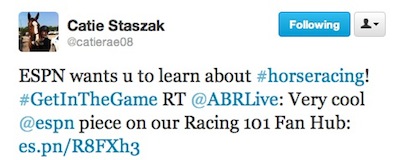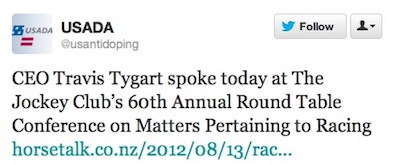 | | |
| --- | --- |
| Image courtesy of Michael Blowen | Michael Blowen founded Old Friends, a retirement farm for Thoroughbreds, in 2003. Old Friends is Blowen's third career. For two decades he was movie critic and arts writer for the Boston Globe, and prior to that he taught film at Emerson College and Boston University. Blowen mucked out stalls and hot-walked horses at Suffolk Downs. He imagined that learning about racing from the ground up would help his handicapping. It didn't. Instead, he fell in love with the horses. After retiring from the Globe, he moved to Kentucky to work as Operations Director for the Thoroughbred Retirement Foundation. Two years later, he started Old Friends, which today cares for 120 Thoroughbreds, including stallions whose racing and breeding careers have ended. Daily Racing Form recently partnered with Old Friends to produce Old Friends Scene magazine, a look at the horses and people at the heart of one of Thoroughbred aftercare's most successful programs. |
TWO MINUTE LICK WITH MICHAEL BLOWEN
top
Name: Michael Blowen

What I do for a living: Run Old Friends Thoroughbred Retirement

How and when I was introduced to Thoroughbred Racing: In 1979, Robert Taylor, arts editor of The Boston Globe, took me to Suffolk Downs. It was love at first sight.

My favorite racetrack: Keeneland and Saratoga in a dead heat.

My favorite Thoroughbred racing event: Breeders' Cup

Other sports/teams I follow: Celtics, UK basketball, Patriots and Red Sox

What I would like to see more of in Thoroughbred Racing: More emphasis on the short and long-term welfare of the athletes.

What I would like to see less of in Thoroughbred Racing: In-fighting

Three words that define what Thoroughbred Racing means to me: Passion, Exhilaration, Compassion

First Thoroughbred track I ever attended was: Suffolk Downs

Favorite All-time Thoroughbred: Summer Attraction

My personal best moment in the sport of Thoroughbred Racing: Attending the first Breeders' Cup at Hollywood Park, and winning my first race as an owner with Keeno Quick (now retired at Old Friends) at the Great Barrington Fair in 1997.

Best racetrack food can be found at: Saratoga

My favorite jockey: Wilfredo Lozano, Jr. (His quick thinking saved my horse, Invigorate, from a potentially fatal injury)

My favorite trainer: Lorita Lindemann

My Heroes: My father, Herbert S. Blowen, an ex-boxer who taught me that kindness is a sign of strength, not weakness.

Person in Thoroughbred Racing I'd like to have dinner with: Rosie Napravnik

My philosophy on life: It's better than the alternative.

Favorite quote or motto: Winners don't always finish first.

Favorite animal other than a horse: Cat

Favorite non-Thoroughbred racing sports event I have attended: Lakers game with Jack Nicholson

Favorite food: Sushi

Favorite vacation spot: Saratoga Springs

Favorite city: Boston

Favorite Musician/band: Jerry Lee Lewis

Favorite all-time movie(s): Chinatown and Casablanca

Favorite TV Show: Curb Your Enthusiasm

Favorite hotel: The Washington Inn in Saratoga

Websites I visit daily: Old Friends, Thoroughbred Times, Bloodhorse, DRF, NTRA and The Paulick Report

What I drive: Buick Riviera, circa 1995, donated to Old Friends by Charlie Pigg.

Pet Peeve: Visitors who feed Starlight mints to the horses and toss the cellophane wrappers on the ground, and people who claim to know everything about racing and don't have a clue.

Favorite movie about horse racing: Casey's Shadow

Which actor would play me in a movie: Larry David

Alma Mater: Emerson College

Favorite Radio shows/channels: HRTV, TVG, Horse Tales with Ercel Ellis and At the Races with Steve Byk.

Best Book I recently read: Day Out Of Days by Sam Shepard

Favorite Memento: A copy of "Laughing in the Hills" by Bill Barich, given to me by John Huston. He signed it, "Appropriately, John Huston."

Favorite Dessert: Creme Brulee

Favorite Drink: Sam Adams Lager

Favorite Scent: Fresh-cut hay

What I like about my job: Feeding the retirees every morning

Favorite Tech gadget: Cell phone

No. 1 Bucket List Item: Retiring Silver Charm and Charismatic to Old Friends once their breeding careers are over.
FAN PHOTO OF THE WEEK top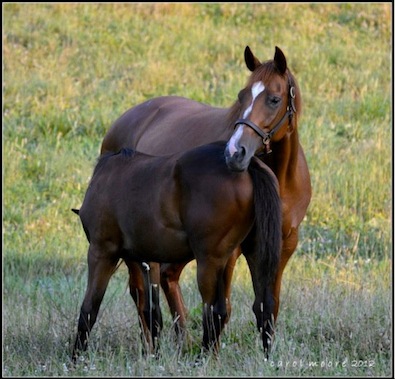 Congratulations to photographer Carol Moore on winning this week's Fan Photo Contest! From Carol: "Mare & foal at Derry Meeting Farm, Pennsylvania enjoying the cool of the evening." Want in? E-mail your submissions with a brief caption to photos@NTRA.com!
VOICES
top
FROM THE GRANDSTAND
top
Jockey Rosie Napravnik about the 0-for-48 streak she ended after winning the Adirondack Stakes at Saratoga aboard Kauai Katie:
"It's always discouraging, especially when people make a comment about it…We don't forget how to do our jobs. There's bad luck involved; there's good luck involved. We lost a couple of bobs the other day. I had an unlucky trip. It happens. It's all about keeping a positive attitude."
Jockey Chantal Sutherland, quoted during a visit to England, by Will Hayler in The Guardian:
"It's a great time to be a female athlete, especially in horse racing. People are letting their guard down. It's not such a big deal. It doesn't matter if you're a girl or a guy. The sport is really opening up."
Former Super Bowl-winning coach and current horse owner Bill Parcells, quoted in Thoroughbred Daily News, after his horse Saratoga Snacks won at Saratoga last Friday despite drifting out dramatically in the stretch:
"He was coming over to the grandstand to visit."
---
MULTI-MEDIA top
Video: Celebrity chef Bobby Flay not only cooks, he invests in Thoroughbreds (Fox Business)

Videos: Vintage footage of Secretariat winning the 1973 Arlington Invitational (with live, during-the-race commentary from Lucien Laurin and Penny Tweedy)—plus a look at Saturday's Secretariat Stakes favorite Silver Max winning the Virginia Derby (Chicagonow.com)

Video: Profile of jockey Joe Talamo (TVG YouTube.com)

Video: Del Mar Thoroughbred tries to pull a Mike Tyson during a race (Bleacher Report)

Photos: Taking a look at this week's horses in the NTRA Top Thoroughbred poll (Bleacher Report)

Photos: Checking in with the newborn colt foaled by Typhoon Tracy, the 2010 Horse of the Year in Australia. Typhoon Tracy died while giving birth to the Street Cry colt. (brissyraces.com)

Video: Horses arrive for the Palio di Siena, Italy's bareback horse race through the streets (Kenny Mayne's yfrog account)
---
IN THE NEWS
top
Strong foreign contingent of in Arlington Million (Chicago Tribune)
How to handicap the Arlington Million (TimeOutChicago.com)
Rahystrada draws poorly for his third Arlington Million try (Daily Racing Form)
Silver Max, Marketing Mix favored in Grade I events on Arlington Million undercard (Thoroughbred Times)
Golden on the grass: Silver Max looks to keep his six-race streak going (Courier-Journal.com)
Ten things you should know about the Beverly D Stakes (Hello Race Fans)
Five retired jockeys to return for one race; face off against five Arlington Park jockeys (BarntoWire.com)
Grace Hall and Questing headline The Alabama (The Sports Network)
The Alabama draws classy field of seven (The Blood-Horse)
Turbo Compressor goes long in Sword Dancer (The Blood-Horse)
Lady of Shamrock looks solid in Saturday's Grade I Del Mar Oaks (The Blood-Horse)
Sunday's Longacres Mile at Emerald Downs lures 11, led by Awesome Gem (Daily Racing Form)
Acclamation likely out of Pacific Classic (Thoroughbred Times)
Rosario to ride Dullahan in the Pacific Classic (North County Times)
Agent says Sutherland will ride in the Pacific Classic (North County Times)
England clears Sutherland to ride (UT San Diego)
Chantal Sutherland hopes to inspire next generation of female jockeys (The Guardian.com)
Horse racing turns to United States anti-doping agency for help policing sport (New York Daily News)
For a Canadian trainer, Hall of Fame honors and worries about the future (New York Times)
Baffert's newest star (ESPN.com)
Facing the leadership deficient (ESPN.com)
Jockey Club Round Table aims to expand racing coverage (The Saratogian)
Come one, come all (ESPN.com)
Character study (ESPN.com)
Handle up at Saratoga and Del Mar as major stakes races approach (Thoroughbred Times)
Crowd, betting at Saratoga horse races nearly level with 2011 (The Business Review)
NYRA seeks ways to build up fan base (The Saratogian)
Boston hedge fund chief beating all horse owners at Saratoga meet (The Business Review)
Brown chasing Pletcher for Saratoga trainer title (The Business Review)
Rider on rise in first Spa meet (Times Union)
Canterbury Park earns re-accreditation from NTRA Safety and Integrity Alliance (NTRA.com)
N.Y. harness track to buy interest in Kentucky's Ellis Park (Kentucky.com)
Maryland Jockey Club unveils new logo for Laurel Park (The Baltimore Sun)
City to City wins John C. Mabee S. at Del Mar (Sacramento Bee)
Spurious Precision wins the Special (ESPN.com)
Low-tech horse race game has loyal following (Las Vegas Review Journal)
One for the little guys: Husband-wife duo wins with half of their two-horse stable (ST Publishing)
Black Caviar takes Australia's Horse of the Year title (Herald Sun)
O'Brien opts to take on Frankel with St Nicholas Abbey (Independent)
The mating game: Will Frankel and Black Caviar breed superhorses? (CNN)
How to pick or breed a winner: Horse racing 'speed gene' test (CNN)
Nebraska teen smitten with horse racing scene (Omaha World-Herald)
After ten long years, woman reunited with stolen horse (MSNBC)
---
IN THE BLOGOSPHERE
top
Dr. Hansen Blog: Was Hansen unethically targeted by Hero of Order connections in the West Virginia Derby?? (Courier-Journal)

Welcome to Arlington Million week (Picks and Ponderings)

Arlington Million Day stakes preview (Chicago Dark Horse)

From across the pond, in-form Gosden looking for clean sweep at Arlington (Horseracingnation.com)

The newest Arlington Million Day race: The American St. Leger (Horseracingnation.com)

Bodemeister will undergo tests at Rood & Riddle (Horseracingnation.com)

Horse racing's three year old male division has turned into a M*A*S*H Unit (Isportsweb.com)

A dream Saratoga meet for Stonestreet (Xpressbet.com)

From the Jersey Shore to the Spa (The Paper Tyger)

How the gang at the Saratoga Paddock Bar saved a marriage (The Unbearable Lightness of Betting)

Winter Memories: An ode to the grey bullet (Adam Mooshian)

How I'd fix what ails horse racing (SportsNola.com)

A guide to betting for women new to the sport of horse racing (Lady and the Track)

Why I'm honored to be blogging for America's Best Racing (Bits N' Bunny)

Why banning horse slaughter is such a terrible idea (Equine Law)

Thewifedoesntknow, the horse made famous in the Larry Collmus race call, is now in training to be a hunter/jumper (The TDN Blog)

Retired racehorse Glo Most Hot plays polo, teaches kids (Off-Track Thoroughbreds)
NHC NEWS
top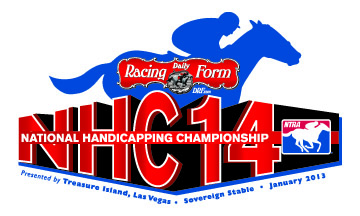 RHONDA SYLVESTER WINS $15,000 AS 2012 DRF NHC TOUR FIRST HALF LEADER
The first-half of the DRF NHC Tour has concluded with Rhonda Sylvester finishing in the top spot and earning a $15,000 cash bonus. A total of $50,000 was paid to the top 10 first-half finishers. The top ten, in order, are Rhonda Sylvester (North Little Rock, AR), Mark McGuire (Newbury Park, CA), Mark Streiff (Mission Viejo, CA), Christopher Larmey (Kennewick, WA), Edmund Teicht (Englewood Cliffs, NJ), Richard Mueller (White Bear Lake, MN), Eric Moomey (Aldie, VA), Kurt Preisigke (Williamsville, NY), Ken Seeman (Wantagh, NY) and Steve Terelak (Culver City, CA). Click here to read full story.
SOVEREIGN STABLE FREE ONLINE HANDICAPPING CHALLENGE AUGUST 18
Sovereign Stable, a presenting sponsor of the Daily Racing Form/NTRA National Handicapping Championship is hosting a free online handicapping contest on Saturday, August 18 for NHC Tour members at NTRA.com. Registration is now open for the online event. Race selections will be posted later today. Click here to enter.
IT IS GETTING HOT IN AUGUST
Horse Players Qualify is conducting Players Challenge qualifiers on August 18, and 25. For more details on the Players Challenge and a schedule of Players Challenge
qualifiers click here.
Horsetourneys.com is hosting online qualifiers on August 19 and 26. Click here for current Horsetourneys.com schedule of events.
Canterbury Park is hosting its Dog Days of Summer Handicapping Tournament August 18-19. The top two finishers will receive NHC berths. Contact Jeff Maday at jmaday@canterburypark.com for more information.
NHCQualify.com will be hosting a one-day NHC qualifier on August 25.
Play in the Woodbine Thoroughbred Handicapping Challenge on August 25-26. The contest entry fee is $330. Three NHC spots will be awarded plus up to $50,000 in cash prizes. Click here for more details.
Click here to view the current Daily Racing Form NHC Tour schedule.
Click here to view the current list of NHC 14 qualifiers.
NHC IN THE NEWS
Upward Trajectory for NHC Tour Action and Prize Money by Noel Michaels (American Turf Magazine)
Ironically, Done in By a Monmouth Longshot by Bill Holobowski (NJ Horseplayer)
DAILY RACING FORM NHC TOUR LEADER BOARDS
The second-half of the DRF NHC Tour is now under way. Dan Shugar (Los Angeles, CA), top finisher at the $150,000 Guaranteed Wynn Handicapping Challenge, grabs the early second-half Tour lead with 3,893 points. Judy Wagner (New Orleans, LA) is in second place with 3,120 points. Tony Linares (Peabody, MA) is in third place. And Mark Streiff, who finished third during the first half, is in fourth.
Click here to view the overall Leader Board standings.
Click here to view the second-half Leader Board standings.
| | | | |
| --- | --- | --- | --- |
| Name | 2H LB Points | Name | Overall LB Points |
| Dan Shugar | 3,893 | Mark McGuire | 11,217 |
| Judy Wagner | 3,120 | Mark Streiff | 10,323 |
| Tony Linares | 2,625 | Rhonda Sylvester | 10,186 |
| Mark Streiff | 2,100 | Christopher Larmey | 9,349 |
| Justin Morgenstern | 1,975 | Edmund Teicht | 8,892 |
Player Profile

Eric Moomey

Eric lives in Aldie, VA. He qualified for the NHC on February 18 at NTRA.com and finished in seventh place on the first-half NHC Tour Leader Board. If Eric walks away with the NHC grand prize of $750,000 in January he would like to invest in a race horse and experience horse ownership. Good luck, Eric.

Click here to read Eric's complete NHC player biography.
CALENDAR
top
RACING TO HISTORY
top
Aug. 16, 1930: Triple Crown winner Gallant Fox was beaten by 100-1 shot Jim Dandy in the Travers Stakes at Saratoga Racecourse.
Aug. 16, 1946: Rockingham Park began to film its races from the vantage of a helicopter, using the equipment as a "mechanical patrol judge."
Aug. 16, 1954: Native Dancer concluded his 22-race career with a victory in the Oneonta Handicap, a non-betting exhibition race at Saratoga Racecourse that he won by nine lengths while carrying 137 pounds. Although he raced only three times in 1954, Native Dancer was subsequently voted Horse of the Year, partly because he had been denied that honor in the previous year, despite having won nine of 10 races, all of them stakes. Tom Fool, 1953 Horse of the Year, had had a perfect 10-for-10 record.
Aug. 16, 1965: John Longden rode his 6,000th winner, riding Prince Scorpion to victory while at Exhibition Park.
Aug. 16, 1972: Secretariat won his first stakes race, the Sanford Stakes, at Saratoga Racecourse. The time for the six-furlong race was 1:10, the fastest time for the distance at Saratoga that year.
Aug. 16, 1976: John Campo swept the top three spots in the Adirondack Stakes with his trainees Harvest Girl, Bonnie Empress and Drama Critic.
Aug. 16, 2003: Storming Home unseated his rider, Gary Stevens, at the finish of the Arlington Million in a spectacular incident that resulted in Sulamani being named the race winner. Stevens suffered a fractured vertabra and collapsed lung in the spill.
Aug. 17, 1918: Samuel D. Riddle purchased the yearling Man o' War for $5,000 in a sale of August Belmont II's bloodstock at Saratoga.
Aug. 17, 1977: Jockey Steve Cauthen rode Affirmed for the first time, winning the Sanford Stakes at Saratoga Racecourse by 2 3/4 lengths.
Aug. 17, 2000: Zippy Chippy, loser of all 86 of his lifetime races, was defeated again--this time by minor-league baseball player Jose Herrera in a 40-yard dash. The race, called the "2000 Red Wings Derby," was held prior to a home game of the International League's Rochester Red Wings.
Aug. 18, 1923: The Jockey Club announced that the owner of Papyrus, winner of the Epsom Derby, had accepted an invitation to compete in an international match race in the U.S., against an American horse. Zev, winner of the 1923 Kentucky Derby, was chosen to represent the U.S. against Papyrus in the race, scheduled for October.
Aug. 18, 1961: Trainer Dale Baird saddled his first winner, New York, at Ellis Park.
Aug. 18, 2002: Sunday Silence, the 1989 Horse of Year who later became a perennial leading sire in Japan, died after suffering a fatal heart attack at the Shadai Stallion Station on the isle of Hokkaido in Japan.
Aug. 18, 2008: Trainer Linda Rice saddled the top four finishers in the $83,250 Mechanicville Stakes over the turf at Saratoga. Rice won the race with Ahvee's Destiny, with Canadian Ballet second by a head, Silver Timber a half-length farther back in third; and Karakorum Elektra another three-quarters of a length behind in fourth.
Aug. 19, 1978: In the conclusion of their 10-race rivalry, Alydar scored his third "success" against Affirmed in the Travers Stakes at Saratoga Racecourse, when his adversary was disqualified from first place.
Aug. 19, 1990: Jockey Earlie Fires became the eleventh rider in Thoroughbred racing history to register 5,000 victories when he guided Tex's Zing to victory in the ninth race at Arlington International Racecourse. He joined history-making jockeys Bill Shoemaker, Laffit Pincay Jr., Angel Cordero Jr., John Longden, Jorge Velasquez, Larry Snyder, Sandy Hawley, Dave Gall, Carl Gambardella and Chris McCarron.
Aug. 20, 1966: Ogden Phipps' Buckpasser, ridden by Braulio Baeza, became racing's first three-year-old millionaire after he won the Travers Stakes at Saratoga Racecourse.
Aug. 20, 2000: Ron Ardoin became the 16th jockey in North America to win 5,000 races when he guided Heart of an Angel to a three-length victory in the seventh race at Louisiana Downs.
Aug. 21, 2007: Perry Ouzts gained the 5,000th win of his riding career when he piloted Kandinsky to victory in the 1st race at River Downs.
Aug. 22, 1972: In preparation for his next start, the Aug. 26 Hopeful Stakes at Saratoga Racecourse, Secretariat worked a half-mile in :46 2/5.
Aug. 22, 1998: Hall of Fame trainer Woody Stephens died in Miami Lakes, Fla. He was 84.
Aug. 22, 2011: Jockey Tammi Piermarini recorded the 2,000th win of her career, piloting Sugar Trade to victory in the third race at Suffolk Downs. Piermarini joined Julie Krone (3,704 wins), Rosemary Homeister Jr. (2,438), Patti Cooksey (2,137) and Vicki Aragon Baze (2,019) in the exclusive group of women with 2,000 or more career victories.
Aug. 23, 1956: Carl Gambardella had his first career winner, aboard Rollin Warm, at Hagerstown.
Aug. 23, 1974: Frank Whiteley-trained Ruffian won the Spinaway Stakes by 13 lengths at Saratoga Racecourse, ending her two-year-old season with a 5-for-5 record. Ruffian was subsequently voted champion juvenile filly of 1974.
Aug. 23, 2003: Trainer King Leatherbury became just the third trainer in history to win 6,000 races after saddling Cherokee Sunrise to victory in the seventh race at Timonium.
Aug. 24, 1968: Carrying 134 pounds, Dr. Fager set the then-world record for a mile in the Washington Park Handicap at Arlington Park. The time for his 10-length victory was 1:32 1/5. The previous record was 1:32 3/5, set by three-year-old Buckpasser on June 25, 1966 at Arlington Park.
Aug. 24, 1989: Jockey Larry Snyder won his 6,000th career race, aboard a filly named Speedski, in the first race at Louisiana Downs. Snyder was the sixth rider in history to accomplish that feat.
Aug. 24, 2003: Jockey Julie Krone became the first female rider to win a million-dollar race when she piloted Candy Ride to victory in the Pacific Classic at Del Mar.
Aug. 25, 1987: Julie Krone won her 1,000th career victory, aboard Tiger Higgins in the second race at Monmouth Park.
Aug. 25, 1997: Jockey Pat Day gained his 7,000th career victory aboard Bay Harbor in the second race at Saratoga Racecourse. Day became the fifth rider to reach the 7,000-win plateau.
Aug. 25, 2001: A record Travers Stakes day attendance of 60,486 watched Point Given win the race dubbed the "Midsmummer Derby." The day's total betting handle of $34,529,273 was also a Saratoga record.
Aug. 26, 1953: A syndicate headed by Howard E. Booker of San Francisco, unveiled a proposal for an off-track betting system in New York. Booker's group, planning to use Western Union to compile off-track bets, sought to establish 139 betting offices, to be open from 7:00 a.m. to 7:00 p.m.
Aug. 26, 1972: Secretariat won the Hopeful Stakes by five lengths at Saratoga Racecourse, for his second stakes win in as many tries.
Aug. 27, 1953: The Thoroughbred Racing Associations denounced a plan for off-track betting in New York. John A. Morris, the TRA president, declared: "Although it could mean increased profits for the race tracks, off-course betting would inevitably subordinate racing and bring on an adverse public reaction which would kill a traditionally great sport and an economically significant industry."
Aug. 28, 1988: A winning ride aboard Precisionist in the Cabrillo Handicap at Del Mar Thoroughbred Club made Chris McCarron the fifth jockey to surpass $100 million in career earnings.
Aug. 29, 1987: Charlie Whittingham became the first trainer to surpass 500 stakes wins when he sent Ferdinand to victory in the Cabrillo Handicap at Del Mar Thoroughbred Club.
Aug. 29, 1993: Laffit Pincay Jr., 46, became the second rider in North American racing history to ride 8,000 winners when he rode El Toreo to victory in the seventh race at Del Mar Thoroughbred Club. Bill Shoemaker was the first to hit 8,000, a feat he accomplished in 1981 at age 49.
---
WEEKEND STAKES RACES top
FRIDAY, AUGUST 17
Sandy Blue Handicap, 3yo fillies, $85,000, 1M (T), Del Mar
SATURDAY, AUGUST 18
Arlington Million XXX, 3&up, $1,000,000, Grade I, 1 1-4M (T), Arlington Park
Beverly D. Stakes, 3&up (f&m), $750,000, Grade I, 1 3-16M (T), Arlington Park
Alabama Stakes, 3yo fillies, $600,000, Grade I, 1 1-4M, Saratoga
Sword Dancer Invitational Handicap, 3&up, $600,000, Grade I, 1 1-12M (T), Saratoga
Secretariat Stakes, 3yo, $500,000, Grade I, 1 1-4M (T), Arlington Park
American St. Leger Stakes, 3&up, $400,000, 1 11-16M (T), Arlington Park
Del Mar Oaks, 3yo fillies, $300,000, Grade I, 1 1-8M (T), Del Mar
Capital City Stakes, 3yo, $100,000, 1M (T), Penn National
Dauphin Miss Stakes, 3yo fillies, $100,000, 1M (T), Penn National
Edward J. DeBartolo Memorial Handicap, 3&up, $100,000, 1 1-8M (T), Remington Park
SUNDAY, AUGUST 19
Sky Classic Stakes, 3&up, $250,000, Grade II, 1 1-4M (T), Woodbine
Woodford Reserve Lake Placid Stakes, 3yo fillies, $200,000, Grade II, 1 1-8M (T), Saratoga
Longacres Mile, 3&up, $200,000, Grade III, 1M, Emerald Downs
Rancho Bernardo Handicap, 3&up (f&m), $150,000, 6 1-2F, Del Mar
Gold Rush Futurity, 2yo, $100,000, 6F, Arapahoe Park
THURSDAY, AUGUST 23
New York Turfwriters Cup Steeplechase, 4&up, $150,000, Grade I, 2 3-8M (Steeplechase), Saratoga
---
RACING ON THE AIR

(All times Eastern)

top
August 18 Alabama Stakes and Sword Dancer Invitational Handicap (Saratoga), 5:00-6:00 p.m., NBC Sports Network
August 25 Travers Stakes, Foxwoods King's Bishop Stakes, Test Stakes and Ballston Spa Handicap (Saratoga), 4:00-6:00 p.m., NBC
MORE
TURN OF FOOT
top
Who are you rooting for in the Arlington Million? Tweet your answers to @ABRLive!