Thursday, February 23, 2012
NTRA Thoroughbred Notebook
PHOTOS OF THE WEEK
top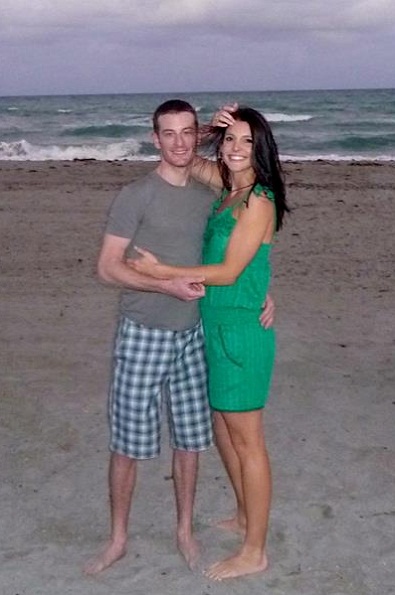 Congratulations to jockey Julien Leparoux and his new fiancée Shea Mitchell! (Image via Julien Leparoux's Facebook page)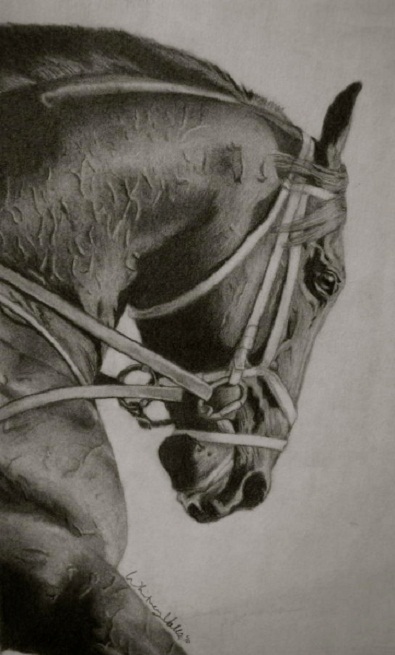 Tampa Bay Downs jockey Whitney Vall's drawing of Super Saver (Image via Equidaily.com)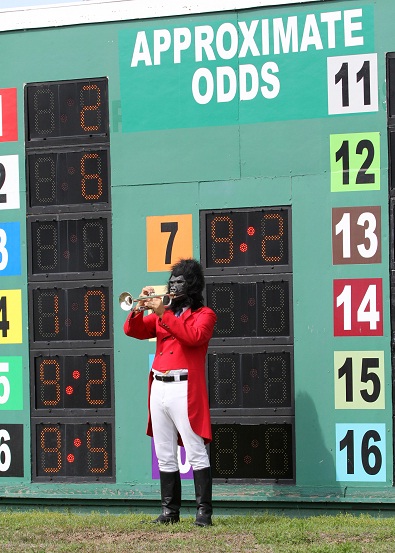 The Fair Grounds bugler gets into the Mardi Gras spirit for the call to post on Fat Tuesday. (Image via Hodges Photography/ Lou Hodges, Jr.)
FOLLOW US ON TWITTER

@NTRA
top
Join cast members from HBO's critically acclaimed horse racing drama Luck and horse racing experts every Monday night at 9 PM Eastern/6 PM Pacific for #LuckChat to discuss the show!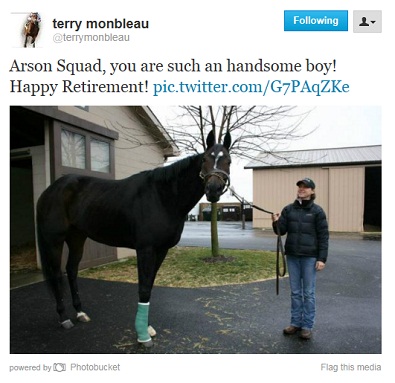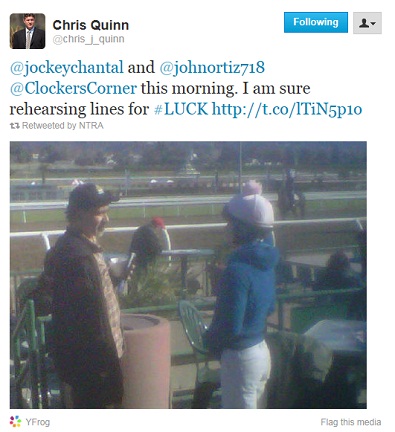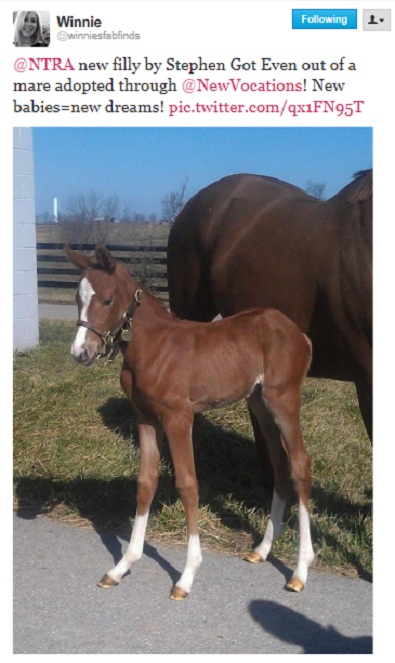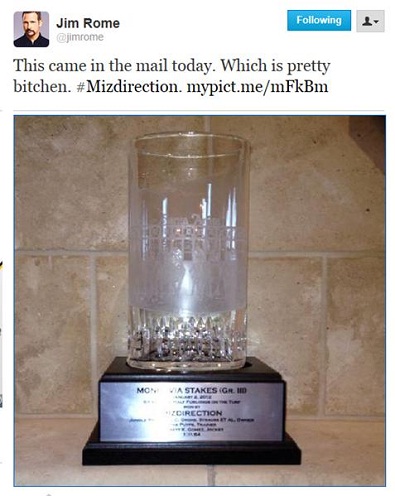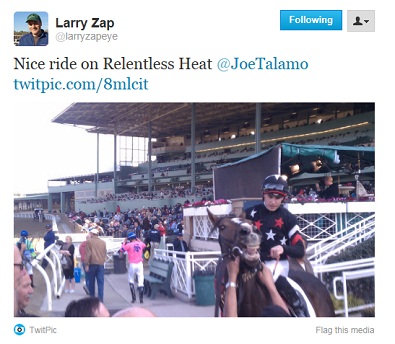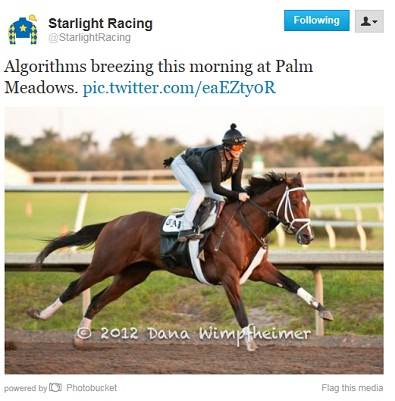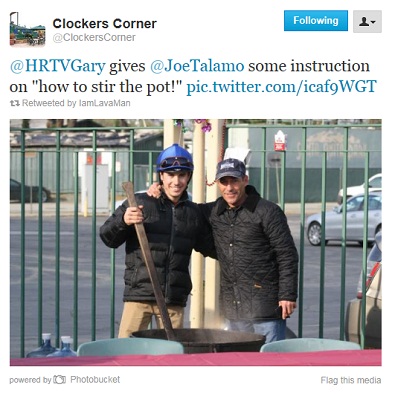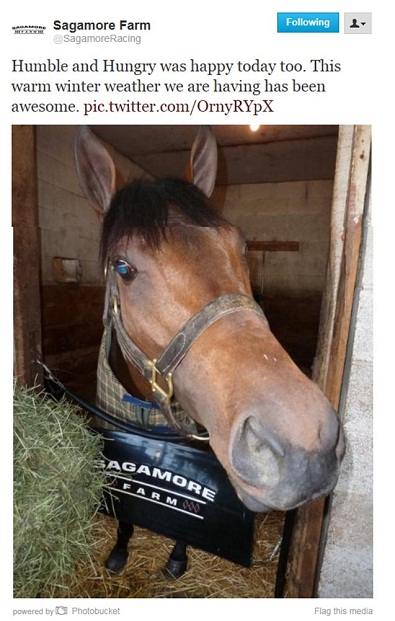 Image courtesy of Hodges Photography/Lou Hodges, Jr.
Anna "Rosie" Napravnik currently rides at Fair Grounds in New Orleans. Last year, in her first season at the Crescent City oval, she became the first woman to win a riding title when she booted home 110 winners. Napravnik also became the first female to take the $1 million Louisiana Derby when she piloted Pants On Fire to victory in 2011.

Later that year, Napravnik became just the sixth woman to ride in the Kentucky Derby, finishing ninth on Pants on Fire. It was the best finish among any of the six female Derby jockeys.
TWO MINUTE LICK WITH ROSIE NAPRAVNIK
top
Name:
Rosie Napravnik




Birthplace:
Mendham, N.J.

Most influential person in my career: My sister Jazz (trainer), Dickie Small, Holly Robinson. All three were most influential people at the beginning of my career. Thanks to them, I've received great support from many other people throughout my career.

Other sports/teams I follow: The Saints

My Heroes: My sister Jazz

Most treasured possession/memento: The plaque that George and Lori Hall sent to me after my Louisiana Derby win aboard Pants on Fire.

A Pet Peeve: Dishonest people

Music I listen to: Country, dance, Jazz, swing, rock

Favorite websites I visit daily/weekly: pintrest.com, drf.com, BloodHorse.com

Gadget I cannot live without: My iPhone

Hobbies away from Thoroughbred Racing: Dancing, cooking, hiking with our dogs, bike riding

Favorite movies: Seabiscuit

TV shows I watch: HRTV

Favorite foods: Seafood, Italian

Favorite exercise regimen: Breezing/working horses

What I drive: Lexus RX 350

If I could be a guest on any TV talk show it would be: Ellen DeGeneres

If I could appear on any television show it would be: David Letterman

If I could be on stage in a band, I would play what instrument: Vocalist

Favorite Musician/Band: Many

Favorite Actor: Jennifer Aniston

I'd like to have dinner with: My grandfather

My philosophy on life: Things happen for a reason

Favorite animal other than a horse: Dog

Twitter Handle: @Rosie.Napravnik

People I follow on Twitter: Just started using Twitter

No. 1 Bucket List Item: Win the Triple Crown
FAN PHOTO OF THE WEEK top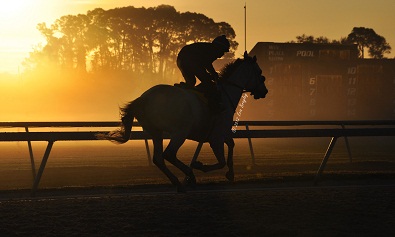 Congratulations to Erin Brayley, winner of this week's Fan Photo Contest! From Erin: "I took this image on January 6, 2012. It was a cold morning (in the high 30's/low 40's, if I remember correctly), and was able to catch a lot of fog as the sun started to rise. The track is Tampa Bay Downs."
WING'S WATCH
top
NEW WEEKLY FEATURE: NTRA.com's Eric Wing offers up insights on who he thinks are the Top 40 Triple Crown contenders. (Wing's Watch PDF)
VOICES top
FROM THE GRANDSTAND
top
Trainer Doug O'Neill, quoted in the Rutherford Reader, about Derby dreams:
"Anyone involved in the sport that is connected with a nice three-year old feels it right now. Whether you are a groom, a hot walker, exercise rider, owner or trainer, it does not matter. You are all thinking how special it would be to go to the Kentucky Derby. There is not a person in the barn area that doesn't lay awake at night dreaming about what it would be like to be at Churchill Downs on the first Saturday in May."
Trainer Bob Baffert on his San Vicente winner, Drill:
"I wouldn't run out and buy a future book (bet) on him. He'd have to prove something to me going long. He's one-turn right now."
Trainer Graham Motion, quoted in The Paulick Report, on his open nature with the media and on Twitter:
"I think it's important. The biggest problem we have with racing in this country is that nobody wants to talk about it except for the two weeks around the Kentucky Derby. I felt a responsibility to feed that. If I don't help out, who will? Newspapers don't cover racing anymore. My thing with Twitter and the website is just trying to put the information out there. If it catches on or garnishes a little bit of attention, then that's great.

"I see other sports, other athletes doing this. We need to keep up with the times. We are so secretive, especially trainers, and it's so unnecessary. I try not to be secretive about what we are doing."
Motion again, this time on Animal Kingdom's comeback win last Saturday:
"He made the ESPN Top 10 Plays of the Day. I thought that was pretty cool."
---
VIDEOS OF THE WEEKVIDEOS OF THE WEEK
top
A Super Saver filly takes her first steps. (WinStarFarmLLC YouTube Channel)
Animal Kingdom wins convincingly in his 2012 debut at Gulfstream Park (GulfstreamParkRacing YouTube channel)
Castaway wins the first division of the Southwest Stakes at Oaklawn Park (NTRA)
Trainer Bob Baffert and jockey Rafael Bejarano make it an Oaklawn double by winning the second division of the Southwest Stakes with Secret Circle (NTRA)
Winner's circle chatter following Drill's victory in the San Vicente (SantaAnitaPark's YouTube channel)
---
IN THE NEWS
top
Post position lineup for Sunday's Grade II Fountain of Youth Stakes at Gulfstream Park (

HRTV

)

Algorithms' training leaves Jack Wolf confident (Courier-Journal.com)

Leparoux lands Derby favorite, and a bride to be (Miami Herald.com)

El Padrino heads Risen Star (ESPN.com)

Louisiana Derby Preview Day brings anticipation for a big event (New Orleans Times-Picayune)


On a racehorse, Rosie Napravnik shows she's something special (New Orleans Times-Picayune)

Brereton Jones and Larry Jones, 'Till Death Do Us Part'

(

New Orleans Times-Picayune

)

Azeri the starting point for Havre de Grace (The Blood-Horse)

Ladies Classic heroine Royal Delta makes 2012 debut vs. Awesome Maria in Sabin (The Blood-Horse)

The Pletcher-Baffert Derby? (WHAS11.com)

Horse Racing Capsules: Baffert-trained pair wins both Southwest Stakes (The Brownsville Herald.com)

Drill masters San Vicente Stakes (Miami Herald.com)

Industry making strides to rehome retired racehorses (Bleacher Report)

NTRA polls: a good industry idea; will it work? (HorseraceInsider.com)

More on the new NTRA polls (Rutherford Reader.com)

Gomez tells story of abuse and addiction by Claire Novak (ESPN.com)

The Jockey Club releases naming mobile App (anddownthestretch.com)

HBO's "Luck" get's stronger by the week

(

Masslive.com

)

'Luck' recap: Gettin'up Morning Time

(ET.com

)

Animal Kingdom eyes road to Dubai

(

ESPN.com

)

Triple Crown Showdown: Players get a chance at $1,000,000 (ESPN.com)

Pimlico Race Course unveils new logo (Baltimore Sun)

British Horseracing Authority makes fundamental changes to whip rules (Theguardian.com)

Top International sire Royal Academy dies (The Blood-Horse)

Hall of Famer Terry Bradshaw to be guest speaker for Kentucky Race Track Chaplaincy (The Courier-Journal.com)

OTTB Showcase: Scooby Who (a.k.a. Scooby) (

Paulickreport.com

)





The University of Louisville Equine Industry Program teaches the business of horses

(

Louisville.com

)
---
IN THE BLOGOSPHERE
top
Stars clash in Sunday's Fountain of Youth

(

HRTV.com)





Dr. Kendall Hansen speaks his mind on Trackus, ESPN and more (Courier-Journal)

On Chantal Sutherland being featured in playboy.com (HorseraceInsider.com)

Dead Heat Debates: Baffert Blast (Horseracingnation.com)

Behind the scenes with Tampa Bay Downs apprentice jockey Whintey Valls (Racing in the Sunshine)





'Luck': Gettin' Up Morning, while meeting Mike

(

The Marquee Blog.com

)



Luck: Rooting Home a Winner

(

Horseraceinsider.com

)





"Luck" Season 1; Episode 4: Recap (Wall Street Journal.com)

TV Review: "Luck" 1.3 (WhatCulture.com)

Remembering Captain Bodgit (Thoroughbred Greats.com)

Barbara Livingston photos: Florida Fast Track (Daily Racing Form.com)

Off-the-track Thoroughbreds: forward, athletic, and ready to learn (Retired Racehorse Blog)

Catching up with the Retired Racehorse Training Project (Off Track Thoroughbreds)
NHC NEWS top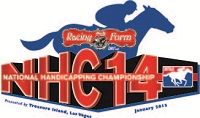 Gulfstream Park Handicapping Challenge set for March 17-18 (
Gulfstream Park
)
Treasure Island to host 100% payback NHC Qualifiers April 7, May 6 and June 10 (NTRA.com)
Learn more about the 2012 Daily Racing Form NHC Tour (NHC)
In other NHC news: Last month's million-dollar NHC winner Michael Beychok will be recognized Saturday at Fair Grounds, the "home track" of the Baton Rouge, La., native. As part of the Louisiana Derby Preview Day festivities, Beychok will be honored in the winner's circle following the day's 5th race. True to his passion, Beychok will also preview the race 5 field from the paddock along with Fair Grounds host Katie Mikolay…Who will follow Beychok's path to NHC riches and fame? It could be Edward Lawless of Schenectady, N.Y., Eric Moomey of Aldie, Va., Kurt Preisigke of Williamsville, N.Y., or Robert Witt of Peotone, Ill. All four qualified for next January's NHC 14 at Treasure Island Las Vegas by topping the standings board at last Saturday's free contest for Daily Racing Form NHC Tour members at NTRA.com. To join the NHC Tour, learn more about it, or peruse the latest schedule of NHC qualifying events, visit www.nhctour.com.
CALENDAR top
RACING TO HISTORY
top
Feb. 23, 1935: Seven-year-old Azucar, a former steeplechaser, won the inaugural Santa Anita Handicap at Santa Anita Park.

Feb. 23, 2011: In her initial year as a broodmare, Zenyatta, the 2010 Horse of the Year, was bred to Bernardini.

Feb. 24, 1947: Acting upon an earlier recommendation by The Jockey Club stewards, the Thoroughbred Racing Associations unanimously approved lip tattoos as a method of identifying Thoroughbred racehorses.

Feb. 24, 1979: Trainer J.C. Williams set a North American record by saddling eight winners in 12 attempts at Waterford Park in West Virginia. Williams also owned seven of those eight winners, which established a record for most wins by an owner in one day at one racetrack.

Feb. 24, 2007: On his 96th birthday, Noble Threewitt officially retired from training Thoroughbreds, ending a career that spanned eight decades.

Feb. 25, 1990: The 11th race at Charles Town was declared a no-contest because the starting gate could not be removed from the track after the race had begun. The track announcer warned the jockeys to pull up their mounts, and the track subsequently refunded all wagers on the race.

Feb. 26, 1973: With Secretariat having been named Horse of the Year for 1972 and champion two-year-old, it was announced by Claiborne Farm that the colt had been syndicated for a then-record $6,080,000—equivalent to 32 shares at $190,000 each.

Feb. 27, 1982: Florida apprentice Mary Russ became the first female jockey to win a Grade I stakes in North America when she captured the Widener Handicap aboard Lord Darnley at Hialeah.

Feb. 28, 1957: John Longden became the first jockey in history to reach 5,000 victories.

Feb. 28, 2004: Hall of Famer Richard Mandella became the seventh trainer to pass the $100-million mark in career purse earnings.

Feb. 28, 2006: A two-year-old son of Forestry became the most expensive Thoroughbred ever sold at a public auction at the Fasig-Tipton Calder sale in Miami. The colt, later named The Green Monkey brought a final bid of $16 million from Demi O'Byrne. O'Byrne purchased the colt for a partnership headed by John Magnier and Michael Tabor. The previous record for a horse of any age at auction was the $13.1 million paid for Seattle Dancer as a yearling in 1986. The Green Monkey ran three times in his career, never won, and earned $10,440.

March 1, 2005: At a two-year-old-in-training sale in Miami, Sheikh Mohammed al-Maktoum paid a record $5.2 million for a son of Tale of the Cat.

March 1, 1969: Tuesdee Testa, 27, became the first female jockey to win a race at a major American Thoroughbred track when she won the third race at Santa Anita Park aboard Buz On.

March 1, 1989: Prairie Meadows in Altoona, Iowa, holds its inaugural day of racing in 20-degree temperatures during a snowfall. Jockey Cindy Noll wins the first race aboard Holmish in a $2,300 claiming event.

March 1, 1991: Pat Day, 37, became the sixth rider in history whose mounts earned $100 million when he rode Wild Sierra to a second-place finish in the first race at Oaklawn Park.

March 2, 1940: Beaten by a nose in both the 1937 and 1938 Santa Anita Handicaps, Seabiscuit finally won the Big 'Cap in his final race. He retired the then-leading money-winning horse in the world.

March 2, 1966: Kelso, Horse of the Year 1960-64, ran his last race, finishing fourth at Hialeah Park.

March 3, 1966: Ogden Phipps' Buckpasser won the Flamingo Stakes by a nose, under the guidance of Bill Shoemaker. The colt was such a prohibitive favorite among the field of nine that the race was declared a non-wagering contest and was dubbed "The Chicken Flamingo."

March 3, 1985: Bill Shoemaker became the first jockey in history to win $100 million in purses after he won the Santa Anita Handicap aboard Lord at War (ARG).

March 3, 1993: Russell Baze had his 4,000th career win, with Frank Musso, at Golden Gate Fields.

March 3, 2004: Santa Anita Park set a North American record with a gross Pick Six pool of $7,302,848, which included a three-day carryover of $1,413,136. There were three winning tickets worth $1,567,984 each.

March 5, 1988: Carl Gambardella had his 5,000th career winner, aboard John's Goldenapple, at Suffolk Downs.

March 5, 2011: Chantal Sutherland became the first female jockey to win the Grade I Santa Anita Handicap when she piloted Game On Dude to a nose victory. Before the race was declared official, Game on Dude and Sutherland had to survive a 12-minute stewards' inquiry regarding a bumping incident with favored Twirling Candy who finished fifth.

March 6, 1965: Jockey Earlie Fires rode his first winner, Carnation Kid, at Oaklawn Park. By year's end, Fires had amassed nearly $600,000 in purse earnings to earn the title of champion apprentice jockey.

March 6, 1988: Julie Krone became the winningest female jockey in racing history when she won the 1,205th race of her career riding a filly named Squawter in the ninth race at Aqueduct Racetrack.

March 7, 2009: Helen Pitts-Blasi became the first female to train the winner of the Grade I Santa Anita Handicap when she saddled 7-year-old Einstein to victory.
---
WEEKEND STAKES RACES top
SATURDAY, FEBRUARY 25
Risen Star Stakes, 3yo, $300,000, Grade II, 1 1-16M, Fair Grounds

Davona Dale Stakes, 3yo fillies, $250,000, Grade II, 1 1-16M, Gulfstream Park

San Carlos Stakes, 4&up, $200,000, Grade II, 7F, Santa Anita Park

Rachel Alexandra Stakes, 3yo fillies, $200,000, Grade III, 1 1-16M, Fair Grounds

Tampa Bay Stakes, 4&up, $150,000, Grade III, 1 1-16M (T), Tampa Bay Downs

Borderland Derby, 3yo, $150,000, 1 1-16M, Sunland Park

Fair Grounds Handicap, 4&up, $125,000, Grade III, 1 1-8M (T), Fair Grounds

Mineshaft Handicap, 4&up, $125,000, Grade III, 1 1-16M, Fair Grounds

Sabin Stakes, 4&up (f&m), $100,000, Grade III, 1 1-16M, Gulfstream Park

The Very One Stakes, 4&up (f&m), $100,000, Grade III, 1 3-8M (T), Gulfstream Park

Busher Stakes, 3yo fillies, $75,000, 1 1-16M, Aqueduct

Colonel Power Stakes, 4&up, $75,000, 5 1-2F (T), Fair Grounds

Miracle Wood Stakes, 3yo, $75,000, 7F, Laurel Park

Turf Paradise Derby, 3yo, $75,000, 1 1-16M, Turf Paradise
SUNDAY, FEBRUARY 26
Fountain of Youth Stakes, 3yo, $400,000, Grade I, 1 1-16M, Gulfstream Park

MacDiarmida Stakes, 4&up, $150,000, Grade II, 1 3-8M (T), Gulfstream Park
MORE