Thursday, February 9, 2012
NTRA Thoroughbred Notebook
PHOTOS OF THE WEEK
top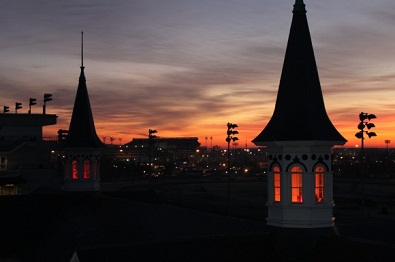 Churchill Downs lights its twin spires in red in recognition of American Heart Month. (Image courtesy of Churchill Downs)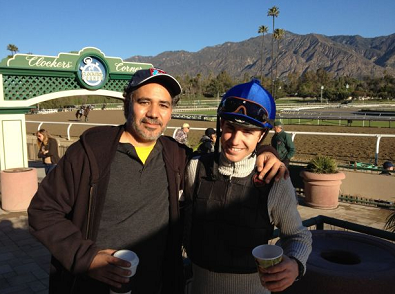 "Luck" star John Ortiz and jockey Joe Talamo hang out at Santa Anita's Clockers' Corner (Image courtesy of John Ortiz's Twitter feed)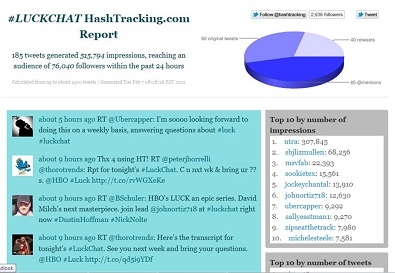 Last Monday's inaugural Twitter #LuckChat reached 76,000 individuals with more than 500,000 impressions made.
FOLLOW US ON TWITTER

@NTRA
top
Join cast members from HBO's critically acclaimed horse racing drama Luck and horse racing experts every Monday night at 9 PM Eastern/6 PM Pacific for #LuckChat to discuss the show!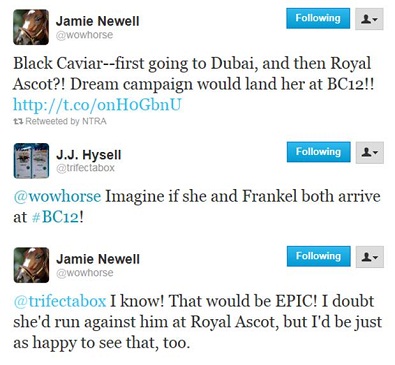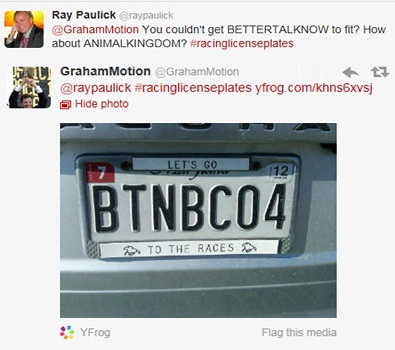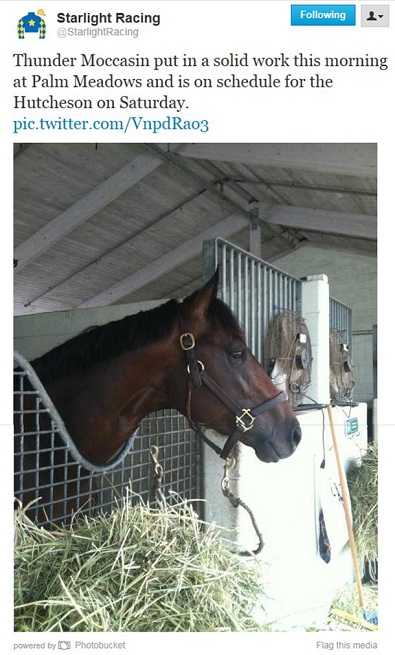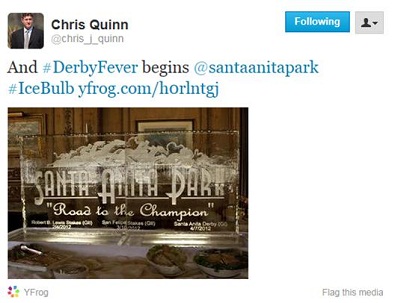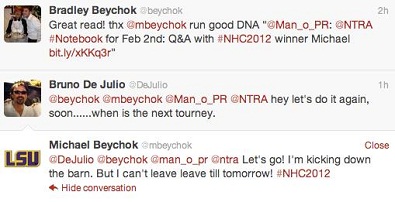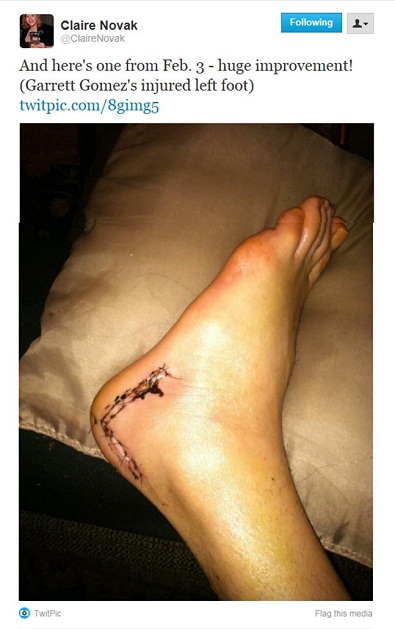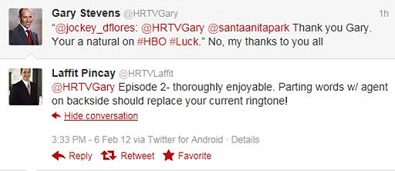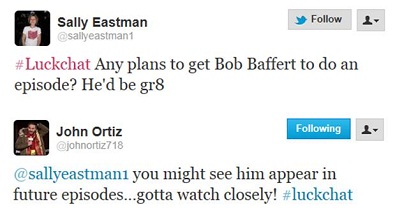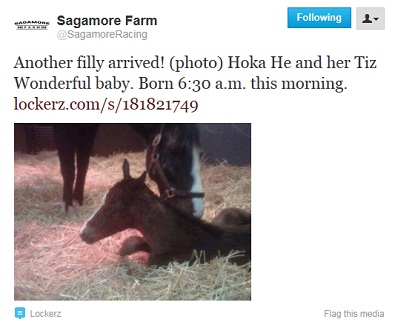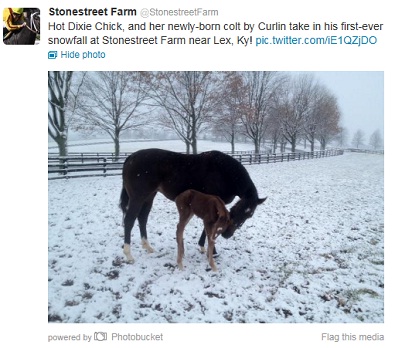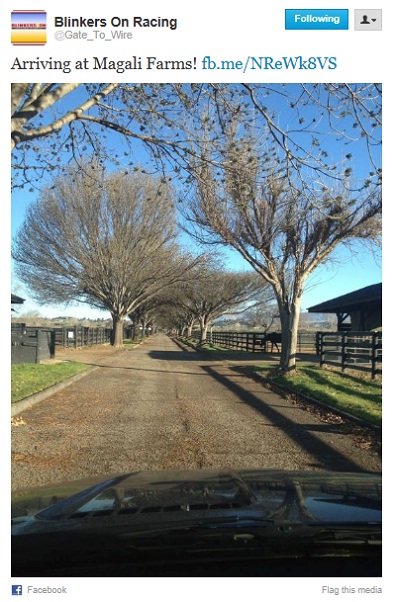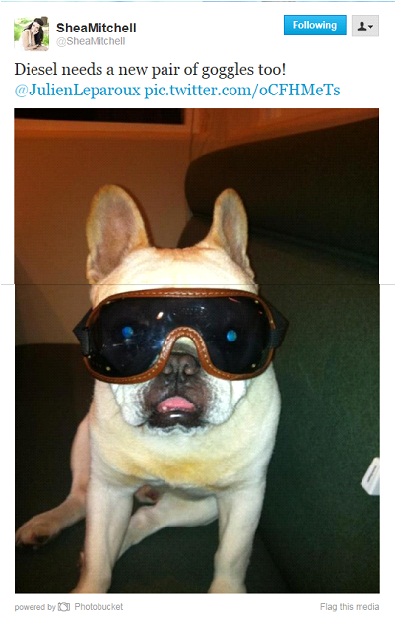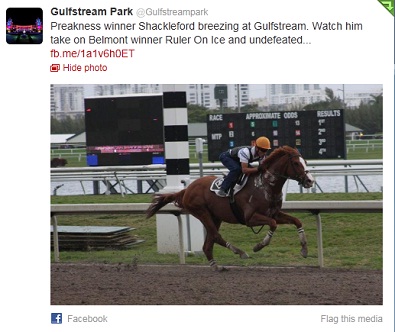 Image courtesy of HorsePhotos.com
Bo Derek is not just the actress who took the world by storm as Jenny Hanley in the 1979 movie 10, she is also a member of the California Horse Racing Board. A horse lover and riding enthusiast since childhood, she owns Andalusian horses and is a spokesperson for the Animal Welfare Institute. She also wrote an autobiography entitled

Riding Lessons: Everything That Matters in Life I Learned from Horses

.
TWO MINUTE LICK WITH BO DEREK
top
How were you introduced to horse racing:
It would have been the movies; probably a Mickey Rooney movie.


What's your favorite race track:
Santa Anita

What's your favorite horse race: The Breeders' Cup Classic

What would you like to see more of in horse racing: Fans

Three words that define horse racing for me: Beautiful, exciting, characters

What was the first race track you ever went to: Churchill Downs

Who is your favorite all-time Thoroughbred: Zenyatta

Best moment in Thoroughbred racing: Zenyatta's win in the Breeders' Cup Classic was just nuts. My girlfriend and I were
jumping up and down so much we fell off of the platform we were standing on!

Who's your favorite jockey: Mike Smith. I love Chantal [Sutherland], but my favorite would have to be Mike Smith.

Favorite Trainer: Carla Gaines

If you could have dinner with one person in horse racing, who would it be? I've probably had dinner with them already! On second thought, it would be the Queen of England.
FAN PHOTO OF THE WEEK top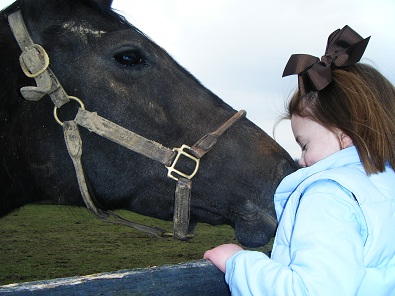 Congatulations to Mrs. Blair Lee, winner of the February 9 Fan Photo contest! From Mrs. Lee: "This photo is of my then-5 year old daughter, Palmer, getting up close and personal with a year-old colt at a horse farm in Central Kentucky."
TRIPLE CROWN WATCH
top

Image courtesy of HorsePhotos.com

MY ADONIS

Owner: George and Lori Hall

Trainer: Kelly Breen

Sire: Pleasantly Perfect

Record: 7-2-3-1

Earnings: $221,000

Current Wynn Las Vegas Derby odds: 45-1

The skinny: Used new running style and closed late for third behind Algorithms in swiftly run Holy Bull Jan. 29 in the Gulfstream slop.


Image courtesy of Margo Palmer

BIG BLUE NATION

Owner: Bortolazzo Stable and Wind River Stables

Trainer: Todd Pletcher

Sire: Bluegrass Cat

Record: 2-1-0-1

Earnings: $60,820

Current Wynn Las Vegas Derby odds: 75-1

The skinny: Makes 2012 debut Saturday in Gulfstream allowance event. Was a closing third last time out in the Hopeful on Sept. 5.


Image courtesy of HorsePhotos.com

CURRENCY SWAP

Owner: Klaravich Stables and William H. Lawrence

Trainer: Terri Pompay

Sire: High Cotton

Record: 2-2-0-0

Earnings: $180,000

Current Wynn Las Vegas Derby odds: 85-1

The skinny: One of 2011's top 2-year-olds. Finally back on work tab at Gulfstream after ankle surgery that followed Hopeful win. Connections hoping to make March 31 Florida Derby.


Image courtesy of HorsePhotos.com

UNBRIDLED MINISTER

Owner: Magic City Thoroughbred Partners

Trainer: Kenny McPeek

Sire: Unbridled's Song

Record: 1-1-0-0

Earnings: $24,300

Current Wynn Las Vegas Derby odds: 85-1

The skinny: Won his debut going a mile at Gulfstream on Jan. 7. Faces Big Blue Nation in Saturday's third at Gulfstream. Trainer is sharp at getting horses ready for the spring classics.


Image courtesy of Gulfstream Park

STEALCASE

Owner: John Oxley

Trainer: Mark Casse

Sire: Lawyer Ron

Record: 3-1-0-0

Earnings: $28,920

Current Wynn Las Vegas Derby odds: 100-1

The skinny: $320,000 2yo purchase broke his maiden while stretching out to two turns at Gulfstream on Jan. 19.


Image courtesy of HorsePhotos.com

QUICK WIT

Owner: Michael J. Bruder

Trainer: Dale Romans

Sire: Sharp Humor

Record: 3-1-1-0

Earnings: $33,675

Current Wynn Las Vegas Derby odds: 150-1

The skinny: Bargain, $32,000 colt starts Saturday in the Hutcheson Stakes at Gulfstream. Broke maiden by 3 lengths over nice field going 7 ½ furlongs on Jan. 28 at Gulfstream.
VOICES top
FROM THE GRANDSTAND
top
Former MLB manager and current part owner of Game On Dude, Joe Torre, asked at Santa Anita last Sunday whether baseball sidekick Don Zimmer was watching Game on Dude's San Antonio win as the 1-5 favorite:
"I spoke with Don yesterday, and all he wanted to know was what are the odds going to be? He likes to play 20-1 shots, so I don't think he got involved today."
New York Knicks coach Mike D'Antoni on his decision to play point guard Jeremy Lin for 45 of 48 minutes in a Monday night win over Utah:
"I'm riding him like fricken' Secretariat."
John Barr in The Blood-Horse on the contributions Oak Tree Racing Association has made to the Thoroughbred industry:
"Oak Tree is all about having a great meet, having good horses, having fun, making as much money as we can, and then we get to give it all away. We've made life better for a lot of people and horses."
---
VIDEOS OF THE WEEK
top
Undefeated Now I Know looms large in Oaklawn's Martha Washington Stakes (Oaklawnjockeyclub YouTube channel)

Alpha captures the Grade III Withers Stakes at Aqueduct (NYRAvideo YouTube channel)

Battle Hardened breaks his maiden in style by winning the Grade III Sam F. Davis Stakes at Tampa Bay Downs (click on Feb. 4, Race 11) (TampaBayDowns.com)

Video of Team Valor's new colt, Brujo de Olleros, setting a track-record mile in 1:33 1/5 in the Gran Premio Pedro Piñeyrua (Brazil, Group 1) (HandicappersChannel YouTube channel)

HBO's "Luck" takes an inside look at horse racing with its mini-feature "Life at the Track" (HBO)

Is Life Is Sweet the equine version of a teenager? It may be, as she seems to have a penchant for oversleeping. (via Lane's End Farm Twitter account)
---
IN THE NEWS
top
Industry groups create Thoroughbred Aftercare Alliance (
Paulick Report
)
Luck episode two recap (The Wall Street Journal)
Review Luck – Episode 2 (Hitfix.com)
Another review of episode 2 of Luck (TVFanatic.com)
Dustin Hoffman: Gambling on age over beauty (nzherald.co.nz)
Hansen, Union Rags head Triple Crown Nominees (Wall Street Journal.com)
Colt added to the Triple Crown Nominations list (The Blood-Horse)
Increase in Triple Crown nominees reflects horse racing's improving health (KentuckyDirect.com)
Kentucky Derby Future Wager: Field a heavy favorite, Algorithms at 8-1 on morning line (Daily Racing Form)
Derby Wager Pool 1: All others' heavy favorite, Algorithms top individual entity (
Paulickreport.com
)
Derby futures wagering: bet early, bet often? (Forbes)
Todd Pletcher's plethora of Kentucky Derby contenders (Louisville.com)
O'Brien pair among Triple Crown nominations (Racing Post)
HRTV's "Pursuit of the Crown" to debut Feb. 9 (
Brisnet.com
)
The AP looks at last weekend's Derby preps (The Brownsville Herald)
O'Neill has "Another" Derby contender (Pasadena Star News)
Taking a look at Kentucky Derby hopeful Z Dager (
Bleacherreport.com
)
Alpha impresses in New York (The Saratogian)
Dude game winner in San Antonio (ESPN.com)
Game on Dude wins San Antonio (USA Today.com)
Pair of classic winners headline deep Donn Handicap (Thoroughbred Times)
Ruler on Ice vs. Shackleford in Donn (The SportsNetwork.com)
Havre de Grace getting closer to a race (NOLA.com)
How much is an Eclipse Award worth? (Forbes.com)
Older crop promises big racing season (ESPN.com)
In a career like jockey Mike Smith's, what's 12 more victories (
Los Angeles Times.com)
Del Mar on track to host Breeders' Cup races (San Diego Union Tribune)
Success brings trainer Danny Pish double duty (
Houston Chronicle
)
Chief trainer Bobby Lovgren rides high in War Horse (

Los Angeles Times.com
)
Black Caviar 50-50 for Dubai race (Racing Post)
Black History Month: Jockey Jimmy Winkfield (Courier-Journal.com)
Racing could return to North Dakota (The Blood-Horse)

Thistledown sets 2012 stakes schedule; Ohio Derby on July 7

(
Cleveland Plain Dealer.com
)
---
IN THE BLOGOSPHERE
top
NTRA introduces #LuckChat to connect fans with Luck cast members and racing experts on Twitter (NTRA)

First #LuckChat: better than expected (NTRA.com)

What is Walter Smith thinking? (ESPN.com)

Decoding episode 2 of Luck (Los Angeles Times.com)

The real-life history behind episode 2 of Luck (Daily Racing Form)

Thoughts on episode 2 of Luck (TVgeeksarmy.com)

The dollar is still strong at the DRF/NTRA National Handicapping Championship (Xpressbet.com)

Some Donn Handicap history (Horseracegame.com)

Hansen owner says his horse will run with dyed tail (Courier-Journal.com)

Mike Smith Q&A (Santaanitalive.com)

Jimmy Buffett, Drew Brees and the Last Mango racing team (Huffingtonpost.com)

Battle Hardened breaks his maiden in the Sam F. Davis Stakes (Horse Racing Nation)

It's still about the horses for Allen Jerkens (ESPN.com)

Diet, exercise and handicapping – the connection (gamblingwillie.blogspot.com)

Futures bets are a lot of fun (TwinSpires.com)

The Aiken Trials turn 70 in 2012 (The Aiken Standard.com)

A day in the life of a race horse blacksmith (Tampa Bay Downs Blog)

Who the Withers Stakes is named after (Brooklyn Backstretch.com)

Rillito Park offers fun at the track (GVNEWS.com)

Fifth Annual Wiener Dog Races this Saturday at Sam Houston Race Park (yourhoustonnews.com)

Jockey Club breeder check-off donations (Brooklyn Backstretch.com)

Awaiting Royalty (Equestrianink.blogspot.com)

Sometimes the third try is the charm: OTTB Sue's Story finds his stride in his third career in the dressage ring (Paulick Report)

A son of Albert the Great excels as an eventer after his career at the track comes to a close (OffTrackThoroughbreds.com)
CALENDAR top
RACING TO HISTORY
top
Feb. 9, 1894: The Jockey Club was incorporated. As originally conceived, it was to assume the management of racing, previously overseen by the Board of Control. Included in The Jockey Club's functions were licensing, allotment of racing dates, appointment of officials and the interpretation and enforcement of racing rules.
Feb. 9, 1940: After a year's absence from competition, seven-year-old Seabiscuit, champion handicap horse of 1937 and 1938, returned to racing at Santa Anita, where he finished third in a handicap race. Seabiscuit ran three more races in 1940, concluding his career with a win in the Santa Anita Handicap.
Feb. 9, 1974: Jockey Chris McCarron rode his first winner, a five-year-old gelding named Erezev, at Bowie Racecourse. By year's end, McCarron had established a then-record number of winners for a single season: 546. Fifteen years later, on Nov. 30, 1989, jockey Kent Desormeaux eclipsed that mark.
Feb. 9, 2004: USA Today named jockey Julie Krone one of America's 10 toughest athletes.
Feb. 10, 1998: Undefeated Two-Year-Old Champion Favorite Trick was named 1997 Horse of the Year.
Feb. 10, 2008: Jockey Edgar Prado gained the 6,000th win of his career when he guided Sumphin to victory in the 6th race at Gulfstream Park. Prado became the 16th jockey in history to win 6,000 races.
Feb. 11, 1933: The Jockey Club released data showing that as of 1932, the U.S. had surpassed Great Britain and Ireland in foal production for the first time, to become the world's leading producer of Thoroughbreds.
Feb. 12, 1981: Julie Krone rode her first career winner, a $3,500 claimer named Lord Farkle, in the sixth race at Tampa Bay Downs.
Feb. 14, 1966: Buckpasser suffered the only defeat of his three-year-old season when he finished second in a non-betting race, the Black Caesar Purse, at Hialeah. He went on to post 13 consecutive victories in 1966 (12 of them in stakes races), but was unable to compete in any of the Triple Crown races because of a hoof injury.
Feb. 14, 1990: Ladbroke at Golden Gate Fields inaugurated co-pooling of its wagers with those of a sister organization, Ladbroke Racing Wyoming. The co-pooling of wagers across state lines, made possible by California legislation that had gone into effect Jan. 1, was a first in U.S. racing.
Feb. 14, 2003: Hall of Fame jockey Johnny Longden, the only horseman to both ride (Count Fleet) and train (Majestic Prince) a Kentucky Derby winner, died at age 96.
Feb. 15, 1974: Future Triple Crown champion Seattle Slew was foaled at White Horse Acres, Lexington, Ky.
Feb. 16, 1891: At the urging of Pierre Lorillard, the Board of Control, composed of seven representatives of the racing industry, was formed to govern Thoroughbred racing. The Board's powers extended to matters of licensing; allotment of racing dates; and the regulation of purse payments. The Board, as the governing body for racing, was succeeded by The Jockey Club, formed in 1894.
Feb. 16, 1999: Jockey Julie Krone became the first female jockey to win 3,500 races, taking the third race at the Fair Grounds.
Feb. 16, 2005: Jockey Calvin Borel picked up his 4,000th career winner aboard Jet Angel in the third race at Oaklawn Park.
Feb. 16, 2007: The National Thoroughbred Racing Association, Daily Racing Form and the National Turf Writers Association announced the creation of a new Eclipse Award for Champion Filly or Mare Sprinter.
Feb. 17, 1985: Laffit Pincay Jr. registered his 6,000th career win, aboard Doria's Delight in the fifth race at Santa Anita Park.
Feb. 22, 1969: Barbara Jo Rubin became the first woman jockey to win a parimutuel race in America when she rode Cohesion to victory at Charles Town.
Feb. 22, 2003: Xtra Heat won the Barbara Fritchie Handicap and became the leading stakes-winning filly of all time with 25 stakes victories.
---
WEEKEND STAKES RACES top
SATURDAY, FEBRUARY 11

Donn Handicap, 4&up, $500,000, Grade I, 1 1-8M, Gulfstream Park
Gulfstream Park Turf Handicap, 4&up, $300,000, Grade I, 1 1-8M (T), Gulfstream Park
Hutcheson Stakes, 3yo, $150,000, Grade II, 1 1-16M, Aqueduct
San Marcos Stakes, 4&up, $150,000, Grade II, 1 1-4M (T), Santa Anita Park
Arcadia Stakes, 3&up, $150,000, Grade II, 1M (T), Santa Anita Park
Suwannee River Stakes, 4&up (f&m), $150,000, Grade III, 1 1-8M (T), Gulfstream Park
Endeavor Stakes, 4&up (f&m), $150,000, Grade III, 1 1-16M (T), Tampa Bay Downs
Champion Energy Services Stakes, 4&up, $75,000, 5F (T), Sam Houston Race Park
Dearly Precious Stakes, 3yo fillies, $75,000, 6F, Aqueduct
Martha Washington Stakes, 3yo fillies, $75,000, 1M, Oaklawn Park
Maryland Racing Media Stakes, 3&up (f&m), $75,000, 1 1-8M, Laurel Park
Tiffany Lass Stakes, 4&up (f&m), $75,000, 1 1-16M, Fair Grounds
WEDNESDAY, FEBRUARY 15
Theresa the Teacha Stakes, 4&up (f&m), $75,000, 1M, Aqueduct
THURSDAY, FEBRUARY 16
As Indicated Stakes, 4&up, $75,000, 1M, Aqueduct
MORE