Thursday, July 26, 2012
AMERICA'S

BEST

RACING

Thoroughbred Notebook


Presented by

NTRA



PHOTOS OF THE WEEK
top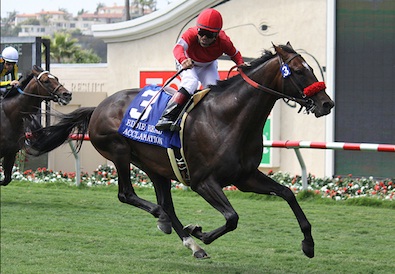 Acclamation wins the Grade I Eddie Read at Del Mar to the great delight of jockey Patrick Valenzuela (Image via the @ZenyattaMafia Twitter feed)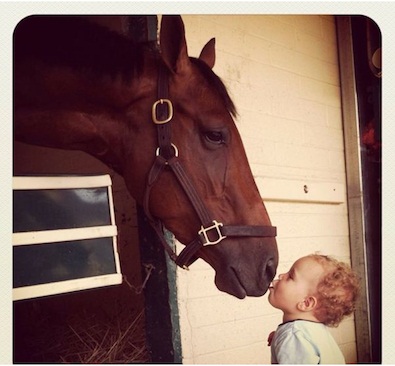 Victoriously Jewel accepts some love from a young fan named Kyle (Image via the Marc Doche/ @MDoche Twitter feed)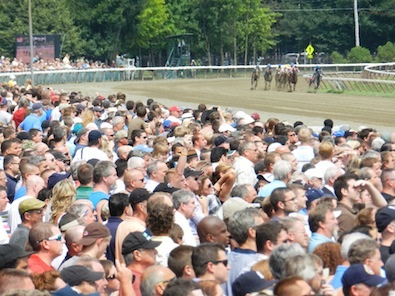 The crowd on Saratoga's Opening Day (Image by Penelope P. Miller)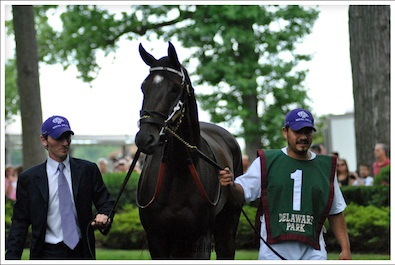 Royal Delta looking like she knows she'll win before the Delaware Handicap (Image via Anne Laird/ @athelaird Twitter feed)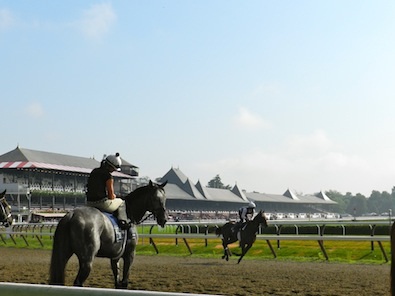 A view of Saratoga during training hours (Image by Penelope P. Miller)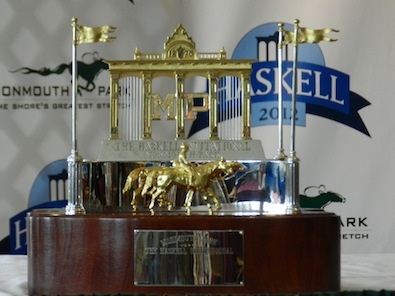 Sunday's ultimate prize: the trophy for the $1 million Grade I Haskell Invitational (Image by Penelope P. Miller)

FOLLOW US ON TWITTER

@ABRLive
top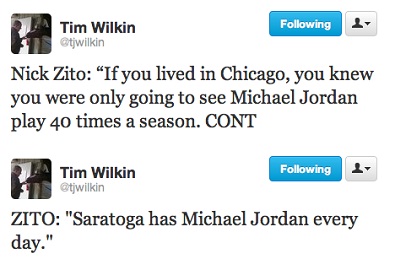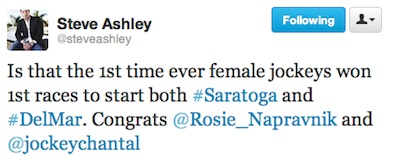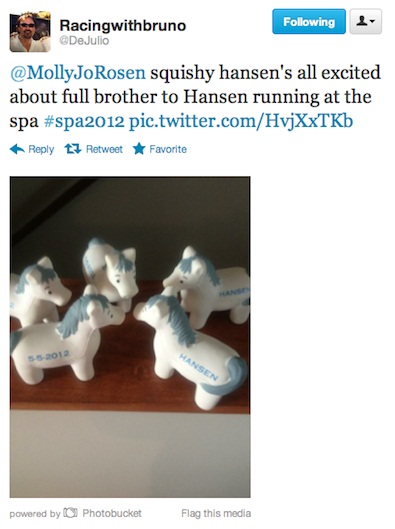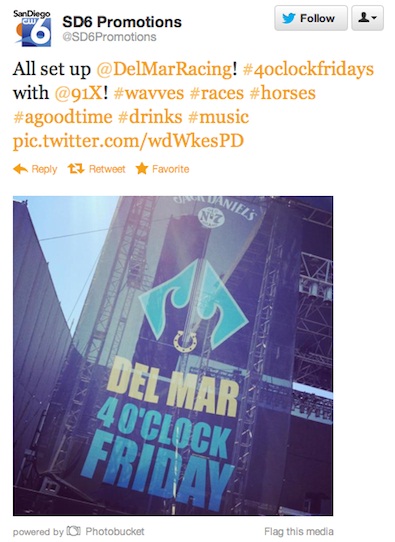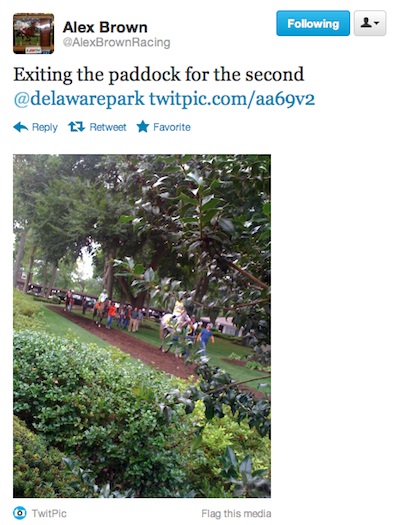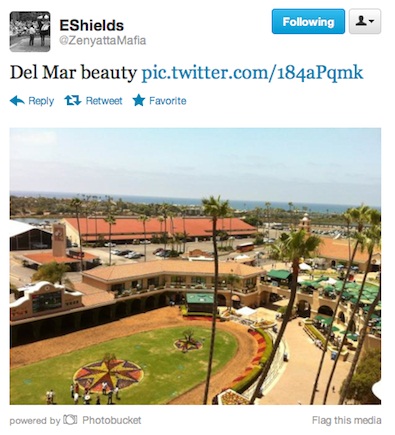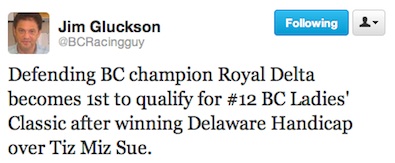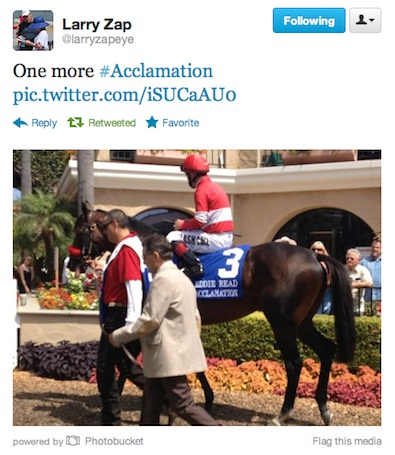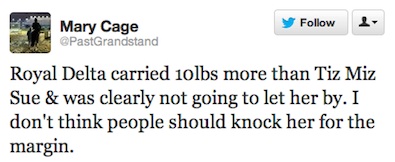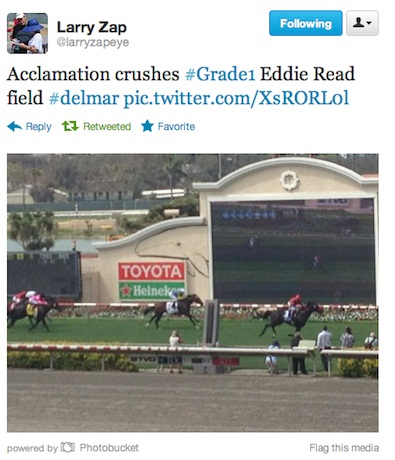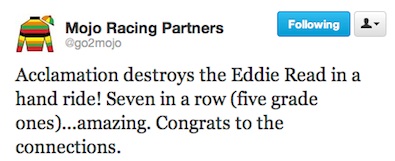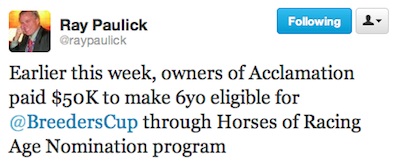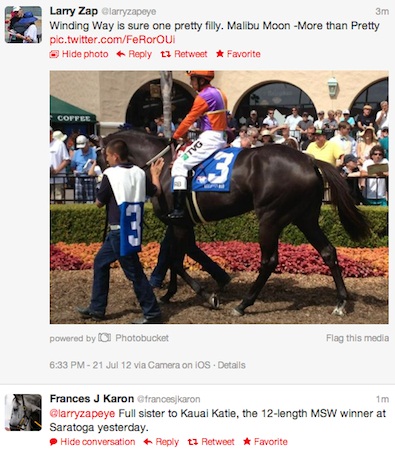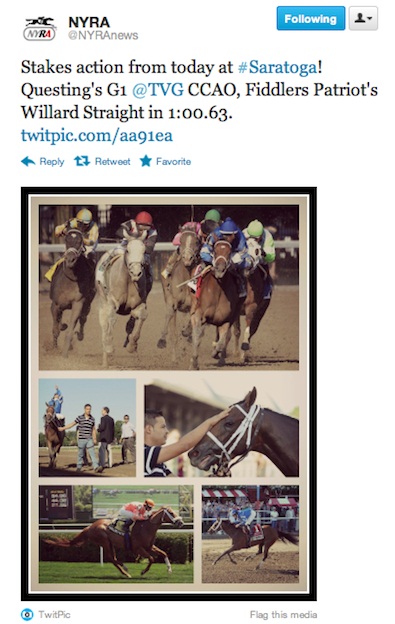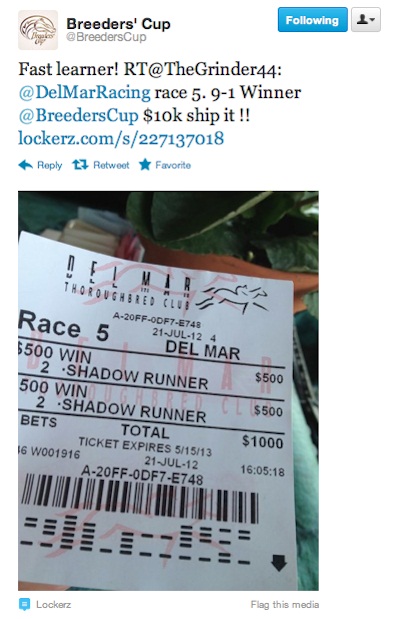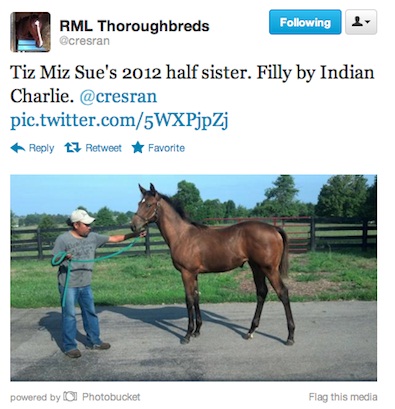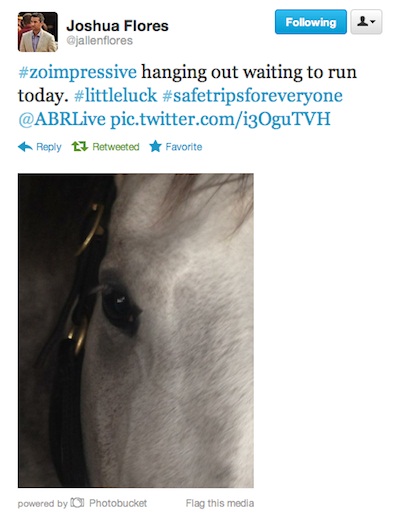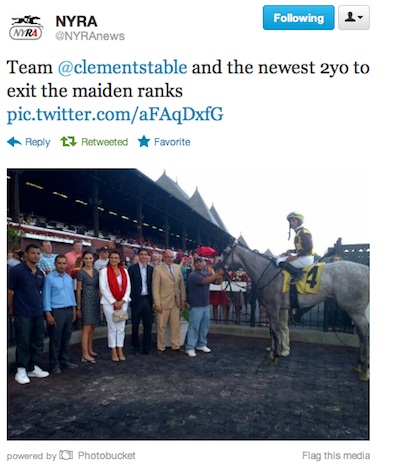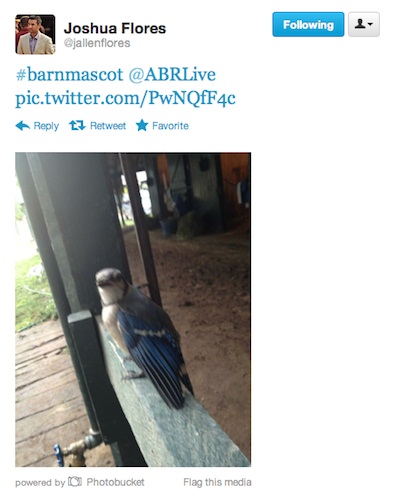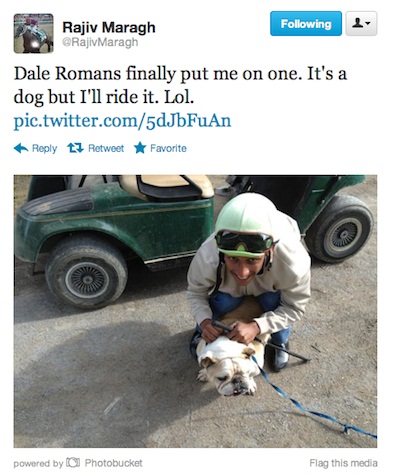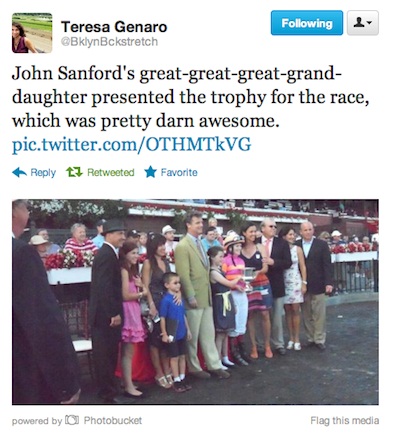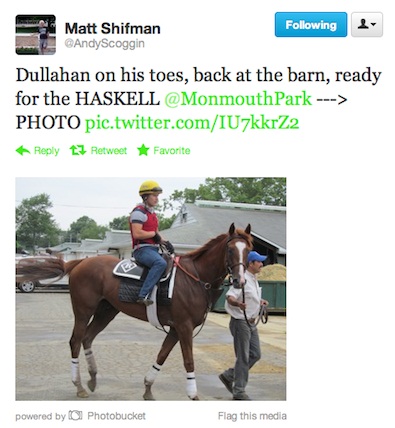 Image courtesy HRTV

HRTV host/reporter Scott Hazelton was bred to work in racing. His father, esteemed trainer Richard Hazelton, is the all-time leading trainer at Arlington Park and has amassed 4,745 victories.

The Hazelton family was recently blessed with what will undoubtedly be its next generation of horse racing lovers—the arrival on July 19 of Scott's baby daughter Addison Rose Hazelton.
TWO MINUTE LICK WITH SCOTT HAZELTON
top
Name: Scott Hazelton

What I do for a living: Host/Reporter for HRTV

How and when I was introduced to Thoroughbred racing: I was introduced the day I was born. My father Richard Hazelton was a trainer from the time he was 18 up until his retirement at age 80, so some of my first memories were at the racetracks in Chicago.

My favorite racetrack: Arlington Park—it's like home to me. I do miss Sportsman's Park in Chicago. That was a real gritty racetrack.

My favorite Thoroughbred racing event: The Kentucky Derby. The week leading up to it is such an event and there are 20 to 25 different connections at Churchill living a dream and hopeful that they've got the right horse.

Other sports/teams I follow: I'm a huge Pittsburgh sports fan. My mother was from Pittsburgh so I was raised with the black and gold of the Steelers and Penguins.

What I would like to see more of in Thoroughbred Racing: Mainstream media attention.

What I would like to see less of in Thoroughbred Racing: Excuses

Three words that define what Thoroughbred Racing means to me: It's my family.

First Thoroughbred track I ever attended was: Turf Paradise as an infant.

Favorite all-time Thoroughbred: Cigar

My personal best moment in the sport of Thoroughbred Racing: Witnessing my Father be inducted into the Chicago Sports Hall of Fame, alongside Duke's Coach Mike Krzyzewski, Chicago White Sox star Frank Thomas and Black Hawks legend Jeremy Roenick.

Best racetrack food can be found at: Oaklawn Park's backside kitchen.

My favorite jockey: Anyone who will do an interview following a race.

My favorite trainer: Nick Zito

My Heroes: Undoubtedly my parents

Person in Thoroughbred racing I'd like to have dinner with: Aidan O'Brien

My philosophy on life: Things can always be worse…appreciate what you have.

Favorite quote or motto: "Perfection is not attainable, but if we chase perfection we can catch excellence." --Vince Lombardi

Favorite animal other than a horse: Dogs

Favorite non-Thoroughbred racing sports event I have attended: Super Bowl 30…despite the result.

Favorite food: Any snacks

Favorite vacation spot: Costa Rica

Favorite city: Chicago

Favorite musician/band: Led Zeppelin

Favorite all-time movie: Wayne's World

Favorite TV Show: SportsCenter

Favorite hotel: Mandalay Bay

Websites I visit daily: HRTV.com, Bloodhorse.com, ESPN.com

What I drive: Toyota Highlander

Pet Peeve: inefficiency

Favorite movie about horse racing: "Seabiscuit"

Which actor would play me in a movie: Gary Stevens

Alma Mater: Arizona State University

Favorite Radio shows/channels: anything Classic Rock

Best Book I recently read: Joe Dimaggio: The Hero's Life

Favorite memento: A watch my Father gave me commemorating his 4,000th Training Win

Favorite dessert: cheesecake

Favorite drink: Iced Americano

Favorite Scent: The backstretch at feeding time

What I like about my job: The personal relationships it allows me to have with so many people involved in horse racing.

Favorite Tech gadget: iPhone

Twitter Handle: @Scott_Hazelton

People I follow on Twitter: Racing publications and personalities.

No. 1 Bucket List Item: Go racing at Royal Ascot and the Melbourne Cup.
FAN PHOTO OF THE WEEK top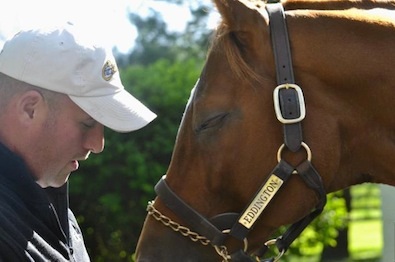 Congratulations to photographer Jeffrey Doyle, winner of this week's Fan Photo Contest! From Jeffrey: "Eddington and his groom." Want in? E-mail your submissions with a brief caption to photos@NTRA.com!
VOICES
top
FROM THE GRANDSTAND
top
Jockey Tammi Piermarini on Monday at Suffolk Downs after she surpassed Patti Cooksey and became the third-leading female rider of all-time with 2,139 career wins:
"It's a real honor and it was even more special to do it on a Massachusetts-bred in my home state. The great thing is so many of my wins came here, at home."
Trainer Ian Wilkes when asked by media during a charity golf tournament Tuesday whether it would be tougher to win Saturday's Jim Dandy Stakes with his colt Neck n' Neck, or to win the golf tournament?
"I think the golf tournament. I got a little more confidence in my horse."
Trainer Bill Mott on his champion mare Royal Delta at Saratoga the morning after her victory in Saturday's Grade II Delaware Handicap:
"She's proud of herself. She's walking around like she never ran. She's doing well. I'm hoping to run her in the Personal Ensign [Aug. 26]. That would be the plan."
Del Mar horseplayer Mark Nichols, quoted by Ed Zieralski in the San Diego Union-Tribune, after hitting a Saratoga Pick Six, then immediately using the proceeds to purchase two horses at the recent Barretts Paddock Sale:
"I'm a gambler. That's what I do for a living. But I can tell you I've never hit the Pick Six and parlayed it into two horses on the same night. But now I'm a horse owner."
---
MULTI-MEDIA top
Get into the game with racing's "Second Season" (America's Best Racing)

Video: Canterbury Park track announcer Paul Allen calls a horse race on helium (Deadspin)

Video: Helmet-cam view of an ostrich race at Canterbury Park (EquiSight YouTube channel)

Video: Del Mar fans young and old enjoy a free breakfast with horses and racing celebs (America's Best Racing)

Video: Meet Maggie Wolfendale, NYRA's paddock commentator (America's Best Racing)

Photos: Saratoga's hat contest (Albany Times-Union)
---
IN THE NEWS
top
Saratoga off to a good start, but uncertainty looms (Daily Racing Form)

Matz trainee looking to sink his "Teeth" into Jim Dandy (Brisnet.com)

Neck N' Neck fashionably late to 3-year-old party (Kentucky.com)

Saturday's Grade I Diana Stakes draws stellar field (Thoroughbred Times)

The magic of Saratoga (ESPN.com)

Track announcer Tom Durkin on Saratoga (The Saratogian)

From surf to turf, Del Mar and Saratoga set the bar high for summer (Las Vegas Review-Journal)

Sunday's Grade I Bing Crosby a showdown between Amazombie and The Factor (Daily Racing Form)

Acclamation has Pacific Classic on radar (The Miami Herald)

Old gambler becomes a new horse owner at Del Mar (utsandiego.com)

Gemologist confirmed for Sunday's Grade I Haskell (The Blood-Horse)

Dennis Drazin running Monmouth Park race track for Darby Development (Asbury Press Park)

Monmouth Park earns reaccreditation from NTRA Safety & Integrity Alliance (Paulick Report)

Mike Smith to ride Hansen in next week's West Virginia Derby (Daily Racing Form)

Three-year-olds set to surge? (ESPN.com)

Piermarini becomes third-leading woman rider (The Blood-Horse)

Someone bet $200,000 to win on a (winning) Canterbury Park horse Sunday (Minneapolis Star-Tribune)

Stonestreet to announce name of Rachel Alexandra's foal Friday at Saratoga (Thoroughbred Times)

Taking a look at fans' top 20 broodmares of the 21st century (Bleacherreport.com)

Game on Dude continues to lead NTRA Poll (The Miami Herald)

Breeders' Cup launches fantasy handicapping game (The Blood-Horse)

HRRN to air Breeders' Cup Challenge races (Paulick Report)

World's fastest man has equine rival--Usain Colt (Newsday)

Gulfstream Park announces stakes schedule; Florida Derby set for March 30 (Thoroughbred Times)

Oaklawn Park raises purses for 13 stakes, including three-quarters of its 3-year-old series (Daily Racing Form)

Prominent owners' Lasix pledge represents step forward and sacrifice (Paulick Report)

Racing official argues Thoroughbreds are cleaner than athletes in Olympics (Courier-Journal)

Major issues discussed at RCI board meeting (The Blood-Horse)

Racing's impending horse shortage crisis (ESPN.com)

Team Valor offering special partnership restricted to women investors, with a portion of any horse winnings directed to breast cancer research (Teamvalor.com)

Study says horses are more relaxed around nervous humans (The Horse.com)

Jockeys, trainers take to the hardwood for Race Track Chaplaincy of America's fundraising basketball game (Saratogian.com)

Fashionable Fillies luncheon at National Museum of Dance July 31 (The Jockey Club Safety Net Foundation)

NHL player Joffrey Lupul shows off new girlfriend Cheryl Burke at horse racing charity event (New York Daily News)

One of horse racing's biggest losers could become a bread-winner for retired Thoroughbreds (The Washington Post)

Second Stride Inc. retrains and adopts out off-the-track Thoroughbreds like Lucky Albert (Louisville.com)
---
IN THE BLOGOSPHERE
top
Off to a fast start in Saratoga (ESPN.com)

Ramon rocks the Spa (Horseracingnation.com)

The excited brothers who own American Oaks winner Lady of Shamrock (The Blood-Horse)

Déjà vu for Don Warren with Acclamation (Horseracingnation.com)

Extreme Day at Canterbury a hit (Canterburylive.com)

May the luck be with you (Xpressbet.com)

Pictures of Zenyatta and son (Zenyatta.com)

Teaching and learning opportunities at the Aqueduct Casino (Brooklynbackstretch.com)

Old Friends gets racing's "biggest loser" (Off Track Horse)
NHC NEWS
top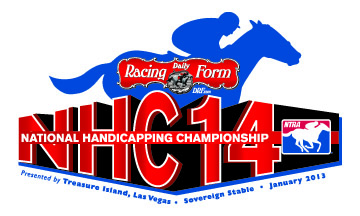 NEARING THE END OF THE NHC TOUR'S "FIRST HALF"

Video: America's Best Racing goes behind the scenes at Monmouth's recent NHC qualifying tournament (America's Best Racing)
The July 31 conclusion of the first half of the 2012 DRF NHC Tour is quickly approaching. Check out the DRF/NTRA National Handicapping Championship, presented by Sovereign Stable and Treasure Island Las Vegas contest schedule at www.nhctour.com. Here are the current scheduled contests remaining in July.

Horsetourneys.com will also be offering up to four NHC berths on Saturday, July 28. Click here for contest details.

Horse Players Qualify is conducting a Players Challenge qualifiers on July 29. For more details on the Players Challenge and a schedule of Players Challenge qualifiers click here

The 2012 Del Mar Handicapping Challenge takes place July 28-29. Five NHC spots and $60,000 in cash prizes will be awarded. Click here for more details.

Keeneland is accepting entries for the July 28 handicapping challenge. The entry fee is $150 and three NHC berths will be awarded. Click here to view rules.

TwinSpires.com is awarding two NHC seats in their TSOHS Monthly Final tournament on July 28. Players can buy in for $200 or qualify for as little as $25 in the monthly satellite contests. Players must be TwinSpires.com members to participate. Visit www.twinspires.com for details.

Click here to view the current Daily Racing Form NHC Tour schedule.

Click here to view the current list of NHC 14 qualifiers.

SOVEREIGN STABLE REPRESENTED AT TOBA NEW OWNERS SEMINAR IN SARATOGA

Rich Cristiano, Director of Business Development at Sovereign Stable, will be speaking on Thoroughbred racing partnerships at the TOBA New Owners Seminar in Saratoga Springs on August 9th. The seminar will cover every aspect of Thoroughbred ownership. Click here for details and registration information.

DAILY RACING FORM NHC TOUR LEADER BOARDS

The top spot of the first-half Leader Board now belongs to Rhonda Sylvester (North Little Rock, AR). Rhonda finished in fifth place in the July 13 Surfside event and acquired her fourth score of 1,525 points. She is currently in the lead with 10,186 points. Mark McGuire still maintains the full Leader Board first place position with 10,466 points. Cash prizes totaling $50,000 will be awarded to the top 10 finishers of the first-half Leader Board. Cash prizes of $150,000 will be awarded to the top 20 finishers of the full-year Leader Board. Click here to view the 2012 NHC Tour rules and prize structure.

Click here to view the overall full Leader Board standings.

Click here to view the first-half full Leader Board standings.

The top 100 on the overall year-end Leader Board will be guaranteed entry in the 2013 NHC. Click here to view the top 100 standings.
| | | | |
| --- | --- | --- | --- |
| Name | 1H LB Points | Name | Full LB Points |
| Rhonda Sylvester | 10,186 | Mark McGuire | 10,466 |
| Mark McGuire | 9,722 | Rhonda Sylvester | 10,186 |
| Mark Streiff | 8,223 | Christopher Larmey | 9,295 |
| Christopher Larmey | 7,872 | Edmund Teicht | 8,892 |
| Edmund Teicht | 7,550 | Mark Streiff | 8,223 |
CALENDAR
top
RACING TO HISTORY
top
July 26, 1962: Jockey Angel Cordero Jr. rode his first winner in the U.S., Counterate, at Aqueduct Racetrack.
July 26, 1973: The New York Racing Association and the Philip Morris Corporation announced the inaugural Marlboro Cup, a race to feature Secretariat and his stablemate, Riva Ridge, that would be run Sept. 15 at Belmont Park.
July 27, 1973: In preparation for the Aug. 4 Whitney Stakes, Secretariat worked a mile at Saratoga Racecourse in 1:34 over a muddy track. His workout time was 4/5 of a second lower than the 55-year-old track record for the distance. He galloped out another eighth of a mile for a final time of 1:47 4/5, which was 2/5 of a second lower than the track record.
July 27, 2008: Jockey Kent Desormeaux scored the 5,000th win of his career after guiding Bella Attrice to victory in the 7th race at Saratoga. Desormeaux, 38, was the 23rd jockey to reach the 5,000-win mark.
July 28, 1951: Citation, then the world's leading money-winning Thoroughbred, was paraded before a crowd of 28,000 at Arlington Park in his last public appearance at a track before being retired to stud.
July 28, 1987: Jockey Angel Cordero Jr. won his 6,000th victory in the Colleen Stakes at Monmouth Park aboard Lost Kitty. He was the fourth rider in racing history to accomplish that feat.
July 29, 1953: Jockey Walter Blum rode his first career winner at Saratoga Racecourse.
July 29, 1972: In preparation for a July 31 race at Saratoga, Secretariat went three furlongs in :35.
July 29, 1973: Jockey Pat Day rode his first career winner, Forblunged, in a $2,000 claiming race at Prescott Downs, Prescott, Ariz. His mount earned $347—the winner's share of the $631 purse.
July 29, 1995: Jockey Russell Baze won his 5,000th career victory, aboard Cyrus Says, in the sixth race at Sonoma County Fair. He was the 15th rider to reach that plateau.
July 29, 2004: Jockey John Velazquez earned the 3,000 victory of his career in the second race at Saratoga aboard Runingforpresident.
July 30, 1870: Monmouth Park opened with a five day race meet.
July 30, 2008: Lava Man was retired, ending a storybook career as one of racing's best-ever claims. The seven-year-old California-bred gelding won $5,268,706; with over $5.1 million of that coming for owners STD Stable and Jason Wood, who claimed Lava Man for $50,000 in 2004.
July 31, 1972: Secretariat, ridden for the first time by Ron Turcotte, won his second victory in three starts, on opening day at Saratoga Racecourse. The pair were sent off at odds of 2-5.
Aug. 1, 1945: Open racing resumed in place of the war-time restricted, or zoned, system in England.
Aug. 2, 1864: America's oldest Thoroughbred racetrack, Saratoga Racecourse, opened its inaugural meet with four days of racing. Since then it has been the site of some of racing's most famous upsets. Man o' War suffered his only loss in 21 starts while racing at Saratoga, and Triple Crown champion Gallant Fox was defeated by a 100-1 shot named Jim Dandy in Saratoga's 1930 Travers, prompting the track to be called "the graveyard of favorites."
Aug. 2, 1969: Jockey Robyn Smith, one of the first female jockeys in the U.S., won her first career race, at Ferndale.
Aug. 2, 2004: Smarty Jones, 2004 Kentucky and Preakness winner, was retired from racing to stand at Three Chimneys Farm in Midway, Ky.
Aug. 3, 1971: The yearling Secretariat was shod on his front feet for the first time and transferred to the Meadow training center for breaking.
Aug. 3, 1989: Jockey Jorge Velasquez notched his 6,000th career victory aboard three-year-old filly Maddie Bumpo in the third race at Arlington International Racecourse.
Aug. 3, 2000: Fred. W. Hooper, who won the 1945 Kentucky Derby with the first horse he ever owned and went on to develop one of Florida's leading racing and breeding operations, died in his sleep in Miami, at the age of 102.
Aug. 4, 1973: In his first race against older horses, 1-10 favorite Secretariat was defeated in the Whitney Stakes at Saratoga by Allen Jerkens' four-year-old trainee Onion, who beat him by a length. Secretariat was subsequently found to be suffering from a virus.
Aug. 4, 2005: Hall of Fame jockey Pat Day announced his retirement. Day retired with 8,803 career wins (fourth-best all-time) and record purse earnings of $297,941,812.
Aug. 5, 1988: Trainer Dale Baird won his 5,000th career race with Stuffed Johnnie at Mountaineer Park, becoming the second trainer in history, behind Jack Van Berg, to reach that mark.
Aug. 5, 2005: Steve Asmussen became the 18th trainer to register 3,000 career victories when he saddled Forest Music to win the Grade II Honorable Miss Stakes at Saratoga.
Aug. 6, 1951: The National Museum of Racing opened in Congress Park at Saratoga Springs, N.Y. More than 2,000 people attended the opening ceremonies presided over by C.V. Whitney.
Aug. 7, 1900: Trainer "Sunny Jim" Fitzsimmons had his first stakes winner, Agnes D., at Brighton Beach.
Aug. 7, 1988: Jockey Eddie Delahoussaye won his 4,000th race aboard a two-year-old filly named Fawn and Hahn in the fourth race at Del Mar.
Aug. 7, 2010: Zenyatta ran her record to a perfect 18-for-18 while winning the Grade I Clement L. Hirsch Stakes at Del Mar for a third time.
Aug. 7, 2010: Hall of Fame trainer Bill Mott saddled his 4,000th career winner when he sent out Mystic to capture the seventh race at Saratoga.
Aug. 8, 1970: Jockey Bill Shoemaker gained his 6,000th career victory, aboard Shining Count at Del Mar.
Aug. 8, 1987: Kent Desormeaux set the record for most stakes wins by an apprentice jockey, 13, aboard King's Snow in the Primer Stakes at Pimlico. The previous record, 10, was held by Steve Cauthen.
---
WEEKEND STAKES RACES top
THURSDAY, JULY 26
Quick Call Stakes, 3yo, $100,000, 5 1-2F (T), Saratoga
You'd Be Surprised Stakes, 3&up (f&m), $100,000, 1 1-8M, Saratoga
FRIDAY, JULY 27
Cougar II Handicap, 3&up, $100,000, Grade III, 1 1-2M, Del Mar
Jenny Wade Handicap, 3&up (f&m), $100,000, 5F (T), Penn National
Red Carpet Stakes, 3&up (f&m), $100,000, 1 1-16M (T), Penn National
Femme Fatale Stakes, 3yo fillies, $75,000, 6F, Penn National
SATURDAY, JULY 28
Diana Stakes, 3&up (f&m), $600,000, Grade I, 1 1-8M (T), Saratoga
Jim Dandy Stakes, 3yo, $600,000, Grade II, 1 1-8M, Saratoga
San Diego Handicap, 3&up, $200,000, Grade II, 1 1-16M, Del Mar
Pennsylvania Governor's Cup Handicap, 3&up, $200,000, 5F (T), Penn National
Mountainview Handicap, 3&up, $175,000, 1 1-8M, Penn National
Duchess Stakes, 3yo fillies, $150,000, 7F, Woodbine
Mystic Lake Derby, 3yo, $150,000, 1M (T), Canterbury Park
East Hanover Stakes, 3&up, $100,000, 1 1-2M (T), Penn National
Prairie Meadows Handicap, 3&up, $100,000, 1 1-4M, Prairie Meadows
SUNDAY, JULY 29
Haskell Invitational, 3yo, $1,000,000, Grade I, 1 1-8M, Monmouth Park
Bing Crosby Stakes, 3&up, $300,000, Grade I, 6F, Del Mar
Amsterdam Stakes, 3yo, $200,000, Grade II, 6 1-2F, Saratoga
Molly Pitcher Stakes, 3&up (f&m), $200,000, Grade II, 1 1-16M, Monmouth Park
Oceanport Stakes, 3&up, $150,000, Grade III, 1 1-16M (T), Monmouth Park
Royal North Stakes, 3&up (f&m), $150,000, Grade III, 6F (T), Woodbine
Taylor Made Matchmaker Stakes, 3&up (f&m), $150,000, Grade III, 1 1-8M (T), Monmouth Park
Majestic Light Stakes, 3&up, $100,000, 1 1-16M, Monmouth Park
Regret Stakes, 3&up (f&m), $100,000, 6F, Monmouth Park
Teddy Drone Stakes, 3&up, $100,000, 6F, Monmouth Park
MONDAY, JULY 30
Shakespeare Caress Stakes, 3&up (f&m), $100,000, 5 1-2F (T), Saratoga
THURSDAY, AUGUST 2
A.P. Smithwick Memorial Steeplechase Handicap, 4&up, $100,000, Grade I, 2 1-16M (Steeplechase), Saratoga
Birdstone Stakes, 3&up, $100,000, 1 1-8M, Saratoga
---
MORE
TURN OF FOOT
top
Who do you like in this weekend's Haskell? Tweet your answers to @ABRLive!