Thursday, March 29, 2012
AMERICA'S

BEST

RACING

Thoroughbred Notebook



PHOTOS OF THE WEEK
top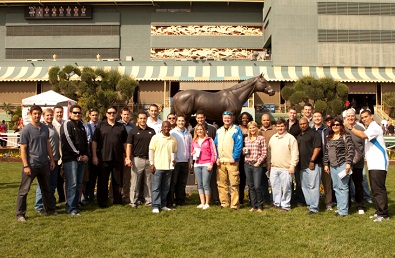 Coach Jim Mora, Jr. and the UCLA staff gather at Santa Anita Park before spring ball starts. Image courtesy of Chris Quinn/Santa Anita Park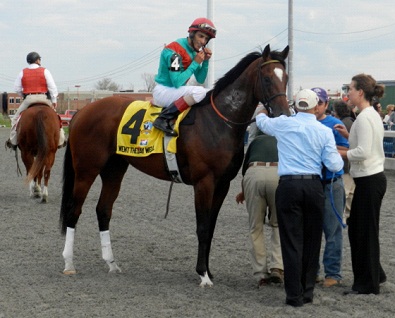 Went The Day Well returns to the winner's circle triumphant after the Grade II Vinery Racing Spiral Stakes at Turfway Park. Image courtesy of Penelope P. Miller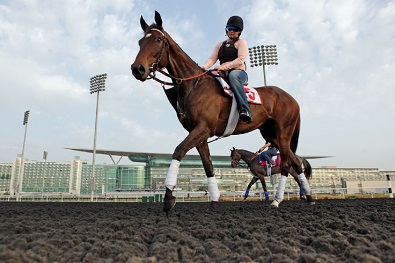 Royal Delta jogs at Meydan Race Course in preparation for the Dubai World Cup. Image courtesy of HorsePhotos.com.
FOLLOW US ON TWITTER

@NTRA
top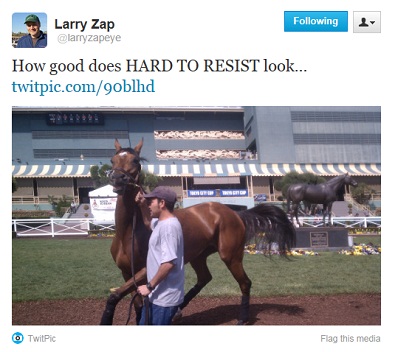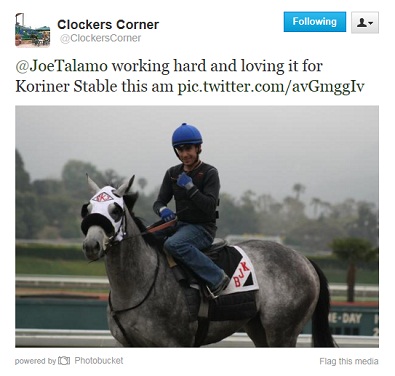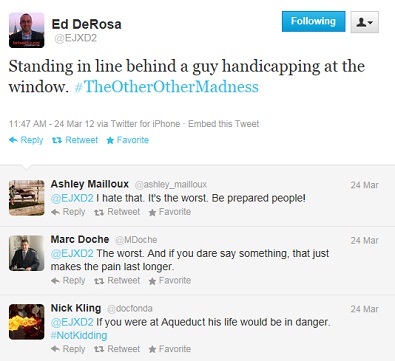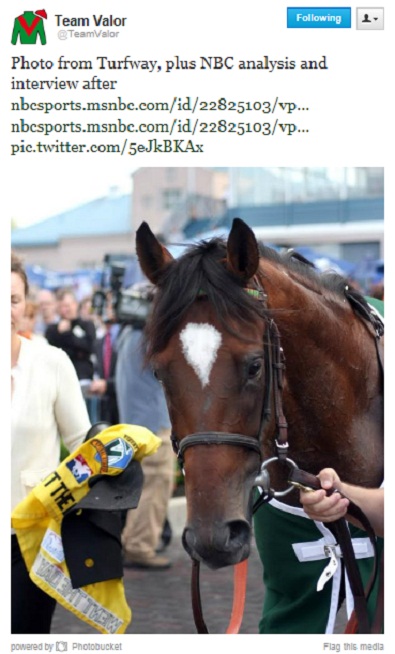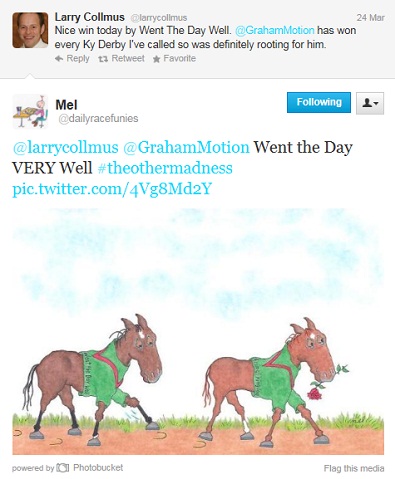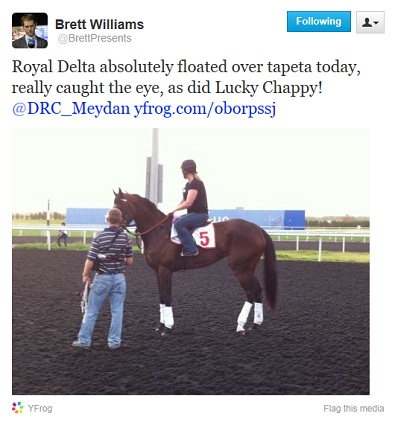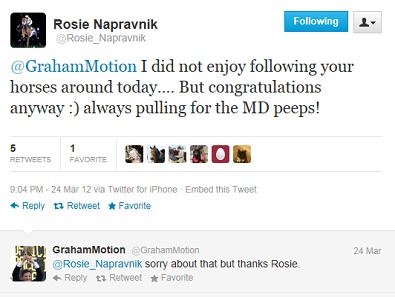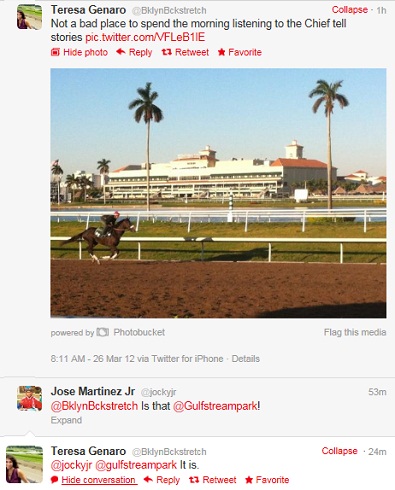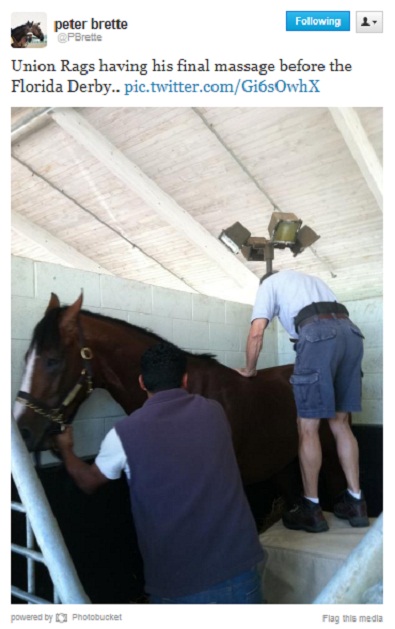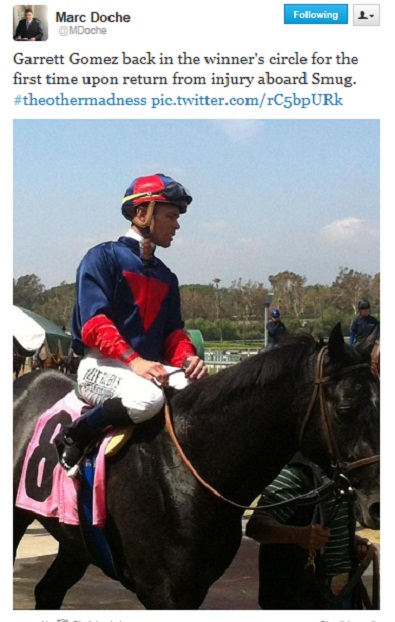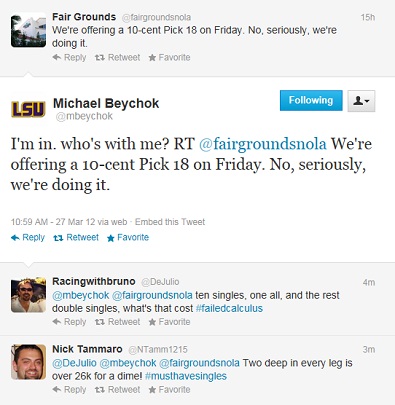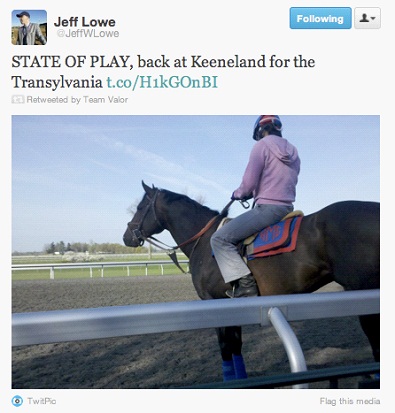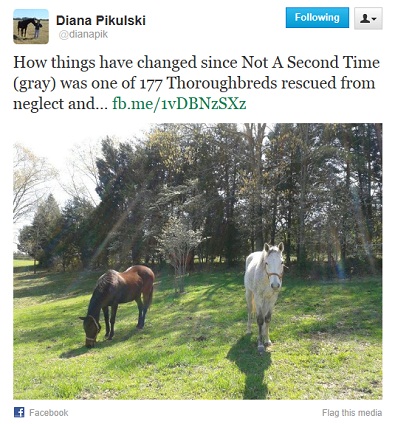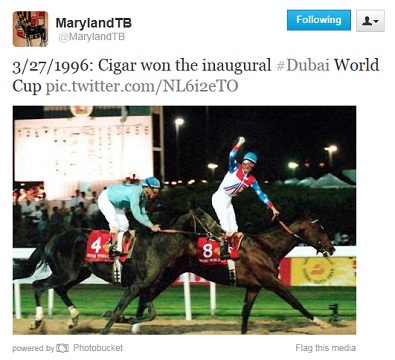 | | |
| --- | --- |
| Image courtesy of Millie Ball | Millie Ball has been an HRTV commentator since 2003. A native of the United Kingdom and a former rider, she is the only woman to have won the Marlborough Cup Timber race. She resides in Monrovia, Calif., with her husband, trainer Tim Yakteen, and their two boys, Sam and Ben. |
TWO MINUTE LICK WITH MILLIE BALL
top
Name:
Millie Ball

What I do for a living:
TV Host for HRTV

How and when I was introduced to Thoroughbred Racing: When I was 14 years old I went to work for a point to point trainer, John Dufosee, on the weekends in the south west of England

My favorite racetrack: Santa Anita in North America but my fondest memories are of racing at Deauville, France.

My favorite Thoroughbred racing event: Prix de l'Arc de Triomphe

Other sports/teams I follow: None

What I would like to see more of in Thoroughbred Racing:
Races written on showcase days for "Fan-favorite" claiming horses that have consistently been winning, e.g. a race that Rapid Redux could enter on Breeders' Cup day.
More interestingly written "condition" races, e.g. Never Won One and the trainer has not won a race since January 1st, or a $20,000 Maiden Claiming for homebreds only.
A rule introduced where claiming horses cannot be "purchased" and transferred to new ownership if they do not complete the race they are entered in due to injury.

What I would like to see less of in Thoroughbred Racing: Ten-race cards with five to seven horse fields.

Three words that define what Thoroughbred Racing means to me: Lifestyle, livelihood, core

First Thoroughbred track I ever attended was: Newbury in England

Favorite All-time Thoroughbred: Tinners Way.

My personal best moment in the sport of Thoroughbred Racing: Becoming the first and only female jockey to win the
Marlborough Cup timber race in England.

Best racetrack food can be found at: Clockers Corner, Santa Anita

My favorite jockey: Lester Piggott

My favorite trainer: My husband, Tim Yakteen!

My Heroes: Red Rum, Desert Orchid

Person in Thoroughbred Racing I'd like to have dinner with: Bobby Flay...if he's cooking!

My philosophy on life: Without a horse you are half complete

Favorite quote or motto: Great legs and a nice ass will get you there first!

Favorite animal other than a horse: Dog

Favorite non-Thoroughbred racing sports event I have attended: Pro Bull Riding.

Twitter Handle: Don't pay attention

People I follow on Twitter: Racing Post, Ballydoyle, Nick Luck, Clare Balding, Ray Paulick, HRTV

No. 1 Bucket List Item: To take a horse my husband trains to the Melbourne Cup, win it and party all week.
FAN PHOTO OF THE WEEK top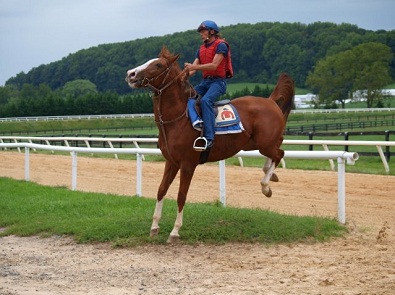 Congratulations to photographer Christy Holden on winning this week's Fan Photo contest! From Christy: This is Red Moon Girl, a three-year-old filly by Malibu Moon in training at Country Life/Merryland Farm in Maryland. She comes off the track more fired up than when she starts out. Rider Eddie Warner hung on throughout the wild ride!
WING'S WATCH
top
NTRA.com's Eric Wing offers up insights on who he thinks are the Top 40 Triple Crown contenders. (Wing's Watch PDF)
VOICES top
FROM THE GRANDSTAND
top
Bob Baffert (@midnightlute) on Twitter following his heart attack this week in Dubai:
"Need to win World Cup just to break even on medical bills."
Trainer Michael Matz comparing Union Rags to Barbaro:
"They are both big strong horses who can go a distance, and they both have lovely dispositions. This one [Union Rags] has a ways to go to match what Barbaro did, but we sure hope to get the same results."
Bryan Sullivan of Let's Go Stable—which owns Florida Derby entrant El Padrino—on his partnerships:
"When you get the partners together and you win together, it's the greatest feeling in the world. When you can share the excitement of winning with other people, it just means the world because you go through it together."
---
VIDEOS OF THE WEEK top
Bob Baffert shots a cell phone video from his hospital bed while some distinguished guests are visiting him (
Daily Racing Form
)


Chantal Sutherland talks Dubai World Cup, Game On Dude and Bob Baffert (TheIrishField YouTube Channel)

Triple Crown hopeful Bodemeister gets some unexpected company from several other horses during a workout last Friday at Santa Anita (
HRTV
)

El Padrino, Union Rags put in final works before the Florida Derby (
Racing with Bruno
)
---
IN THE NEWS
top
Union Rags draws post 6 in Florida Derby (The Blood Horse)

Mark Valeski tops big field in Sunday's Louisiana Derby (The Blood-Horse)

Mott eyes historic double at Dubai World Cup (Emirates247.com)

International field set for the Dubai World Cup (The Blood Horse)

Rosie goes for another rosy bayou win (The Miami Herald)

Run for the "Rosie" begins in the Louisiana Derby (The Blood-Horse)

Mangled horses, maimed jockeys (The New York Times)

Home-brewed stats skew Times article (Daily Racing Form)

Barry Irwin: Race-day medication ban all about perception (Paulick Report)

Thoroughbred racing under fire after investigative reports, cancellation of 'Luck'

(The Washington Post)

Kentucky representative calls for renewed support of anti-drug bill (Daily Racing Form)

Turfway's safety record 'remarkable' after winter meet (Kansas City Star)

Gulfstream Park accredited by NTRA Safety & Integrity Alliance (Daily Racing Form)

Change New York's claiming rules to protect the horses (Thoroughbred Confidential)

NY Regulators to open database to public (The Blood Horse)

Fear Factor: How jockeys cope with injuries (Daily Racing Form)

For Triple Crown series to remain popular, a star must emerge soon (The Washington Post)


Kentucky Derby: Taking a look at the top 10 on Derby earnings list (The Bleacherreport.com)

Derby trail's most exciting stretch around the corner (The Saratogian)

Triple Crown late nominations add 20 more (The Blood-Horse)

Countdown to the Triple Crown (isportsweb.com)

HRRN to offer complete radio coverage of Florida Derby Day (Horseracingradio.net)

Time running out to make the Derby (The Daily Times)

Game on Dude jumps over Havre de Grace in NTRA Poll (The Miami Herald)

Three Chimneys home of champion racehorses (Examiner.com)

Horses named for Tim Tebow (ESPN.com)


Celebration to mark Triple Crown winner Secretariat's birthday this Saturday (The Republic)

Horse sales a boon for local consignors (Ocala.com)

Bud Klokstad, top Washington trainer, dies at 79 (Daily Racing Form)

Rood & Riddle to open satellite practice in upstate N.Y. (Thoroughbred Times)
---
IN THE BLOGOSPHERE
top
All eyes are on Union Rags (The Blood Horse)

Mark Valeski, Mr. Bowling entry favored in 14-horse field in Louisiana Derby Sunday (HorseraceInsider.com)

Three questions for the authors of the New York Times article (Brooklyn Backstretch)

Sign of the Times (NTRA.com)

Baffert in 'high spirits' after heart surgery (Racing Post)

Commentary on last weekend's big stakes events (Daily Racing Form)

Kentucky Derby: Ten things men should know (AskMen.com)

A method for identifying serious Derby contenders (Xpressbet.com)

Down and Derby – Sweet 16 2012 Kentucky Derby (Horse Racing Nation.com)

Spiral day a glimpse of what Turfway once was (Courier-Journal.com)

A proposal for a national stakes draw day (Daily Racing Form)

The pure essence of a horse (Huffington Post)
NHC NEWS top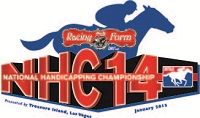 Ken Seeman sits atop NHC Tour leader board with 4,774 points (
NTRA.com
)
Treasure Island to host 100% payback NHC Qualifiers April 7, May 6 and June 10 (NTRA.com)

Learn more about the 2012 Daily Racing Form NHC Tour (
NHC
)
CALENDAR top
RACING TO HISTORY
top
March 29, 1917:

Man o' War, who would go on to win 20 of his 21 career starts, was foaled at Nursery Stud, Lexington, Ky.
March 29, 1938: In observance of Man o' War's 21st birthday, the celebration was broadcast nationally via radio from Faraway Farm, where he stood at stud.
March 29, 1969: Diane Crump became the first female jockey to win a stakes race when she took the Spring Fiesta Cup at the Fair Grounds aboard Easy Lime.
March 29, 1997: The $4 million Dubai World Cup was rescheduled for April 3 after torrential rainstorms hit Nad Al Sheba racecourse.
March 29, 2008: Curlin, reigning 2007 Horse of the Year, wins the Dubai World Cup with a record-setting 7 ¾-length victory over Asiatic Boy.
March 30, 1952: New York Governor Thomas Dewey signed a statute transferring licensing authority from The Jockey Club to the New York Racing Commission.
March 30, 1970: Secretariat was foaled at The Meadow, Doswell, Va.
March 30, 1985: Laffit Pincay Jr. became the second jockey in history to surpass John Longden's record of 6,032 victories, riding Sovereignty to victory in the sixth race at Santa Anita Park.
April 1, 1940: New York legalized parimutuel wagering and outlawed book-makers at the state's racetracks.
April 1, 1998: The National Thoroughbred Racing Association officially launched operations with the opening of its office in Lexington, Ky.
April 2, 1938: Future Triple Crown winner Whirlaway was foaled at Calumet Farm, Lexington, Ky.
April 3, 1962: At the age of 46, jockey Eddie Arcaro announced his retirement. He retired with 4,779 victories, including two Triple Crowns, won with Whirlaway and Citation.
April 4, 2009: Jockey Tim Doocy gained the 5,000th win of his career when he guided Color Out to victory in the 11th race at Oaklawn Park.
April 6, 1954: Two future champions, Bold Ruler and Round Table, were foaled at Claiborne Farm, Paris, Ky.
April 7, 1973: In his second start as a three-year-old, Secretariat won the Gotham Stakes at Aqueduct as the 1-10 favorite. His time of 1:33 2-5 for the mile equaled the track record for that distance.
April 7, 1979: Jockey Steve Cauthen made his first race in England a winning one, with Marquee Universal (IRE), at Salisbury.
April 8, 1971: New York City Off-Track Betting opened for business. Two branches were available to accept wagers: the Grand Central Terminal in Manhattan and an outlet in Queens. Total handle, including telephone betting, was $66,091.
April 8, 1991: Rider-turned-trainer Bill Shoemaker was paralyzed after an automobile accident.
April 8, 2001: "Seabiscuit: An American Legend", by Laura Hillenbrand, took over the top spot on the New York Times bestseller list for nonfiction after just three weeks in the nation's bookstores.
April 8, 2010: Undefeated Hall of Famer Personal Ensign died at age 26 of natural causes at Claiborne Farm in Paris, Ky.
April 9, 1962: Jockey Ron Turcotte rode his first winner, at Fort Erie Racetrack.
April 9, 2009: Churchill Downs became the first racetrack to be accredited by the NTRA Safety and Integrity Alliance.
April 10, 1969: I Double Dareya was ridden to victory by jockey Gilbert Hernandez at Golden Gate Fields. Hernandez also happened to be the horse's owner and trainer, giving him a triple win.
April 11, 1945: Future Triple Crown champion Citation was foaled at Calumet Farm in Lexington, Ky.
---
WEEKEND STAKES RACES top
SATURDAY, MARCH 31

Florida Derby, 3yo, $1,000,000, Grade I, 1 1-8M, Gulfstream Park
Fair Grounds Oaks, 3yo fillies, $500,000, Grade II, 1 1-16M, Fair Grounds
Santa Anita Oaks, 3yo fillies, $300,000, Grade I, 1 1-16M, Santa Anita Park
Gulfstream Oaks, 3yo fillies, $300,000, Grade II, 1 1-8M, Gulfstream Park
Orchid Stakes, 4&up (f&m), $150,000, Grade III, 1 1-2M (T), Gulfstream Park
Rampart Stakes, 4&up (f&m), $150,000, Grade III, 1 1-8M, Gulfstream Park
Appleton Stakes, 4&up, $100,000, Grade III, 1M (T), Gulfstream Park
Skip Away Stakes, 4&up, $100,000, Grade III, 1 3-16M, Gulfstream Park
Bayou Handicap, 4&up (f&m), $100,000, 1 1-16M (T), Fair Grounds
Plugged Nickle Stakes, 4&up (f&m), $75,000, 1M 70 yds., Aqueduct

SUNDAY, APRIL 1

Louisiana Derby, 3yo, $1,000,000, Grade II, 1 1-8M, Fair Grounds
Mervin H. Muniz Jr. Memorial Handicap, 4&up, $400,000, Grade II, 1 1-8M (T), Fair Grounds
New Orleans Handicap, 4&up, $400,000, Grade II, 1 1-8M, Fair Grounds
Duncan F. Kenner Stakes, 3&up, $150,000, 6F, Fair Grounds
---
RACING ON THE AIR

(All times Eastern)

top
March 31 Road to the Kentucky Derby, Florida Derby and Gulfstream Oaks (Gulfstream Park), 5:00-6:00 p.m., NBC Sports Network
April 7 Road to the Kentucky Derby, Resorts World Casino New York City Wood Memorial (Aqueduct Racetrack), Santa Anita Derby (Santa Anita) and Central Bank Ashland Stakes (Keeneland), 5:00-6:00 p.m., NBC
MORE