Thursday, September 6, 2012
AMERICA'S

BEST

RACING

Thoroughbred Notebook


Presented by

NTRA



PHOTOS OF THE WEEK
top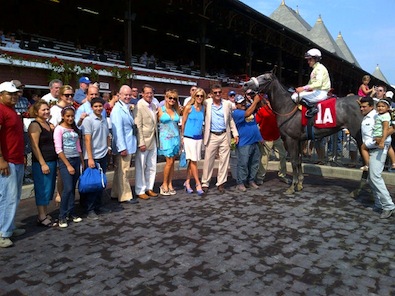 My Happy Face in the winner's circle at Saratoga following her maiden victory, which she captured by over 21 lengths (Image via @ClaireNovak's Twitter feed)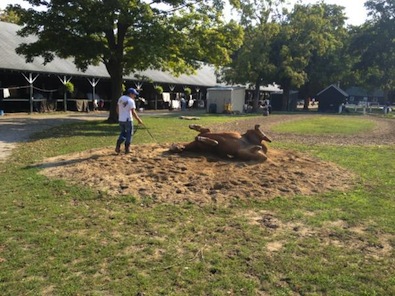 Shackleford enjoys a nice roll in the sandpit (Image via Raymondb0's Twitter feed)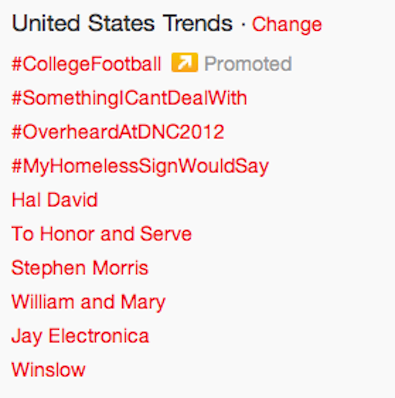 To Honor and Serve trends nationally following his victory in the Woodward Invitational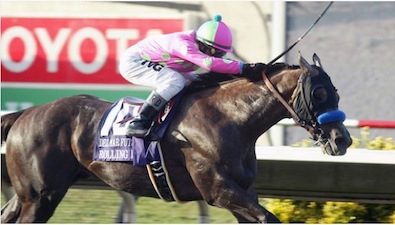 Rolling Fog wins the Grade I $300,000 Del Mar Futurity with ease (Image courtesy of HorsePhotos.com)
FOLLOW US ON TWITTER

@ABRLive
top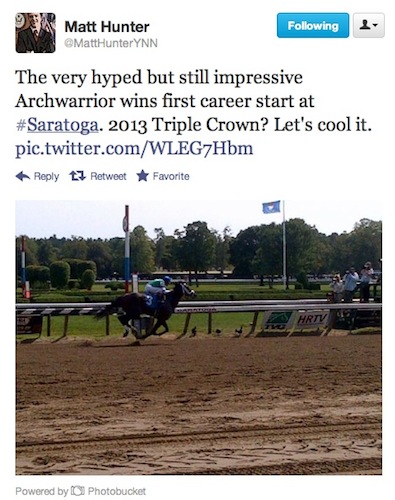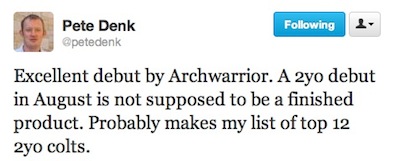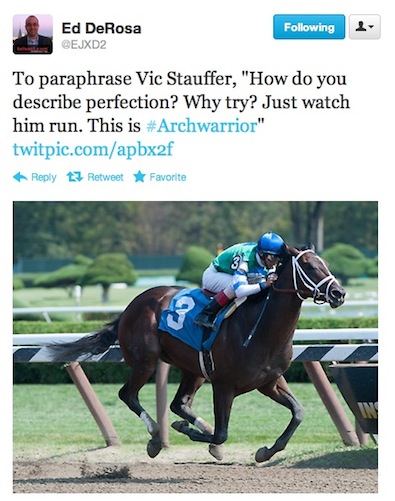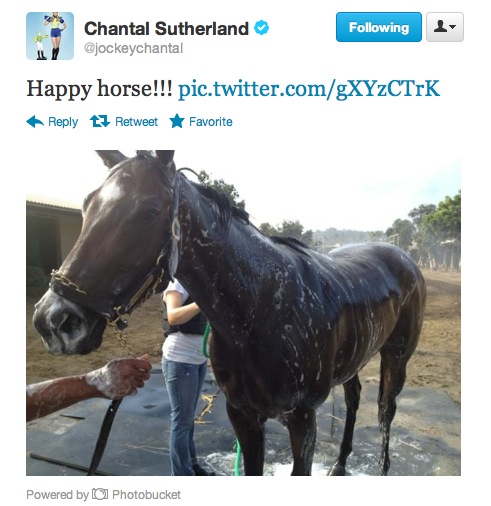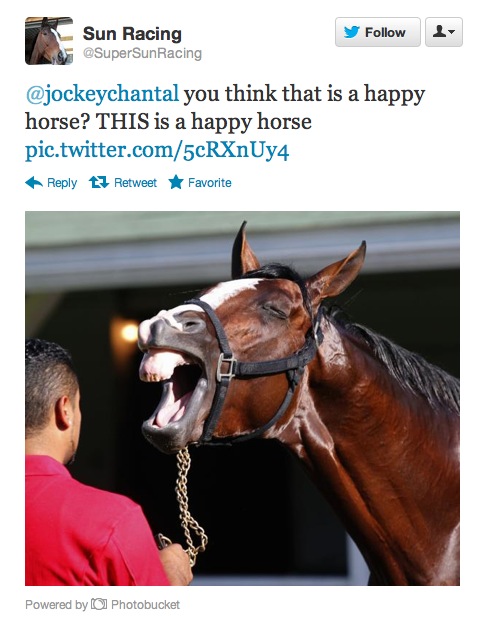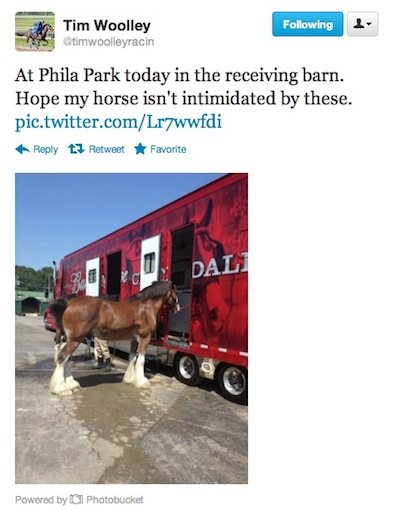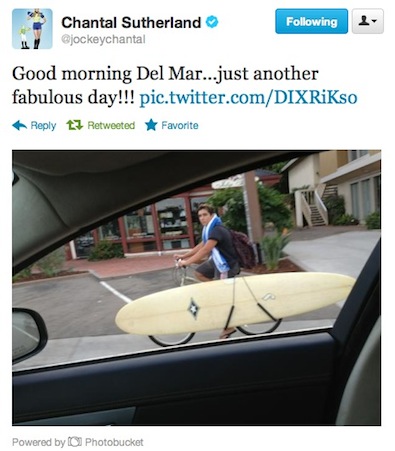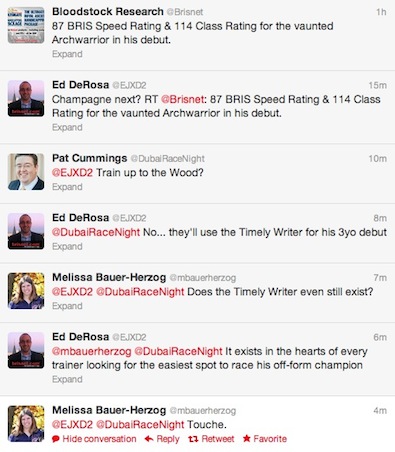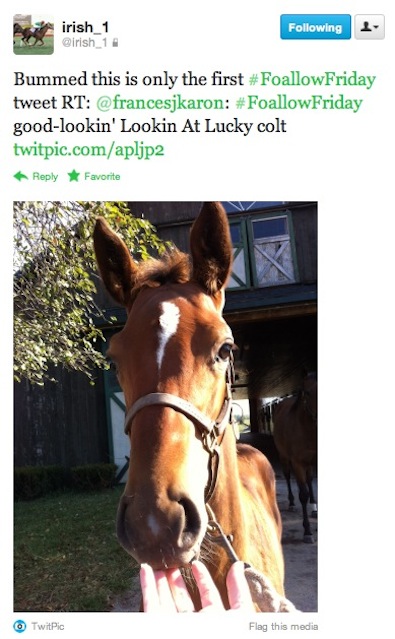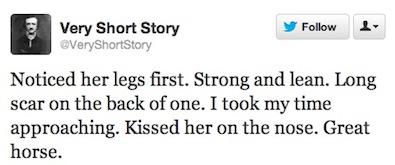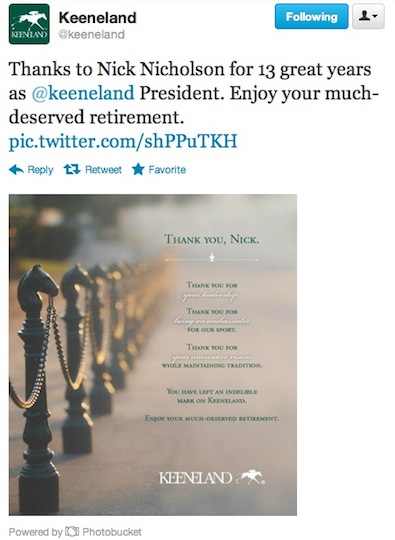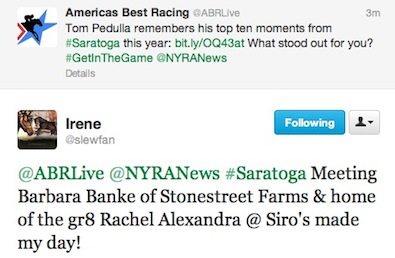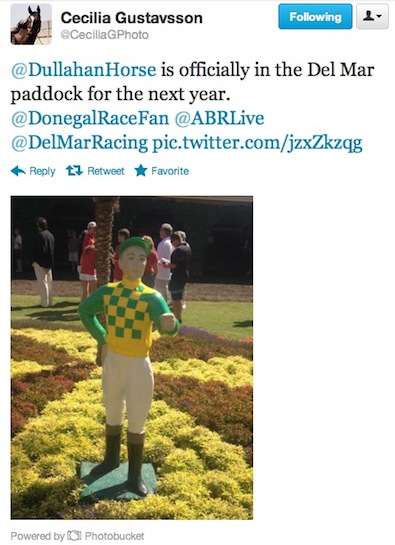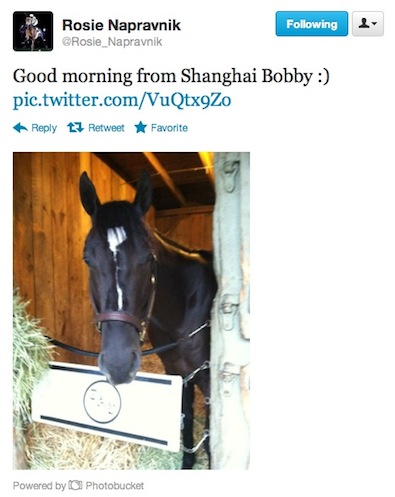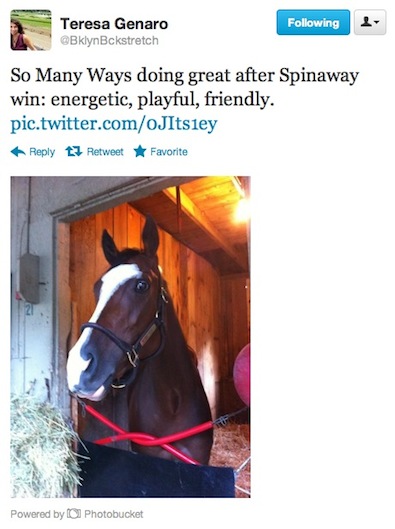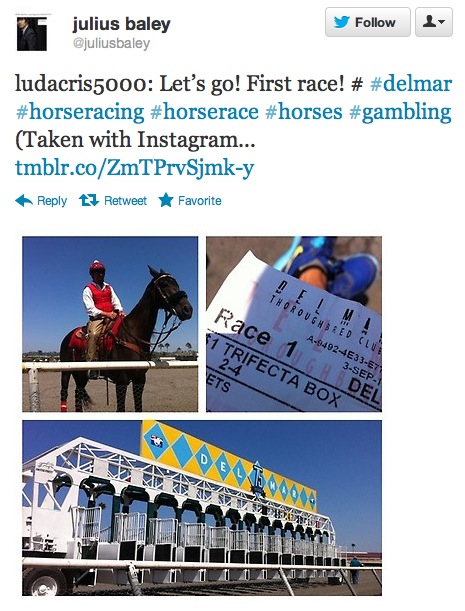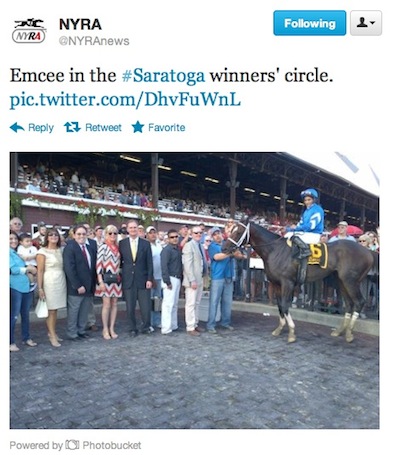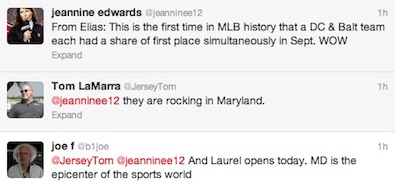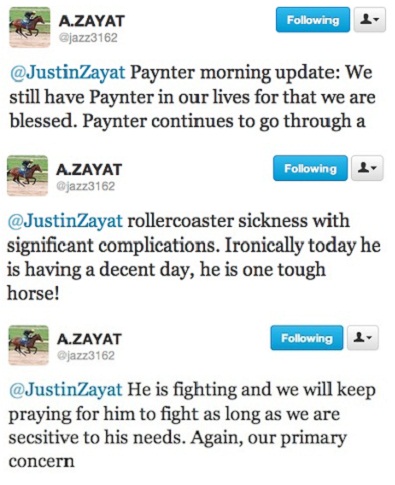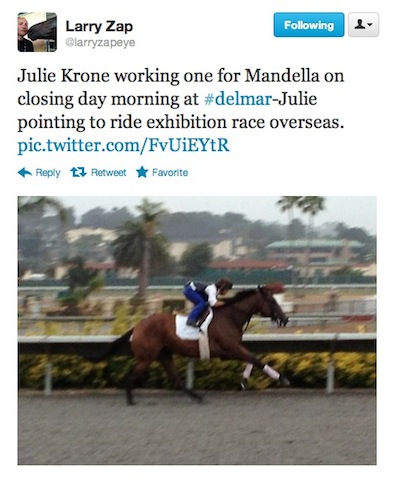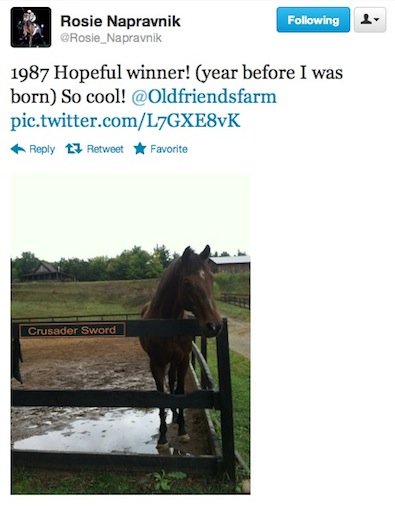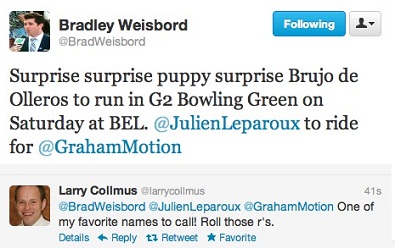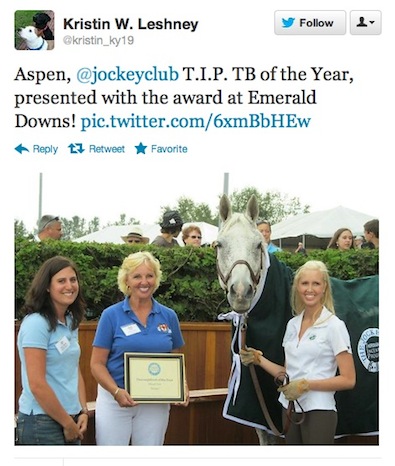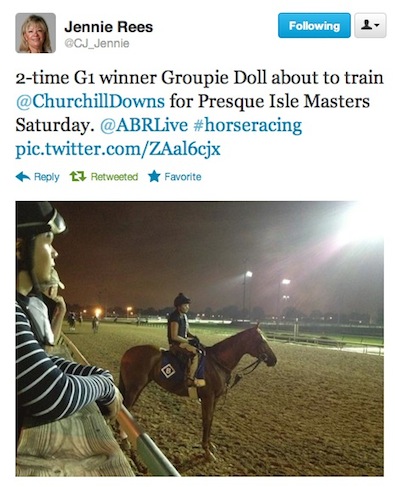 Image courtesy Bill Denver/EQUI-PHOTO

Dennis Drazin heads up Elite Equine Consultants LLC, which oversees the operation of Monmouth Park. An attorney whose personal-injury law firm Drazin & Warshaw is based in Red Bank, N. J., Drazin has spent the last 30-plus years as a member of the New Jersey Thoroughbred Horsemen's Association, including stints as the organization's president and general counsel. He has also served as chairman of the New Jersey Racing Commission.

A longtime owner/breeder, Drazin owned Tempest Fugit, a $75,000 claim who went on to capture the 2002 Oceanport Handicap at Monmouth along with a pair of out-of-town stakes. Drazin also owned Unky and Ally, the 1997 winner of the Grade 3 Sorority Stakes. In 2001, Drazin was named the winner of the Virgil "Buddy" Raines Distinguished Achievement Award for his contributions to New Jersey racing.
TWO MINUTE LICK WITH DENNIS DRAZIN
top
Name: Dennis A. Drazin
Birthplace: Long Branch, New Jersey
My favorite childhood memory: Vacations in Florida with family
Most influential person in my career: My father, Louis M. Drazin
How I was introduced to Thoroughbred Racing: Louis M. Drazin, my father, took me out to the racetrack in 1958 at which time he ran his first horse. It was love at first sight.
Other sports/teams I follow: New York Knicks, New York Yankees, New York Rangers, New York Giants, New York Jets and the Dallas Cowboys.
Why I love Thoroughbred Racing: Beauty and grace of the horses involved and the thrill of racing.
My heroes: Moses, Tarzan, Shane, James Bond, Hercules, Robin Hood and Peter Pan.
What about myself would surprise those who know me: I recently got married on New Year's Eve.
My favorite athletes of all time: Muhammad Ali, Michael Jordan, Patrick Ewing, Walt Frazier, Jim Thorpe, Mickey Mantle, Babe Ruth, Sandy Koufax.
Most treasured possession/memento: Treasured possession: My home; treasured memento: Gold cufflinks and studs from my father.
A pet peeve: People who just don't get it no matter how many times I explain things.
A book I am reading or have recently read: The Litigators.
Favorite magazines: Blood-Horse and Sports Illustrated.
Favorite websites I visit daily/weekly: Thoroughbred Daily News; NewYorkKnicks.com.
Gadget I cannot live without: Television
Hobbies away from Thoroughbred Racing: Basketball
Favorite Movies: Casablanca
TV shows I watch: NCIS
Favorite foods: Veal, steak.
Favorite vacation spot: Cala di Volpe, Sardinia; San Pietro di Positano, Italy, St. Johns, U.S. Virgin Islands
What I drive: 2012 Jaguar
If I could appear on any television show it would be: Late Show with David Letterman or Saturday Night Live.
If I could be on stage I would play what instrument: Guitar
Favorite Musician/Band: Springsteen
Favorite actor: Clark Gable and Robert Redford
Newspaper I read daily: New York Post, Newark Star-Ledger and the Asbury Park Press
Favorite artist: Picasso or Matisse
I'd like to have dinner with the following three people: JFK, Bill Clinton, Albert Einstein
Accomplishment I am most proud of: Building on the foundation of my father's law firm, turning it into a thriving practice.
My philosophy on life: Roll with the punches.
Favorite quote or motto: A mariner never distinguishes himself on a calm sea.
Things I collect: Horses
Favorite charities: Louis M. Drazin Foundation (a charitable foundation which is part of Riverview Hospital) and the American Cancer Society.
Favorite author: John Grisham
Favorite animal other than a horse: Golden Retriever
What actor would play me in a movie: Robert Redford
Favorite non-Thoroughbred racing sports event I have attended: NBA finals.
Three words or phrases that define what Thoroughbred Racing means to me: Thrilling; Sport of Kings; Classic.
Which historical figure do you most identify with: JFK
Which living person do you most admire: My mother, Pauline Drazin.
No. 1 bucket list item: Visiting Australia
FAN PHOTO OF THE WEEK top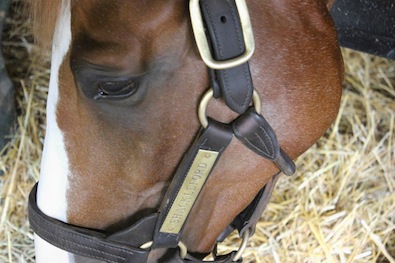 Congratulations to photographer Mary Keener, winner of this week's Fan Photo Contest! From Mary: "Lesson of the day according to Shackleford: The hay always tastes better on the ground than from the hay net." Want in? E-mail your submissions with a brief caption to photos@NTRA.com!
VOICES
top
FROM THE GRANDSTAND
top
Peter Miller, leading trainer at the 2012 Del Mar meet, telling Ed Zieralski in the San Diego Union-Tribune last week what winning the training title would mean to him:
"If we could win this meet, to me, it would be better than winning the Kentucky Derby…A lot of bad trainers have won the Kentucky Derby. Not too many bad trainers have won the Del Mar meeting. Look at the list. We have Hall of Famers here."
Dr. Rick Arthur, CHRB equine medical director, on this year's Del Mar meet:
"I think it has been a very successful meeting. The trainers are happy with the track, which is unusual for any racetrack."
Joe Harper, President and CEO of the Del Mar Thoroughbred Club, on the 2012 meet that wrapped up yesterday:
"We did the Del Mar thing really well…terrific racing and lots of fun."
Trainer Bill Mott, quoted in Thoroughbred Daily News, on the death of Theatrical, who Mott trained in the 1980s:
"He was my first champion, my first Breeders' Cup winner. He bought my first home in New York, singlehandedly. He was probably the most life-changing horse I ever had."
---
MULTI-MEDIA top
Audio: Aidan O'Brien holds court on the topic of Frankel (Melissa Bauer-Herzog's Twitter feed)

Photos: Debbie's Limit falls over backward after rearing in the Monmouth paddock, then goes on to win her race (Raceday 360's Flickr page)

Video: I'll Have Another struts his stuff at Big Red Farm in Japan (Paulick Report)

Photos: Catching up with I'll Have Another in Japan (Big Red Farm)

Video: The winning jockey in this race from Germany takes the art of celebrating before the wire to a new level (GERMANRACINGTV's YouTube channel)

Photos: What happens when a mini-Hansen toy goes on lots of trips? Why, a Mini-Hansen Tumblr, of course! (MiniHansen.Tumblr.com)
---
IN THE NEWS
top
Rolling Fog takes Del Mar Futurity (The Blood-Horse)
Peter Miller, Rafael Bejarano come up big on closing day at Del Mar (UT San Diego)
Del Mar's 75th meeting one like no other (UT San Diego)
Former nursing school student Rafael Bejarano benefits from hard work, bad directions (North County Times)
Wagering on U.S. races spikes in August (Thoroughbred Times)
Handle and attendance increase during Saratoga's 144th season (Brisnet.com)
Owner Repole, trainer Pletcher win third straight Saratoga titles (Bloomberg)
To Honor and Serve may race before Breeders' Cup (ESPN.com)
Woodward rivals set for different paths (Bradenton Herald)
Hopeful Stakes full of historical significance for Shanghai Bobby (Bleacher Report)
Archwarrior, the much-hyped two-year-old colt, wins debut at Saratoga (Bleacher Report)
Saratoga wrap-up (ESPN Radio 104.5)
Paynter 'Walking Comfortably,' Bloodwork OK (The Blood-Horse)
Blueskiesnrainbows early favorite in Super Derby field of nine (Daily Racing Form)
Super Derby is Bourbon Courage's chance to prove that he can win going two turns (Daily Racing Form)
Futurity, Lassie highlight Saturday Arlington card (Brisnet.com)
Brilliant Speed, Brujo de Olleros top small Bowling Green cast (Thoroughbred Times)
Groupie Doll resurfaces in Presque Isle Downs Masters Stakes (The Blood-Horse)
Fairplex Park meet begins Friday amid talk of expansion (Daily Racing Form)
Excitement brewing as Laurel Park opens fall meet (The Baltimore Sun)
Parx Racing to make history with two $1 million races in one day (Philadelphia Daily News)
Wagering, attendance spike at Canterbury Park (The Blood-Horse)
Breeders' Cup to offer Mystery Voucher promo (The Blood-Horse)
Kentucky governor takes action on state's medication rules (Washington Post)
Racino expansion fuels debate over drugs in horse racing (Cleveland Plain Dealer)
BC officials pushing for raceday medication ban (Racing Post)
Horse doping at New Mexico tracks is a real loser (Albuquerque Journal)
Q&A with trainer Richard Mandella (Grayson-Jockey Club)
Horse of the Year contenders (The Sports Network)
Stronach launches racing league for fans (Thoroughbred Times)
Stronach to form new political party in Austria (Daily Racing Form)
Gulfstream Park forced to close casino after 17,000 gallon aquarium bursts (Orlando Sun-Sentinel)
Harness execs buying 30% of Ellis Park (The Blood-Horse)
Frankel factor leads to Ascot sales surge (Racing Post)
New Book on Equine Law is rich in history (The Blood-Horse)
OTTB Showcase: Fortune Faded (Paulick Report)
Gulfstream's Thoroughbred Challenge rewards retired racehorses (Chronicle of the Horse)
---
IN THE BLOGOSPHERE
top
Game On Dude early Classic favorite (Xpressbet.com)

Belmont fall meet and Labor Day weekend thoughts (Daily Racing Form)

Stars? We don't need no stinkin' stars (TwinSpires)

Dominguez the new King of Saratoga (ESPN.com)

A weekend at Saratoga (Gear Patrol)

A family day at Del Mar (Sassy Savvy Moms)

A Spa farewell (Brooklyn Backstretch)

Now that summer is gone…(Left At The Gate)

An explanation of Paynter's battle with Laminitis and possible treatments (The Hoof Blog)

A prayer for Paynter (Horse Racing Nation)

Going behind the scenes at Keeneland September Sales and the Taylor Made Sales Agency (America's Best Racing)

Alys Emson of Lane's End Farm explains the weaning of young horses (Zenyatta.com)

Calumet's fields are full once again (All Equine All The Time)

An update on Thewifedoesntknow (AKA Ally), the mare made famous in the Larry Collmus race call, as she transitions into a new career as a show horse (The TDN Blog)
NHC NEWS
top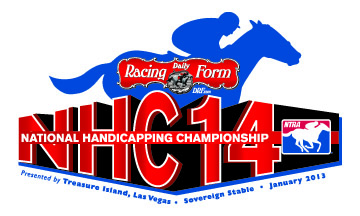 NHC 14 -- 141 DAYS AND COUNTING.....
The excitement is building with only 20 weekends left to compete for an NHC 14 seat. A total of 220 players have already punched their ticket to the Daily Racing Form/NTRA National Handicapping Championship, presented by Sovereign Stable and Treasure Island. Click here to view the current DRF NHC Tour schedule. There is still time to add your name to the list of qualifiers.
Click here to view the current list of NHC 14 qualifiers.
SEPTEMBER ON-TRACK CONTEST DATES
Surfside Race Place will be conducting its next series of NHC qualifiers on September 7-9. The Friday mini tournament, September 7 will be followed by a two-day contest, September 8-9. Click here for Surfside Race Place contest information.
The Kentucky Downs Turf Handicapping Challenge is set for September 15. Three NHC spots and $15,000 in cash prizes will be up for grabs. The entry fee is $150. The handicapping challenge is going to be held on the marquee day of the Kentucky Downs meeting, which features the running of the Grade III, $200,000 Kentucky Turf Cup. Contact Bill Flesher at billflesher@kentuckydowns.com or at (270) 586-6667.
Monmouth Park is hosting the $200 Monmouth/Woodbine Handicapping Challenge on September 16. For more information contact Brian Skirka at bskirka@monmouthpark.com
Fairplex Park NHC tourneys will be returning in 2012 on the weekend of September 21-23. Each of the three days will award two NHC spots and NHC Tour points. Click here to read more.
The Greenwood Teletheatre Handicapping Challenge will be taking place in Toronto, Ontario, Canada on September 23. Two NHC berths will be awarded. Click here for more details.
SEPTEMBER ONLINE NHC CONTEST DATES
NHCQualify.com is hosting online qualifiers on September 9 and 29. Register now!
Horsetourneys.com will be conducting NHC Qualifiers on September 8,16 and 22.
Horse Players Qualify is conducting Players Challenge qualifiers on September 9 and 15. The final event will be held on September 28-29. For more details on the Players Challenge and a schedule of Players Challenge qualifiers click here.
GULFSTREAM PARK TO HOST LAST CHANCE/FIRST CHANCE QUALIFIER IN JANUARY
Gulfstream Park will be hosting the very first "Last Chance/First Chance" NHC Qualifier on Eclipse Awards weekend, January 19-20. The top two finishers will receive NHC berths. If the player has already qualified to the 2013 NHC, the berth will be awarded to the 2014 NHC. If he or she has not qualified to the 2013 NHC the spot will be granted to the January 25-26, 2013 event. Airfare and hotel accommodations to the Finals will also be awarded to the top two finishers. Click here to book your room at the Hampton Inn-Hallandale at the preferred NHC player rate. Contact Mike Nyman at michael.nyman@gulfstreampark.com for more details.
EXCITING ENGLISH IMPORT TO MAKE RUN AT BREEDERS' CUP BERTH FOR SOVEREIGN
Fearless Jacq, an Irish-bred 2-year-old filly who won the first start of her career at Newmarket in England, has been purchased privately by NHC presenting sponsor Sovereign Stable. Fearless Jacq is being pointed for the $250,000 Natalma Stakes at Woodbine on September 15. The Natalma is a Breeders' Cup 'Win and You're In' race, with the winner receiving entry fees paid to the Grade I, $1,000,000 Breeders' Cup Juvenile Fillies Turf. Click here for more information on how to become part of the Fearless Jacq ownership team.
DAILY RACING FORM NHC TOUR LEADER BOARDS
Judy Wagner (New Orleans, LA) has taken the second-half lead in the DRF NHC Tour with 4,727 points.. Paul Parker (Norcross, GA) is in second place with 4,479 points. Mark McGuire (Newbury, Park, CA) is maintaining his top spot on the full-year Leader Board with Mark Streiff (Mission Veijo, CA) remaining in second-place.
Click here to view the overall full Leader Board standings.
Click here to view the second-half full Leader Board standings.
| | | | |
| --- | --- | --- | --- |
| Name | 2H LB Points | Name | Full LB Points |
| Judy Wagner | 4,727 | Mark McGuire | 11,217 |
| Paul Parker | 4,479 | Mark Streiff | 10,816 |
| Emad Himaya | 3,954 | Rhonda Sylvester | 10,186 |
| Nick Noce | 3,918 | Christopher Larmey | 9,349 |
| Dan Shugar | 3,893 | Edmund Teicht | 8,984 |
Player Profile

Patrick Gianforte

Patrick will be making his ninth appearance at the NHC. He qualified for this year's event on July 14 at Hawthorne. Patrick is married with three children and six grandchildren.

Patrick's favorite wager is the Pick 6. You will see why after reading Patrick's complete NHC player bio. Click here to read.
CALENDAR
top
RACING TO HISTORY
top
Sept. 6, 2010: The experimental 49-day Elite Summer Meet at Monmouth Park concluded with handle up 87 percent from 2009 figures and attendance up 47 percent.
Sept. 7, 1970: Bill Shoemaker surpassed John Longden's then-record of 6,032 wins when he piloted Dares J to victory at Del Mar and became the world's winningest jockey.
Sept. 7, 2009: Linda Rice became the first female trainer to win the trainer's title at Saratoga. She registered 20 wins, one more than Todd Pletcher.
Sept. 8, 1990: Bill Shoemaker scored his first stakes victory as a trainer when he sent a five-year-old mare, Baldomero (IRE), to victory in the Osunitas Handicap at Del Mar.
Sept. 8, 1999: The Emirates Racing Association announced that the 2000 renewal of the Dubai World Cup would be worth $6 million.
Sept. 8, 2002: On his 41st birthday, Mario Pino became the 18th jockey to ride 5,000 winners by visiting the winner's circle twice at Delaware Park. Pino got his 5,000 win when he guided Outdone to victory in the ninth race.
Sept. 10, 2004: Zippy Chippy, Thoroughbred racing's lovable loser, made it 0-for-100 when he finished last in an eight-horse field at the Three-County Fairgrounds in Northampton, Mass.
Sept. 11, 1976: In the third race at Latonia, jockey John Oldham and his wife, Suzanne Picou, became the first husband and wife riding team to compete in a parimutuel race together. Oldham finished second aboard Harvey's Hope and Picou rode My Girl Carla to an 11th-place finish.
Sept. 11, 1982: Jockey Earlie Fires had his 3,000th career win, aboard Volga Ace, in the fourth race at Arlington Park.
Sept. 11, 2009: Trainer Steve Asmussen gained the 5,000th win of his career when he sent out Passion Rules to victory in the seventh race at Woodbine.
Sept. 12, 1944: A dead-heat for win and show occurred in the eighth race at Hawthorne.
Sept. 12, 1970: Nijinsky II won the St. Leger Stakes and became the 15th winner of England's triple crown. He is the last horse to have won the English triple.
Sept. 12, 1973: Fully recovered from a virus that had beset him at Saratoga, Secretariat worked five furlongs in :57 as his last preparation for the Marlboro Cup Invitational Handicap.
Sept. 13, 1974: D. Wayne Lukas won his first Thoroughbred stakes victory, saddling his own three-year-old colt, Harbor Hauler, in the second division of the Foothill Stakes at Pomona to earn $6,312.
Sept. 13, 1989: Jockey Pat Day won eight of the day's nine races at Arlington International Racecourse. In his only loss, Day finished second on Wayne's by George.
Sept. 13, 2005: Sheikh Mohammed bin Rashid al Maktoum purchased a Storm Cat colt for $9.7 million at the Keeneland September Yearling Sale.
Sept. 13, 2008: Irish trainer Aidan O'Brien became the first trainer in 73 years to achieve a sweep of all five Irish Classics when Septimus powered to a 13-length triumph in the Irish Field St. Leger at the Curragh. Jack Rogers in 1935 was the last trainer to saddle winners of Ireland's 1000 and 2000 Guineas, Derby, Oaks and St Leger in the same season.
Sept. 14, 1853: West Australian won the St. Leger Stakes by three lengths and became England's first Triple Crown winner.
Sept. 14, 1959: The new $32 million Aqueduct, operated by the New York Racing Association, opened.
Sept. 14, 2001: The National Thoroughbred Racing Association and Breeders' Cup Limited announced the formation of the NTRA Charities – New York Heroes Fund to benefit the children and spouses of the firefighters, police officers, emergency workers and other victims who perished in the Sept. 11 attacks on the World Trade Center. The organizations also dedicated the Oct. 27 Breeders' Cup World Thoroughbred Championships, to be run at Belmont Park to the memory of those slain and their survivors.
Sept. 15, 1876: Isaac Murphy, one of the nation's greatest black jockeys, had his first career win, aboard Glentina, at the Kentucky Association meet in Lexington. Then known as Isaac Burns, Murphy later adopted the surname of his grandfather.
Sept. 15, 1973: Secretariat won the Marlboro Cup Invitational Handicap in the then-world record time of 1:45 2/5 for 1 1/8 miles. He defeated his stablemate, Riva Ridge, by 3 1/2 lengths. The winner's share of the purse, $150,000, made Secretariat a millionaire.
Sept. 15, 2001: Jockey Russell Baze, the fourth winningest rider in history behind only Laffit Pincay Jr., Bill Shoemaker and Pat Day, registered his 7,500th career victory after piloting Valid Double to victory in the third race at Bay Meadows racetrack in San Mateo, Calif.
Sept. 15, 2007: Purchased for a record $16 million as a two-year-old, The Green Monkey made his racing debut at Belmont Park and finished third in a maiden race.
Sept. 16, 1972: Sent off at odds of 1-5, Secretariat won the Futurity Stakes at Belmont Park by 1 3/4 lengths, creating a minus show pool at the track of $4,985.
Sept. 16, 1978: For the first time in history, two Triple Crown winners met in a race, the Marlboro Cup at Belmont Park. Seattle Slew, the 1977 Triple Crown winner, defeated Affirmed, the 1978 Triple Crown winner, by three lengths.
Sept. 16, 2000: Keeneland successfully executed the Thoroughbred industry's first-ever Internet auction, selling four horses on-line for a total of $109,500. There were more than 200 buyers and agents registered to bid.
Sept. 17, 1973: Penny Chenery announced that Secretariat would make his inaugural start on the turf in the Oct. 8 Man o' War Stakes at Belmont Park.
Sept. 18, 1920: Carrying the top weight of his career, 138 pounds, three-year-old Man o' War won the Potomac Handicap, conceding 24 pounds to his nearest rival, Paul Jones, and 30 pounds to the second-place finisher, Wildair.
Sept. 18, 1943: The U.S. Army occupied the grounds of Hollywood Park as part of the war effort.
Sept. 18, 1999: Jockey David Gall retired as the fourth winningest rider of all time with 7,396 victories to his credit.
Sept. 19, 1943: Rider Eddie Arcaro returned to racing after a 12-month suspension that resulted from his attempt to injure a fellow rider in the Cowdin Stakes the previous year.
Sept. 19, 1942: Alsab, runner-up in the 1942 Kentucky Derby, beat 3-10 favorite Whirlaway, the 1941 Triple Crown champion, by a nose in a $25,000 match race at Narragansett Park. The match was arranged after Alsab was scratched from the Narragansett Special, a race won by Whirlaway one week earlier. Narragansett's president, James Dooley, offered to contribute the track's share of the mutuel handle, plus breakage, to the Army and Navy Relief Funds, making attendance at the race a patriotic gesture. Alsab and Whirlaway met twice more that year, with Whirlaway winning the Jockey Club Gold Cup on Oct. 3, and Alsab besting him in the New York Handicap on Oct. 10.
Sept. 19, 1997: Chelsea Zupan set an Emerald Downs record by winning seven consecutive races at the Auburn, Wash. oval. Zupan won four on September 18th and three on September 19th. The feat was a national record for consecutive victories by a female rider.
---
WEEKEND STAKES RACES top
FRIDAY, SEPTEMBER 7
Presque Isle Mile Stakes, 3&up, $250,000, 1M, Presque Isle Downs
SATURDAY, SEPTEMBER 8
Super Derby, 3yo, $500,000, Grade II, 1 1-8M, Louisiana Downs
Presque Isle Downs Masters Stakes, 3&up (f&m), $400,000, Grade II, 6 1-2F, Presque Isle Downs
Bowling Green Handicap, 3&up, $200,000, Grade II, 1 1-4M (T), Belmont Park
Arlington-Washington Futurity, 2yo, $150,000, Grade III, 1M, Arlington Park
Arlington-Washington Lassie, 2yo fillies, $150,000, Grade III, 1M, Arlington Park
Sunday Silence Stakes, 2yo, $150,000, 1M (T), Louisiana Downs
Happy Ticket Stakes, 2yo fillies, $100,000, 1M (T), Louisiana Downs
Japan Racing Association Stakes, 3&up, $100,000, 1 1-16M (T), Laurel Park
River Cities Stakes, 3&up (f&m), $100,000, 1 1-16M (T), Louisiana Downs
Unbridled Stakes, 3&up, $100,000, 1 1-16M (T), Louisiana Downs
Affiliate Stakes, 3&up, $80,000, 6F, Belmont Park
Franklin-Simpson Mile, 3&up, $75,000, 1M (T), Kentucky Downs
Kentucky Cup Ladies Turf, 3&up (f&m), $75,000, 1M (T), Kentucky Downs
Kentucky Cup Turf Dash, 3&up, $75,000, 6F (T), Kentucky Downs
SUNDAY, SEPTEMBER 9
British Columbia Derby, 3yo, $200,000, Grade III, 1 1-8M, Hastings Park
Swynford Stakes, 2yo, $150,000, 7F, Woodbine
British Columbia Oaks, 3yo fillies, $100,000, 1 1-8M, Hastings Park
Premiere Cup Handicap, 3&up, $100,000, 6F, Zia Park
Meadow Star Stakes, 2yo fillies, $85,000, 1M, Belmont Park
WEDNESDAY, SEPTEMBER 12
Smart N Fancy Stakes, 3yo fillies, $80,000, 6F (T), Belmont Park
THURSDAY, SEPTEMBER 13
Groovy Stakes, 3yo, $80,000, 6F (T), Belmont Park
---
MORE
TURN OF FOOT
top
What's your favorite memory of this summer's races? Tweet your answers to @ABRLive! Tweet your answers to @ABRLive!