Thursday, August 30, 2012
AMERICA'S

BEST

RACING

Thoroughbred Notebook


Presented by

NTRA



PHOTOS OF THE WEEK
top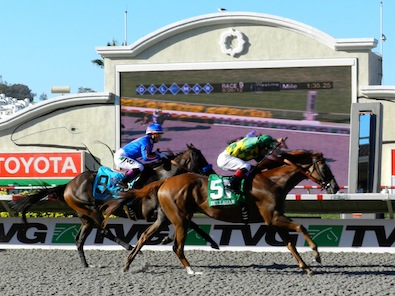 Dullahan wins the $1 million Grade I TVG Pacific Classic at Del Mar (Image courtesy of Penelope P. Miller/America's Best Racing)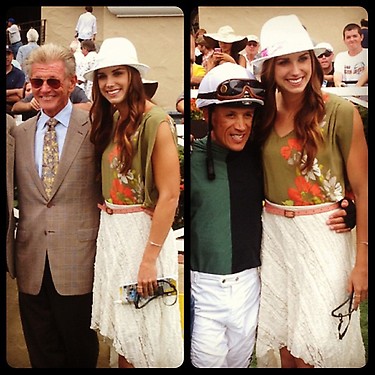 U.S. Olympic soccer gold medalist Alex Morgan poses in the Del Mar winner's circle with the track's President and CEO Joe Harper and jockey David Flores (Image via the @DelMarRacing Twitter feed)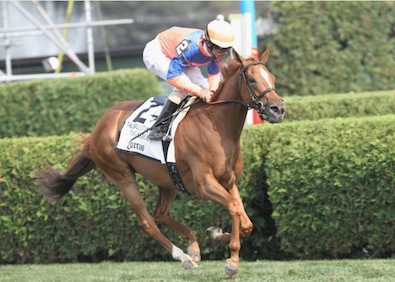 Zagora captures the Ballston Spa Handicap at Saratoga (Image courtesy of HorsePhotos.com)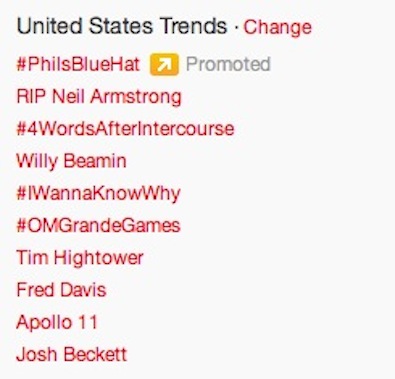 Willy Beamin trends after his surprise win in the King's Bishop Stakes at Saratoga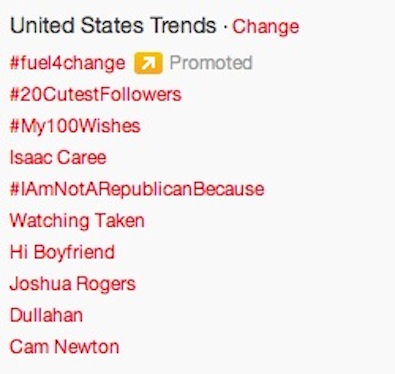 Dullahan enters the top 10 national trends after his victory in the Pacific Classic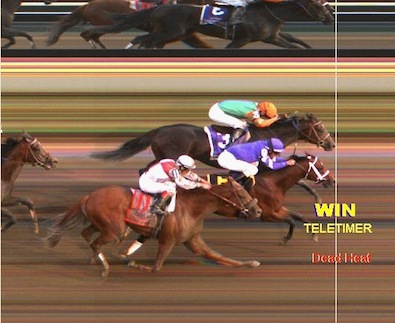 The photo finish of the dead heat in this year's Travers Stakes between Alpha and Golden Ticket (Image courtesy of NYRA.COM)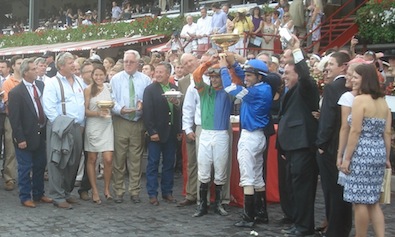 The scene in the Travers winner's circle as the trophies are received by the connections of dead heat winners Golden Ticket and Alpha (Image via Equidaily.com)

FOLLOW US ON TWITTER

@ABRLive
top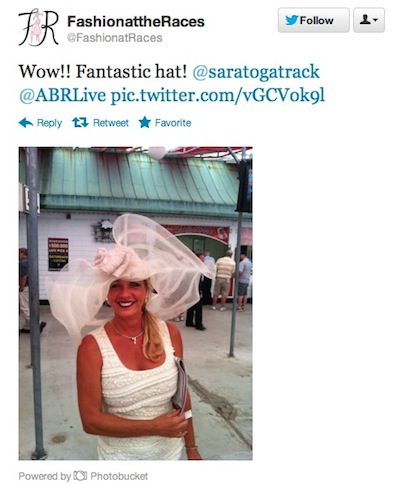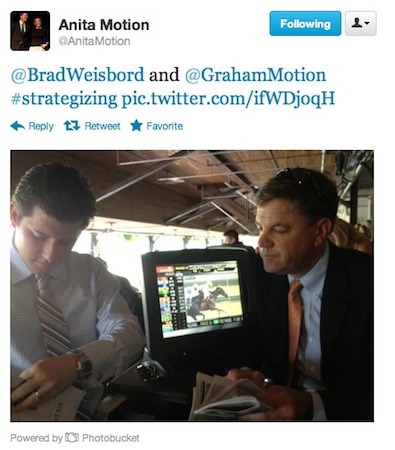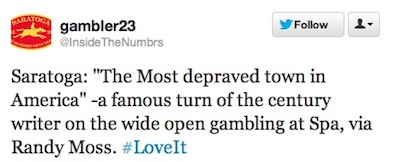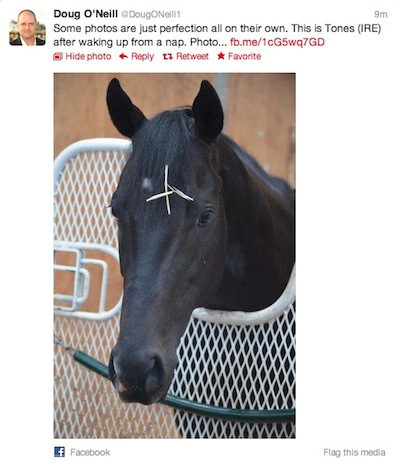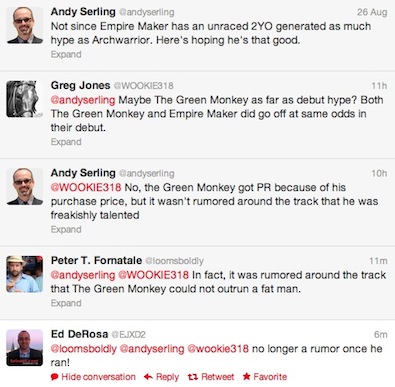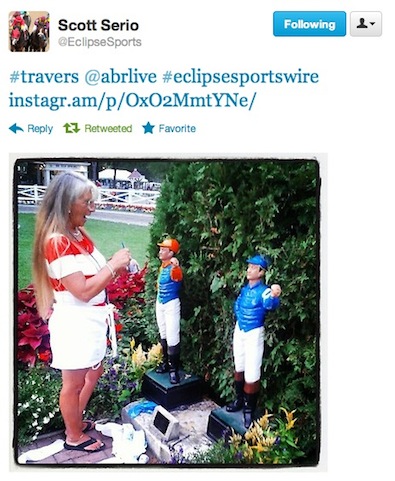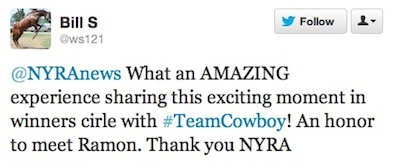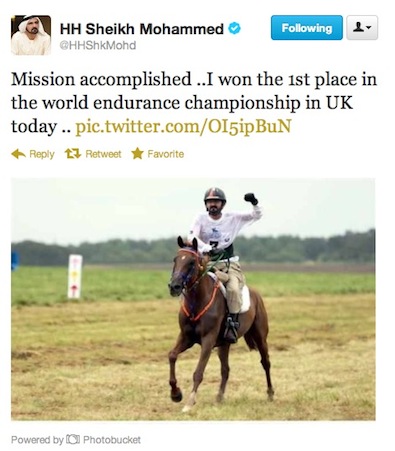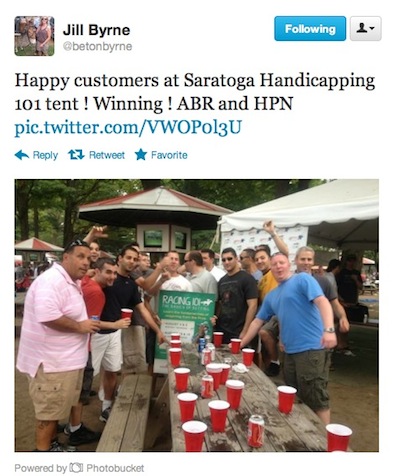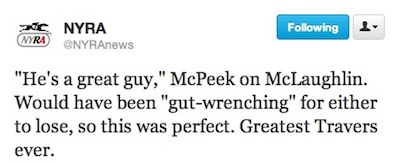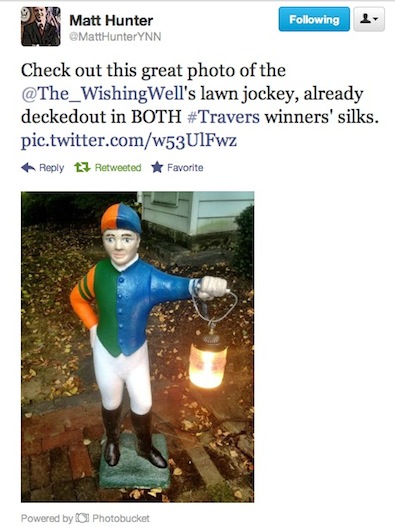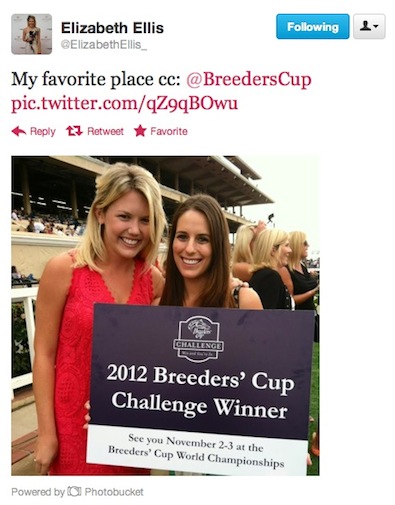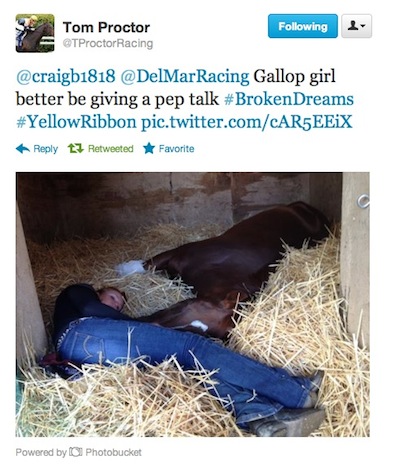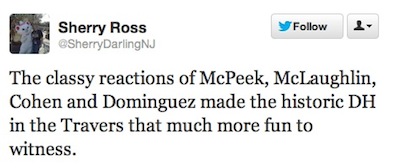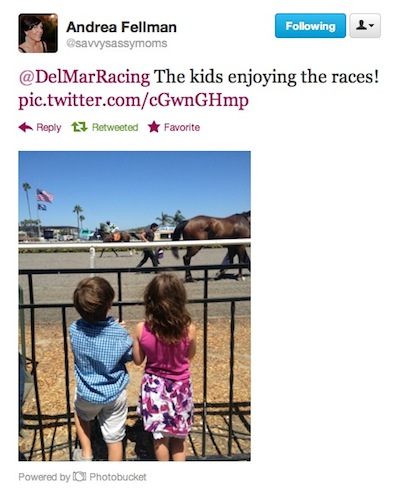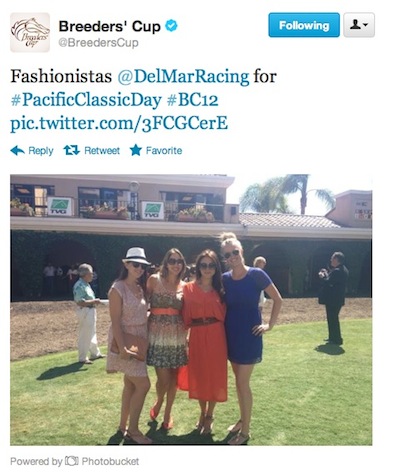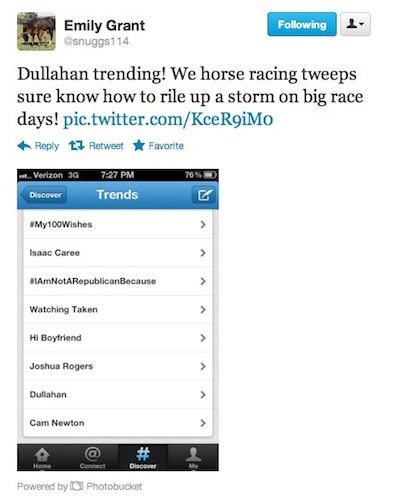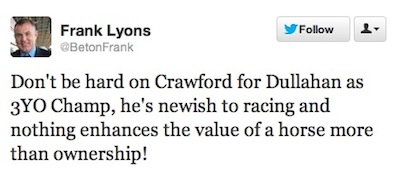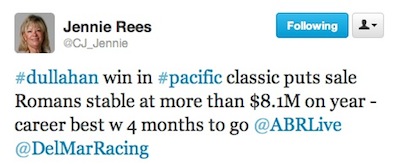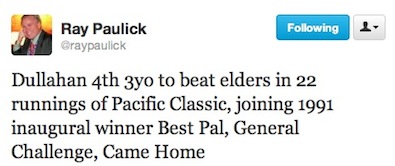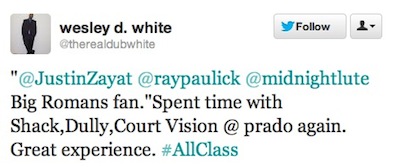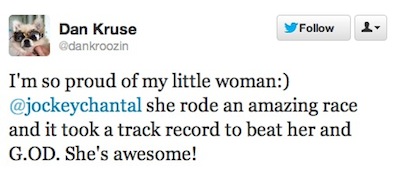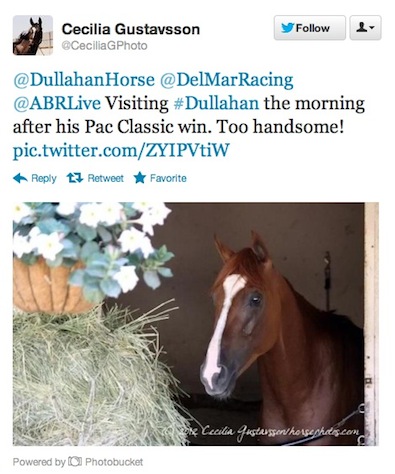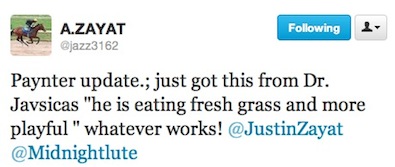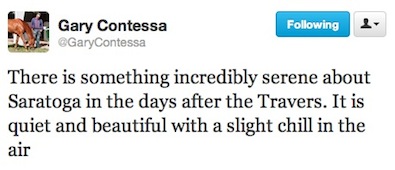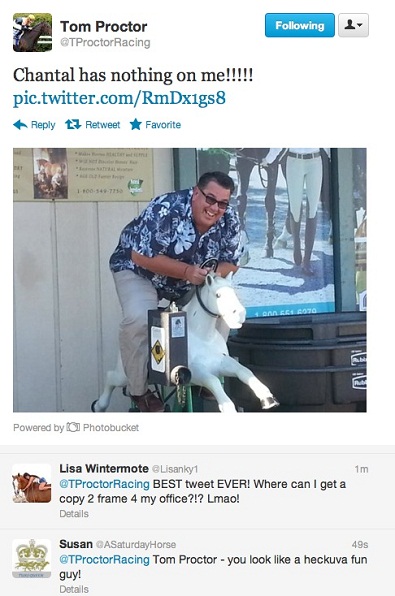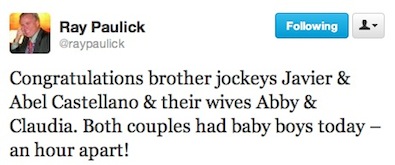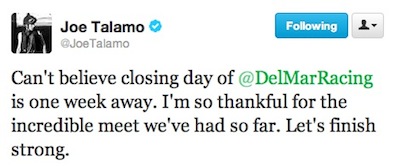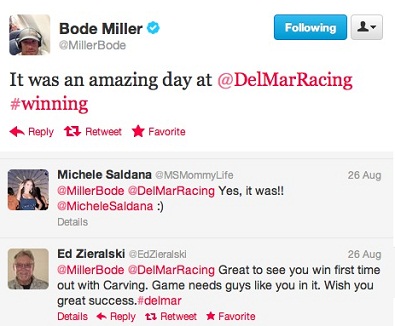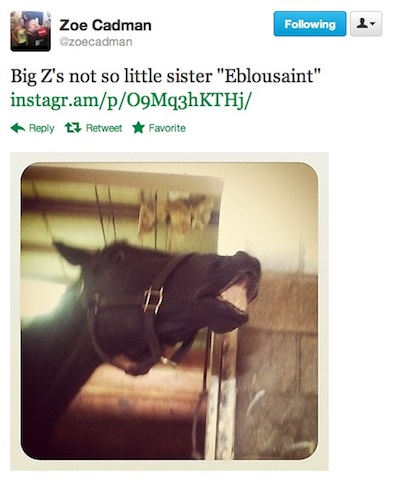 Image courtesy of Reeves Media

In 2009, Patti Reeves and her husband Dean formed Reeves Thoroughbred Racing, the ownership group behind Mucho Macho Man—the likely favorite in Saturday's Grade I Woodward Stakes at Saratoga (NBC, 5:00-6:00 p.m. ET).

A longtime advertising executive, Patti is the owner and founder of Reeves Media, an outdoor advertising consulting business based in Suwannee, Ga.

Prior to opening Reeves Media, Patti worked for several years at 3M. Perhaps it was that earlier experience that gave Patti the courage to cold-call 3M shortly before the 2011 Kentucky Derby and convince the corporation to serve as the horse's official sponsor for that year's Run for the Roses.
TWO MINUTE LICK WITH PATTI REEVES
top
Name: Patti Reeves

Birthplace: New Jersey

My favorite childhood memory: Fishing with my dad

Most influential person in my career: Nancy Fletcher, CEO, Outdoor Advertising Assoc. of America

My out-of-the-box idea for Thoroughbred Racing: Get all the horses in the starting gate to take a picture for a Christmas Card. (Trainer says NO WAY!!)

How I was introduced to Thoroughbred Racing: My husband and I met a couple while on vacation in the Turks and Caicos Islands. They became our first racing partners and introduced us to the sport.

Other sports/teams I follow: Georgia Tech; Tampa Bay Buccaneers.

Why I love competing in Thoroughbred racing: Very exciting sport! Great people; easy to follow. You can't own the Atlanta Falcons, but you CAN own your own stable of horses!

My Heroes: Tony Dungy

What about myself would surprise those who know me: I did not grow up around horses.

My favorite athlete of all-time: Michael Phelps

A Pet Peeve: Sloppiness.

What book I am reading or have recently read: Seabiscuit

Favorite Magazines: Blood-Horse, More Magazine

Favorite website I visit daily/weekly: Facebook

Gadget I cannot live without: iPhone

Hobbies away from Thoroughbred Racing: Boating, yoga.

Favorite movie: "No Way Out"

TV shows I watch: Very few. Horse racing.

Favorite food: Pizza

Favorite vacation spot: Turks and Caicos Islands.

What I drive: Just bought a BMW because of the gadgets.

If I could be a guest on any TV talk show it would be: The View.

If I could appear on any television show it would be: Headline News

If I could be a guest on any talk radio show it would be: Steve Byk at the Races

If I could be on stage with any musical group I would play what instrument: Piano.

Favorite Musician/Band: Adele

Favorite Actor: Clint Eastwood

Newspaper I read daily: Atlanta Journal-Constitution.

Favorite artist: Andrew Wyeth

I'd like to have dinner with the following three people: My husband and George and Lori Hall.

Best racetrack food can be found at: Saratoga

Accomplishment I am most proud of: Securing the 3M Company as the corporate sponsor of Mucho Macho Man for the Kentucky Derby.

My philosophy on life: Do unto others as you would have them do unto you.

Favorite quote or motto: "Let us Run with endurance the race marked out for us".

Things I collect: Nothing... I don't like clutter!

Favorite charities: North Point Ministries, Atlanta, GA

Celebrity/prominent personality friends include: Jacklyn Zeman (cousin); Jerry Bailey

Favorite authors: Karen Kingsbury

Favorite animal other than a horse: Dog

What actor would play me in a movie: Meg Ryan

Favorite non-Thoroughbred racing sports event I have attended: Super Bowl.

Three words that define what Thoroughbred Racing means to me: Exciting. Challenging. Frustrating.

What living person do you most admire: My husband.

No. 1 Bucket List Item: Breeders Cup!
FAN PHOTO OF THE WEEK top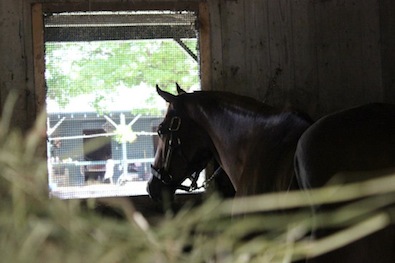 Congratulations to photographer Mary Keener on winning this week's Fan Photo Contest! From Mary: "We went to visit Shackleford the morning after the race. He was chilling out yet plotting how he was going to kick a** in his next race. Either that or figuring out a good time to bite his groom who was wrapping his legs." Want in? E-mail your submissions with a brief caption to photos@NTRA.com!
VOICES
top
FROM THE GRANDSTAND
top
Mike Repole, quoted by Mike Kane on YNN.com, on acquiring the iconic Saratoga canoe that bears the colors of his 2011 Travers winner Stay Thirsty:
"NYRA was super nice and said, 'Listen, we'll give you the canoe and in lieu of that, you make a donation to the horse rescue and the backstretch fund.' I am going to give a sizeable donation to both."
Trainer Dale Romans speaking to the media on his willingness to spot a horse aggressively, as with Dullahan in the Pacific Classic:
"If something feels good to me, and I have a gut feeling about it, I'll take a shot. But you better have thick skin because you guys beat up on us sometimes when we take a shot and it doesn't work out—either the press or these message boards. One of the best things that I've got going for me is I never look at a computer, so I don't have to read all that stuff."
Joe Drape in the New York Times on the necessary characteristics for a horseplayer intending to spend a full meeting at Saratoga:
"He needs to be shrewd but good-humored, absorbed but resilient. A healthy bankroll helps, as does a strong, functioning liver. If you are married, an understanding spouse is a must. An absent one is best."
---
MULTI-MEDIA top
Slide Show: Why gray horses Thoroughbreds are great (CNN)
Video: Reporter Mike MacAdam braves muddy conditions at Saratoga to gain a horse's perspective of what it's like to run a mile and a quarter (Schenectady Daily Gazette)
Photo: The waiting—for picnic tables—is the hardest part of Travers Day at Saratoga (Albany YNN)
Video: Fans waiting in line for picnic tables at 1:45 a.m. on the morning of Travers Day (Jkelly345's YouTube channel)
Photo: England's Racing Post utilizes some graphics trickery to depict Frankel and Camelot on double-decker buses (Racing Post.com)
---
IN THE NEWS
top
Sires and sons (Grantland.com)
For father of jockey, a familiar risk (The Boston Globe)
Winter Olympian Bode Miller gets Del Mar win in Summer Olympics year (Bleacherreport.com)
Paynter's health improving; but condition still serious (Daily Racing Form)
New York racing's imminent takeover by the state is cause for worry (Washington Post)
Mine That Bird movie to begin production next week (Thoroughbred Times)
Mucho Macho Man ready for the Woodward (YNN)
Mucho Macho Man heads strong line-up in the Woodward (Thoroughbred Times)
Jackson Bend uncertain starter for the Forego (Daily Racing Form)
Ritvo appreciates working to win (Times Union)
Travers dead heat means two canoes for Spa pond (Little Falls Times.com)
Street Life retired with ruptured ligament (Thoroughbred Times)
Shadows and wins follow Rick Dutrow (New York Times)
"Miracle" horse overcomes the odds to break his maiden at Saratoga (Brisnet.com)
NYRA's paddock analyst Maggie Wolfendale logging long hours at the track (YNN)
A Saratoga betting score without the bells and whistles (Daily Racing Form)
The final week at Saratoga Race Course (Times Union)
Del Mar's 75th anniversary season kicks for home (UT San Diego)
Executiveprivilege tops Saturday's Grade I Del Mar Debutante (Blood-Horse)
Dullahan wins TVG Pacific Classic over Game on Dude (Yahoo Sports)
Dullahan now an Eclipse Award contender (Des Moines Register)
Success of Romans reason for late summer smiles (Voice-Tribune.com)
"Personal problems" force Del Mar apprentice jockey off his mounts (UT San Diego)
The wives of the riding Castellano brothers each have babies on the same day (Daily Racing Form)
Fallon calls for Frankel to head to the U.S. (Bettor.com)
Velazquez set for stakes on both coasts (The Blood-Horse)
Racing 101 Fan Hub teaches the basics of betting (Forbes.com)
Racing should take a page from baseball honoring the past (Thoroughbred Times)
Fantasy Sports, Horse Racing and the fun of social media (Casino Scam Report.com)
Three Chimney Farms utilizing social media (The Saratogian)
Starlight Racing lures new owners (The Business Review)
Penn National to celebrate 40th anniversary (York Dispach.com)
Past the Point making his mark in TAKE2 program (Brisnet.com)
---
IN THE BLOGOSPHERE
top
Palm Meadows Training Center in Florida opens to horses impacted by Hurricane Isaac (Louisville Courier-Journal)
Mucho Macho Man is the man! (The Blood-Horse)
Saratoga's closing weekend, and other stuff (Daily Racing Form)
Another filly, another memorable stakes win for Allen Jerkens at Saratoga (Brooklyn Backstretch)
Pacific Classic recap (followhorseracing.com)
Dullahan and his impressive body of work (Pullthepocket.com)
Decision '12: Which Breeders' Cup race for Dullahan? (Horse Racing Nation)
Taking a look at the top broodmare Mining My Own, dam of both Dullahan and Mine That Bird (All Equine all the Time)
Remembering Landaluce (Xpressbet.com)
The current status of the various Thoroughbred divisions (Brisnet.com)
Depressing subject: How Turfway purses stack up with Kentucky Downs, Hoosier Park (Courier-Journal)
Are Thoroughbreds really more fragile than they used to be? (TwinSpires.com)
Race for the Rescues charity walk/run October 7 to raise funds for Southern California Thoroughbred Rescue (Race for the Rescues)
How to choose the correct bit for an off-the-track Thoroughbred (Off-Track Thoroughbreds)
NHC NEWS
top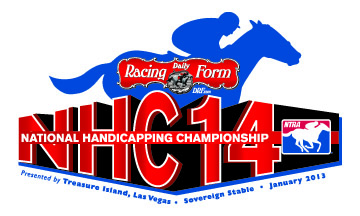 GULFSTREAM PARK TO HOST LAST CHANCE/FIRST CHANCE QUALIFIER IN JANUARY
Gulfstream Park will be hosting the very first "Last Chance/First Chance" NHC Qualifier on Eclipse Awards weekend, January 19-20. The top two finishers at the end of the two-day tournament will receive NHC berths. If a berth winner has already qualified to the 2013 NHC, the berth will be awarded to the 2014 NHC. If he or she has not qualified to the 2013 NHC, the spot will be granted to the January 25-26, 2013 event. Airfare and hotel accommodations to the Finals will also be awarded to the top two finishers.

There will be a $400 registration fee ($200 entry fee and $200 live bankroll). One hundred percent of the $200 entry fee will be returned as prize money. The number of players will be capped at 200. All NHC Tour players will also be eligible for discount tickets to the Eclipse Awards dinner and ceremony on the night of January 19. Gulfstream Park has acquired a preferred hotel rate at the Hampton Inn-Hallandale Beach of $189 (plus 11% tax) for a king room and $199 (plus 11%) tax for a double queen. Click here to reserve your hotel accommodations at the Hampton Inn.

Start making your travel plans to Gulfstream Park, Sunshine Millions weekend and watch Michael Beychok accept his Eclipse Award trophy as the 2012 Handicapper of the Year. Contact Mike Nyman at mike.nyman@gulfstreampark.com for NHC contest details and Michele Ravencraft at mravencraft@ntra.com for Eclipse Awards information.

SEPTEMBER ON-TRACK CONTEST DATES
Surfside Race Place will be conducting its next series of NHC qualifiers on September 7-9. The Friday mini tournament, September 7 will be followed by a two-day contest, September 8-9. Click here for Surfside Race Place contest information.

The Kentucky Downs Turf Handicapping Challenge is set for September 15. Three NHC spots and $15,000 in cash prizes will be up for grabs. The entry fee is $150. The handicapping challenge is going to be held on the marquee day of the Kentucky Downs meeting, which features the running of the Grade III, $200,000 Kentucky Turf Cup. Contact Bill Flesher at billflesher@kentuckydowns.com or (270) 586-6667.

Monmouth Park is hosting the $200 Monmouth/Woodbine Handicapping Challenge on September 16. For more information contact Brian Skirka at bskirka@monmouthpark.com

Fairplex Park NHC tourneys will be returning in 2012 on the weekend of September 21-23. Each of the three days will award two NHC spots and NHC Tour points. Click here to read more.

The Greenwood Teletheatre Handicapping Challenge will be taking place in Toronto, Ontario, Canada on September 23. Two NHC berths will be awarded. Click here for more details.

SEPTEMBER ONLINE NHC CONTEST DATES
NHCQualify.com is conducting three online events in September. Click here to view the current NHCQualify.com schedule.

Horsetourneys.com will conduct NHC Qualifiers on September 8,16 and 22.

Horse Players Qualify is conducting Players Challenge qualifiers on September 3, 9 and 15. The final event will be held on September 28-29. For more details on the Players Challenge and a schedule of Players Challenge qualifiers click here.

Check out the TwinSpires.com tournament schedule. Contests are being run weekly to gain entry into NHC 14.

Click here to view the current Daily Racing Form NHC Tour schedule.

Click here to view the current list of NHC 14 qualifiers.
SOVEREIGN STABLE CONTINUES TO LIGHT UP SARATOGA
Daily Racing Form/NTRA National Handicapping Championship presenting sponsor Sovereign Stable continues to be on a torrid pace at the lucrative Saratoga meeting. On August 19, Sovereign's Backdown won by six lengths as the favorite. Sovereign has compiled two wins, two seconds and one third-place finish from six starts at the current meeting. For more information on Sovereign Stable partnerships, visit Sovereignstable.com.
DAILY RACING FORM NHC TOUR LEADER BOARDS
Paul Parker (Norcross, GA) remains in the lead of the second-half of the DRF NHC Tour. Emad Himaya (Lindenhurst, NY) is in second place with 3,954 points. Mark McGuire (Newbury, Park, CA) is maintaining his top spot on the full Leader Board with Mark Streiff (Mission Veijo, CA) not far behind in second-place.

Click here to view the overall full Leader Board standings.

Click here to view the second-half full Leader Board standings.
| | | | |
| --- | --- | --- | --- |
| Name | 2H LB Points | Name | Full LB Points |
| Paul Parker | 4,479 | Mark McGuire | 11,217 |
| Emad Himaya | 3,954 | Mark Streiff | 10,816 |
| Dan Shugar | 3,893 | Rhonda Sylvester | 10,186 |
| Judy Wagner | 3,881 | Christopher Larmey | 9,349 |
| Chris Bohm | 3,842 | Edmund Teicht | 8,984 |
Player Profile

Sally Goodall

Sally will be making her 11th appearance at the 2013 NHC. She qualified for this year's event in June at NHCQualify.com. Sally will also be looking to follow up on her Players Challenge Qualifier title when she plays in the Sioux Falls, SD final on September 28-29. Click here to read more about Sally's first-place finish.

Success is commonplace in the Goodall household. Sally's husband, Richard, was crowned NHC Champion in 2008. Richard has qualified for 10 NHC Championships including NHC 14. Click here to read Sally's complete NHC player biography.
CALENDAR
top
RACING TO HISTORY
top
Aug. 30, 1981: Bill Shoemaker became the first jockey to win a $1 million race when he rode John Henry to a nose victory over The Bart in the inaugural Arlington Million at Arlington Park.
Aug. 31, 1955: In an East versus West showdown, Nashua, ridden by Eddie Arcaro, went wire-to-wire to defeat Swaps, ridden by Bill Shoemaker in a match race at Washington Park. Nashua's victory avenged his second-place finish, behind Swaps, in the 1955 Kentucky Derby.
Aug. 31, 1985: Angel Cordero Jr., 42, became the third rider in history—behind Bill Shoemaker and Laffit Pincay Jr.—to have his mounts earn $100 million, while riding at Belmont Park.
Sept. 1, 1881: The Dwyer Brothers' three-year-old Hindoo won his 19th consecutive race, a purse event at Sheepshead Bay. His winning streak was snapped six days later in the September Handicap at Sheepshead, in which he finished third.
Sept. 1, 1924: A French colt, Epinard, headed the field for the first of three Internationals, of progressively longer distances, to be run at Belmont Park, Aqueduct and Latonia. Epinard finished second in the six-furlong race, which was witnessed by the Prince of Wales, the future Edward VIII.
Sept. 1, 1947: With a victory by Armed in the Washington Park Handicap, Calumet Farm became the first stable to surpass $1 million in annual earnings. Calumet led all owners for 1947, with total earnings of $1,402,436.
Sept. 1, 2001: Jockey Tim Moccasin capped a streak of 14 consecutive victories, a North American record, at Marquis Downs in Saskatoon, Saskatchewan, Canada. His fourteenth straight win came aboard Intricate Stitch in the fifth race.
Sept. 1, 2005: Due to the destruction of Hurricane Katrina, Fair Grounds Race Course in New Orleans announced that it would conduct its 2005-2006 meet at Harrah's Louisiana Downs in Bossier City.
Sept. 2, 1901: Seven-year-old Ogden won two races in a single day at Coney Island.
Sept. 2, 2001: Hall of Fame trainer Jimmy Jones, best known as the conditioner of Citation, died at age 94 after a lengthy illness.
Sept. 3, 2011: Trainer Jerry Hollendorfer gained his 6,000th career victory when he sent out Just Tappin It to win the sixth race at Golden Gate Fields.
Sept. 3, 1956: Swaps ended his racing career with a victory in the Washington Park Handicap at Washington Park. He was subsequently named Horse of the Year.
Sept. 3, 1956: Jockey John Longden surpassed Sir Gordon Richards' then-record number of wins when he rode Arrogate to victory in the Del Mar Handicap to attain his 4,871st victory.
Sept. 3, 1960: Kelso, ridden for the first time by Eddie Arcaro, won the Jerome Handicap.
Sept. 3, 2001: Jockey John Velazquez became the first jockey in history to ride six winners on a single card at Saratoga Racecourse.
Sept. 3, 2001: For the first time in Saratoga Racecourse history, attendance hit the million mark, with a total of 1,011,669 fans going through the turnstiles during the 36-day meet.
Sept. 3, 2004: Jockey John Velazquez rode his record 62nd winner at the Saratoga meeting.
Sept. 4, 1920: Man o' War won the 1 5/8-mile Lawrence Realization Stakes at Belmont Park by 100 lengths, the largest winning margin in modern racing history. His time for the race, 2:40 4/5, shattered the world record by 6 4/5 seconds and was his fifth record-setting performance of that year.
Sept. 4, 1959: Allaire du Pont's two-year-old Kelso won his maiden race by 1 1/4 lengths at Atlantic City. In the following year, Kelso was voted the first of his record five consecutive Horse of the Year titles.
Sept. 5, 2009: Three-year-old filly Rachel Alexandra became the first female ever to win the Grade I Woodward Stakes when she held off Macho Again by a head at Saratoga.
Sept. 6, 2010: The experimental 49-day Elite Summer Meet at Monmouth Park concluded with handle up 87 percent from 2009 figures and attendance up 47 percent.
Sept. 7, 1970: Bill Shoemaker surpassed John Longden's then-record of 6,032 wins when he piloted Dares J to victory at Del Mar and became the world's winningest jockey.
Sept. 7, 2009: Linda Rice became the first female trainer to win the trainer's title at Saratoga. She registered 20 wins, one more than Todd Pletcher.
Sept. 8, 1990: Bill Shoemaker scored his first stakes victory as a trainer when he sent a five-year-old mare, Baldomero (IRE), to victory in the Osunitas Handicap at Del Mar.
Sept. 8, 1999: The Emirates Racing Association announced that the 2000 renewal of the Dubai World Cup would be worth $6 million.
Sept. 8, 2002: On his 41st birthday, Mario Pino became the 18th jockey to ride 5,000 winners by visiting the winner's circle twice at Delaware Park. Pino got his 5,000 win when he guided Outdone to victory in the ninth race.
Sept. 10, 2004: Zippy Chippy, Thoroughbred racing's lovable loser, made it 0-for-100 when he finished last in an eight-horse field at the Three-County Fairgrounds in Northampton, Mass.
Sept. 11, 1976: In the third race at Latonia, jockey John Oldham and his wife, Suzanne Picou, became the first husband and wife riding team to compete in a parimutuel race together. Oldham finished second aboard Harvey's Hope and Picou rode My Girl Carla to an 11th-place finish.
Sept. 11, 1982: Jockey Earlie Fires had his 3,000th career win, aboard Volga Ace, in the fourth race at Arlington Park.
Sept. 11, 2009: Trainer Steve Asmussen gained the 5,000th win of his career when he sent out Passion Rules to victory in the seventh race at Woodbine.
Sept. 12, 1944: A dead-heat for win and show occurred in the eighth race at Hawthorne.
Sept. 12, 1970: Nijinsky II won the St. Leger Stakes and became the 15th winner of England's triple crown. He is the last horse to have won the English triple.
Sept. 12, 1973: Fully recovered from a virus that had beset him at Saratoga, Secretariat worked five furlongs in :57 as his last preparation for the Marlboro Cup Invitational Handicap.
---
WEEKEND STAKES RACES top
THURSDAY, AUGUST 30
With Anticipation Stakes, 2yo, $200,000, Grade II, 1 1-16M (T), Saratoga
Mrs. Walter M. Jeffords Stakes, 4&up (f&m), $75,000, 2 1-16M (Steeplechase), Saratoga
FRIDAY, AUGUST 31
El Cajon Stakes, 3yo, $100,000, 1M, Del Mar
Riskaverse Stakes, 3yo fillies, $100,000, 1M (T), Saratoga
SATURDAY, SEPTEMBER 1
Woodward Stakes, 3&up, $750,000, Grade I, 1 1-8M, Saratoga
Forego Stakes, 3&up, $500,000, Grade I, 7F, Saratoga
Del Mar Debutante, 2yo fillies, $300,000, Grade I, 7F, Del Mar
Bernard Baruch Handicap, 3&up, $250,000, Grade II, 1 1-16M (T), Saratoga
Seaway Stakes, 3&up (f&m), $150,000, Grade III, 7F, Woodbine
Washington Park Handicap, 3&up, $150,000, Grade III, 1 1-8M, Arlington Park
Cliff Hanger Stakes, 3&up, $100,000, Grade III, 1M (T), Monmouth Park
Harry F. Brubaker Stakes, 3&up, $85,000, 1M, Del Mar
Darn That Alarm Stakes, 3&up, $75,000, 1 1-16M, Calder
SUNDAY, SEPTEMBER 2
Spinaway Stakes, 2yo fillies, $300,000, Grade I, 7F, Saratoga
Del Mar Derby, 3yo, $300,000, Grade II, 1 1-8M (T), Del Mar
Saranac Stakes, 3yo, $150,000, Grade III, 1 1-8M (T), Saratoga
Sapling Stakes, 2yo, $100,000, Grade III, 6F, Monmouth Park
Sorority Stakes, 2yo fillies, $100,000, 6F, Monmouth Park
Torrey Pines Stakes, 3yo fillies, $100,000, 1M, Del Mar
MONDAY, SEPTEMBER 3
Smarty Jones Stakes, 3yo, $350,000, Grade III, 1M 70 yds., Parx Racing
Turf Monster Handicap, 3&up, $350,000, Grade III, 5F (T), Parx Racing
Hopeful Stakes, 2yo, $300,000, Grade II, 7F, Saratoga
Yellow Ribbon Handicap, 3&up (f&m), $250,000, Grade II, 1 1-16M (T), Del Mar
Turf Amazon Handicap, 3&up (f&m), $200,000, 5F (T), Parx Racing
Glens Falls Handicap, 3&up (f&m), $150,000, Grade III, 1 3-8M (T), Saratoga
Oak Tree Juvenile Fillies Turf, 2yo fillies, $100,000, 1M (T), Del Mar
Icecapade Stakes, 3&up, $75,000, 6F, Monmouth Park
WEDNESDAY, SEPTEMBER 5
Del Mar Futurity, 2yo, $300,000, Grade I, 7F, Del Mar
Oak Tree Juvenile Turf, 2yo, $100,000, 1M (T), Del Mar
---
RACING ON THE AIR

(All times Eastern)

top
September 1 Woodward Stakes, Forego Stakes and Bernard Baruch Handicap (Saratoga), 5:00-6:00 p.m., NBC
MORE
TURN OF FOOT
top
Which performance was more exciting last weekend, Dullahan's late-closing finish in the Pacific Classic or the dead heat in the Travers Stakes? Tweet your answers to @ABRLive! Tweet your answers to @ABRLive!