Thursday, February 16, 2012
NTRA Thoroughbred Notebook
PHOTOS OF THE WEEK
top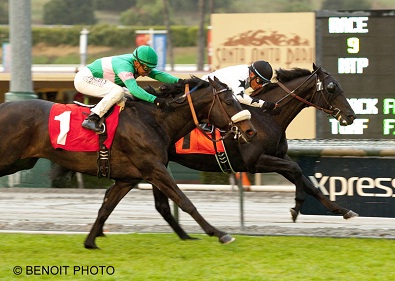 Slim Shadey (inside) wires the field in the Grade II San Marcos Stakes on Saturday at Santa Anita (Image courtesy of Benoit Photo)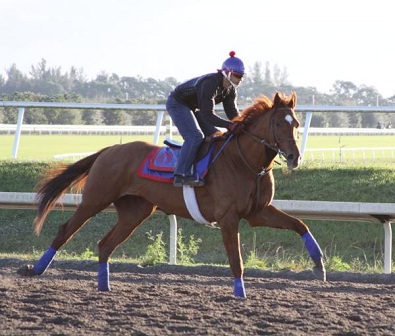 Animal Kingdom enjoys a workout at Palm Meadows in Florida. (Image courtesy of @TeamValor Twitter feed)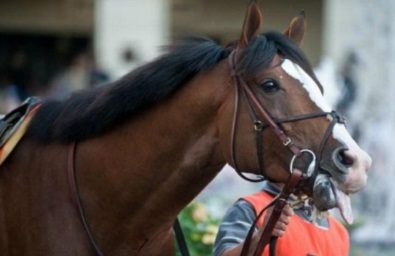 Gulfstream Park Turf Handicap winner Get Stormy has his pre-race game face on. (Image via @Hltonini Twitter feed)
FOLLOW US ON TWITTER

@NTRA
top
Join cast members from HBO's critically acclaimed horse racing drama Luck and horse racing experts every Monday night at 9 PM Eastern/6 PM Pacific for #LuckChat to discuss the show!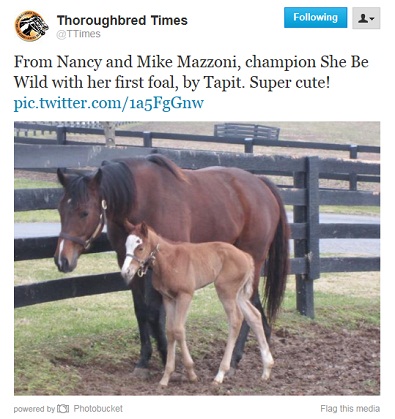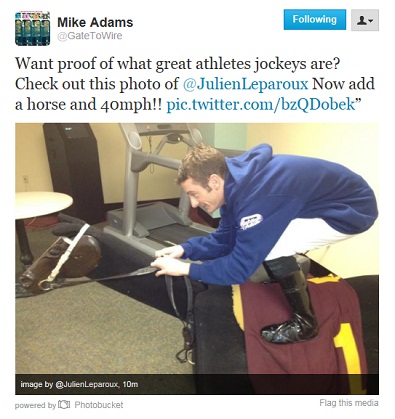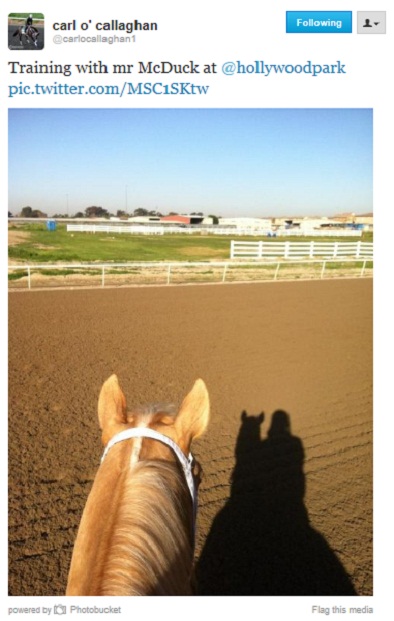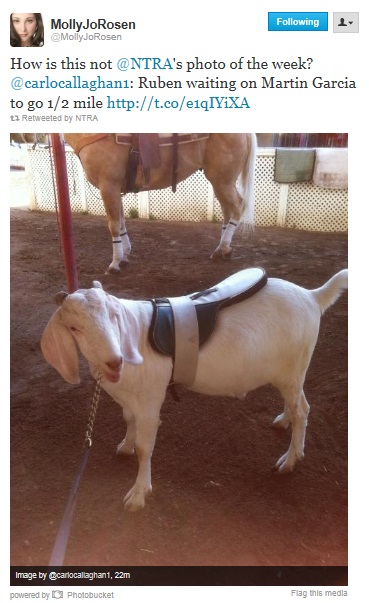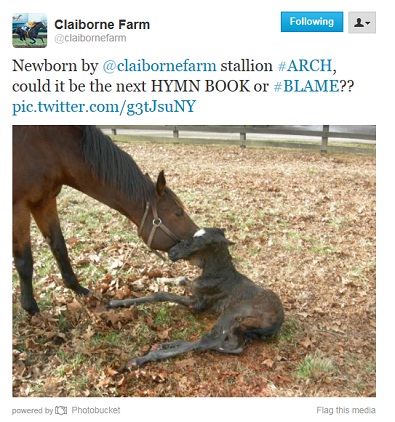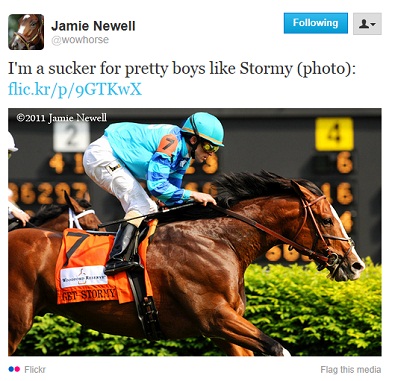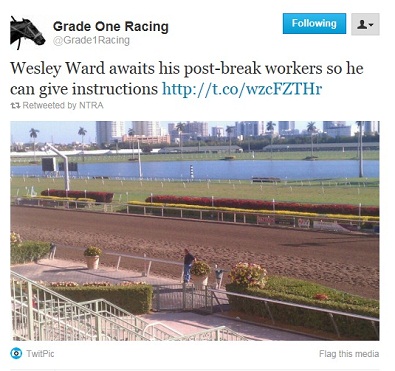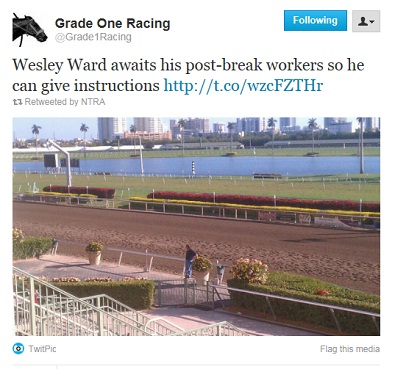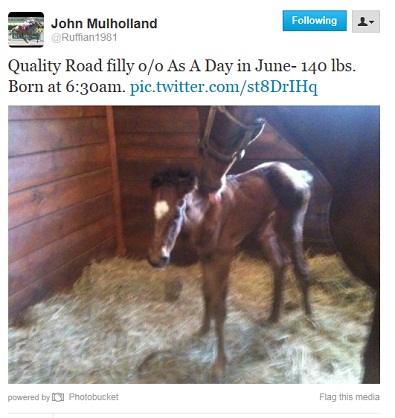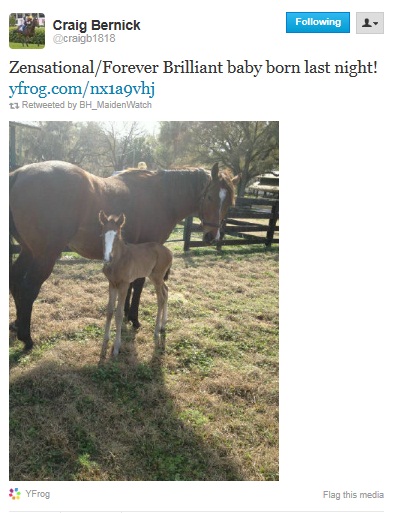 (Image courtesy of NBC Sports)
Fred Gaudelli is the producer of Triple Crown telecasts for NBC Sports. He is also a highly decorated and accomplished producer of NFL telecasts. Less than two weeks ago, the 10-time Emmy Award winner produced his fourth Super Bowl.

For the past six years, he has led NBC's production of Sunday Night Football, which has received the Emmy Award for Outstanding Live Sports Series in each of the last three years. Prior to joining Sunday Night Football, Gaudelli spent five seasons as producer of ABC's Monday Night Football.
TWO MINUTE LICK WITH FRED GAUDELLI
top
Name:
Fred Gaudelli




What I do for a living:
Fulltime: Dad, part time: Producer of Sunday Night Football


How and when I was introduced to Thoroughbred Racing:
In 1973, watching Secretariat win the Triple Crown.


My favorite racetrack:
Churchill Downs


My favorite Thoroughbred racing event:
The Kentucky Derby


Other sports/teams I follow:
NFL, Yankees, Knicks and Rangers


What I would like to see more of in Thoroughbred Racing:
Great horses run past the age of three


What I would like to see less of in Thoroughbred Racing:
Internecine battles


Three words that define what Thoroughbred Racing means to me:
Excitement, Fascination, Capricious


First Thoroughbred track I ever attended was:
Churchill Downs


Favorite All-time Thoroughbred:
Secretariat


My personal best moment in the sport of Thoroughbred Racing:
Watching the Affirmed vs. Alydar races in the late 1970's as a teenager.


Best racetrack food can be found at:
All I eat is TV compound catering, so I am unqualified to answer this.


My favorite jockey:
Angel Cordero/John Velazquez – tie


My favorite trainer:
Todd Pletcher


My Heroes:
Mom and Dad – Sports: Mickey Mantle/Walt "Clyde" Frazier


Person in Thoroughbred Racing I'd like to have dinner with:
Penny Chenery


My philosophy on life:
Don't let good enough be good enough.


Favorite quote or motto:
No medals for trying.


Favorite animal other than a horse:
Dog


Favorite non-Thoroughbred racing sports event I have attended:
Game 6, 1996 World Series in Yankee Stadium.


Favorite food:
Pasta


Favorite Musician/band:
Bruce Springsteen & the E Street Band


Favorite all-time movie(s):
Tie: Godfather and The Shawshank Redemption


Favorite TV Show:
Saturday Night Live
Websites I visit daily:
Profootballtalk.com, CNBC.com, ESPN.com


What I drive:
Audi A 6


Pet Peeve:
Phonies


Favorite vacation spot:
Kona, Hawaii


Favorite movie about horse racing:
Seabiscuit


Which actor would play me in a movie:
Al Pacino


Alma Mater:
Long Island University – C.W. Post


Favorite Radio shows/channels:
Sirius – E Street Radio, Classic Vinyl, POTUS, 70's, NPR


Best Book I recently read:
Steve Jobs
Favorite Tech gadget:
iPad


Twitter Handle:
@SNFNBC


People I follow on Twitter:
Breaking News
,
Judy Battista
,
LeBron James
,
Jay Glazer
,
Adam Schefter
No. 1 Bucket List Item
: Play Augusta National
FAN PHOTO OF THE WEEK top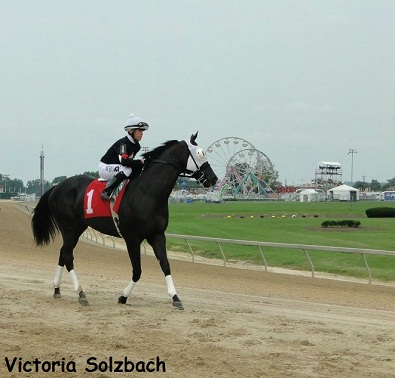 Fan Photo: Congratulations to photographer Victoria Solzbach, winner of the February 15 Fan Photo Contest! From Victoria: "Taken at Timonium, jockey Wesley Ho in the post parade with the Maryland State Fair in the background."
TRIPLE CROWN WATCH
top

Image courtesy of Tampa Bay Downs/Tom Cooley Photography

BATTLE HARDENED

Owner: Michael Tabor and Mrs. John Magnier

Trainer: Eddie Kenneally

Sire: Giant's Causeway

Record: 4-1-2-0

Earnings: $138,855

Current Wynn Las Vegas Derby odds: 30-1

The skinny: Broke his maiden winning the Sam F. Davis Stakes. Tampa Bay Derby could be next.


Image courtesy of HorsePhotos.com

EMPIRE WAY

Owner: Heinz Steinmann

Trainer: Mike Harrington

Sire: Empire Maker

Record: 4-1-1-0

Earnings: $112,000

Current Wynn Las Vegas Derby odds: 40-1

The skinny: Full brother to Royal Delta was a closing second last time out in Robert B. Lewis Stakes. Will likely be kept apart from stablemate Creative Cause.


Image courtesy of Horsephotos.com

I'LL HAVE ANOTHER

Owner: J.P. Reddam

Trainer: Doug O'Neill

Sire: Flower Alley

Record: 4-2-1-0

Earnings: $184,000

Current Wynn Las Vegas Derby odds: 65-1

The skinny: Beat Empire Way in Lewis Stakes as 43-1 longshot. Lacks pedigree power of Empire Way, though. Hence, the higher odds here despite winning.


Image courtesy of Benoit Photo

GROOVIN' SOLO

Owner: Myung K. Cho

Trainer: Kenny McPeek

Sire: Bob and John

Record: 5-1-0-0

Earnings: $38,640

Current Wynn Las Vegas Derby odds: 150-1

The skinny: Ran 3rd in Lewis but was DQ'd to 7th for interference. Half-brother to stakes winners Street Hero and Premier Pegasus, who both ran for these connections. Needs to stay sounder than his brothers to be a factor.


Image courtesy of Beth Natasha Arkin

ENDER KNIEVEL

Owner: Alto Racing

Trainer: Todd Pletcher

Sire: Dsitorted Humor

Record: 4-1-1-0

Earnings: $35,280

Current Wynn Las Vegas Derby odds: 150-1

The skinny: Stretched out to a mile and jumped a maiden field by 7 ¾ lengths at Gulfstream on Feb. 5. One of at least a dozen good 3yos trained by Pletcher.


Image courtesy of HorsePhotos.com

Owner: J.W. Singer LLC

Trainer: Michael Matz

Sire: Bluegrass Cat

Record: 3-1-1-1

Earnings: $36,450

Current Wynn Las Vegas Derby odds: 225-1

The skinny: Broke his maiden going the challenging distance of 1 1/8 miles at Gulfstream on Feb. 4. Could be a viable "Plan B" for Matz should Union Rags suffer any hiccups.
VOICES top
FROM THE GRANDSTAND
top
Country music star and Thoroughbred owner/breeder Toby Keith, quoted in bloodhorse.com, on the added pleasure of winning with a homebred:
"I kind of compare it to songwriting. I have written most of my songs and have had a lot of success at it, but I also had four of five hit songs that I didn't write. They're nice too, but when you sit and write it yourself, it's just a little more special. It's the same with a homebred."
Chantal Sutherland, in Playboy.com, on how she first got involved in modeling/acting:
"I shot with Annie Leibovitz with VOGUE, then for the 100 Most Beautiful People with People magazine; all of a sudden I came to California and was the face of Santa Anita. Then I was picked up for the TV show LUCK with David Milch, who sent me to acting classes .I don't know, it all snowballed all on its own; I was never really a model, I was just a jockey. I would study photo shoots that models have done; watch them, see how they move and what pictures look good. I have a lot of ideas. After this I would love to do television or marketing. I love to help this industry and I love horse racing."
Woody Allen, in New York Magazine, on New York City Mayor Michael Bloomberg's recommendation that a ride on the Staten Island Ferry is a good option for a first date:
"I always took my first dates out to the racetrack—you know, out to Belmont."
---
VIDEOS OF THE WEEK
top
Jim Rome stops in to visit Mizdirection and discovers that she's not exactly a pet (
JimRome.com
)
Quenby, a new arrival at Lane's End Farm by Ambassador out of Quintela, takes a nap in her blanket (Lane's End Farm)
---
IN THE NEWS
top
Animal Kingdom to run in Saturday allowance at Gulfstream (

Miami Herald

)

Filly among 10 in Saturday's El Camino Real Derby (San Francisco Chronicle)

Aftercare no longer an afterthought (Daily Racing Form)

Rachel Alexandra's owners invite fans to name colt by Curlin (Courier-Journal.com)

Zenyatta gets the John Henry treatment with Santa Anita statue (Daily Racing Form)

A Q&A with DRF/NTRA National Handicapping Championships million-dollar winner

Michael Beychok (Daily Racing Form)

And another Q&A with tough-luck NHC runnerup Dave Flanzbaum (Daily Racing Form)

"Night School" program returns Feb. 28 (The Blood-Horse)

NTRA pre-season polls released (Miamiherald.com)

NTRA Thoroughbred Poll (Stamford Advocate.com)

Small investors racing to horse syndicates (CNBC)

Union Rags considered early Derby favorite (Dailyworld.com)

Why Dick Jerardi likes Union Rags (Daily Racing Form)

Sunday's San Vicente or Monday's Southwest could put Pegram back in the Derby mix (Princeton Daily Clarion)

On the bumpy road to the Derby (ESPN.com)

Current tally of graded stakes earnings among Derby hopefuls (Daily Racing Form)


On the appeal of Derby future book wagering

(

ESPN.com

)





Road to the Roses fantasy stable game picks

(

Forbes.com

)

Churchill Downs checks in 14th among "50 Sports Venues to Visit before You Die" (Bleacherreport.com)

Horse of the Year Havre de Grace worked yesterday at Fair Grounds (The Miami Herald.com)

Woody Allen likes playing the ponies on dates (nymag.com)

Nuanced approach to HBO's latest series (Entertainment.inquirer.net)

Luck episode 3 recap (The CelebrityCafe.com)
Newly retired jockey E.J. Perrodin rode with class, talent and heart (
New Orleans Times-Picayune
)
Hawthorne eager for spring meeting to start (Chicagotribune.com)
Top 10 2012 TV horse racing dates (sports.yahoo.com)
Ramon Dominguez wins five at the Big A (Wall Street Journal)
Female riders jockey for status at Sam Houston (Houston Chronicle)
Manhattan lawyer buying one of Saratoga's largest horse farms (Bizjournals.com)
---
IN THE BLOGOSPHERE
top
A new "poll position" (NTRA.com)

Thoughts on Castellano's decision to take off Union Rags, the NTRA polls and more (Xpressbet.com)

Cot Campbell might not love HBO's Luck, but Dan Needham has a different opinion (Thorotrends.com)

Let Luck live (Horseraceinsider.com)

Toby Keith on "Reckless" path to Derby in Monday's Southwest Stakes (The Blood-Horse)

Bodemeister needs to win in March to be part of the Triple Crown (Bettor.com)

Post-mortem of the Donn and other stuff (leftatthegate.com)

The author explains why these are his 10 favorite stakes race names (Colinsghost.com)

Thoroughbred Alliance Aftercare formed by industry leaders (thebrockreport.com)

An off-the-track Thoroughbred becomes the eyes of his rider and a star in the show ring (Paulick Report)

A horse owner's love for her off-the-track Thoroughbred helps him overcome laminitis just in time for Valentine's Day (Off Track Thoroughbreds)
NHC NEWS top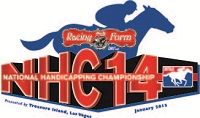 First free, online NHC qualifier set for this Saturday, February 18 (
NHC
)
Learn more about the 2012 Daily Racing Form NHC Tour (NHC)
CALENDAR top
RACING TO HISTORY
top
Feb. 16, 1891: At the urging of Pierre Lorillard, the Board of Control, composed of seven representatives of the racing industry, was formed to govern Thoroughbred racing. The Board's powers extended to matters of licensing; allotment of racing dates; and the regulation of purse payments. The Board, as the governing body for racing, was succeeded by The Jockey Club, formed in 1894.
Feb. 16, 1999: Jockey Julie Krone became the first female jockey to win 3,500 races, taking the third race at the Fair Grounds.
Feb. 16, 2005: Jockey Calvin Borel picked up his 4,000th career winner aboard Jet Angel in the third race at Oaklawn Park.
Feb. 16, 2007: The National Thoroughbred Racing Association, Daily Racing Form and the National Turf Writers Association announced the creation of a new Eclipse Award for Champion Filly or Mare Sprinter.
Feb. 17, 1985: Laffit Pincay Jr. registered his 6,000th career win, aboard Doria's Delight in the fifth race at Santa Anita Park.
Feb. 22, 1969: Barbara Jo Rubin became the first woman jockey to win a parimutuel race in America when she rode Cohesion to victory at Charles Town.
Feb. 22, 2003: Xtra Heat won the Barbara Fritchie Handicap and became the leading stakes-winning filly of all time with 25 stakes victories.
Feb. 23, 1935: Seven-year-old Azucar, a former steeplechaser, won the inaugural Santa Anita Handicap at Santa Anita Park.
Feb. 24, 1947: Acting upon an earlier recommendation by The Jockey Club stewards, the Thoroughbred Racing Associations unanimously approved lip tattoos as a method of identifying Thoroughbred racehorses.
Feb. 24, 1979: Trainer J.C. Williams set a North American record by saddling eight winners in 12 attempts at Waterford Park in West Virginia. Williams also owned seven of those eight winners, which established a record for most wins by an owner in one day at one racetrack.
Feb. 24, 2007: On his 96th birthday, Noble Threewitt officially retired from training Thoroughbreds, ending a career that spanned eight decades.
Feb. 25, 1990: The 11th race at Charles Town was declared a no-contest because the starting gate could not be removed from the track after the race had begun. The track announcer warned the jockeys to pull up their mounts, and the track subsequently refunded all wagers on the race.
Feb. 26, 1973: With Secretariat having been named Horse of the Year for 1972 and champion two-year-old, it was announced by Claiborne Farm that the colt had been syndicated for a then-record $6,080,000—equivalent to 32 shares at $190,000 each.
Feb. 27, 1982: Florida apprentice Mary Russ became the first female jockey to win a Grade I stakes in North America when she captured the Widener Handicap aboard Lord Darnley at Hialeah.
Feb. 28, 1957: John Longden became the first jockey in history to reach 5,000 victories.
Feb. 28, 2004: Hall of Famer Richard Mandella became the seventh trainer to pass the $100-million mark in career purse earnings.
Feb. 28, 2006: A two-year-old son of Forestry became the most expensive Thoroughbred ever sold at a public auction at the Fasig-Tipton Calder sale in Miami. The colt, later named The Green Monkey, brought a final bid of $16 million from Demi O'Byrne. O'Byrne purchased the colt for a partnership headed by John Magnier and Michael Tabor. The previous record for a horse of any age at auction was the $13.1 million paid for Seattle Dancer as a yearling in 1986. The Green Monkey ran three times in his career, never won, and earned $10,440.
---
WEEKEND STAKES RACES top
THURSDAY, FEBRUARY 16

As Indicated Stakes, 4&up, $75,000, 1M, Aqueduct
SATURDAY, FEBRUARY 18
Barbar Fritchie Handicap, 3&up (f&m), $200,000, Grade II, 7F, Laurel Park
Santa Maria Stakes, 4&up (f&m), $200,000, Grade II, 1 1-16M, Santa Anita Park
El Camino Real Derby, 3yo, $200,000, Grade III, 1 1-8M, Golden Gate Fields
Gulfstream Park Sprint Championship, 4&up, $150,000, Grade II, 7F, Gulfstream Park
Bayakoa Stakes, 4&up (f&m), $100,000, 1 1-16M, Oaklawn Park
John B. Campbell Handicap, 3&up, $75,000, 1 1-8M, Laurel Park
Phoenix Gold Cup, 4&up, $75,000, 6F, Turf Paradise
Stymie Stakes, 3&up, $75,000, 1 1-8M, Aqueduct
Turf Dash, 3&up, $75,000, 5F (T), Tampa Bay Downs
SUNDAY, FEBRUARY 19
San Vicente Stakes, 3yo, $150,000, Grade II, 7F, Santa Anita Park
Hurricane Bertie Stakes, 4&up (f&m), $150,000, Grade III, 6 1-2F, Gulfstream Park
Farmonthefreeway Stakes, 3yo, $75,000, 6F, Aqueduct
MONDAY, FEBRUARY 20
Southwest Stakes, 3yo, $250,000, Grade III, 1M, Oaklawn Park
General George Handicap, 3&up, $200,000, Grade II, 7F, Laurel Park
Buena Vista Handicap, 4&up (f&m), $150,000, Grade II, 1M (T), Santa Anita Park
TUESDAY, FEBRUARY 21
Mardi Gras Stakes, 4&up (f&m), $75,000, 1 1-16M (T), Fair Grounds
MORE