Thursday, February 2, 2012
NTRA Thoroughbred Notebook
PHOTOS OF THE WEEK
top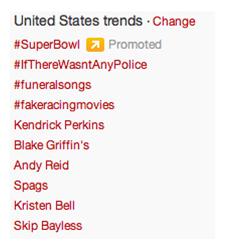 #FakeRacingMovies, a Twitter hashtag that took off on Tuesday, trended as the third most-talked-about, non-promoted topic on Twitter. Some of the best examples of the hashtag included "The Green Monkey Hornet" (@BombsawayBob), "This is Spinal Tapit" (@MIBredclaimer) and "Eightfiveinafifty First Dates" (@BklynBckstretch)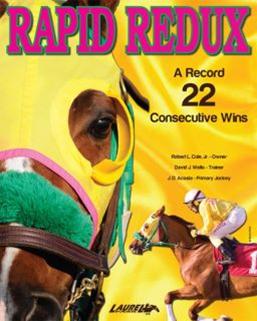 The poster Laurel Park will give away to fans in conjunction with its celebration of Rapid Redux on February 18. Image courtesy of Maryland Jockey Club.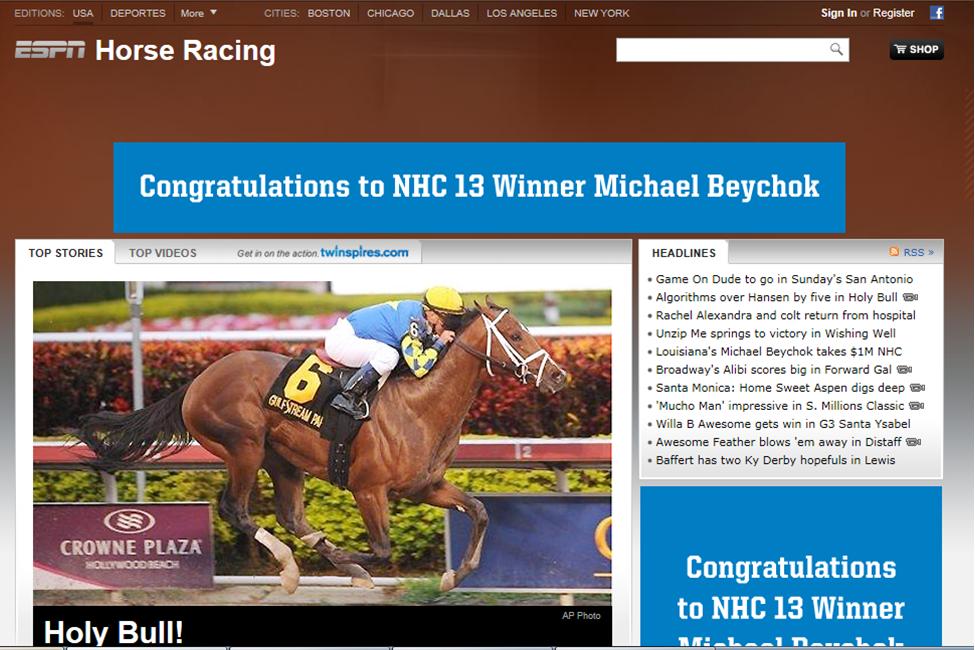 TwinSpires.com takes out a front page ad on ESPN's horse racing site to celebrate Micheal Beychok's $1 million score in the National Handicapping Championship in Las Vegas last weekend.
FOLLOW US ON TWITTER

@NTRA
top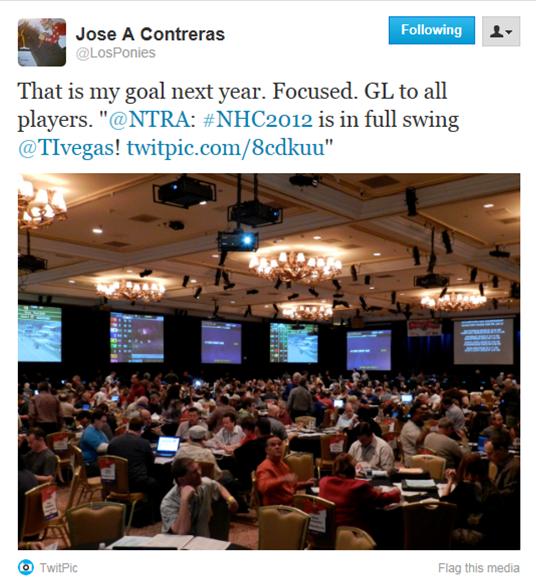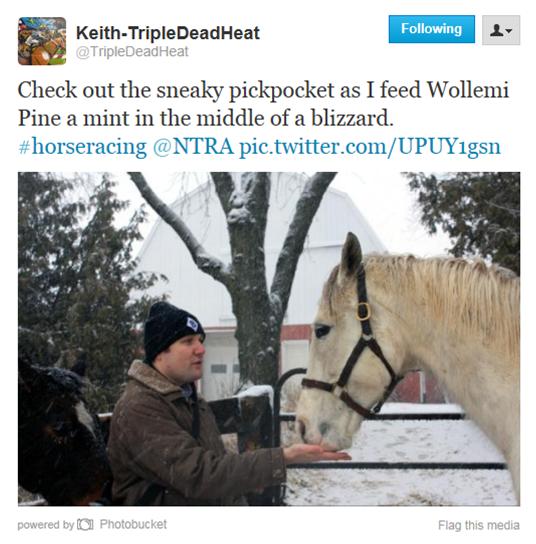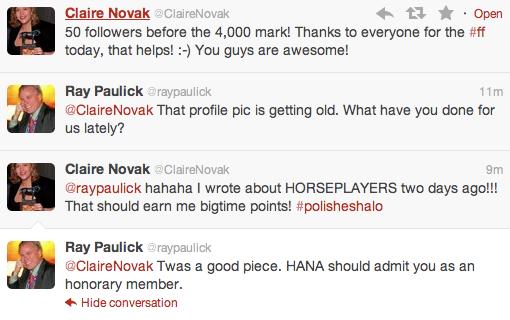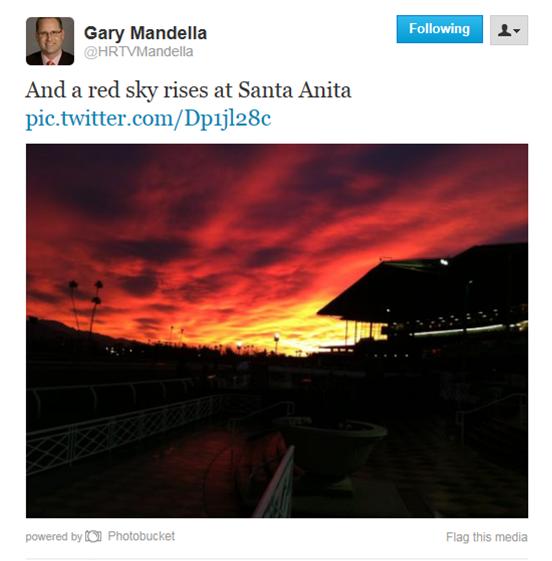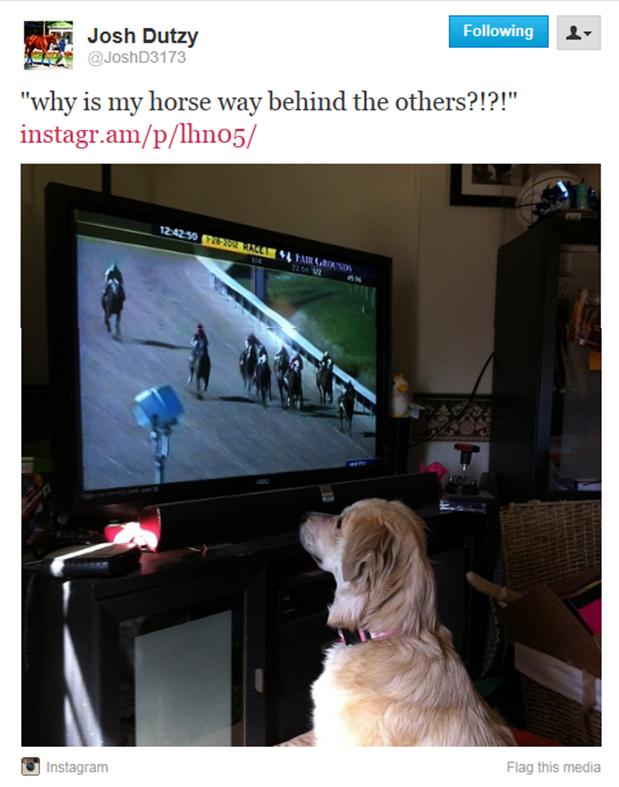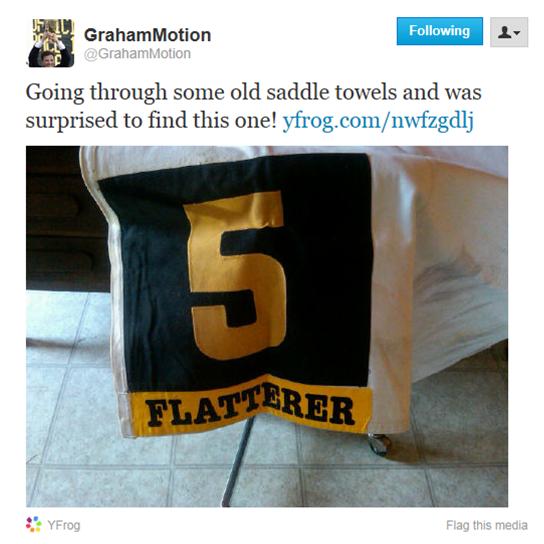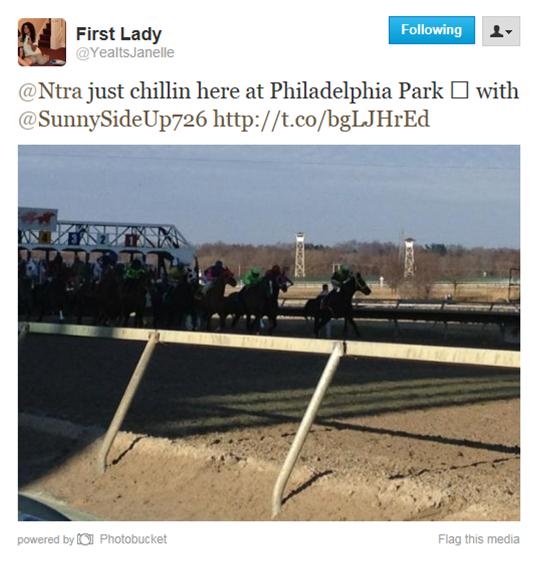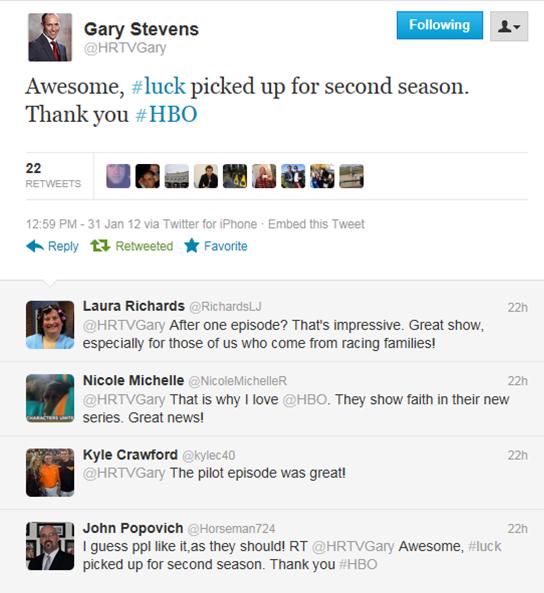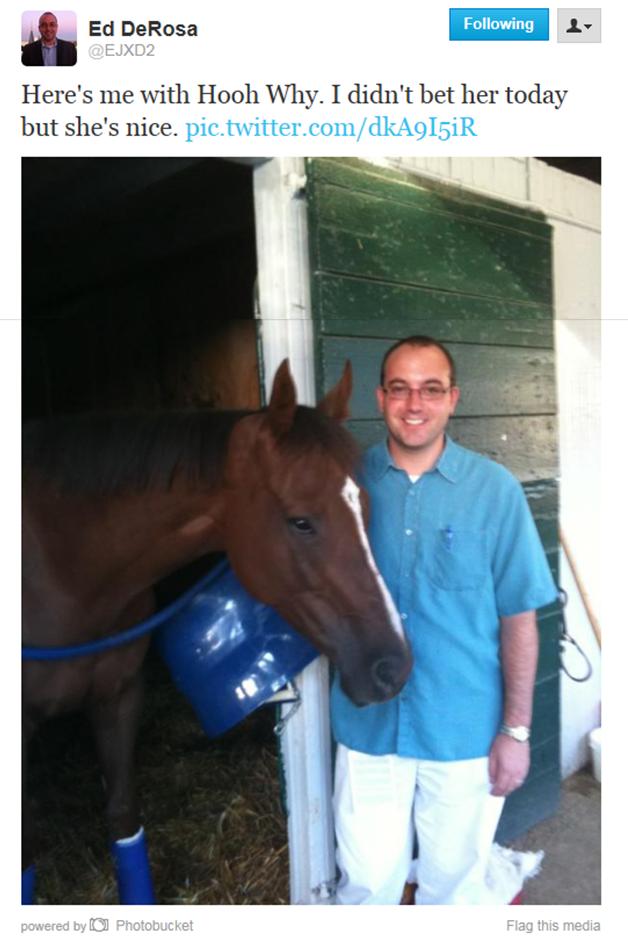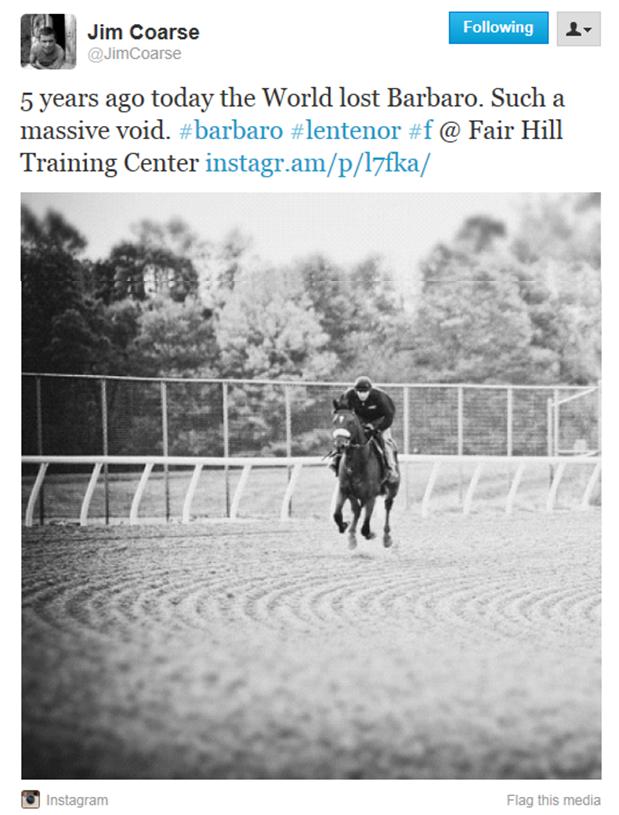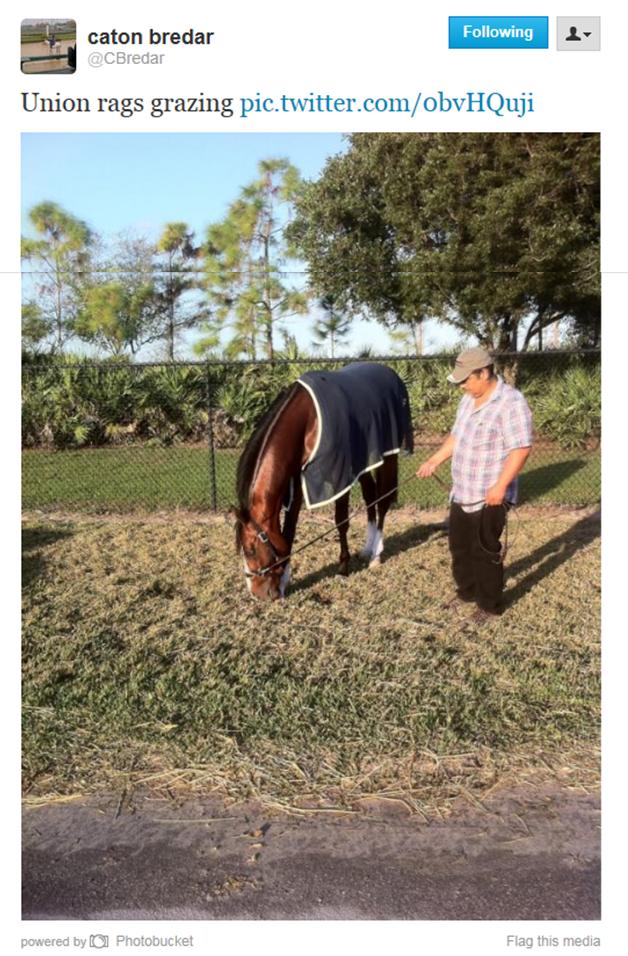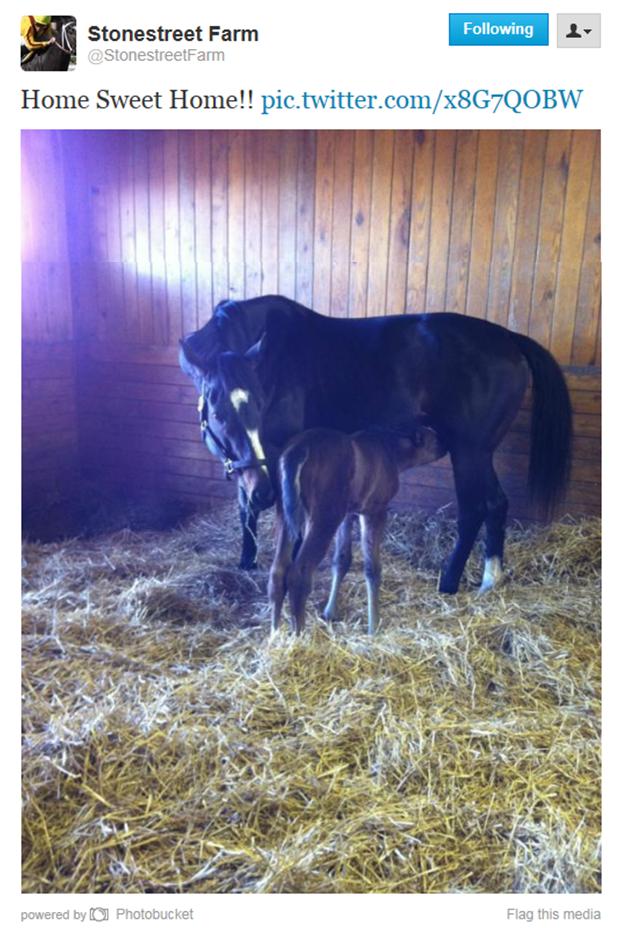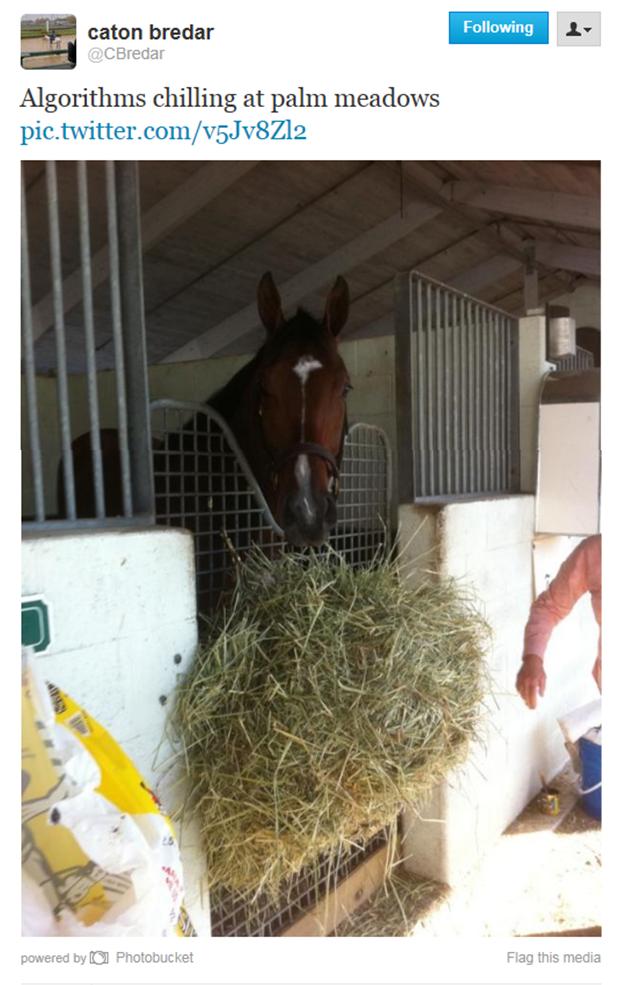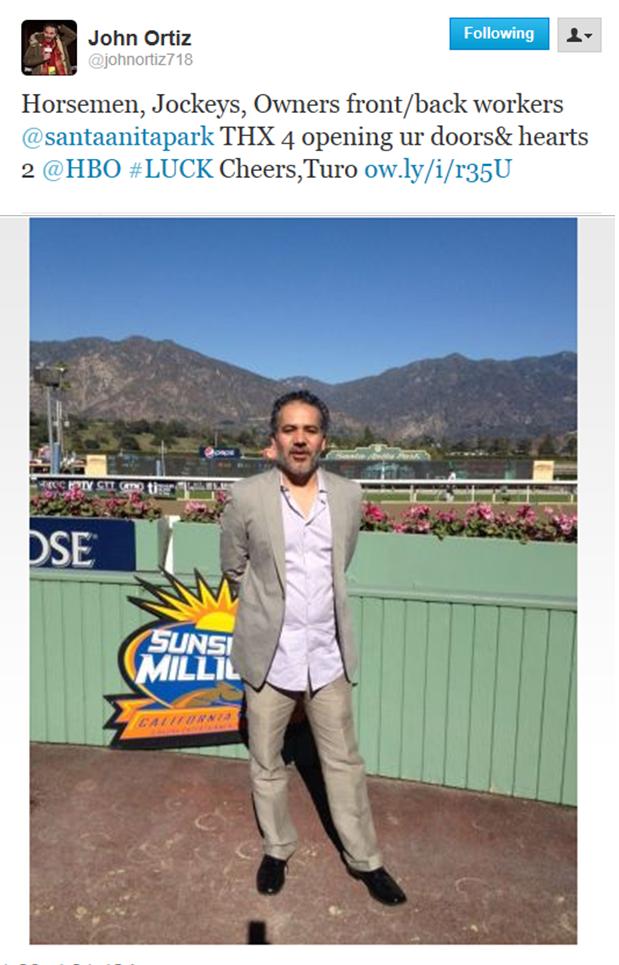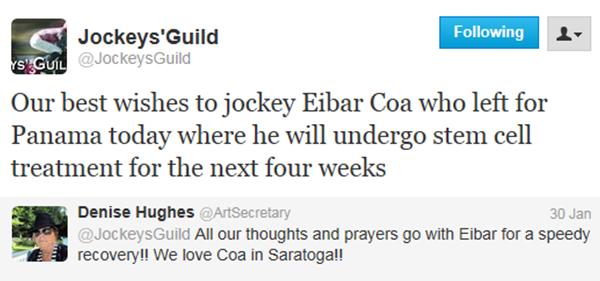 | | |
| --- | --- |
| Penelope P. Miller/NTRA Photos | Michael Beychok is a 48-year-old political consultant from Baton Rouge, Louisiana, who took home first place and $1 million in prize money at Treasure Island Las Vegas last weekend in the Daily Racing Form/NTRA National Handicapping Championship Presented by Sovereign Stable. |
TWO MINUTE LICK WITH MICHAEL BEYCHOK
top
Have you qualified for previous editions of the NHC?
Yes, this year's was the fourth in a row for me.


What is your best finish in a handicapping tournament prior to this year?
The best was a second in a YouBet tournament in 2001. I won $20,000 for that finish. And I finished in the top 20 last year in the NHC.


What wager created the largest payout for you?
I've hit the Pick 6 at Santa Anita on January 1st, in two out of the past four years. These were major scores with the hit in 2011 being around $100,000 and the hit in 2009 being about $70,000. Odd that they occurred on the same day, but it's true. That time of the year seems to be a lucky period for me.


What is your most memorable horse racing experience?
The year that Ferdinand won the Kentucky Derby. It was 1986, and we had been going to the Derby for eight years at that point on our way to an 18-year stretch when my dad took us to the Derby in full style. I was just really beginning to think, wrongly it turned out, that I could handicap the horse races and in particular the Kentucky Derby. I had been touting all year, since seeing Ferdinand's last race of 1985, that this horse could win the Derby. I was even more buoyed by his Santa Anita Derby performance. He was 20-1 and when he broke through the hole on the rail I looked back at my father, who had bet a ton on him based on my opinion, and the joy and pride on his face was something I'll never forget.


How did you first get into horse racing?
A friend of my father's, Democratic political advisor James Carville, was working at my father's law firm and one weekend my father sent me along with him to the track for an outing. I've been hooked ever since.




Does anyone in your family share your enthusiasm as a horseplayer?
My brother shares my enthusiasm and my oldest son, Bradley, goes to the track on occasion with me, but it can be a fairly lonesome existence.




What accomplishment in life are you most proud of?
My proudest accomplishment is my oldest son, Bradley, who has grown up to be a son any parent can be proud of. Professionally, I helped elect a woman to the City Council in New Orleans after Hurricane Katrina that I believe transformed the future of city government even though she was just, in her words, "A housewife who wanted her story told" of survival post-Katrina.


Who is your favorite horse racing writer?
My favorite website is gradeoneracing.com, although Ray Paulick has a great website and Steve Byk does a great job on the radio.


What's your favorite racetrack?
Well, before the win it was Churchill Downs, but today it's going to be Golden Gate, and especially $8,000 maiden claiming races, since it was one of those that put me over the top in the NHC!


Who has been the biggest influence on you, both professionally and in racing?
In my professional career, my father has definitely been my biggest influence. In my handicapping career, there have been so many people that have helped me, it would be hard to pick one.




If you could have dinner with any person in the sport of horse racing, who would it be?
I'd say (jockey) Leslie Mawing, because she won the race that made me a millionaire!


What were you thinking when you realized that you won $1 million in the NHC?
It hasn't really set in yet. The money's great, but the first thing that went through my head was, "I'm going to be at the Eclipse Awards." It's such a special award, and it honors the people that support the game, so I think that it's important. I hope that I can be a good representative at least for that one night and not embarrass the horseplayers of America.


Which racetrack is your home track?
Fair Grounds. It's a nice Twin Spires track, and I hope to go down there, maybe own a few more horses, and let Al Stall train them and see what happens.
TRIPLE CROWN WATCH
top

(Image courtesy of Benoit Photos)
BLINGO

Owner: Mr. and Mrs. Jerry Moss

Trainer: John Shirreffs

Sire: Artie Schiller

Record: 2-1-0-1

Earnings: $57,000

Current Wynn Las Vegas Derby odds: 40-1

The skinny: Closed belatedly in CashCall Futurity. Working steadily for 2012 debut. Imposing physical specimen.


Image courtesy of Hodges Photography/Lynn Roberts)

MR. BOWLING

Owner: Brereton C. Jones

Trainer: Larry Jones

Sire: Istan

Record: 5-3-0-1

Earnings: $201,048

Current Wynn Las Vegas Derby odds: 75-1

The skinny: Has won three of his last four, including gutty win in Lecomte Stakes.


(Image courtesy of Four Footed Fotos)

SHARED PROPERTY

Owner: Jerry Namy

Trainer: Tom Amoss

Sire: Scat Daddy

Record: 4-2-0-1

Earnings: $86,300

Current Wynn Las Vegas Derby odds: 75-1

The skinny: Gelding will continue on Louisiana road to Derby after wide third in Lecomte Stakes.


(Image courtesy of HorsePhotos.com)

MIDNIGHT TRANSFER

Owner: Warren B. Williamson

Trainer: Carla Gaines

Sire: Hard Spun

Record: 5-2-1-0

Earnings: $96,050

Current Wynn Las Vegas Derby odds: 100-1

The skinny: Will stretch out in San Felipe Stakes after nice sprint win in San Pedro at Santa Anita.


(Image courtesy of Benoit Photos)

CONSULADO

Owner: Cubanacan Stable

Trainer: Mike Puype

Sire: More Than Ready

Record: 2-1-1-0

Earnings: $41,600

Current Wynn Las Vegas Derby odds: 125-1

The skinny: Gelding blitzed maiden field by 7 ¼ lengths in second career start at Santa Anita.


(Image courtesy of Northview Stallion Station)

ISN'T HE CLEVER

Owner: J. Kirk and Judy Robison

Trainer: Henry Dominguez

Sire: Smarty Jones

Record: 4-3-1-0

Earnings: $113,960

Current Wynn Las Vegas Derby odds: 150-1

The skinny: Three for four in New Mexico going short. Gelding romped by 11 ¾ lengths last time in Riley Allison Futurity. Starts in Saturday's Robert B. Lewis Stakes at Santa Anita.
VOICES top
FROM THE GRANDSTAND
top
Owner Barbara Banke on why Rachel Alexandra and her new baby colt were taken to an equine hospital last week:

"I'm a Rachel-chondriac. We are taking every precaution to ensure that Rachel and her colt are healthy and happy."



David Milch, co-creator of Luck, quoted in Sports Business Journal on what the sport of horse racing offers in terms of storytelling:
"It's the human drama on the grand scale and the opportunity to explore deep emotions in a dramatic setting. And, for me, I have experienced the highs and lows of the game. I have owned the winners of two Breeders' Cups. But I have also experienced such deep disappointment, and I wouldn't trade either for the other."
Tom Chiarella in Esquire.com on the heavy use of jargon-filled dialogue in Luck:
"It takes some explaining. You suffer a little for that in the first episodes of Luck…But remember this truth: If you don't like to talk, you don't belong at the track."
Trainer Graham Motion on Animal Kingdom's scheduled return in the February 25 Tampa Bay Stakes as a stepping stone to the Dubai World Cup:
"Any of these earlier races would have been pushing it. We want to have him fit for his first race so it doesn't take too much out of him for the race that we're really pointing for. I think a turf race will be easier on him coming back .It's a little kinder than the dirt. If the race in Dubai was on dirt, it would probably be a different story."
Jayson Stark in ESPN.com on the portly duo of Miguel Cabrera and the newly-signed Prince Fielder possibly hitting back to back in the Detroit Tigers lineup:
"It's also quite a spectacle. We're not talking about two Breeders' Cup jockeys here, you know."
Owner Connie Apostelos on winning her first graded stakes race with Papaw Bodie in the John B. Connally Turf Cup at Sam Houston Race Park last Saturday:
"This is a dream come true. I got into this business a couple of years ago…I have just become addicted to it."
---
VIDEOS OF THE WEEK
top
Michael Beychok, who was sitting in second place going into the final race of last weekend's DRF/NTRA National Handicapping Championship, remains chilly as he watches his selection win him $1 million by a nose. (NTRAHorseRacing YouTube Channel)
Algorithms captures Sunday's Grade III Holy Bull Stakes (GulfstreamPark YouTube channel)
An owner talks about the impact that her 34-year-old Thoroughbred mare has had on her life (SimonSchusterVideos YouTube Channel)
Fox Hill Farm goes to the town of Havre de Grace, Md., to get the final answer on how to pronounce the 2011 Horse of the Year's name (Fox Hill Farm)
Opening theme/credits from Luck (AlexanderMitrakov's YouTube Channel)
---
IN THE NEWS
top
Million-dollar top prize at National Handicapping Championship decided by a single buck (

Daily Racing Form

)





Becoming a millionaire by a nose (

Standardbredcananda.ca

)





The NHC and champ Michael Beychok among the latest "Winners of the Week"

(

ESPN.com

)



Three qualify already for 2013 NHC (

Daily Racing Form

)



Union Rags and Hansen top the Jockey Club's Experimental Free Handicap (

The Jockey Club

)



Algorithms crushes juvenile champion Hansel in Holy Bull

(

SunSentinel.com

)





El Padrino looks like good Kentucky Derby prospect winning two-turn allowance

(

Daily Racing Form

)





Kentucky Derby contenders are getting harder to predict (

Los Angeles Daily News

)



After capturing the magic once, Derby winning trainers face long odds to make repeat trip

(

Courier-Journal.com

)



Animal Kingdom pointed towards Tampa Bay Stakes (Thoroughbred Times)

Game on Dude is set to go again (

ESPN.com

)



Awesome Feather blows them away (

ESPN.com

)





Breeders' Cup's return to NBC can only help

(

Daily Racing Form)

Giants' Hall of Fame linebacker Sam Huff weighs in on the Super Bowl and horse racing (The Saratogian)

Five years later: Barbaro's death remembered (

Baltimore Sun.com

)





Sun shines brightly on Santa Anita (

SierramadrePatch.com

)



Ramsey Zimmerman relishing his chance to ride again (

SportsNOLA.com

)





Thoroughbreds get their speed from just a few ancestors (

MSNBC.com

)



NY approves race-day testing of jockeys for booze

(

Wall Street Journal.com

)



Wedding Guide: Couple ties the knot at horseracing track

(Altavista Journal.com)

Stronach plans IPOs for six racehorse-ownership firms (

Baltimore Sun.com

)



Stronach plan presents $10 question to investors (

Daily Racing Form

)





State of the States in online gambling (

ADINEWS.com

)



The Fair Grounds: The Times-Picayune covers 175 years of New Orleans history (

New Orleans Times-Picayune

)



Star Guitar owner first lady of Louisiana racing (

Daily Racing Form

)

Guidry named to Louisiana Sports Hall of Fame

(

Thoroughbred Times

)



Jockey Calvin Borel to return to Oaklawn this February (

The Brownsville Herald

)





Julie Krone inducted into Ballina Jockey Club Ladies Jockey Hall of Fame (

NorthernStar.com

)

Professional skateboarder, MTV personality and Thoroughbred owner Rob Dyrdek honored by City of Los Angeles (

Thoroughbred Times

)

Racehorses find a home on a Finger Lakes farm (

Ithaca Journal.com

)





TRF plans to relocate 600 horses to a ranch in Colorado (

The Blood-Horse

)



Grant to help fund TRF's prison program that teaches inmates to care for horses

(

The Saratogian

)





OTTB Hoppy looks to move up the dressage ranks in 2012 (

Aiken Standard.com

)



Luck

in the news:


Luck

renewed for season two (

TV.com)



Luck

renewed for second season by HBO (

HuffingtonPost.com

)





HBO renews Luck (

LosAngelesTimes.com

)



HBO renews Luck, stronger in reviews, so far, than ratings

(

NewYorkTimes.com

)



HBO's Luck ratings slow out of the gate (The Hollywood Reporter.com)





Thoroughbreds and degenerates in HBO's Luck (

New York Times

)





Decoding the secrets to HBO's horse racing drama (

Los Angeles Times.com

)





HBO screens Luck in Vegas before 200 NHC contestants (

Bizbash.com

)



Long odds and a last shot (RollingStone.com

)



HBO drama Luck puts its money on big name talent (

VancouverSun.com

)





Luck

review: Horse racing has its ups and downs (

NeonTommy.com

)



A dark horse winner (

SportsIllustrated.com

)

Dead tree alert: The beautiful losers of Luck (

Time Entertainment.com

)





Good "Luck": HBO's horse racing drama a sure bet (

Boston-Herald.com

)



Odds-on favorite:

Luck

horse-track characters are best since Sopranos

(

NY Post.com

)





Luck

series premiere recap: Agony and Ecstasy at Santa Anita (

EW.com

)





Chantal Sutherland co-stars in HBO's Luck (

The Star.com

)





HBO's Luck more than just a day at the races (

DallasNews.com

)





Is HBO's Horse-Racing Series Luck a Big Gamble? (

Seattlepi.com

)



HBO places a bet on horse racing drama Luck (

Reuters

)



HBO's Luck is saddled by the details (

Washington Post

)

HBO places its bets on horse racing drama Luck (

Huffington Post.com

)
---
IN THE BLOGOSPHERE
top
Beychok wins million-dollar grand prize in DRF/NTRA National Handicapping Championship (

Chicago Barn to wire.com

)





How one dollar makes a millionaire

(

SportsNola.com

)

National Handicapping Championship Recap (Equinometry.com)

NHC Thoughts from Mike Watchmaker (Daily Racing Form)

Looking back at the NHC (Highrollersportsbetting.com)

Horse of the Year Havre de Grace starts her defense early this year (

The Brock Talk.com

)



Animal Kingdom to kick off his 2012 season in Grade III Tampa Bay Stakes (

Team Valor

)



Rapid Redux to be honored at Laurel February 18 (

Brisnet.com

)





Rapid Redux: the blue-collar horse who captured the imagination of a nation (WBAL)

Rousing Sermon heading into the Robert B. Lewis Stakes this Saturday (

Bettor.com

)



Sheppard hoping to be Ever So Lucky (

The Blood-Horse

)





Catching up with Storm Cat (ESPN.com)

Dynaformer: racing's favorite grump Racing's favorite grump

(

The Blood-Horse)





Tiznow – Patriots redux (The Blood-Horse)

McPeek has racing in his blood, an eye for the horse and a winning record (KY Forward.com)



Effects of slot machine installation on Thoroughbred race courses

(

Lawyers.com

)



Trainer Ferris Allen reaches 2000-win milestone (

WBAL.com

)



Pletcher stable sweeps Forward Gal and the Holy Bull (

HorseraceInsider.com

)



Horse racing – now and then (

Entertainment.Ezinemark.com

)





Will El Padrino make Derby dreams come true for Let's Go Stable? (ESPN.com)

Fake horse racing movie names go wild on Twitter (

Giving My Ten Cents

)



Winning when you lose (

Horseracingradio.net

)



Kit Harrington comes out to support HBO's "Luck" (

JustJared.buzznet.com)



HBO's 'Luck" trots at first but gallops to a finish (

RedeyeChicago.com

)

Review on HBO's drama "Luck" (

A.V.club.com

)

HBO's let's "Luck" ride second season (

Zap2it.com

)





TRF creates new program for NYRA OTTB (Brisnet.com)

Off-the-track Thoroughbred showcase: Virga and P Y Twenty (

The Paulick Report

)



OTTBs you should know: Hank the Wonder therapy horse (Retired Racehorse blog.com)

Innocent Til Proven is a circuit hunter/jumper (

Off-Track Thoroughbreds

)
CALENDAR top
RACING TO HISTORY
top
Feb. 3, 1989: Apprentice jockey Nate Hubbard hung on for second—literally—when his horse, Sweetwater Oak, stumbled near the finish line at Golden Gate Fields and flipped the rider out of his saddle. As he tumbled forward, Hubbard grabbed on to the filly's neck and hung in mid-air until the race was over. The track stewards ruled it an official finish because Hubbard's feet never touched the ground and Sweetwater Oak carried her assigned weight throughout the race.
Feb. 3, 1990: Jockey Bill Shoemaker rode his final career race at Santa Anita Park, finishing fourth aboard Patchy Groundfog in 'The Legend's Last Ride.' He retired with a then-record 8,833 wins.
Feb. 4, 1926: Wheatley Stables, formed by Mrs. Henry Carnegie Phipps, recorded its first win ever, with a two-year-old filly named Sturdy Stella.
Feb. 4, 1997: Cigar was named Horse of the Year for the second consecutive year.
Feb. 4, 2005: Jockey Richard Migliore scored his 4,000th career victory aboard Benjamin Baby in the seventh race at Aqueduct.
Feb. 5, 1997: A six-year-old horse, Isitingood, broke the world record for a mile—1:32 1/5—set in 1968 by Dr. Fager. Isitingood was timed in 1:32.05 over the Santa Anita Park turf course.
Feb. 7, 1969: Diane Crump became the first woman jockey in America to compete in a parimutuel race when she finished tenth of 12 aboard a 48-1 shot, three-year-old Bridle 'n Bit, in the seventh race at Hialeah Park.
Feb. 7, 1996: A racing oddity occurred at Oaklawn Park when the winners of seven consecutive races started from the number one post position.
Feb. 7, 1999: Jockey Eddie Delahoussaye picked up his 6,000th career victory aboard Sweetcakesanshakes in the third race at Santa Anita Park. Delahoussaye became the 14th rider in North American racing history to reach the 6,000-win mark.
Feb. 8, 1941: Whirlaway began his three-year-old season with a win in a six furlong allowance race at Hialeah.
Feb. 9, 1894: The Jockey Club was incorporated. As originally conceived, it was to assume the management of racing, previously overseen by the Board of Control. Included in The Jockey Club's functions were licensing, allotment of racing dates, appointment of officials and the interpretation and enforcement of racing rules.
Feb. 9, 1940: After a year's absence from competition, seven-year-old Seabiscuit, champion handicap horse of 1937 and 1938, returned to racing at Santa Anita, where he finished third in a handicap race. Seabiscuit ran three more races in 1940, concluding his career with a win in the Santa Anita Handicap.
Feb. 9, 1974: Jockey Chris McCarron rode his first winner, a five-year-old gelding named Erezev, at Bowie Racecourse. By year's end, McCarron had established a then-record number of winners for a single season: 546. Fifteen years later, on Nov. 30, 1989, jockey Kent Desormeaux eclipsed that mark.
Feb. 9, 2004: USA Today named jockey Julie Krone one of America's 10 toughest athletes.
Feb. 10, 1998: Undefeated Two-Year-Old Champion Favorite Trick was named 1997 Horse of the Year.
Feb. 10, 2008: Jockey Edgar Prado gained the 6,000th win of his career when he guided Sumphin to victory in the 6th race at Gulfstream Park. Prado became the 16th jockey in history to win 6,000 races.
Feb. 11, 1933: The Jockey Club released data showing that as of 1932, the U.S. had surpassed Great Britain and Ireland in foal production for the first time, to become the world's leading producer of Thoroughbreds.
Feb. 12, 1981: Julie Krone rode her first career winner, a $3,500 claimer named Lord Farkle, in the sixth race at Tampa Bay Downs.
Feb. 14, 1966: Buckpasser suffered the only defeat of his three-year-old season when he finished second in a non-betting race, the Black Caesar Purse, at Hialeah. He went on to post 13 consecutive victories in 1966 (12 of them in stakes races), but was unable to compete in any of the Triple Crown races because of a hoof injury.
Feb. 14, 1990: Ladbroke at Golden Gate Fields inaugurated co-pooling of its wagers with those of a sister organization, Ladbroke Racing Wyoming. The co-pooling of wagers across state lines, made possible by California legislation that had gone into effect Jan. 1, was a first in U.S. racing.
Feb. 14, 2003: Hall of Fame jockey Johnny Longden, the only horseman to both ride (Count Fleet) and train (Majestic Prince) a Kentucky Derby winner, died at age 96.
Feb. 15, 1974: Future Triple Crown champion Seattle Slew was foaled at White Horse Acres, Lexington, Ky.
---
WEEKEND STAKES RACES top
SATURDAY, FEBRUARY 4
Robert B. Lewis Stakes, 3yo, $200,000, Grade II, 1 1-16M, Santa Anita Park
Strub Stakes, 4yo, $200,000, Grade II, 1 1-8M, Santa Anita Park
Withers Stakes, 3yo, $200,000, Grade III, 1 1-16M, Aqueduct
Sam F. Davis Stakes, 3yo, $200,000, Grade III, 1 1-16M, Tampa Bay Downs
Arcadia Stakes, 3&up, $150,000, Grade II, 1M (T), Santa Anita Park
Toboggan Stakes, 3&up, $150,000, Grade III, 6F, Aqueduct
Endeavor Stakes, 4&up (f&m), $150,000, Grade III, 1 1-16M (T), Tampa Bay Downs
Correction Stakes, 3&up (f&m), $100,000, 6F, Aqueduct
Essex Handicap, 4&up, $100,000, 1 1-16M, Oaklawn Park
Florida Oaks, 3yo fillies, $100,000, 1 1-16M (T), Tampa Bay Downs
Marshua Stakes, 3yo fillies, $75,000, 6F, Laurel Park

SUNDAY, FEBRUARY 5




San Antonio Stakes, 4&up, $200,000, Grade II, 1 1-8M, Santa Anita Park
MORE