Thursday, January 12, 2012
NTRA Thoroughbred Notebook
FACES IN THE CROWD
top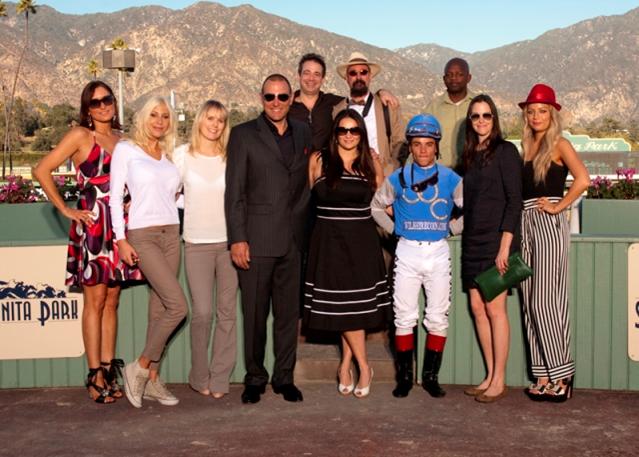 Vinnie Jones of "X-Men III", "Snatch", "Lock Stock and Two Smoking Barrels" and more enjoys a day at Santa Anita with friends. (Image courtesy of Benoit Photo)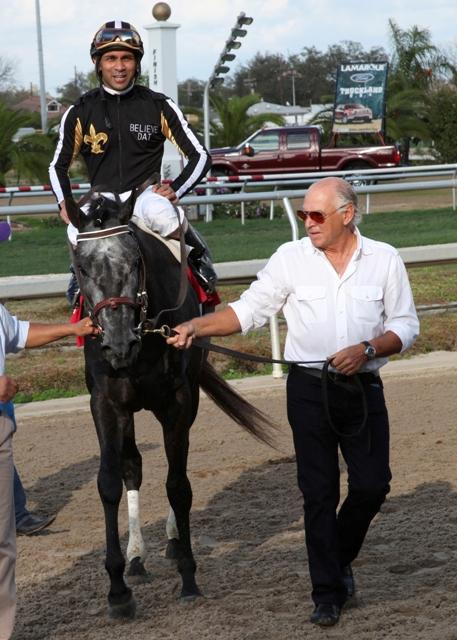 Famed singer/songwriter Jimmy Buffett leads Who Dat Ambush, a 3-year-old colt owned by a partnership including Buffett and several of his friends, into the Winner's Circle at Fair Grounds. (Image courtesy of Hodges Photography)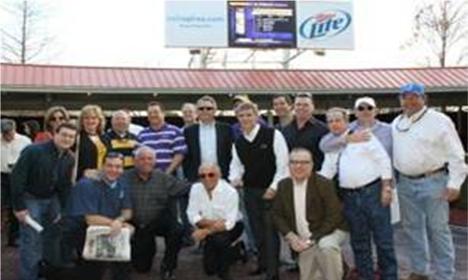 Pictured above are Last Mango Racing's partners in the paddock at Fair Grounds, including partnership manager Greg Bensel, the New Orleans Saints Vice President of Communications, and acclaimed singer Jimmy Buffett. Not pictured are Saints head coach Sean Payton, quarterback Drew Brees, General Manager Mickey Loomis and the Monday Night Football announcing team of Mike Tirico, Ron Jaworski and Jon Gruden-all of whom are Last Mango partners.
PHOTOS OF THE WEEK
top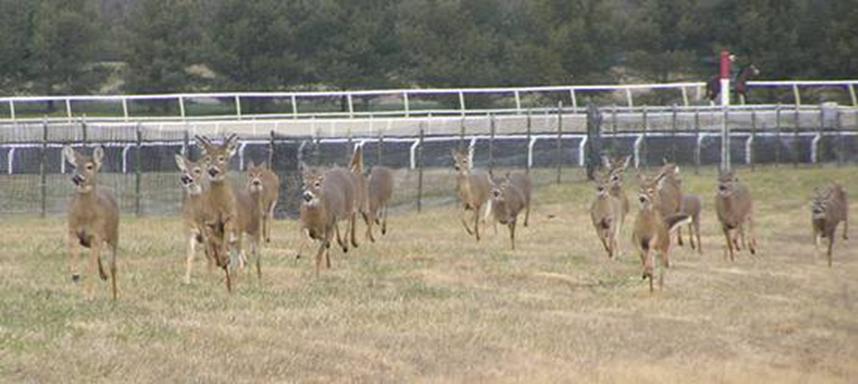 Deer passing through the infield during the harrow break on the Tapeta at Fair Hill Training Center on January 9 (Image courtesy of Sally Goswell, Fair Hill Training Center)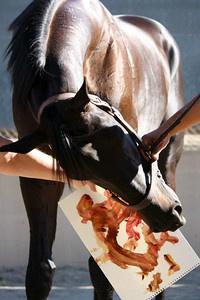 Ultimate Eagle busily painting his Equine Expression to raise funds to support ex-racehorses for CERF & The Second Race (Image courtesy of @TheSecondRace Twitter feed)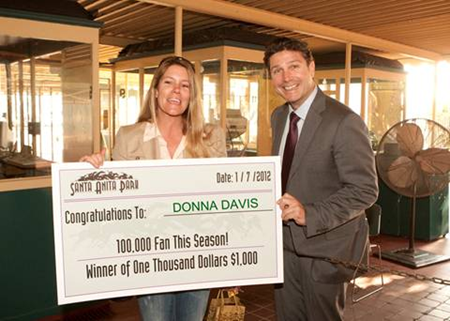 Santa Anita celebrates its 100,000th fan, Donna Davis, only nine days into the meet by presenting her with a check for $1,000. (Image courtesy of Benoit Photo)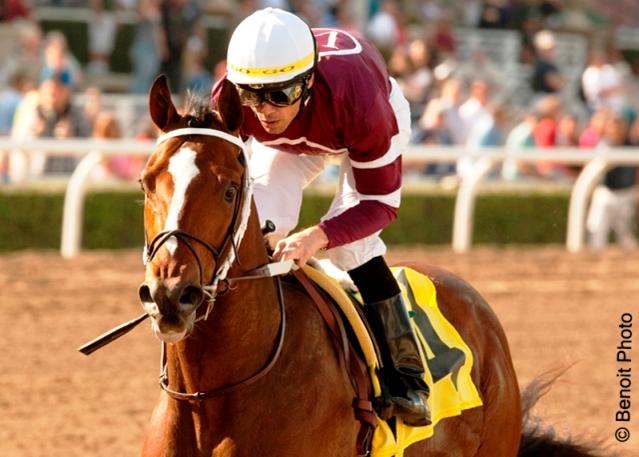 Tapizar, shown winning the 2011 Grade III Sham Stakes, will make his 2012 debut in Santa Anita's 60th running of the Grade II, $150,000 San Fernando Stakes on Saturday. (Image courtesy of Benoit Photo)
FAN PHOTO OF THE WEEK
top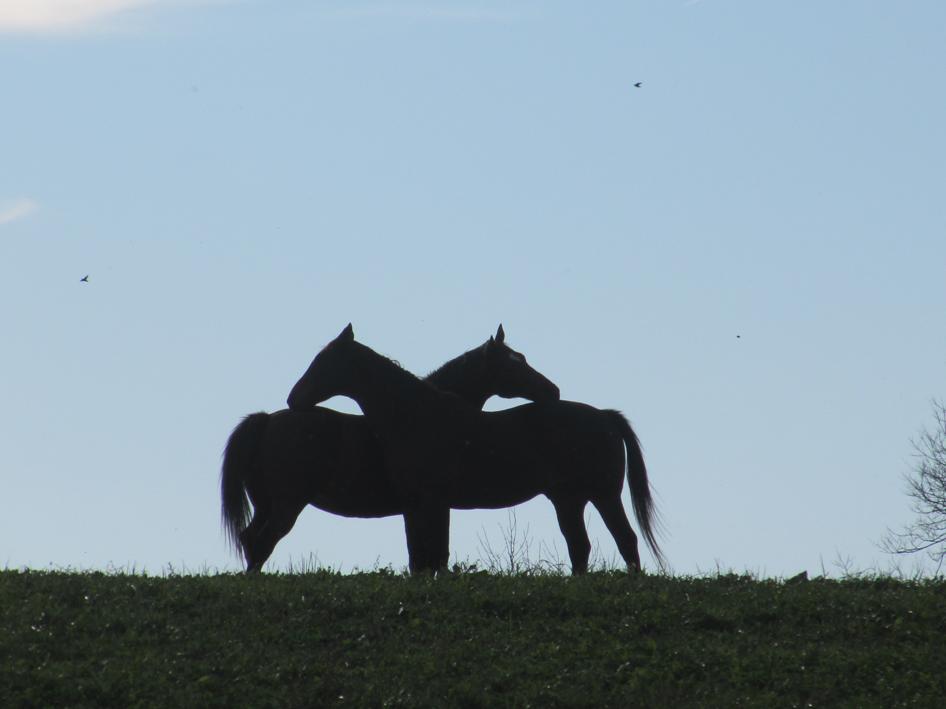 Congratulations to Debbie Minnis, winner of the Fan Photo of the Week contest! From Debbie: "This photo was taken in November 2011 while in Kentucky for the Breeders' Cup races. My cousin and I went to Old Friends to see the retired racehorses and while there I took this picture. I thought it was pretty cool. Hope you enjoy it too!"
FOLLOW US ON TWITTER

@NTRA
top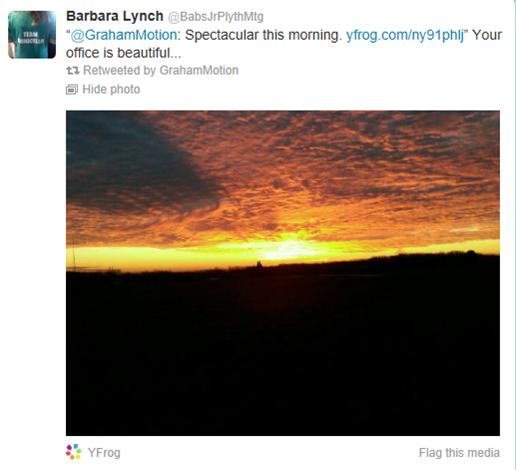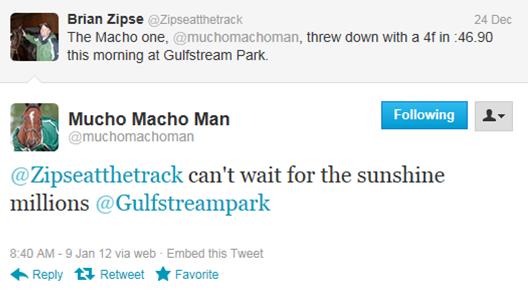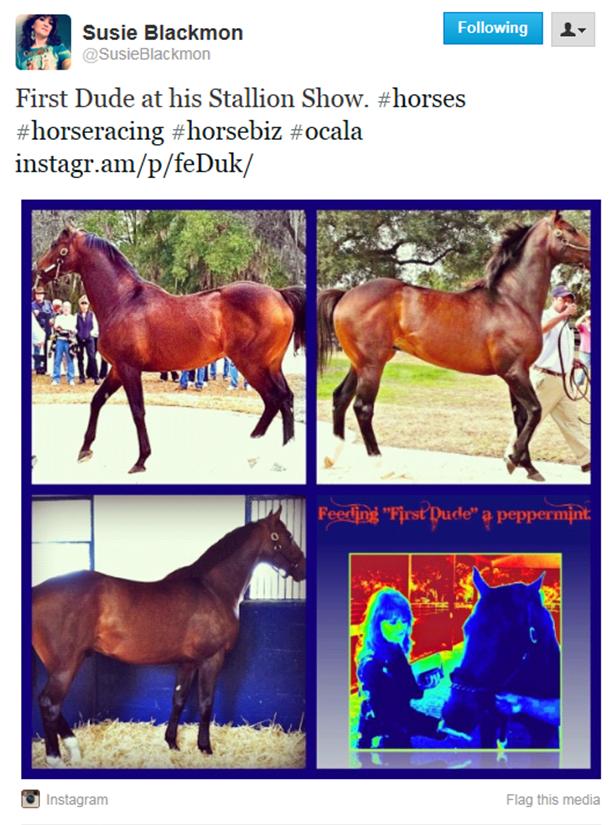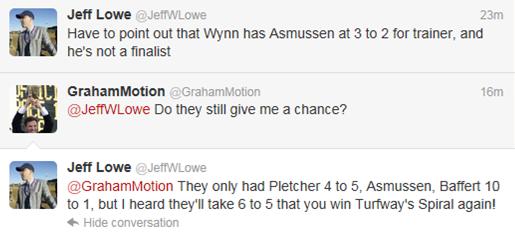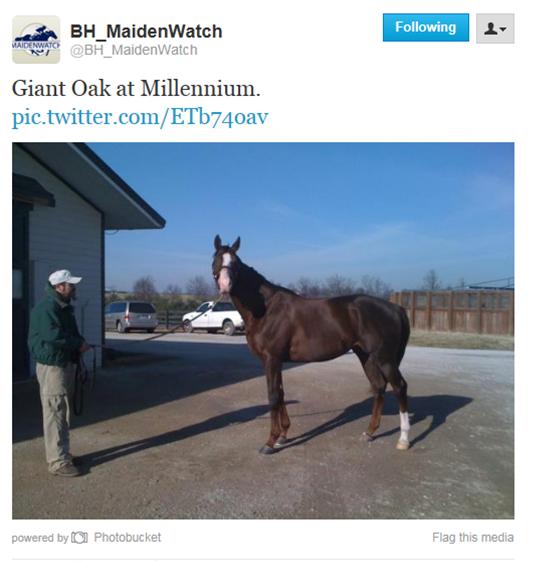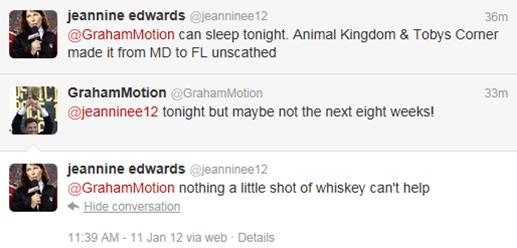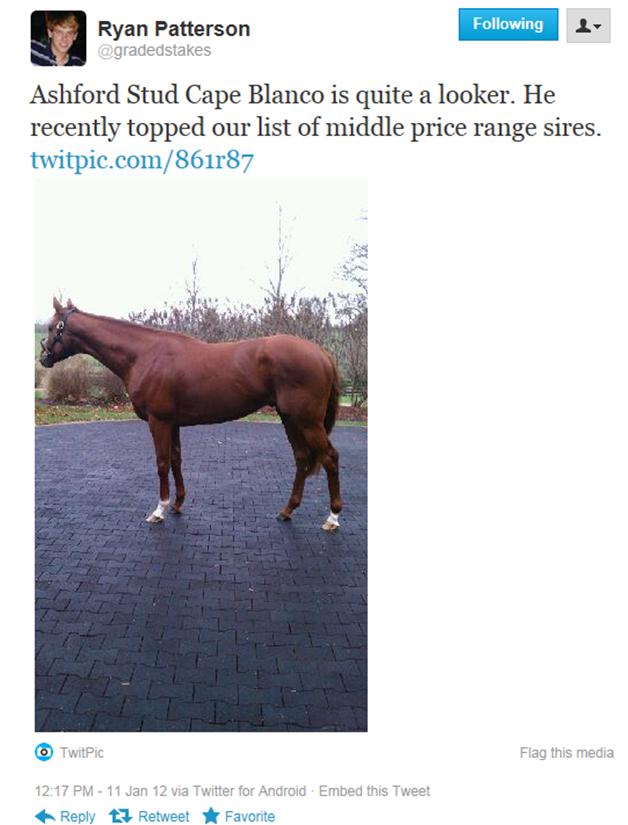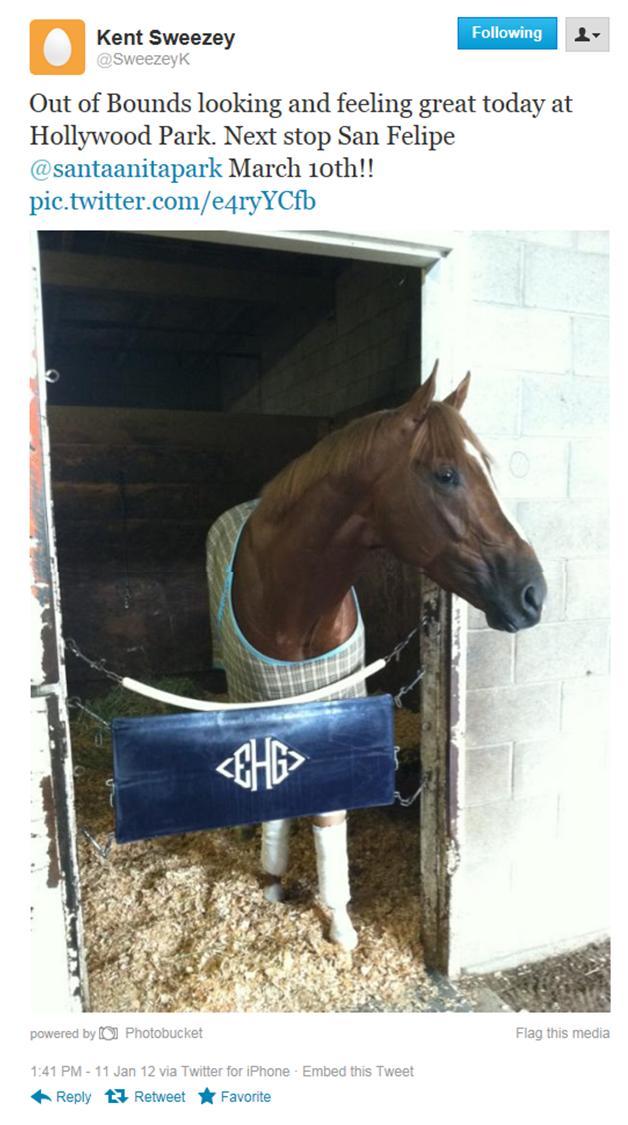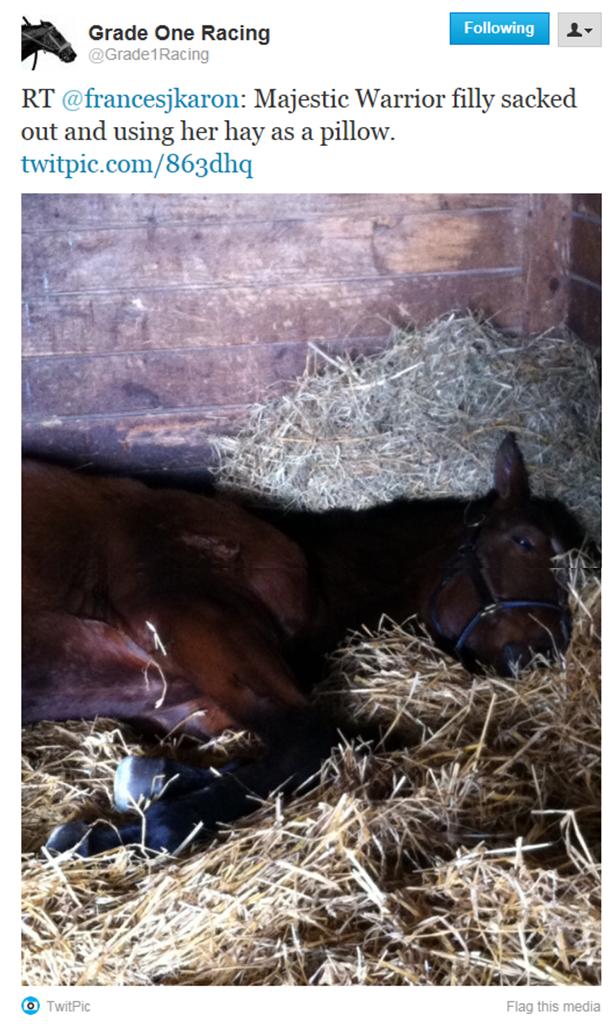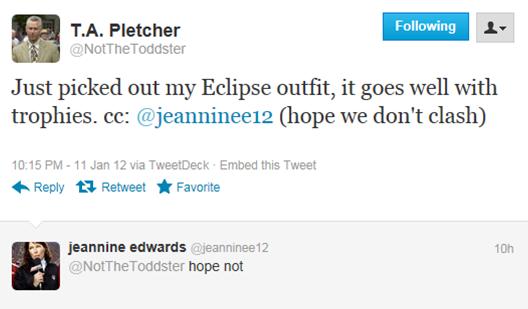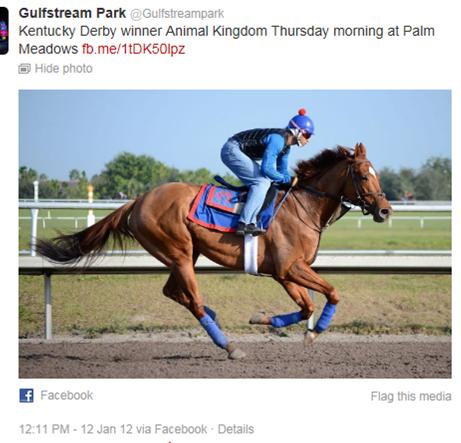 Photo courtesy of Alan Grossbard
Alan Grossbard is a producer and writer of such movies as And They're Off and Zerophilia as well as the television series Solo en America and Hollywood Squares. And They're Off, his most recent production, was filmed at Fairplex Park and Hollywood Park over 18 days in April and May 2010. It garnered strong reviews from critics, one of whom called the film a "hilarious spoof in the Christopher Guest mold." And They're Off will be available on DVD and OnDemand on May 1.

A longtime horse racing fan who owns shares of Thoroughbreds in partnership, Grossbard has been going to the races since the mid-1970s—first at Del Mar as a kid, then to Golden Gate Fields during college, and later at Hollywood Park and Santa Anita.
TWO MINUTE LICK WITH ALAN GROSSBARD
top
Name:
Alan Grossbard
Birthplace: Los Angeles
My favorite childhood memory: There was an amusement park called Beverly Park in Los Angeles that was within walking distance from my house. Very cool.
How I was introduced to Thoroughbred racing: I visited Del Mar with a buddy when I was in high school, and we hit a long shot.
Other sports/teams I follow: L.A. Dodgers, L.A. Lakers
Why I love competing in Thoroughbred racing: The beautiful animals, good people, and there's nothing better than seeing your horse take the lead in the stretch.
My favorite athletes of all time: Sandy Koufax, Jerry West, Magic Johnson and Zenyatta
Books I'm reading or have recently read: Livewire, What the Dog Saw
Favorite magazine: Fast Company
Favorite websites: Yahoo! Finance, Daily Racing Form, NTRA
Gadget I can't live without: Like everybody else, my cell phone.
Favorite movies: The Graduate, Schindler's List, Annie Hall, Seabiscuit
TV shoes I watch: Friday Night Lights, How I Met Your Mother, Saturday Night Live
Favorite foods: Hot wings and a cold beer
If I could be a guest on any television show it would be: Jimmy Glick. Loved that guy.
If I were in a band I would play the: Piano
Favorite musician/band: Five for Fighting
Best racetrack food can be found at: The Del Mar infield during a chili cook-off.
Accomplishment I am most proud of: My children
Newspaper I read daily: Los Angeles Times
My philosophy on life: "Dream big and give it your best shot."
Favorite charities: Phase One, Share Our Strength
Favorite authors: Harlan Coben, Jeffrey Archer
Favorite animal other than a horse: Both of my dogs, Jack and Lucy.
Favorite non-Thoroughbred racing sports event I have attended: 1985 Lakers/Celtics NBA finals
Three words that define Thoroughbred racing to me: Exciting, beautiful, fun
No. 1 bucket list item: See a major league baseball game in EVERY stadium, all in one year.
TRIPLE CROWN WATCH
top

Photo courtesy of Horsephotos.com
REVERON


Owner:

Stipa Racing Stable


Trainer:

Agustin C. Bezara


Sire:

Songandaprayer


Record:

5-3-1-1


Earnings

: $104,460


Current Wynn Las Vegas Derby odds

: 75-1


The skinny:

$20,000 yearling won his third in a row in the Gulfstream Park Derby.


Photo courtesy of Horsephotos.com
CASUAL TRICK


Owner:

Robert LaPenta


Trainer:

Nick Zito


Sire:

Bernardini


Record:

3-1-1-0


Earnings

: $49,600


Current Wynn Las Vegas Derby odds

: 65-1


The skinny:

Was a good second behind Reveron in GP Derby. Connections love Kentucky in May.


Photo courtesy of Horsephotos.com
BIG SCREEN


Owner:

Dogwood Stable


Trainer:

Frank Alexander


Sire:

Speightstown


Record:

3-1-1-0


Earnings:

$33,805


Current Wynn Las Vegas Derby odds

: 85-1


The skinny:

Broke his maiden New Year's Eve going 1 1/8 miles at Gulfstream. Taking action in Vegas.


Photo courtesy of Horsephotos.com
OVERDRIVEN


Owner:

Repole Stable


Trainer:

Todd Pletcher


Sire:

Tale of the Cat


Record

: 2-2-0-0


Earnings:

$126,000


Current Wynn Las Vegas Derby odds

: 100-1


The skinny:

Was the talk of Saratoga after winning the Sanford. Has been on the shelf ever since, though.


Photo courtesy of Horsephotos.com
ON FIRE BABY


Owner:

Anita Cauley


Trainer:

Gary Hartlage


Sire:

Smoke Glacken


Record:

4-3-0-0


Earnings:

$227,329


Current Wynn Las Vegas Derby odds:

225-1


The skinny:

Trainer has been intimating that a Derby run not out of the realm of possibility for this stakes-winning filly. May start vs. boys in Smarty Jones at Oaklawn.


Photo courtesy of Team Valor International
HOWE GREAT


Owner:

Team Valor International


Trainer:

Graham Motion
Sire: Hat Trick (JPN)


Record:

3-2-1-0


Earnings

: $61,500


Current Wynn Las Vegas Derby odds:

225-1


The skinny:

Aptly named colt has won on both turf and dirt. Shades of Animal Kingdom? Connections still thinking turf—for now.
VOICES top
FROM THE GRANDSTAND
top
Gulfstream Park outrider Vicki Vice, who teamed with fellow outrider Hank Hefner to prevent riderless Mordi's Miracle from running headlong into oncoming horses in the stretch run of Wednesday's second race at Gulfstream Park:
"After doing this for so long, sometimes you react and do things without thinking about it…and it helps to have a good horse."
Jockey Willie Martinez on advice he gives up-and-coming jockeys:
"The number one thing I tell any young rider is to never forget that our sport is all about the horse. They are the biggest stars. Our names are on the programs and our faces are on TV, but if it wasn't for the horses, we wouldn't leave the paddock."
Trainer Larry Jones, quoted by Marcus Hersh in Daily Racing Form, on Havre de Grace's fitness level when she arrived at his Oaklawn Park barn:
"Everything's good. You can tell she hasn't been stretching her body out, but it's going to be there. When she came in this year, she looked a heck of a lot better than when she came in last year."
Frustrated LSU fan Al Stall, quoted by Jennie Rees in courier-journal.com, on his team's offensive (in more ways than one) performance in the BCS Championship:
"It was like a $2,500 claimer running in the Derby."
---
VIDEOS OF THE WEEK
top
NTRA President and CEO Alex Waldrop talks to Sky Sports News Radio about Rapid Redux's remarkable season (Sky Sports News Radio)

Caracortado's late run in Saturday's Daytona Stakes amazes even the legendary Trevor Denman (
NTRA Videos
)
Fair Grounds track announcer John Dooley gets into the act during Who Dat Ambush's victory last Sunday. The 3-year-old colt is owned by Last Mango Racing, a partnership comprised of New Orleans Saints vice president of communications Greg Bensel, quarterback Drew Brees, head coach Sean Payton, and general manager Mickey Loomis, plus singer Jimmy Buffett and the Monday Night Football announcing crew of Mike Tirico, Ron Jaworski and Jon Gruden. (Hinesite67's YouTube channel)
Here's a hilarious 2009 race call from new Oaklawn Park announcer Frank Mirahmadi from back when he was at Turf Paradise. He used nearly two dozen impressions during this 1 7/8-mile turf marathon. (luisbelusi YouTube channel)
The BC countdown has already begun at Santa Anita (Santa Anita Park)
Owners William Strauss, Jim Rome and his wife Janet Rome and son Logan Rome as well as trainer Mike Puype and jockey Garrett Gomez are interviewed after Mizdirection wins the Monrovia Stakes at Santa Anita (Santa Anita's YouTube Channel)
Classic 1974 TV: Fred Sanford buys a retired stakes winner in hopes of getting rich as a breeder (Mynjunkyard's YouTube channel)
---
IN THE NEWS
top
Gulfstream Park to host 2013 Eclipse Award Ceremony

(The Blood-Horse)

Intrigue surrounds Eclipse Awards
(
Saratogian.com
)
An interview with ESPN commentator and Eclipse Awards host Jeannine Edwards (Paulick Report)
Asmussen's Tapizar headlines Saturday's Grade II San Fernando Stakes (Santa Anita.com)
Gomez out 4 to 6 weeks with fractured heel (Daily Racing Form)
Book 2 numbers continue to sizzle at Keeneland January (Thoroughbred Times)
Oaklawn Park opens this Friday (KUAR Public Radio)
On Fire Baby set to face the boys in Oaklawn's Smarty Jones Stakes (Miami Herald.com)
A new voice for Oaklawn Park racing (Arkansas Democrat-Gazette)
Gulfstream Park's Holy Bull Stakes is up next for Breeders' Cup Juvenile winner Hansen (Miami Herald.com)
Union Rags puts in his first formal workout of 2012 (Daily Racing Form)
The Road to the Kentucky Derby (Forbes.com)
Triple Crown Notebook: Time to pony up for Derby Hopefuls (Houston Chronicle)
El Padrino, Ted's Folly pointing to Lecomte (SportsNola.com)
Havre de Grace could face males in her 2012 debut (ESPN)
Animal Kingdom arrives at Palm Meadows (Gulfstream Park)
NHC gives Tour winner shot at $3 million payday (Daily Racing Form)
New Jersey OKs sports betting and expanded horse race wagering laws (NBC Sports)
Jim Rome: Out of the Jungle and onto the farm (Forbes.com)
Off-the-track Thoroughbreds to be focus of new HRTV series (American Horse Publications)
Black Caviar is the queen of the World Thoroughbred Rankings (Melbourne Herald-Sun)
Lloyd Arnold, former owner of Los Alamitos, dies at 83 (LA Times)
---
IN THE BLOGOSPHERE
top
Jon White's Eclipse Awards Predictions (HRTV.com)

Is this the year for Sheikh Mohammed in the Derby? (Daily Racing Form)

Trainer Michael Matz is ready for another Derby run (The Blood-Horse)

Canadian star Maritimer could make a Triple Crown bid (Louisville Courier-Journal)

Aqueduct proved this weekend that a little added purse money can bring the stars out to shine (Brooklyn Backstretch)

An interview with Dr. Kendall Hansen, owner of Hansen (Brisnet)

The Triple Crown chase starts with Alpha (ESPN)

Alpha may be the omega for Nijinsky mares (Bloodstock in the Bluegrass)

Looking at some of the updated Wynn Kentucky Derby future odds (Daily Racing Form)

A review of horse racing-related iPad apps (Thoroughbred Daily News blog)

U.S. stars have the Dubai World Cup in their sights (The Brock Talk)

A fun, historical look at Thoroughbreds' birthdays (Raceday360)

Brian Zipse remembers Northern Dancer's journey to his Kentucky Derby Win (Horse Racing Nation)

Jockey Willie Martinez gives insight into the life of riding professionally (Tampa Bay Downs blog)

Outriders save the race – and the day – at Gulfstream Park (Louisville Courier-Journal)

A new betting concept: the Imperfecta (Equinometry)

Think off-the-track Thoroughbreds are too tough to help you learn to ride? Think again. (Retired Racehorse Blog)

A new beginning for former racehorse Judges Decision (The Second Race)

Looking forward to 2012 (The Brock Talk)

Methodology for a new way of ranking Thoroughbreds (And Down the Stretch They Come)

Miniature horse pledges potential contest winnings to equine charities (Little Horse Big Trip)
CALENDAR top
RACING TO HISTORY
top
Jan. 12, 2001: Affirmed, the 1978 Triple Crown winner, was euthanized at age 26 due to chronic musculo-skeletal problems.
Jan. 13, 1978: Seattle Slew, in training for his four-year-old seasonal debut at Hialeah, first displayed symptoms of the deadly virus Colitis X. The colt was sidelined until May 14, when he won an allowance race at Aqueduct Racetrack as the 1-10 favorite.
Jan. 13, 1989: Jockey Brian Peck was injured when his horse, Top Booking, collided with a deer in the fourth race at Turfway Park. The deer jumped onto the track from the infield, where it had gone to drink from a man-made lake. Top Booking was unharmed, but Peck suffered a broken arm.
Jan. 13, 1997: The National Steeplechase Association became the first horse racing organization in the U.S. to require jockeys to wear "certified" safety helmets, beginning with the 1997 NSA season.
Jan. 13, 2001: Judy Wagner, a grandmother from New Orleans, captured the second annual $212,000 Daily Racing Form/NTRA National Handicapping Championship, held at the MGM Grand in Las Vegas. Wagner received a check for $100,000 and was presented with the "NTRA Handicapper of the Year" award on Jan. 30 during the Eclipse Award ceremonies.
Jan. 13, 2003: Hall of Fame jockey Eddie Delahoussaye announced his retirement. Delahoussaye won 6,384 races and his horses earned $195,881,170.
Jan. 14, 1932: Jockey Eddie Arcaro rode his first career winner, at Agua Caliente.
Jan. 14, 1953: Pimlico's Preakness Stakes, originally slated for May 16, was switched to May 23, allowing for the first time a three-week break after the Kentucky Derby.
Jan. 14, 1998: Jockey Patricia Cooksey became the second female rider to win 2,000 races when she guided Noble Annie to a five-length victory in the second race at Turfway Park.
Jan. 14, 2003: Citing the devastating effects of mare reproductive loss syndrome (MRLS), Keeneland announced that it would not conduct its July selected yearling sale. It was the first time the auction had been canceled since its inception in 1943.
Jan. 15, 1932: Australian champion Phar Lap arrived in San Francisco. He was shipped by steamship to the U.S., en route to Agua Caliente in Mexico, where he was to make his North American racing debut in the March 20 Agua Caliente Handicap, the continent's then-richest race.
Jan. 15, 1969: Barbara Jo Rubin was named to ride in a race at Tropical Park. Thirteen male riders subsequently boycotted the race rather than compete against a female, and were fined $100 each.
Jan. 15, 2004: Hall of Fame jockey Russell Baze won his ninth consecutive Isaac Murphy Award, given to the rider with the year's highest winning percentage.
Jan. 17, 2000: The first ever NTRA "Moment of the Year" award went to the post-race scene after the 1999 Belmont Stakes, when jockey Chris Antley held Charismatic's injured foreleg.
Jan. 19, 1955: Swaps won the San Vicente Stakes, the first race of his three-year-old campaign, by 3 ½ lengths at Santa Anita Park. He went on to triumph over Nashua in the Kentucky Derby, but was in turn defeated by his rival in a $100,000 match race at Washington Park on Aug. 31, his only loss of that year.
Jan. 20, 1972: Secretariat was shipped from Virginia to Florida to be trained by Lucien Laurin.
Jan. 20, 1979: Odds-on favorite Affirmed, with Steve Cauthen aboard, finished second in the San Fernando Stakes at Santa Anita, beaten 2 ¾ lengths by Radar Ahead. It was their fourth consecutive defeat. Cauthen subsequently lost the mount on Affirmed to jockey Laffit Pincay Jr., who rode the horse for the remainder of its four-year-old season, winning seven victories in as many starts. Affirmed was later voted Horse of the Year for 1979. Cauthen had ridden Affirmed to a Triple Crown sweep the previous year and the pair recorded 11 wins in their 16 races together.
Jan. 22, 2005: Jockey Russell Baze passed Bill Shoemaker to take over second place on the all-time win list when he picked up his 8,834th victory aboard Hollow Memoires in the seventh race at Golden Gate Fields.
Jan. 23, 1994: Pat Day, 40, became the 10th rider in North American racing history to ride 6,000 winners when he rode Miss Popsnorkle to victory in the first race at Oaklawn Park.
Jan. 24, 1974: Jockey Chris McCarron rode his first race, finishing last aboard Most Active at Bowie Racecourse.
---
WEEKEND STAKES RACES (unrestricted stakes in N.A. worth $75,000 and up)WEEKEND STAKES RACES (unrestricted stakes in N.A. worth $75,000 and up)
top
FRIDAY, JANUARY 13

Fifth Season Stakes, 4&up, $75,000, 1 1-16M, Oaklawn Park
SATURDAY, JANUARY 14
San Fernando Stakes, 4yo, $150,000, Grade II, 1 1-16M, Santa Anita Park
Fort Lauderdale Stakes, 4&up, $100,000, Grade III, 1 1-16M (T), Gulfstream Park
Hal's Hope Stakes, 4&up, $100,000, Grade III, 1M, Gulfstream Park
California Derby, 3yo, $100,000, 1 1-16M, Golden Gate Fields
Gasparilla Stakes, 3yo fillies, $100,000, 7F, Tampa Bay Downs
Pasco Stakes, 3yo, $100,000, 7F, Tampa Bay Downs
Cotton Fitzsimmons Mile, 4&up, $75,000, 1M (T), Turf Paradise
Genesis Stakes, 3yo fillies, $75,000, 7 1-2F, Delta Downs
Marie G. Krantz Memorial Handicap, 4&up (f&m), $75,000, 1 1-16M (T), Fair Grounds
Ruthless Stakes, 3yo fillies, $75,000, 6F, Aqueduct
Shots Are Ringing Stakes, 4yo, $75,000, 1M 70 yds., Aqueduct
Triple Sec Stakes, 3yo, $75,000, 7 1-2F, Delta Downs
SUNDAY, JANUARY 15
Santa Ynez Stakes, 3yo fillies, $150,000, Grade II, 6 1-2F, Santa Anita Park
Pasaena Stakes, 4&up (f&m), $75,000, 1 1-16M, Santa Anita Park
MONDAY, JANUARY 16
San Gabriel Stakes, 3&up, $150,000, Grade II, 1 1-8M (T), Santa Anita Park
Smarty Jones Stakes, 3yo, $100,000, 1M, Oaklawn Park
Jimmy Winkfield Stakes, 3yo, $75,000, 6F, Aqueduct
-30-