Thursday, January 19, 2012
NTRA Thoroughbred Notebook
FACES IN THE CROWD
top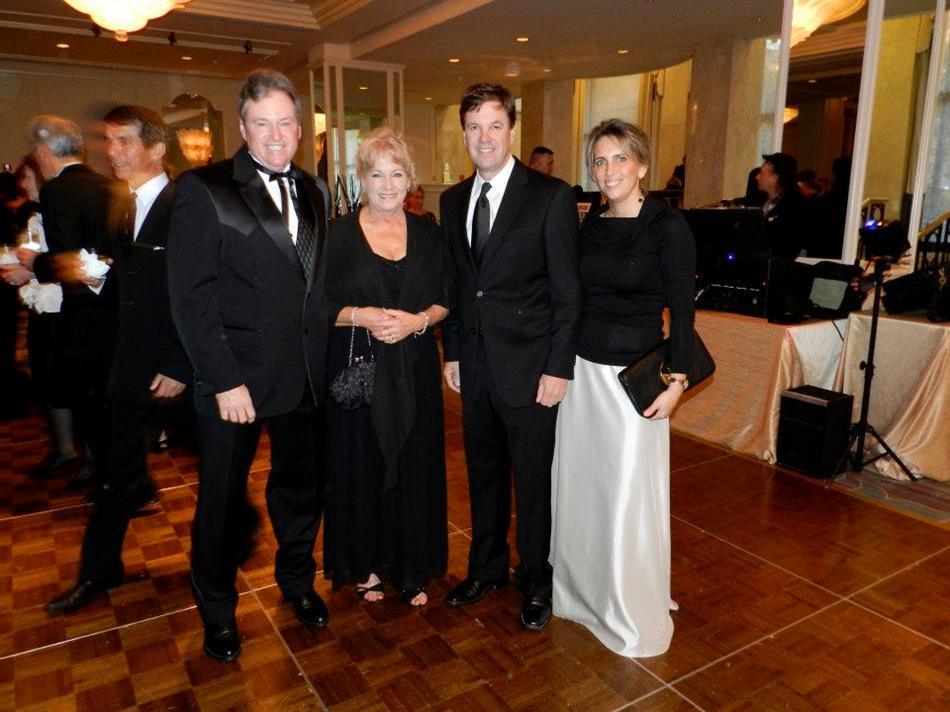 Larry and Cindy Jones with Graham and Anita Motion at the Eclipse Awards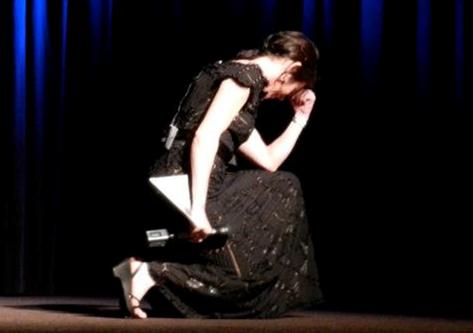 Eclipse Awards host Jeannine Edwards Tebows as she opens the show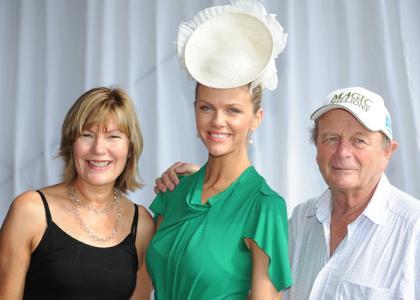 Actress Brooklyn Decker at the Magic Millions Racing Carnival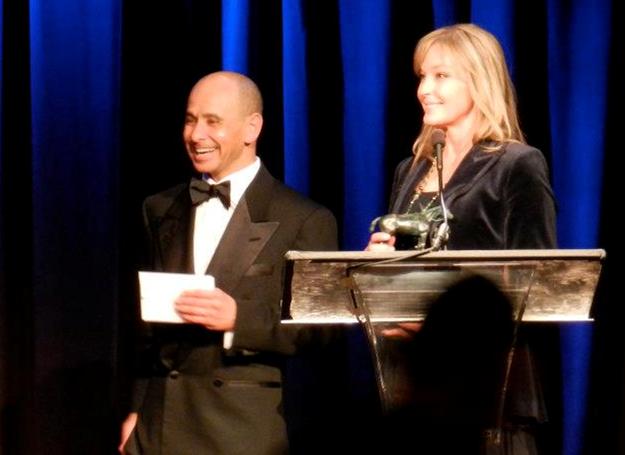 Jockey Mike Smith and actress Bo Derek present at the Eclipse Awards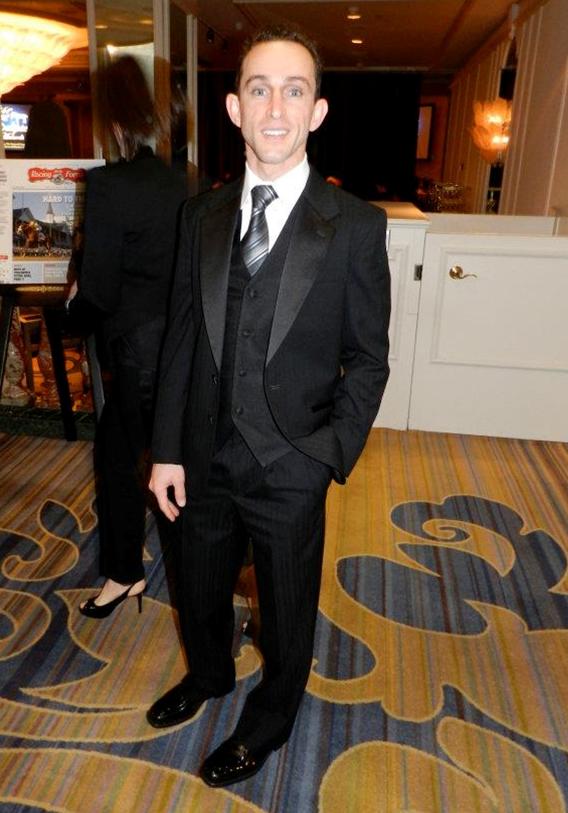 2011 Outstanding Jockey Ramon Dominguez at the Eclipse Awards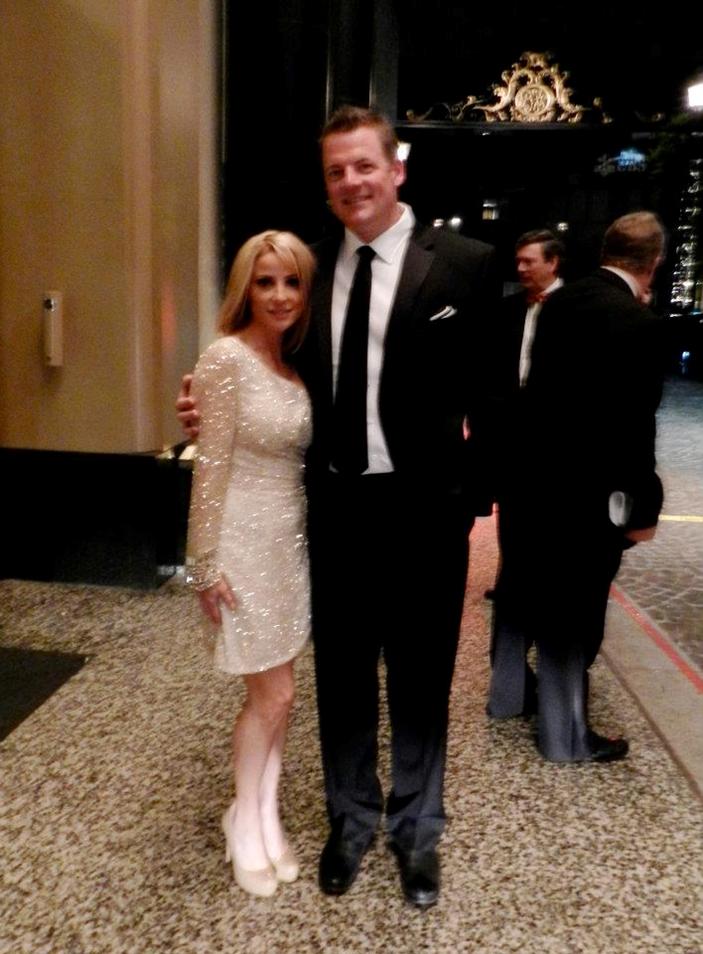 Jockey Chantal Sutherland and fiancé Dan Kruse at the Eclipse Awards
PHOTOS OF THE WEEK
top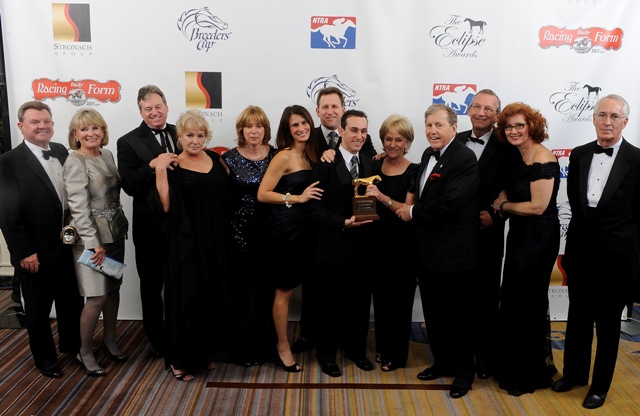 Team Havre de Grace with the Eclipse Award for Horse of the Year (Image courtesy of HorsePhotos.com)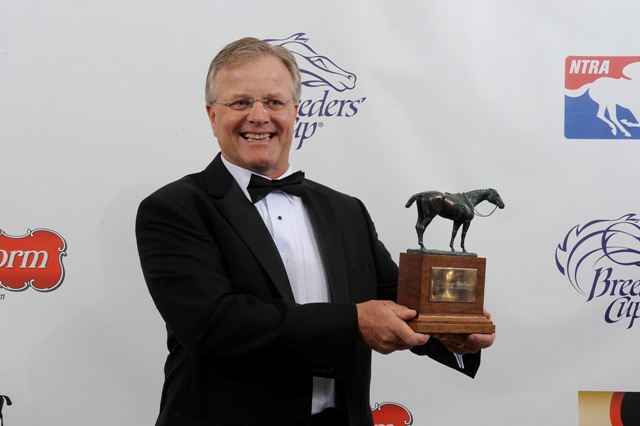 Bill Mott with his Eclipse Award for Outstanding Trainer of 2011 (Image courtesy of HorsePhotos.com)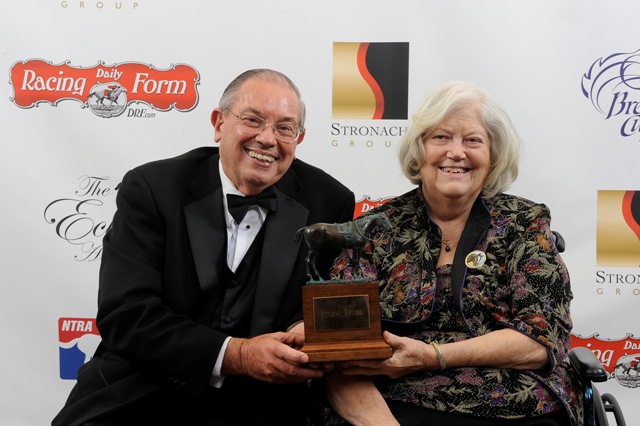 Ken and Sarah Ramsey are 2011's Outstanding Owner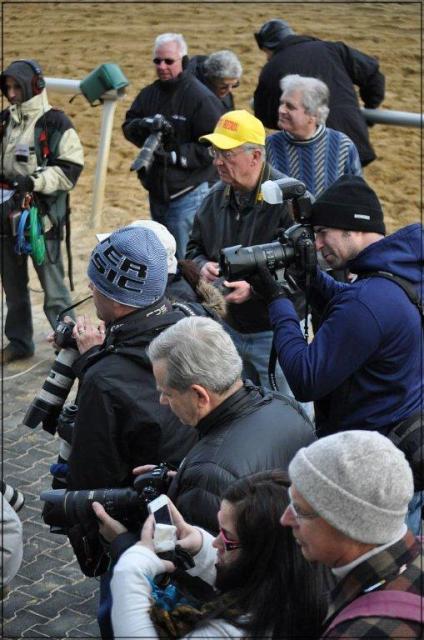 Press line up to take photos of Rapid Redux's 22nd consecutive victory at Laurel Park. Fan photo submission by Elaine Kucharski.
FOLLOW US ON TWITTER

@NTRA
top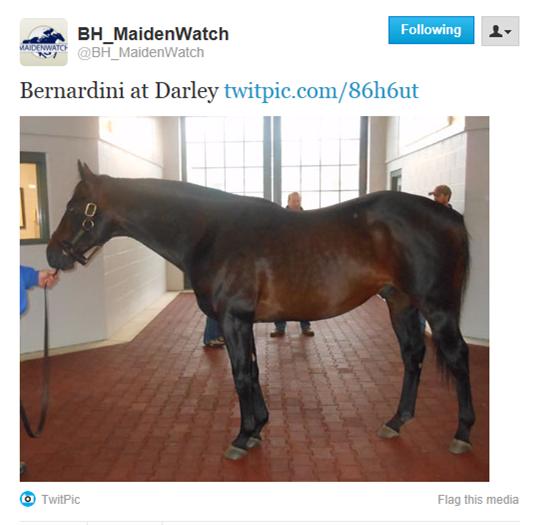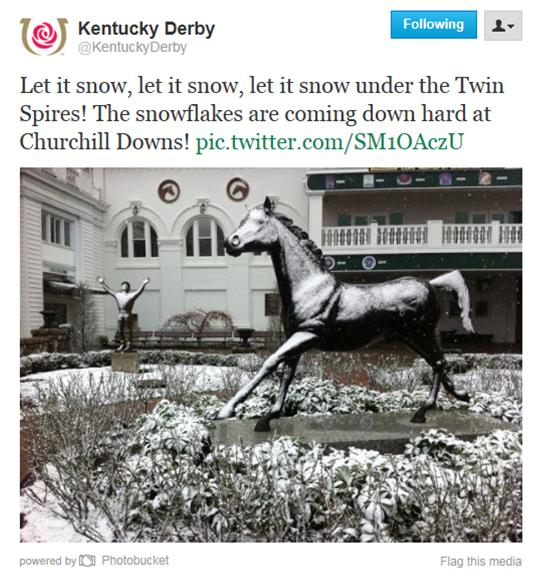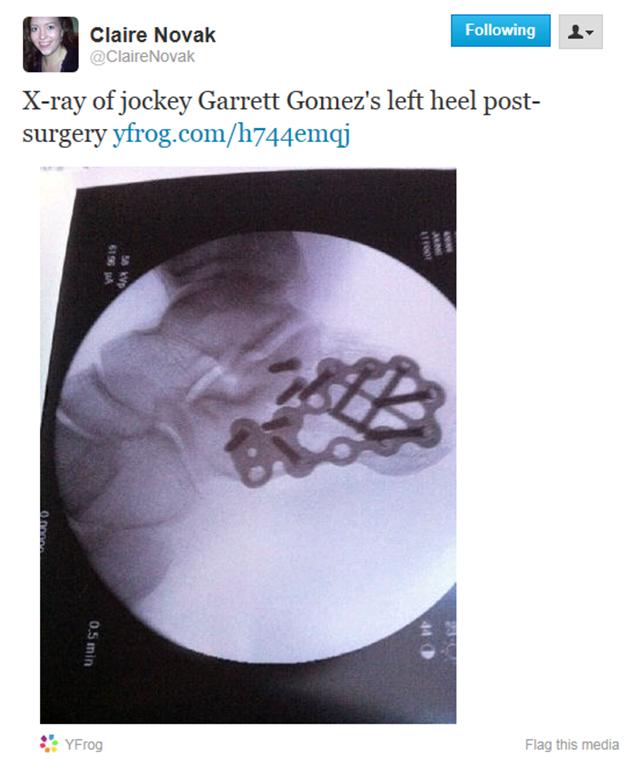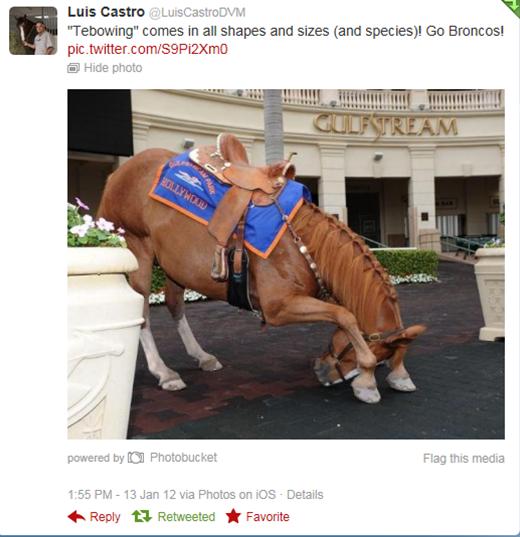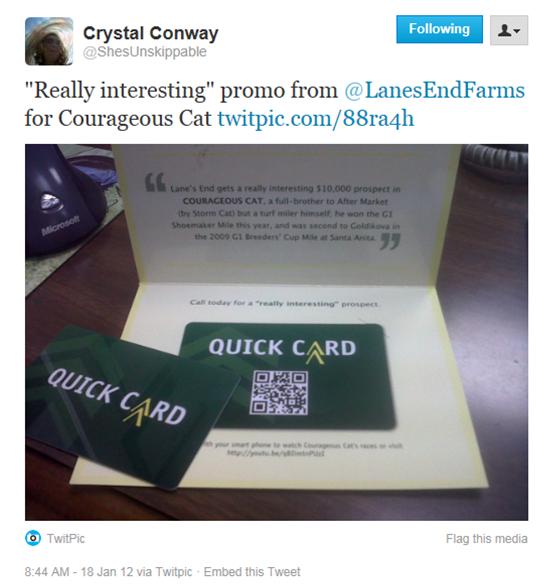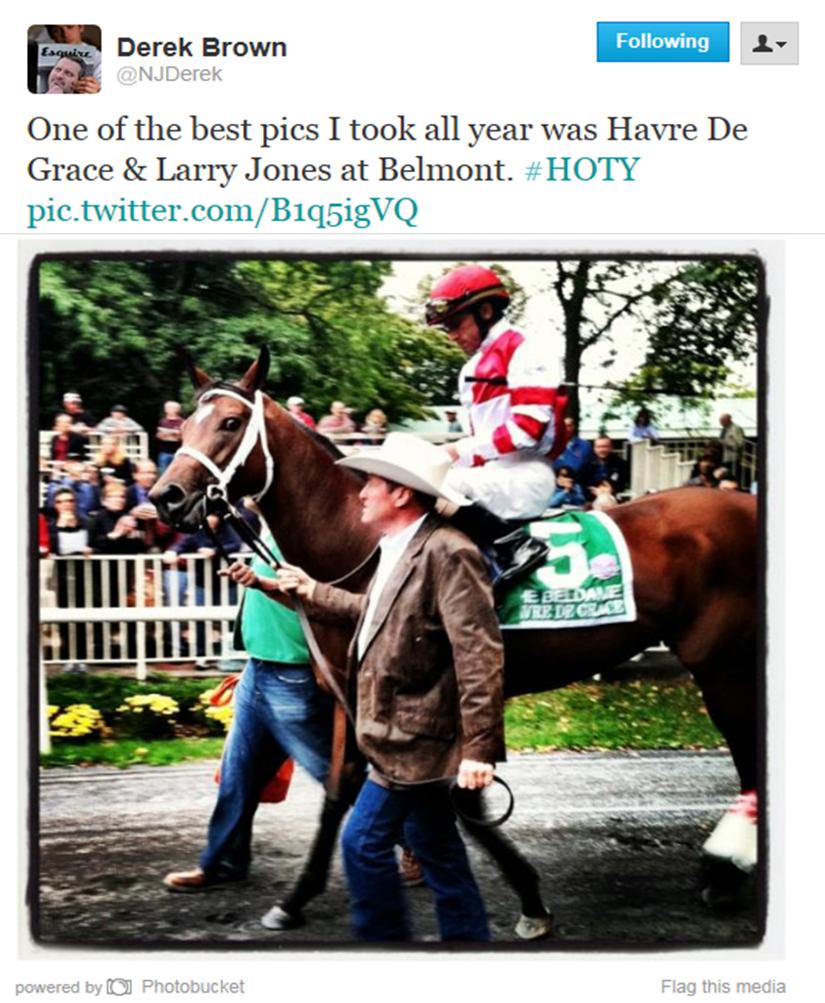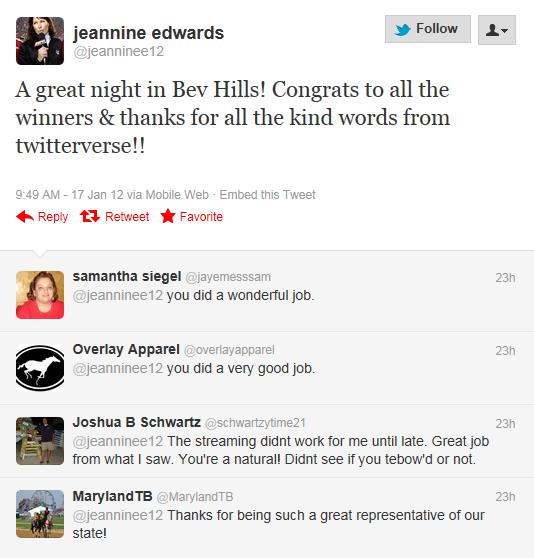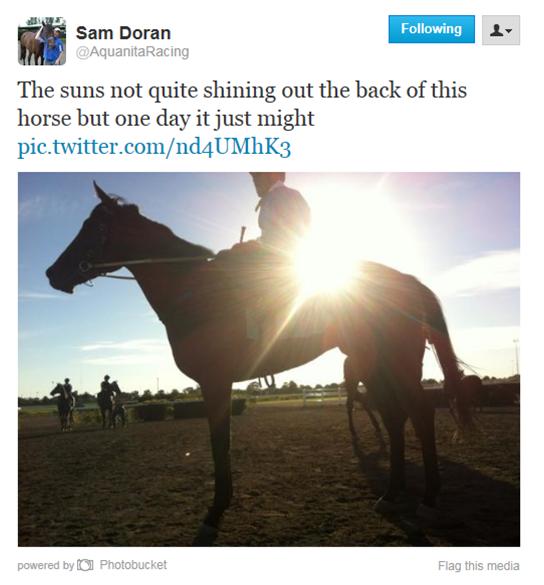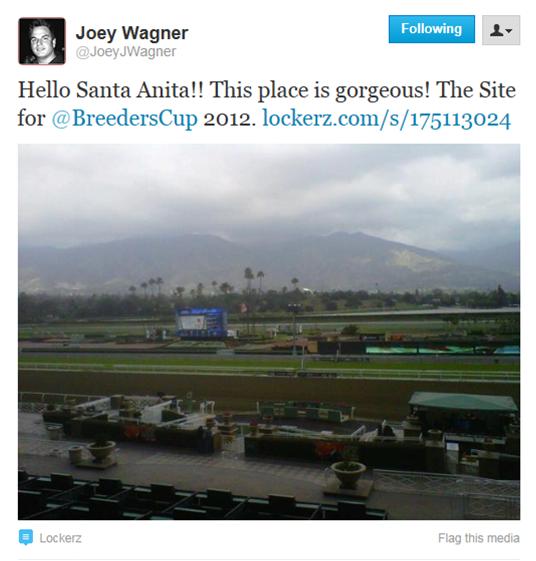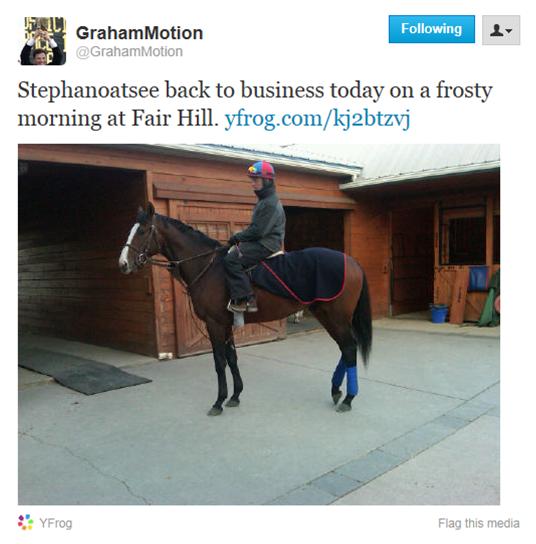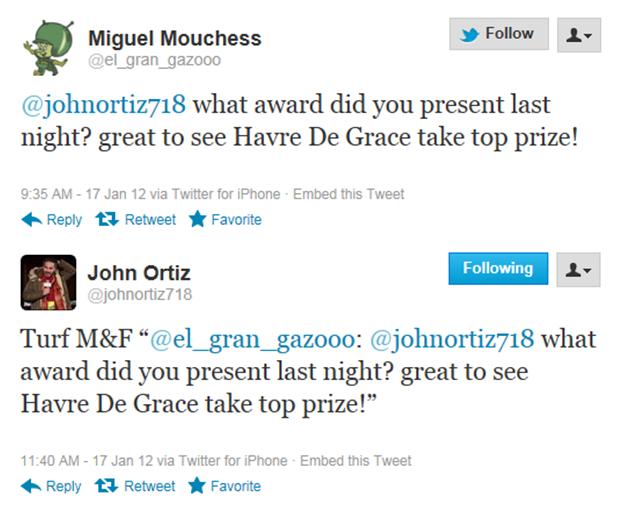 John Ortiz

John Ortiz

is one of the stars of HBO's new racing drama Luck, which premieres on January 29.

Ortiz plays the role of trainer of Turo Escalante, a character loosely based on trainer Julio Canani. Ortiz hadn't spent time at the track before working on Luck, but he has become a fan of the sport since, and he recently attended the Eclipse Awards in Beverly Hills.

Prior to joining the cast of Luck, Ortiz made his mark with a slew of acting credits on stage, in feature films and in television. He won the Obie Award for Best Actor in the off-Broadway production of "References to Salvador Dali Make Me Hot", and he was recently nominated for an Independent Spirit Award for his performance in the independent film "Jack Goes Boating".
TWO MINUTE LICK WITH JOHN ORTIZ
top
Name:
John Ortiz
What I do for a living: Actor
How and when I was introduced to Thoroughbred Racing: Immediately after being offered the role of Turo Escalante on a new HBO pilot "Luck". At the time, I knew only three things about the project. It was written by David Milch, directed by Michael Mann, and it was covering the world of horse racing.
My favorite racetrack: Santa Anita
My favorite Thoroughbred racing event: Breeders' Cup
Other sports/teams I follow: I can watch any sporting event anytime, anywhere… I love competition!
What I would like to see more of in Thoroughbred Racing: Larger Crowds
What I would like to see less of in Thoroughbred Racing: smaller fields
3 words that define what Thoroughbred Racing means to me: Exciting, Passionate, Communal
First Thoroughbred track I ever attended was: Gulfstream
Favorite All-time Thoroughbred: Zenyatta
My personal best moment in the sport of Thoroughbred Racing: Talking and Listening to H. Allen Jerkens about the art of horse training two weeks after being offered the role of a horse trainer on HBO's "Luck".
Best racetrack food can be found at: Food truck day at Santa Anita.
My favorite jockey: Gary Stevens
My favorite trainer: Julio Canani
My Heroes: Roberto Clemente
Person in Thoroughbred Racing I'd like to have dinner with: Bill Shoemaker
My philosophy on life: Live Full, Live Now
Favorite quote or motto: "If the world was perfect, it wouldn't be" -Yogi Berra
Favorite animal other than a horse: Raptors
Favorite non-Thoroughbred racing sports event I have attended: Game 2 of the 2000 World Series at Yankee Stadium. Yankees 6 – Mets 5
Twitter Handle: @johnortiz718
People I follow on Twitter: Joe Talamo (@JoeTalamo), Chantal Sutherland (@JockeyChantal), and Gary Stevens (@HRTVGary).
No. 1 Bucket List Item: Sailing around the world
FAN PHOTO OF THE WEEK
top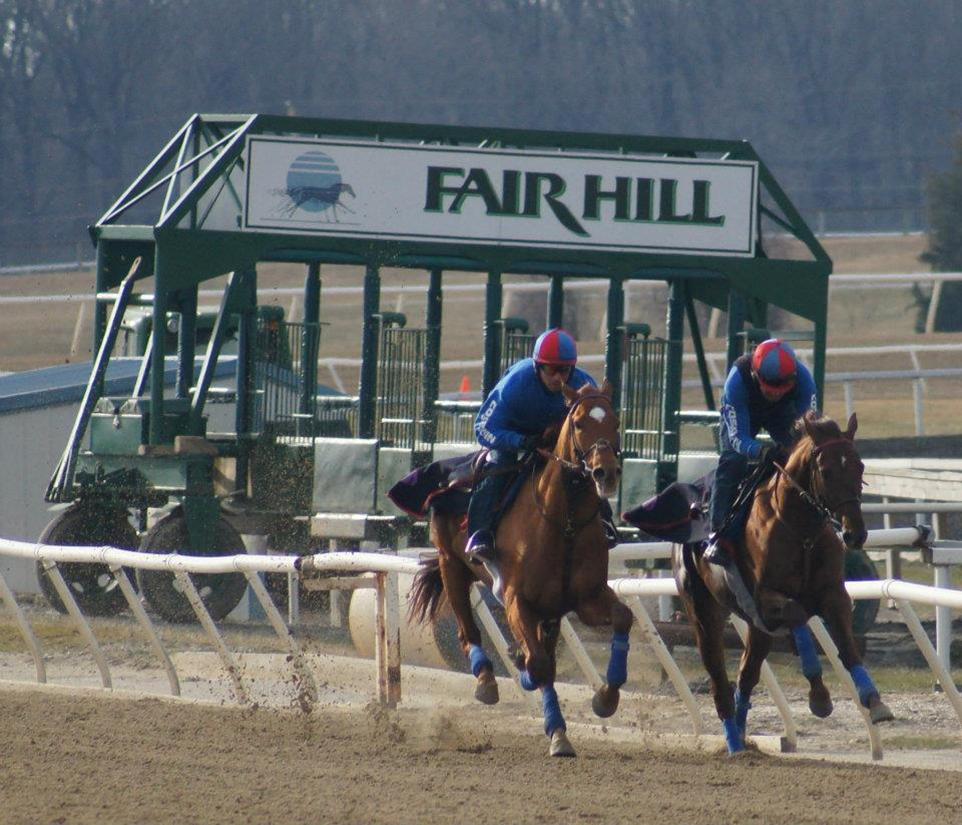 It was literally a photo finish! This week's Fan Photo contest was won by only two votes. Congratulations to Terry Ford, winner of this week's competition! From Terry: In this photo Animal Kingdom with James Slater up (outside) and Toby's Corner with Jorge Salazar up (inside) pass the training gate at the Fair Hill Training Center while breezing.
TRIPLE CROWN WATCH
top

Image courtesy of Reed Palmer Photography

EVER SO LUCKY


Owner:

Augustin Stable


Trainer:

Jonathan Sheppard


Sire:

Indian Charlie


Record:

2-1-1-0


Earnings:

$61,102


Current Wynn Las Vegas Derby odds

: 25-1


The skinny:

Runner-up in Kentucky Jockey Club. Hall of Fame trainer is masterful at getting his horses to go long.


Image courtesy of HorsePhotos.com

OUT OF BOUNDS


Owner:

Darley Stable


Trainer:

Eoin Harty


Sire:

Discreet Cat


Record:

3-2-0-0


Earnings:

$89,700


Current Wynn Las Vegas Derby odds

: 30-1


The skinny

: Looked good in winning Sham Stakes. Dam is 2001 BC Distaff winner Unbridled Elaine.


Image courtesy of Benoit Photo

FED BIZ


Owner:

Kaleem Shah


Trainer:

Bob Baffert


Sire:

Giant's Causeway


Record:

2-1-0-0


Earnings:

$36,300


Current Wynn Las Vegas Derby odds

: 60-1


The skinny

: $950,000 yearling ran fast when breaking his maiden at a mile at Santa Anita on Dec. 30.


Image courtesy of HorsePhotos.com

STATE OF PLAY
Owner: Team Valor International


Trainer:

Graham Motion


Sire:

War Front


Record:

3-2-0-0


Earnings:

$120,000


Current Wynn Las Vegas Derby odds:

85-1


The skinny:

Turf runner is expected to make his dirt debut in Feb. 4 Sam F. Davis at Tampa.


Image courtesy of Thoroughbred Report

SOUPER SPEEDY


Owner:

Live Oak Plantation


Trainer:

Tom Albertrani


Sire:

Indian Charlie


Record:

2-1-1-0


Earnings:

$76,000


Current Wynn Las Vegas Derby odds

: 150-1


The skinny:

Impressive last year during brief campaign that included 2nd place finish in the Remsen. Hasn't worked yet this year, though

.


Image courtesy of Mike Montgomery
HARD FACTS


Owner:

Harry and Tom Meyerhoff


Trainer:

Michael Trombetta


Sire:

Hard Spun


Record

: 2-1-0-0


Earnings

: $17,400


Current Wynn Las Vegas Derby odds:

275-1


The skinny

: Broke his maiden in a two-turn 7F race at Charles Town on Jan. 7. He is a half-brother to the brilliant race mare Banshee Breeze, who won Gr. I races at both a mile and a quarter and a mile and a half.
VOICES top

FROM THE GRANDSTAND
top
Owner Rick Porter accepting the Horse of the Year Award for Havre de Grace:


"

As many of you know, I've seen the lowest of lows in horse racing, and I've seen a lot of highs. But nothing rivals Havre de Grace."

Trainer Larry Jones on his decision to come out of retirement:
I had called it a career, but when you are offered a horse like Havre de Grace, everyone can see why I came back to training."

Ken Ramsey accepting the Eclipse Award for Outstanding Owner:




"Most of all, I want to pay tribute to my precious wife of 53 years, who we call the original kitten. She epitomizes our motto—love your family, treat your horses well, and most of all, believe in yourself." Owner Kendall Hansen accepting the 2-year-old Colt or Gelding Eclipse for Hansen:
"Part of this trophy is for all the handicappers and the small stables. And a shout-out-to Turfway Park—I am bringing home the freakin' Eclipse Award!"





Penny Chenery on Rapid Redux winning the Secretariat "Vox Populi" Award:




"The goal of Thoroughbred horse racing is to win races. So for one horse to beat his field 19 times in one year is flat out phenomenal. They never ran him over his head and he never failed to pull it off."



2011 NHC Champion John Doyle while accepting the Eclipse Award for Handicapper of the Year:
"If we take care of the Thoroughbred, we take care of racing."

---

VIDEOS OF THE WEEK
top
Terry Finley of West Point Thoroughbreds explains the role of management in a horse racing partnership (
West Point Thoroughbreds
)
Last year's Champion 3-Year-old Animal Kingdom has a turf workout at Palm Meadows on January 17 (Team Valor Stables' YouTube Channel)
Oaklawn's new track announcer Frank Mirahmadi is a man of many voices (UpInClass YouTube Channel)
Luck character profile: trainer Walter Smith as played by Nick Nolte (HBO YouTube Channel)
This off-the-track Thoroughbred in the Retired Racehorse Trainer Challenge catches sight of himself in a mirror and falls in love (Retired Racehorses Blog)
---

IN THE NEWS
top
Havre de Grace is third straight female to win Horse of the Year (
Los Angeles Times
)
Horse of the Year Havre De Grace completes trio of top girls (Yahoo.com)
Filly Havre de Grace wins Horse of the Year title (Boston Herald)
Margin for Havre de Grace in Horse of the Year vote surprises trainer Larry Jones (The Times Picayune)
Animal Kingdom edges Caleb's Posse as top 3-year-old male (The Kansas City Star)
Hall of Famer Bill Mott wins trainer of year at Eclipse Awards (Washington Post)
Bill Mott is crowned leading trainer of the year (ESPN.com)
Musical Romance wins Eclipse for top female sprinter (Ocala.com)
Havre de Grace wins Horse of the Year, Chad Brown trainee earns award (The Saratogian)
Hansen wins Eclipse Award (Cincinnati.com)
Another easy victory for Hansen (The Blood-Horse)
Kyle Frey wins Eclipse for Apprentice Jockey (ESPN.com)
BC Classic win voted NTRA Moment of the Year (The Blood-Horse)
Words flow like wine at the Eclipse Awards (Daily Racing Form)
Gulfstream Park to host 2013 Eclipse Awards (Sacramento Bee)
Some of Dick Jerardi's Eclipse votes went against the grain (Merced Sun-Star)
Sport of Kings now driven by partnerships: Get in the Game (Bleacher Report)
Eclipse a big win for Ocala Stud Farm (Ocala.com)
Rapid Redux's streak stood out in a weak year (Washington Post)
Eclipse Sprint Champion Amazombie launches 2012 Season Saturday in Palos Verdes Stakes (Santa Anita.com)
Lots of stakes, including the Lecomte, on Saturday at Fair Grounds (ESPN.com)
I Want Revenge headlines Evening Attire at Aqueduct Saturday (Horseracingnation.com)
A look at some of the leading horses on the Kentucky Derby trail (Bleacherreport.com)
Jeff Frank at The Sports Network offers a list of Derby contenders that strays from conventional wisdom (The Miami Herald)
Staying ahead of the herd for Derby Futures in Vegas (Las Vegas Review Journal)
Graham Motion on the value of planning ahead (Thoroughbred Times)
Five questions: For jockey Perry Ouzts (Cincinnati.com)
Aqueduct in danger of being shut down (The Saratogian)
Law paves way for horse betting at NJ restaurants & taverns
(
NJToday.net
)
Gearing up for live racing at Sam Houston Race Park January 20 (Examiner)
Q&A: 'Luck' Star Dustin Hoffman has personal ties to Santa Anita (ArcadiaPatch.com)
HBO: Luck $50,000 Challenge (Style Flavors.com)
Santa Anita, HRTV offer documentary Contest (The Blood-Horse)
Lexington Thoroughbred farms reach out to fans (Southsider Magazine)
Retired Thoroughbred racehorses sought for equine lifestyle TV series (HorseChannel.com)
Frankel named world's best Thoroughbred (TaylorVintors.com)
The history of horse racing dates back to prehistoric times (Philjaelearning.org)
A brief history of Black jockeys in the United States (Forbes)
---

IN THE BLOGOSPHERE
top
Saint Liam's greatness lives on in Havre de Grace (Alicia Wincze on Horse Racing)

Could there be a fourth consecutive female Horse of the Year in 2012? (The Blood-Horse)

A look back at the Eclipse Awards program (HorseraceInsider.com)

An unusual path to Acclamation (Running Roughshod)

Drosselmeyer's Breeders' Cup Classic win named NTRA "Moment of the Year" (Winstarfarm.com)

AP Indy's influence spreading into the future (Paulick Report)

Lecomte Stakes – an early path to the Triple Crown (HorseRacingGame.com)

An update on Union Rags (Kentucky Derby Tours.com)

Union Rags returns to work tab (Chasing The Derby.com)

Three-year-olds to watch (In the Money)

A pedigree-based look at some Kentucky Derby contenders (Up the Track)

Creative Cause gives Harrington hope in 2012 (Anddownthestretchtheycome.com)

Point/counterpoint: To Honor and Serve vs. Tapizar (Horse Racing Nation)

Favorite races of 2011: Frankel and Hansen (Anddownthestretchtheycome.com)

Veteran jockey Mark Guidry talks comebacks, Katrina and starting out at Louisiana bush tracks (Racing in the Sunshine)

A sound idea: a spotlight on trainer Eddie Kenneally (The Blood-Horse)

Profile of new, young trainer Katerina Vassilieva (Triple Dead Heat.com)

The top five ways to initiate a new barn employee at the race track (Doug O'Neill's Barn Blog)
CALENDAR top

RACING TO HISTORY
top
Jan. 19, 1955: Swaps won the San Vicente Stakes, the first race of his three-year-old campaign, by 3 ½ lengths at Santa Anita Park. He went on to triumph over Nashua in the Kentucky Derby, but was in turn defeated by his rival in a $100,000 match race at Washington Park on Aug. 31, his only loss of that year.
Jan. 20, 1972: Secretariat was shipped from Virginia to Florida to be trained by Lucien Laurin.
Jan. 20, 1979: Odds-on favorite Affirmed, with Steve Cauthen aboard, finished second in the San Fernando Stakes at Santa Anita, beaten 2 ¾ lengths by Radar Ahead. It was their fourth consecutive defeat. Cauthen subsequently lost the mount on Affirmed to jockey Laffit Pincay Jr., who rode the horse for the remainder of its four-year-old season, winning seven victories in as many starts. Affirmed was later voted Horse of the Year for 1979. Cauthen had ridden Affirmed to a Triple Crown sweep the previous year and the pair recorded 11 wins in their 16 races together.
Jan. 22, 2005: Jockey Russell Baze passed Bill Shoemaker to take over second place on the all-time win list when he picked up his 8,834th victory aboard Hollow Memoires in the seventh race at Golden Gate Fields.
Jan. 23, 1994: Pat Day, 40, became the 10th rider in North American racing history to ride 6,000 winners when he rode Miss Popsnorkle to victory in the first race at Oaklawn Park.
Jan. 24, 1974: Jockey Chris McCarron rode his first race, finishing last aboard Most Active at Bowie Racecourse.
Jan. 26, 1950: Citation's 16-race win streak came to an end in the La Sorpresa Handicap at Santa Anita. Despite giving 16 pounds to the winner, Miche, Citation, carrying 130 pounds, lost only by a neck.
Jan. 27, 1973: Penny Chenery accepted the Eclipse Award for Horse of the Year on behalf of Secretariat, who was also voted champion two-year-old of 1972.
Jan. 27, 2003: Azeri became the first female since Lady's Secret in 1986 to receive the Eclipse Award for Horse of the Year.
Jan. 28, 1979: Bob Baffert won his first race as a Thoroughbred trainer, saddling Flipper Star to win the second race at Rillito Park in Tucson, Ariz. The winner's share of the $600 purse was $330.
Jan. 28, 1999: The Thoroughbred Owners and Breeders Association and the National Horsemen's Benevolent and Protective Association announced the creation of the "Claiming Crown," a six-race event to be held at Canterbury Park.
Jan. 28, 2006: Hall of Fame jockey Jerry Bailey rode the final race of his career at Gulfstream Park, finishing second aboard Silver Tree in the Sunshine Millions Turf. Bailey retired with 5,892 victories in the saddle and his mounts earned more than $295 million.
Jan. 29, 1960: Future Kentucky Derby and Preakness winner Carry Back finished tenth in his first start ever, a three-furlong race for two-year-old maiden runners at Hialeah. Sired by Saggy, the only horse to defeat Citation during his three-year-old season, out of an undistinguished mare named Joppy, Carry Back became a popular runner and was dubbed "the people's horse."
Jan. 29, 1969: Patti Barton, a 24-year-old exercise rider, applied for a jockey's license in Las Cruces, N.M. The stewards declined to act on the application, which if approved would have made Barton the first female licensed jockey in Thoroughbred racing.
Jan. 29, 1973: Forego, eventual three-time Horse of the Year, 1974-76, broke his maiden by eight lengths in his second career start, at Hialeah Park.
Jan. 29, 2003: Hall of Fame jockey Laffit Pincay Jr. gained his 9,500th career win aboard Saxony in the fifth race at Santa Anita.
Jan. 29, 2007: Barbaro, the 2006 Kentucky Derby winner, was euthanized at the New Bolton Center in Kennett Square, Pa., due to complications from laminitis. Barbaro had developed laminitis while recovering from an injury to his right hind leg suffered during the 2006 Preakness Stakes.
Jan. 30, 1981: Jockey Julie Krone rode in her first race ever, finishing second by three lengths in a six-furlong sprint for $3,500 maiden claimers at Tampa Bay Downs. Her mount, a 22-1 shot trained by Jerry L. Pace, was named Tiny Star.
Jan. 30, 1992: For the second time in one month, jockey Mike Smith won six races in one day at Aqueduct Racetrack. His first six-winner day at Aqueduct occurred Jan. 13.
Jan. 31, 1958: Jockey Bill Shoemaker notched his 3,000th career win, aboard Eternal Pere, in the eighth race at Santa Anita Park.
Feb. 1, 1941: Golden Gate Fields opened for its inaugural race meet. After a five-day "season," the track was forced to close because severe rainstorms washed out the racing surface. The advent of World War II prevented the facility from reopening until Sept. 9, 1947.
Feb. 1, 1999: Owner-breeder and philanthropist Paul Mellon of Rokeby Stable died at his residence in Upperville, Va. He was 91.
Feb. 1, 2008: Jockey Russell Baze won an unprecedented 10,000th race in North America when he guided Two Step Cat to victory in the 3rd race at Golden Gate Fields.
---

WEEKEND STAKES RACES (unrestricted stakes in N.A. worth $75,000 and up)WEEKEND STAKES RACES (unrestricted stakes in N.A. worth $75,000 and up)
top
SATURDAY, JANUARY 21

Lecomte Stakes, 3yo, $175,000, Grade III, 1M 70 yds., Fair Grounds

Palos Verdes Stakes, 4&up, $150,000, Grade II, 6F, Santa Anita Park

Silverbulletday Stakes, 3yo fillies, $125,000, 1M 70 yds., Fair Grounds

Col. E.R. Bradley Handicap, 4&up, $100,000, Grade III, 1 1-16M (T), Fair Grounds

California Oaks, 3yo fillies, $100,000, 1 1-16M, Golden Gate Fields

Louisiana Handicap, 4&up, $100,000, 1 1-16M, Fair Grounds

Kitten's Joy Stakes, 3yo, $100,000, 1 1-16M (T), Gulfstream Park

F.W. Gaudin Memorial Stakes, 4&up, $75,000, 6F, Fair Grounds

Pan Zareta Stakes, 4&up (f&m), $75,000, 5 1-2F (T), Fair Grounds

Pippin Stakes, 4&up (f&m), $75,000, 1 1-16M, Oaklawn Park

Megahertz Stakes, 4&up (f&m), $75,000, 1M (T), Santa Anita Park
SUNDAY, JANUARY 22
La Canada Stakes, 4yo fillies, $150,000, Grade II, 1 1-16M, Santa Anita Park

Sweetest Chant Stakes, 3yo fillies, $100,000, 1M (T), Gulfstream Park

San Pedro Stakes, 3yo, $75,000, 6 1-2F, Santa Anita Park
-30-
MORE