Thursday, January 5, 2012
NTRA Thoroughbred Notebook
PHOTOS OF THE WEEK
top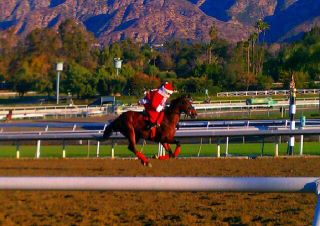 Santa Claus gets a non-reindeer ride on the morning of December 25th at Santa Anita Park. (Image via John Ortiz's Facebook page)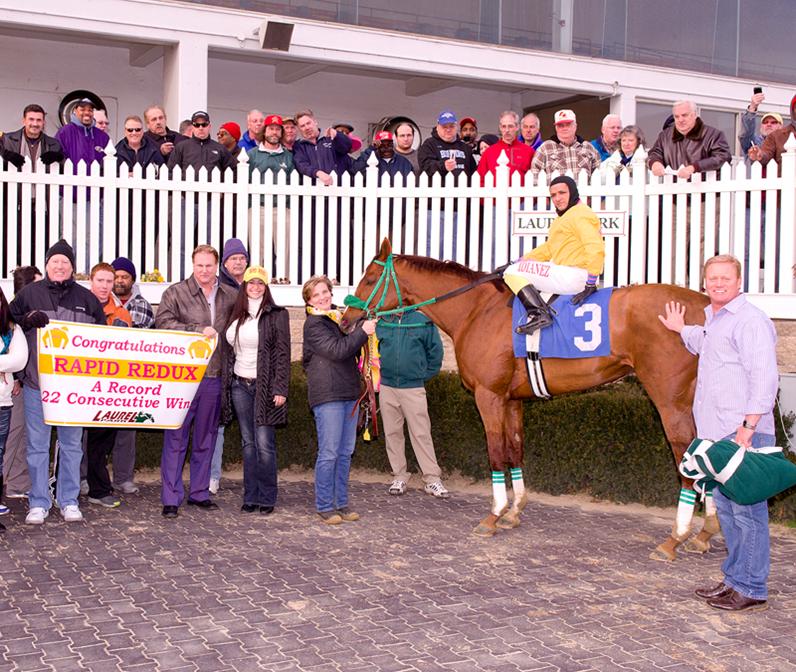 Rapid Redux scores his 22nd consecutive win at Laurel Park on January 4 (Image via Jim McCue, Maryland Jockey Club)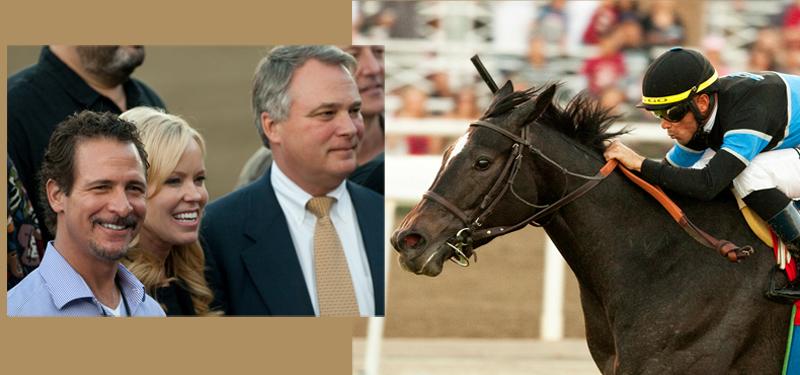 Owner Jim Rome basks in the winner's circle following Mizdirection's win in the Grade III Monrovia Handicap at Santa Anita. (Image via Santa Anita Park/Benoit Photo)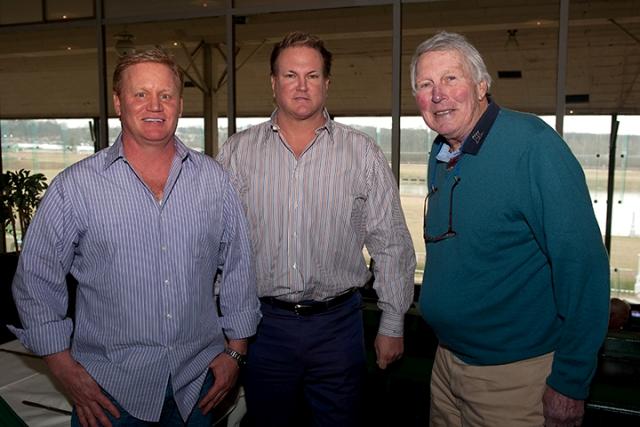 Baseball Hall of Fame legend Brooks Robinson (right) poses with Rapid Redux's trainer David Wells and owner Robert Cole after Rapid Redux scored his 22
nd
consecutive win at Laurel Park (Image courtesy of Jerry Dzierwinski, Maryland Jockey Club)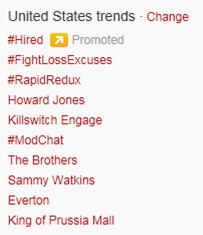 Rapid Redux becomes the second most-talked about non-promoted subject in America on Twitter following his 22
nd
consecutive win on Wednesday
FAN PHOTO OF THE WEEK
top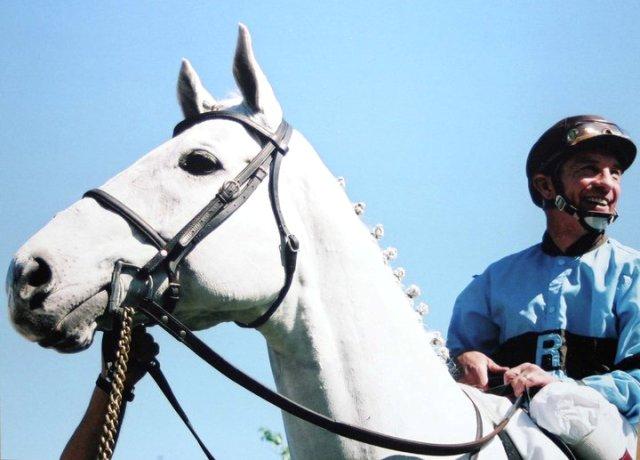 Congratulations to this week's Fan Photo contest winner, Lisa Coates! From Lisa: "This is Chindi and jockey Tim Doocy on the day they retired Chindi. They paraded him in front of the crowd at Oaklawn, and I took this picture when they had him in the winner's circle for the last time."
FOLLOW US ON TWITTER

@NTRA
top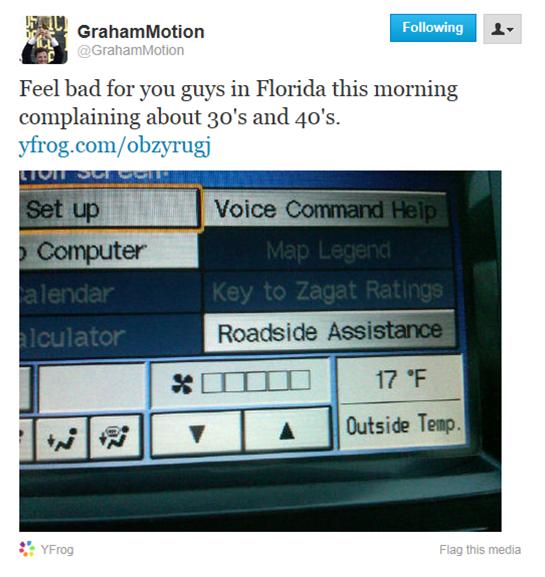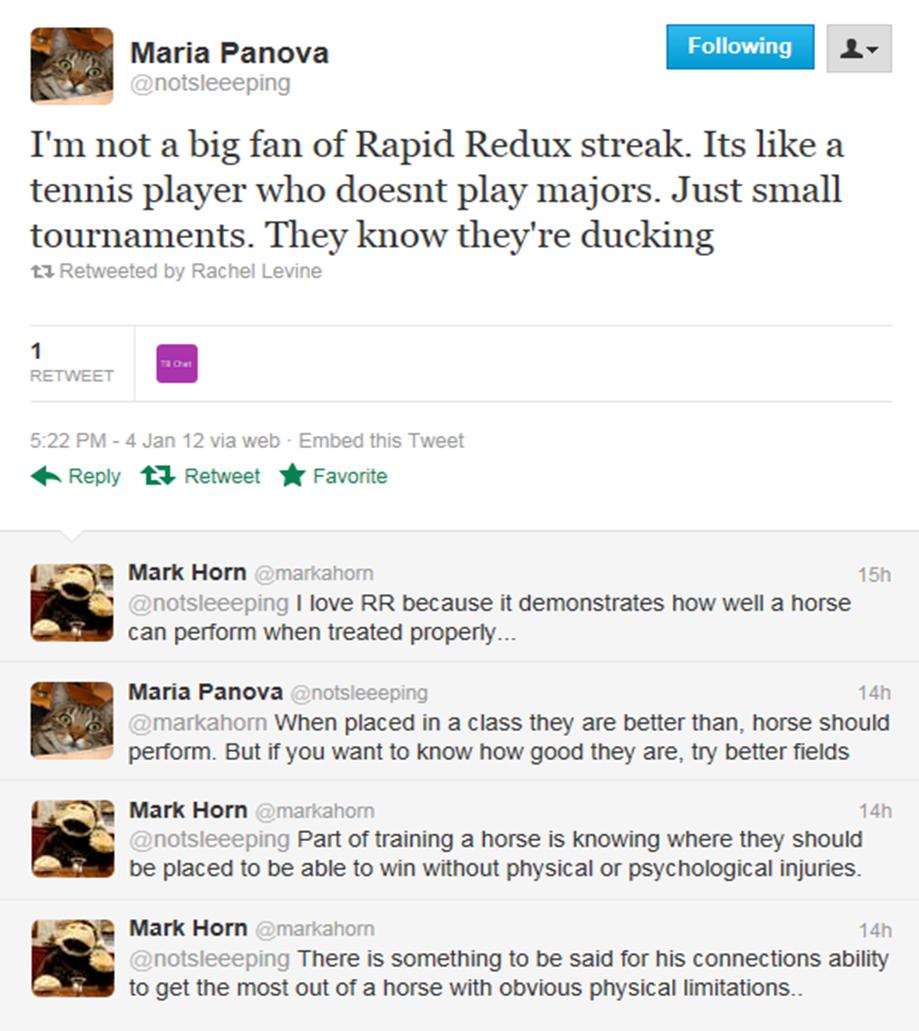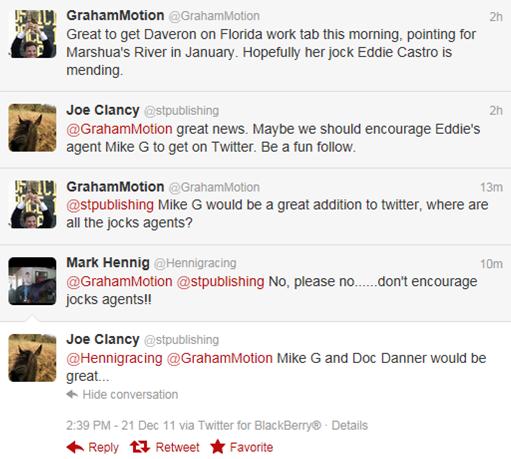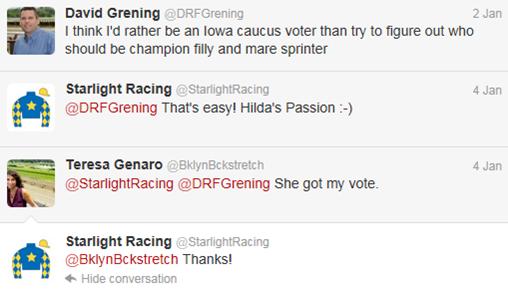 Photo courtesy of of Angie Athayde Stevens
Hall of Fame jockey Gary Stevens rode 4,888 winners and earned purses of $221,212,704 (10th all-time) in a career that stretched from 1979-2005. In 1993, Gary Stevens became the youngest jockey to surpass $100 million in earnings. In 1998, he won an Eclipse Award as the nation's Outstanding Jockey. Always a sought-after pilot, Stevens won three Kentucky Derbys, Two Preaknesses, three Belmont Stakes and Eight Breeders' Cup events.

He also visited the winner's circle of the Santa Anita Derby a record nine times.

Stevens remains a very prominent figure in the sport today, serving as the analyst on NBC Sports' award-winning horse racing coverage. He has also crossed over successfully to the world of acting with a recurring role on the new HBO series "Luck". And, of course, back in 2003, Stevens impressed Hollywood critics with his portrayal of George "the Iceman" Woolf in "Seabiscuit", which received an Oscar nomination for Best Picture.
TWO MINUTE LICK WITH GARY STEVENS
top
Name:
Gary Stevens
Birthplace: Caldwell, Idaho
Most influential person in my career: My dad, Ron Stevens.
Other sports/teams I follow: Boise State University, Minnesota Vikings
Most treasured possession/momento: My Uncle Henry's knife
A pet peeve: When people say, "I'll see you in the winner's circle."
Music I listen to: Country and classic rock
Favorite website I visit daily: The TDN (Thoroughbred Daily News)
Gadget I can't live without: iPhone
Hobbies away from Thoroughbred racing: Golf
Favorite movie: Casey's Shadow
Favorite TV show: Two and a Half Men
Favorite foods: Japanese and BBQ steak
Favorite exercise regimen: Riding horses
What I drive: Nissan 370z
If I could be a guest on any television show it would be: Anderson Cooper
If I were in a band I would play the: Drums
Favorite musician/band: U2
Favorite actor: Charlie Sheen
My philosophy on life: Slow things down.
Favorite animal other than a horse: Giraffe
Twitter handle: I don't tweet.
TRIPLE CROWN WATCH
top

Photo courtesy of Horsephotos.com

LIAISON




Owner:

Arnold Zetcher LLC


Trainer:

Bob Baffert


Sire:

Indian Charlie


Record:

4-3-0-1


Earnings:

$469,560


Current Wynn

Las Vegas Derby odds: 12-1


The skinny:

Has won three in a row, including the CashCall Futurity. Distance aptitude may be the main question.


Photo courtesy of Daily Racing Form

ALGORITHMS




Owner:

Starlight Racing




Trainer:

Todd Pletcher




Sire:

Bernardini




Record:

2-2-0-0




Earnings:

$61,500




Current Wynn Las Vegas Derby odds

: 25-1




The skinny

: Perfect in two sprints, including a win last time over the highly regarded Consortium. Bred to appreciate more ground.


Photo courtesy of Horsephotos.com

EL PADRINO




Owner

: Let's Go Stable




Trainer

: Todd Pletcher




Sire

: Pulpit




Record

: 3-1-1-1




Earnings

: $60,600




Current Wynn Las Vegas Derby odds:

40-1




The skinny

: Beaten less than a length when third behind O'Prado Again in the Remsen. Training now at Palm Meadows.


Photo courtesy of Horsephotos.com

ROUSING SERMON




Owner:

Mr. and Mrs. Larry D. Williams


Trainer:

Jerry Hollendorfer


Sire:

Lucky Pulpit


Record:

6-2-2-2


Earnings:

$274,000


Current Wynn Las Vegas Derby odds:

20-1


The skinny

: Cal bred overcame wide trips to finish a good, closing second behind Liaison each of last two tries.


Photo courtesy of Horsephotos.com

ALPHA




Owner:

Godolphin Racing LLC




Trainer

: Kiaran McLaughlin




Sire

: Bernardini




Record

: 3-1-1-0




Earnings

: $90,000




Current Wynn Las Vegas Derby odds

: 35-1




The skinny

: Looks to rebound in Saturday's Count Fleet Stakes at Aqueduct after BC Juvenile flop.


Photo courtesy of Julie Ziek

BASMATI




Owner

: Zillah Reddam




Trainer

: Doug O'Neill




Sire:

Borrego




Record

: 8-1-3-1




Earnings

: $278,800




Current Wynn Las Vegas Derby odds

: 125-1




The skinny:

Experienced colt was disappointing 11th in CashCall Futurity, but has leg up in graded stakes earnings race thanks to runner-up finish in Delta Jackpot.
VOICES top
FROM THE GRANDSTAND
top
Luck
creator David Milch on what horse racing means to him:

"To me, the track is what the river was to Mark Twain. Where you see the most life and interesting people, go there."
Owner Robert Cole, quoted by Marcus Hersh in Daily Racing Form, on Rapid Redux's future after winning his 22nd straight race yesterday:
"We'll give it a week and start looking at the condition books again. The game plan is to keep running him as long as he's healthy."
Owner and sports radio personality Jim Rome on winning Santa Anita's Monrovia Stakes on Monday with Mizdirection:
I've had a lot of really good things happen to me in business and in life, but nothing has ever felt as good as that felt, in a professional sense. I don't know anything that's ever felt that good."
---
VIDEOS OF THE WEEK
top
John Shear, the 90-year-old Santa Anita Park paddock guard who sustained a broken back and internal bleeding after throwing himself in front of a runaway horse to save a little girl, returns to work at the Great Race Place (
KABC-TV Los Angeles
)
Last night's episode of the ABC hit comedy Modern Family takes a trip to Santa Anita (ABC)
Legendary jockeys Shoemaker, Arcaro and Longden take on Jackie Robinson and the Brooklyn Dodgers in the classic game show "Sports Challenge" (circa 1971) (TheWhammy83 YouTube channel)
Kauto Star, an 11-year-old steeplechase gelding who captured an unprecedented fifth victory in the King George Stakes in Great Britain, is paraded around his hometown of Somerset before a crowd of adoring fans (BBC)
Garrett Gomez considers Mizdirection a contender for the 2012 Breeders' Cup (JimRome.com)
Game On Dude puts in his first work of 2012 (Mary Forney's YouTube channel)
---
IN THE NEWS
top
2011 Eclipse Award finalists announced (
NTRA
)
Cot Campbell to receive Eclipse Award of Merit (Aiken Standard)
Rapid Redux to receive Special Eclipse Award (Thoroughbred Times)
Rapid Redux extends U.S. record with win No. 22 (Chicago Tribune)
Undefeated BC winner Secret Circle stretching out in Saturday's Sham Stakes (The Blood-Horse)
Following the early development of a pricey young filly (ESPN The Magazine)
Havre de Grace expected to arrive at the Fair Grounds on Thursday morning (New Orleans Times-Picayune)
Handle up for Turfway Park's Holiday Meet (Turfway Park)
Jockey Greta Kuntzweiler is making the most of her second chance after drug addiction (Cincinnati.com)
First Winner for Dougherty is Trainer's Second Big Win This Year (Turfway Park)
At 81, trainer Eddie Gaudet putting his stable in the hands of wife and daughter (Baltimore Sun)
Influx of trainers to Laurel Park gives renewed vigor to Maryland racing (Baltimore Sun)
A great time of year for people sick of hearing that their sport is dying (L A Times)
Santa Anita Park is ready for its close-up (Forbes.com)
At Santa Anita, The Factor blows away Malibu foes in front of an opening day crowd of 44,519 fans (Daily Racing Form)
A giant leap forward in Thoroughbred aftercare in New York (ESPN)
Aqueduct casino revenues aim to fund Thoroughbred aftercare programs in New York (Saratogian)
Aqueduct reopens with higher purses and lower takeout (Daily Racing Form)
Richard Grunder back in the announcer's booth at Tampa Bay Downs (Paulick Report)
Churchill Downs' stock is burning up the track (Forbes)
New faces arrive for Oaklawn's opening day (Oaklawn Park)
Santa Anita opener draws biggest crowd since 1994 (Salt Lake Tribune)
HBO's Luck dives deep into horse racing (Wired)
A Q & A with Luck creator David Milch (L A Times)
Documentary will focus on pioneering female jockeys (Aiken Standard)
A look back at the year in horse racing (Tulsa World)
Six trainers who enjoyed the spotlight in 2011 (Saratogian)
Mott plans no changes after strong finish to career year (Thoroughbred Times)
Seven-time champion jockey Jerry Bailey gets his Eclipse Awards say (Daily Racing Form)
Claire Novak and Jennie Rees win Media Eclipse Awards (Miami Herald)
Bob Fortus to join Fair Grounds Press Box Hall of Fame (New Orleans Times-Picayune)
A Standardbred named Blagojevich Focused on Horse Racing, Not Horse Trading (Chicago News Cooperative)
The Factor and Pandorum looking for fresh starts in 2012 (Houston Chronicle)
Chuck Jenda, one of Northern California's most successful trainers over the past 26 years - highlighted by guiding Brown Bess to an Eclipse Award – retires (San Francisco Chronicle)
Betting against the Eclipse Award winner (Wall Street Journal)
"Hats Off to the Horses: The Road to the Derby" is a unique online Derby hat auction to benefit Old Friends (Old Friends Equine.org)
Jockey Leandro Goncalves scored his 1,000th victory (Thoroughbred Times)
War Horse in the news:
Finders Key, the off-the-track Thoroughbred equine star of War Horse, deserves an Academy Award (Thoroughbred Times)
Tom Hiddleston on War Horse, His Devoted Fan Base, and Steven Spielberg's 'Hiddleboner' (New York Magazine)
War Horse a rousing, heartbreaking classic (Miami Herald)
---
IN THE BLOGOSPHERE
top
Brian Zipse gives his picks for the 2011 Eclipse Awards (Horse Racing Nation)

This could mark the first year in the Eclipse Award era that division winners for older male, older female, three-year-old male, and three-year-old filly return to racing (TwinSpires.com)

Horse racing in 2011 from A to Z (ESPN)

Laurel Redux: photo essay by Barbara Livingston (Daily Racing Form)

He's going to Vegas for the NHC! (sort of) (Red Rock or Bust)

Looking at the role of technology in racing (And Down the Stretch They Come)

Santa Anita Park brings smartphones to the races (TECHi)

Luck could pay off for Santa Anita (Daily News)

"Luck" gets high marks from a Seattle restaurant critic (Seattle Weekly)

Kim and David Carroll reflect on the real meaning of Christmas (Louisville Courier-Journal)

Trainer Leigh Delacour gives a first-person perspective of life on the backstretch (Racing in the Sunshine)

Giant Oak retired (Horse Racing Nation)

Brian Zipse takes a look at some of the best races of 2011 (Horse Racing Nation)

Jon White's top 10 performances of 2011 (HRTV.com)

Horse Racing Nation has a Best of 2011 post up that's got some great moments from the past year: (Horse Racing Nation)

The top horse in New York in 2011 (ESPN)

Looking back at racing in Chicago in 2011 (Horse Racing Nation)

Teresa Genaro looks back on her year in racing (Brooklyn Backstretch)

Ten horses to look forward to in 2012 (Thoroughbred Chat)

Duke Hunt lets the old year out and welcomes the new year in horse racing (The Spectrum)

The road to the Kentucky Derby goes through Southern California (Horse Racing Nation)

And the Derby trail also goes through Gulfstream Park (Horse Racing Nation)

Pedigree analysis of some interesting 3-year-olds (Classic Champions)

A look into the process of matching mares to stallions (South Coast Bloodstock)

Adam Mooshian remembers Winter Memories in the Grade I Garden City at Belmont (Facebook)

Point/Counterpoint: Brilliant Speed vs. Mr. Commons (Horse Racing Nation.com)

The hats of Santa Anita's opening day (LA Times)

Racing at Santa Anita: it's always sunny in Arcadia (Pick 4 Blog)


War Horse blogs:

Terry Finley on War Horse and the bond between man and horse (West Point Thoroughbreds)

War Horse earns an A (The AV Club)

Roger Ebert: War Horse recalls a John Ford Western (Chicago Sun-Times)

War Horse offers old-school polish and emotion (LA Times)

War Horse critic: movie is "the most touching bromance I've seen all year" (Eclipse Magazine)
CALENDAR top
RACING TO HISTORY
top
Jan. 5, 1944: A bill permitting off-track betting was introduced in the New York State Assembly. Over the next several decades, a series of bills would be introduced in favor of OTB, which finally gained legal sanction in New York in 1970.
Jan. 5, 1980: Spectacular Bid began his undefeated four-year-old season, winning the Malibu Stakes by five lengths at Santa Anita. The gray colt finished his 1980 campaign a perfect nine-for-nine.
Jan. 6, 1998: Bill Mott was named to take over 1997 undefeated two-year-old Favorite Trick, replacing trainer Patrick Byrne, who accepted a job as a private trainer for owner Frank Stronach.
Jan. 8, 2000: Steven Walker of Lincoln, Neb., captured the inaugural $200,000 Daily Racing Form/NTRA National Handicapping Championship, held at the MGM Grand in Las Vegas. Walker would be presented with the first-ever "NTRA Handicapper of the Year" award on Jan. 17 during the Eclipse Award ceremonies in California.
Jan. 11, 1950: Five-year-old Citation returned to racing at Santa Anita Park, having been sidelined by injury since December 1948. Sent off at odds of 3-20, he won easily over a sloppy surface to log his sixteenth consecutive victory. His winning margins for those races totaled 59 ½ lengths.

Jan. 12, 2001: Affirmed, the 1978 Triple Crown winner, was euthanized at age 26 due to chronic musculo-skeletal problems.
Jan. 13, 1978: Seattle Slew, in training for his four-year-old seasonal debut at Hialeah, first displayed symptoms of the deadly virus Colitis X. The colt was sidelined until May 14, when he won an allowance race at Aqueduct Racetrack as the 1-10 favorite.
Jan. 13, 1989: Jockey Brian Peck was injured when his horse, Top Booking, collided with a deer in the fourth race at Turfway Park. The deer jumped onto the track from the infield, where it had gone to drink from a man-made lake. Top Booking was unharmed, but Peck suffered a broken arm.
Jan. 13, 1997: The National Steeplechase Association became the first horse racing organization in the U.S. to require jockeys to wear "certified" safety helmets, beginning with the 1997 NSA season.
Jan. 13, 2001: Judy Wagner, a grandmother from New Orleans, captured the second annual $212,000 Daily Racing Form/NTRA National Handicapping Championship, held at the MGM Grand in Las Vegas. Wagner received a check for $100,000 and was presented with the "NTRA Handicapper of the Year" award on Jan. 30 during the Eclipse Award ceremonies.
Jan. 13, 2003: Hall of Fame jockey Eddie Delahoussaye announced his retirement. Delahoussaye won 6,384 races and his horses earned $195,881,170.
Jan. 14, 1932: Jockey Eddie Arcaro rode his first career winner, at Agua Caliente.
Jan. 14, 1953: Pimlico's Preakness Stakes, originally slated for May 16, was switched to May 23, allowing for the first time a three-week break after the Kentucky Derby.
Jan. 14, 1998: Jockey Patricia Cooksey became the second female rider to win 2,000 races when she guided Noble Annie to a five-length victory in the second race at Turfway Park.
Jan. 14, 2003: Citing the devastating effects of mare reproductive loss syndrome (MRLS), Keeneland announced that it would not conduct its July selected yearling sale. It was the first time the auction had been canceled since its inception in 1943.
Jan. 15, 1932: Australian champion Phar Lap arrived in San Francisco. He was shipped by steamship to the U.S., en route to Agua Caliente in Mexico, where he was to make his North American racing debut in the March 20 Agua Caliente Handicap, the continent's then-richest race.
Jan. 15, 1969: Barbara Jo Rubin was named to ride in a race at Tropical Park. Thirteen male riders subsequently boycotted the race rather than compete against a female, and were fined $100 each.
Jan. 15, 2004: Hall of Fame jockey Russell Baze won his ninth consecutive Isaac Murphy Award, given to the rider with the year's highest winning percentage.
Jan. 17, 2000: The first ever NTRA "Moment of the Year" award went to the post-race scene after the 1999 Belmont Stakes, when jockey Chris Antley held Charismatic's injured foreleg.
---
WEEKEND STAKES RACES (unrestricted stakes in N.A. worth $75,000 and up)
top
SATURDAY, JANUARY 7

San Pasqual Stakes, 4&up, $150,000, Grade II, 1 1-16M, Santa Anita Park
Count Fleet Stakes, 3yo, $150,000, 1M 70 yds., Aqueduct
Marshua's River Stakes, 4&up (f&m), $100,000, Grade III, 1 1-16M (T), Gulfstream Park
Sham Stakes, 3yo, $100,000, Grade III, 1 1-8M, Santa Anita Park
Busanda Stakes, 3yo fillies, $100,000, 1M 70 yds., Aqueduct
SUNDAY, JANUARY 8
Daytona Handicap, 4&up, $150,000, Grade III, 6 1-2F (T), Santa Anita Park
Rise Jim Stakes, 4&up, $75,000, 6F, Aqueduct
WEDNESDAY, JANUARY 11
Zonk Stakes, 4yo fillies, $75,000, 1M 70 yds., Aqueduct