Thursday, March 8, 2012
NTRA Thoroughbred Notebook
PHOTOS OF THE WEEK
top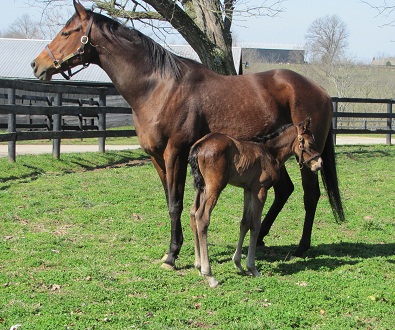 Satulagi, a Stakes winner at Ascot and a half-sister to G3 Iroquois Stakes winner Motor City, gave birth to this filly by the premiere Southern Hemisphere stallion Fastnet Rock at Parrish Hill Farm in Versailles, KY, on March 6. She is believed to be the only Fastent Rock foal in Kentucky. Image courtesy of Hallie Roach Lewis.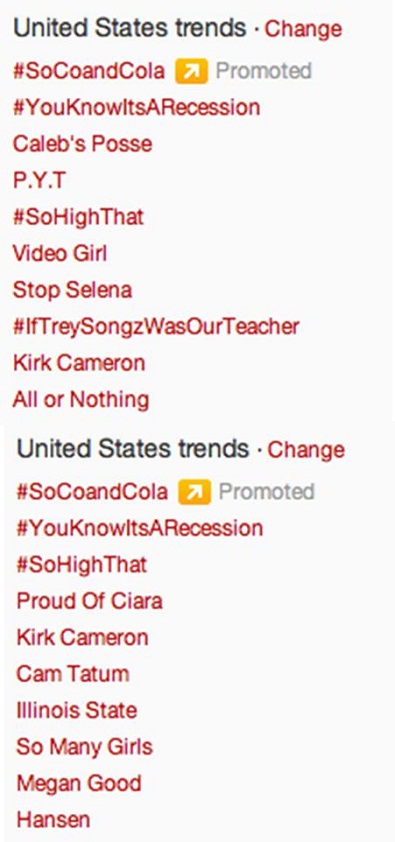 Horses running at Aqueduct trend nationally twice in one afternoon on Twitter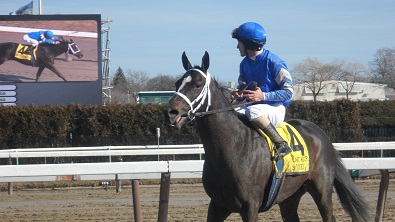 It's Tricky and Ramon Dominguez check the replay of their victory in the Grade II Top Flight Handicap at Aqueduct last Saturday. Image courtesy of Teresa Genaro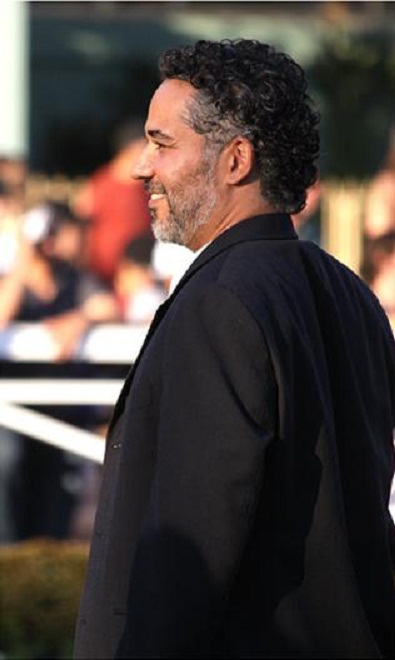 "Luck" actor John Ortiz in the Santa Anita paddock on Big Cap Day. Image via the @ZenyattaMafia Twitter feed.
FOLLOW US ON TWITTER

@NTRA
top
Join cast members from HBO's critically acclaimed horse racing drama Luck and horse racing experts every Monday night at 9 PM Eastern/6 PM Pacific for #LuckChat to discuss the show!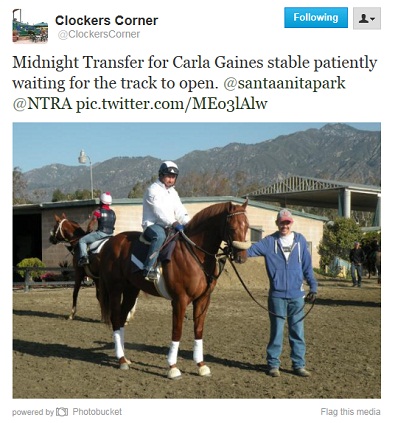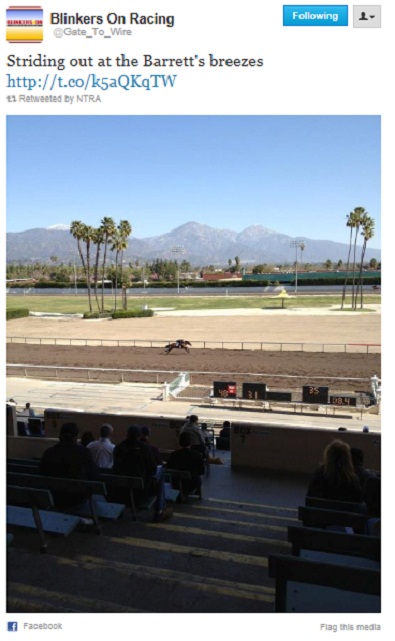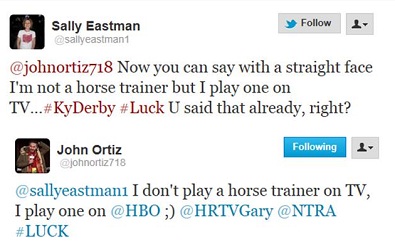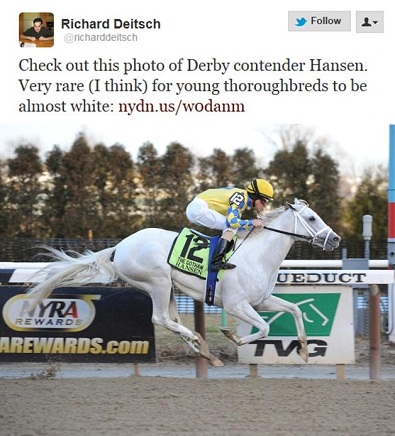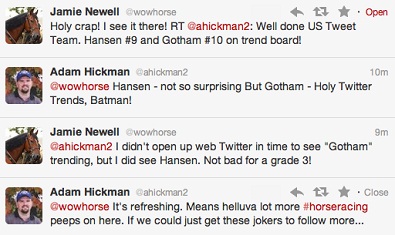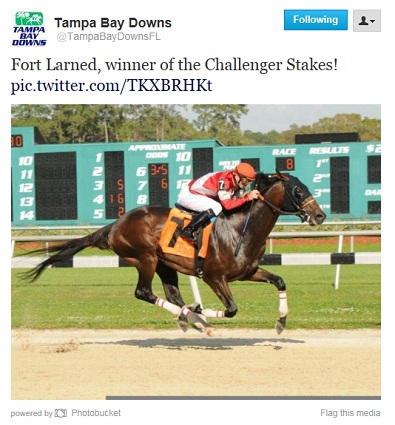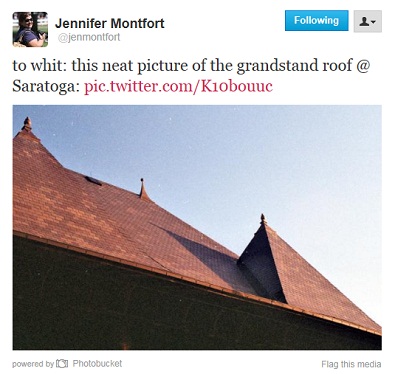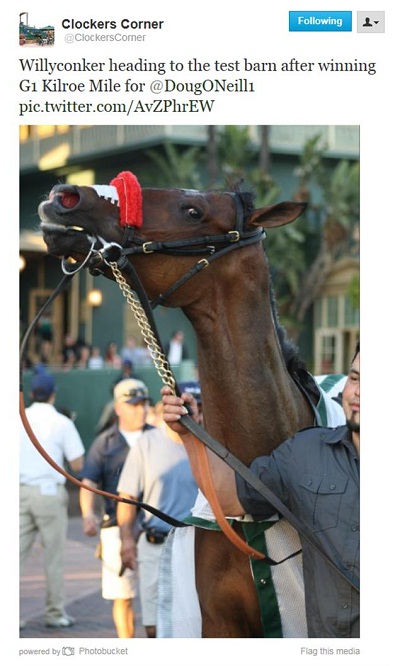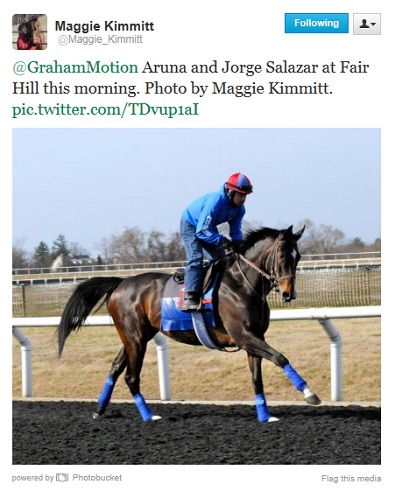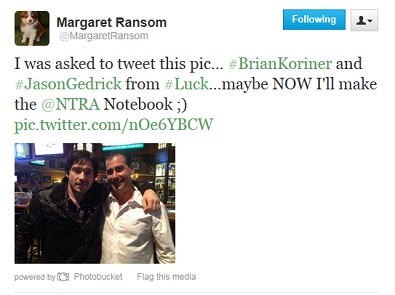 | | |
| --- | --- |
| Image courtesy of John Perrotta | John Perrotta is a writer and executive story editor for "Luck". Prior to joining David Milch's Red Board Productions in 2009, Perrotta worked in numerous aspects of the Thoroughbred racing and breeding industry, including early jobs as a jockey agent, placing/patrol judge and entry clerk. He also served for 15 years as the vice president and general manager of Due Process Stables before working as the vice president of operations for North America for Magna Entertainment Corporation (MEC). In 2004, Perrotta created the Thoroughbred Racing Radio Network and produced the popular "At the Races with Steve Byk" program on SIRIUS/XM satellite radio. He races and breeds Thoroughbreds in the U.S. and Ireland under his own name and with partners under the nom de course Star Stable. |
TWO MINUTE LICK WITH JOHN PERROTTA
top
Name:
John Perrotta




What I do for a living:
Screenwriter

How and when I was introduced to Thoroughbred Racing: Dad, of course. He took me to Monmouth, and I won my first bet on a horse named Parka, trained by the late great Jimmy Croll…I started walking hots and ended up a track degenerate.

My favorite racetrack: Hialeah by a nose over Monmouth

My favorite Thoroughbred racing event: The Irish Derby…a horse that can finish running up the hill at the Curragh is a racehorse.

Other sports/teams I follow: Yankees, Dolphins

What I would like to see more of in Thoroughbred Racing: Customer service from the tracks; take care of the bettors or they'll all go away.

First Thoroughbred track I ever attended was: Monmouth Park

Favorite All-time Thoroughbred: Dr. Fager. Did it all and carried the weight. His UN Handicap win at Atlantic City was one of my favorite races…and I've seen a few.

My personal best moment in the sport of Thoroughbred Racing: Touch Gold winning the Belmont or Dehere in the Champagne.

Best racetrack food can be found at: Oaklawn Park track kitchen, no contest.

My favorite jockey: Thirty-way tie among the ones I was an agent for.

My favorite trainer: Stanley Rieser… "Can I tell you something?"

My heroes: John Sikura, John Magnier, Rob Whiteley, David Milch

My philosophy on life: It's too short to be angry about anything.

Favorite quote or motto: The less you bet, the more you lose when you win.

Favorite animal other than a horse: My dog Oscar

Favorite movie(s): Broadway Danny Rose, Godfather II and Casablanca

Websites I visit daily: Thoroughbred Daily News, Paulick Report

Pet Peeve: Overnight experts who never worked as a hotwalker.

Favorite vacation spot: Barbados

Favorite movie about horse racing: Let it Ride

Alma Mater: University of Miami

Favorite Radio shows/channels: Steve Byk on SIRIUS
FAN PHOTO OF THE WEEK top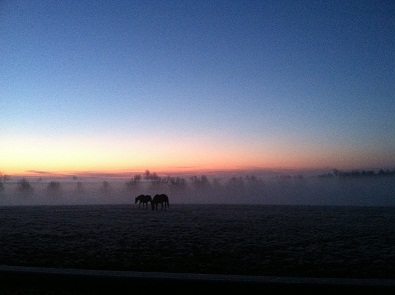 Congratulations to photographer Chelsea Moore, winner of the Fan Photo of the Week contest for March 7! From Chelsea: "I took this at Stonestreet farm one morning."
WING'S WATCH
top
NEW WEEKLY FEATURE: NTRA.com's Eric Wing offers up insights on who he thinks are the Top 40 Triple Crown contenders. (Wing's Watch PDF)
VOICES top
FROM THE GRANDSTAND
top
Jockey Jose Lezcano on Ron the Greek's running style after their win together in last Saturday's Santa Anita Handicap:
"At the half-mile pole I had a lot of horse, but I had to keep asking my horse. My horse is like a bicycle, you keep asking and he will keep running."
Trainer Larry Jones on having Havre de Grace and Joyful Victory work in company Monday morning at Fair Grounds:
"It's kind of like letting Michael Jordan and Scottie Pippen go out and play one-on-one. It just helps them both to get better."
---
VIDEOS OF THE WEEK
top
Are you trailing the field on "Luck"? HBO will get you to the lead with a recap of the season thus far. (
HBO YouTube channel
)
On Fire Baby works at Oaklawn Park (oaklawnjockeyclub YouTube Channel)
Dynaformer enjoys some paddock time at Three Chimneys Farm (johnchun YouTube channel)
TVG phone interview with Dottie Shirreffs, racing manager for Jerry and Ann Moss, on Zenyatta (tvgnetwork YouTube channel)
Emerald Downs morning workouts recap (emeralddowns YouTube channel)
Jim Rome's Mizdirection relaxing in her stall (@TVGresearch Twitter feed)
Classic TV: Mr. Ed knows how to pick a winner (IMDB)
---
IN THE NEWS
top
New racing website scheduled for launch (

The Blood-Horse.com

)

Zenyatta is due (Huffington Post.com)

Trainer Mike Harrington expected to run both Creative Cause and Empire Way in San Felipe this Saturday at Santa Anita (The Blood-Horse)

Battle Hardened looking for two in a row in Tampa Bay Derby (Miami Herald)

Rebel plan comes together (Arkansas News.com)


Sabercat expected to run in the Rebel Stakes (Daily Racing Form)

Hansen owner looks forward to Kentucky Derby (USA Today.com)

Derby favorites come from the heart (ESPN.com)


Out of Bounds off the Triple Crown trail due to fracture (

New York Daily News.com

)

The field edges Union Rags as Derby Future Pool 2 choice (

The Blood-Horse.com

)

The Jockey Club creates website allowing racetracks to show horse injuries, fatalities (The Washington Post.com)

Regally Ready to run in Meydan Sprint Saturday in Dubai (The National.ae)




The Tao of Hoffman (New York Times.com)


Decoding "Luck": The earth quakes and Ace makes his move (Los Angeles Times.com)

"Luck" Season 1, Episode 6 Recap (Wall Street Journal.com)

Michael Gambon, Margarita Levieva added for season two of HBO's "Luck" (Playbill.com)

Ron the Greek wins Santa Anita Handicap (Chicago Tribune.com)

Why this year's older horse crop Is great (Bleacher Report)

Older horses seek opportunities (ESPN.com)

Napravnik wins five races Sunday at Fair Grounds

(

New Orleans Times-Picayune.com

)





Jockeys Borel, Gomez, Solis and Velazquez among finalists for 2012 Hall of Fame (

Washington Post.com

)

Horses really do mature (The Miami-Herald.com)


Study says horses that "draft" are more likely to win

(

Vancouversun.com)


Jockey Club 2012 Online Fact Book (Jockey Club.com)

Cecil says Frankel-Black Caviar clash would be fantastic (Racing Post.com)

Collmus to call Charles Town Classic April 14 (Daily Racing Form)

Kentucky Horse Park to offer kids statewide grooming contest (Kentucky Horse Park.com)
---
IN THE BLOGOSPHERE
top
Kentucky Derby Point/Counterpoint: Empire Way vs. Mark Valeski (Horseracingnation.com)

Thoughts on the latest Derby preps (XPressbet.com)

Hansen, Hansen, Hansen (Horseracingnation.com)

Comparing Wynn, Derby Future Wager odds (Daily Racing Form)

Havre de Grace is almost there (Horseracingnation.com)

"Luck's" tough love: Could David Milch's unflinching HBO series assist in horse racing's revivial? (NormanLearcenter.org)

Pants on Fire burns field (Horseracingnation.com)

WGN-TV to air Illinois Derby for first time (Chicago barntowire.com)

Hansen brings hope to retired race horses (Forbes.com)

Running for Remember Me Rescue (Blood-Horse.com)

OTBB Showcase: Indurain (Paulickreport.com)
NHC NEWS top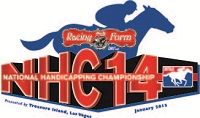 Gulfstream Park Handicapping Challenge set for March 17-18 (
Gulfstream Park
)
Registration opens Tuesday for Keeneland's high-end Grade One Gamble on April 22, offering 5 NHC spots (NTRA)
Treasure Island to host 100% payback NHC Qualifiers April 7, May 6 and June 10 (NTRA.com)
Learn more about the 2012 Daily Racing Form NHC Tour (NHC)
CALENDAR top
RACING TO HISTORY
top
March 8, 1987: Carrying 126 pounds, Zany Tactics set the world record for six furlongs, 1:06 4/5, at Turf Paradise. On Feb. 21, 1993, his time was equaled by Honor the Hero, also at Turf Paradise.
March 8, 1985: Chris McCarron rode his 4,000th career winner, Hawkley (GB), in the fifth race at Santa Anita Park.
March 9, 1977: Seattle Slew made his three-year-old debut, at Hialeah. He won a seven-furlong race in 1:20 3/5, breaking the track record.
March 9, 2009: 2007 Belmont Stakes winner Rags to Riches gave birth to her first foal, a filly by Giant's Causeway, at Ashford Stud near Versailles, Ky.
March 10, 1808: Diomed, the winner of the inaugural Epsom Derby in 1780, died in Virginia at age 31. He had been imported to the U.S. 10 years earlier and subsequently became an influential sire.
March 10, 1993: At age 41, jockey Eddie Delahoussaye had his 5,000th career winner, aboard Ackler in the fifth race at Santa Anita Park. He was the 14th rider in North American Thoroughbred racing to reach that plateau.
March 11, 1943: After siring 350 foals that won over $3 million, 26-year-old Man o' War was retired from stud duty.
March 12, 1966: In the last race of his 40-year career, John Longden won the San Juan Capistrano Handicap at Santa Anita Park, aboard George Royal. He retired with a then-record number of victories, 6,032.
March 13, 2004: Jockey Edgar Prado became the 19th rider to reach the 5,000-win plateau with his victory aboard Wynn Dot Comma in the Swale Stakes at Gulfstream Park.
March 14, 1941: Merrick died at age 38, establishing the longevity record for a Thoroughbred.
March 14, 1973: In his final preparation for the March 17 Bay Shore Stakes, the first race of his three-year-old season, Secretariat worked three furlongs in a blistering :32 3/5.
March 14, 1976: Bill Shoemaker gained his 7,000th career victory, aboard Charlie Whittingham-trained Royal Derby II, in the fifth race at Santa Anita Park.
March 14, 1987: Jockey Laffit Pincay Jr. became the first rider in the history of Santa Anita Park to win seven races in a single afternoon. In his only loss of the day, Pincay finished third aboard Bob Back in the eighth race.
March 17, 1973: In his three-year-old debut, Secretariat won the Bay Shore Stakes at Aqueduct by 4 ½ lengths.
March 18, 2001: Zippy Chippy beat a Standardbred horse named Paddy's Lady at Freehold Raceway. Because the race was an exhibition, Zippy Chippy officially maintained his record of 89 starts without a victory.
March 19, 1942: The Thoroughbred Racing Associations of the United States was formed, with John C. Clark as president.
March 19, 1949: Jockey Bill Shoemaker rode his first career race, at Golden Gate Fields. He finished fifth, aboard Waxahachie, in an eight-horse field.
March 19, 2010: Ramon Dominguez became the 58th jockey to win 4,000 races when he guided Fortyninegeorgest to victory in the second race at Aqueduct.
March 20, 1932: Phar Lap, legendary champion racehorse of Australia, won his only start in North America, the Agua Caliente Handicap at Agua Caliente Racecourse in Mexico. His time for the 1 ¼-mile race was 2:02 4/5, a track record. The six-year-old Phar Lap died one month later and the cause of his death remains a mystery. During his four years of racing in Australia, Phar Lap won 36 of 50 starts.
March 20, 1969: Less than two months after she became the first woman to ride in a parimutuel race in America, Diane Crump rode her first winner at Gulfstream Park.
---
WEEKEND STAKES RACES top
SATURDAY, MARCH 10
Tampa Bay Derby, 3yo, $350,000, Grade II, 1 1-16M, Tampa Bay Downs
Gulfstream Park Handicap, 4&up, $300,000, Grade I, 1M, Gulfstream Park
San Felipe Stakes, 3yo, $300,000, Grade II, 1 1-16M, Santa Anita Park
Cicada Stakes, 3yo fillies, $150,000, Grade III, 6F, Aqueduct
Hillsborough Stakes, 4&up (f&m), $150,000, Grade III, 1 1-8M (T), Tampa Bay Downs
Swale Stakes, 3yo, $150,000, Grade III, 7F, Gulfstream Park
Honeybee Stakes, 3yo fillies, $125,000, Grade III, 1 1-16M, Oaklawn Park
Razorback Handicap, 4&up, $125,000, Grade III, 1 1-16M, Oaklawn Park
Fred "Cappy" Capossela Stakes, 3yo, $100,000, 6F, Aqueduct
Allen Lacombe Memorial Handicap, 3yo fillies, $75,000, 7 1-2F (T), Fair Grounds
Black Gold Stakes, 3yo, $75,000, 7 1-2 F (T), Fair Grounds
SUNDAY, MARCH 11
Herecomesthebride Stakes, 3yo fillies, $150,000, Grade III, 1 1-8M (T), Gulfstream Park
Palm Beach Stakes, 3yo, $150,000, Grade III, 1 1-8M (T), Gulfstream Park
Las Flores Stakes, 4&up (f&m), $100,000, Grade III, 6 1-2F, Santa Anita Park
Bryan G. Stakes, 4&up, $75,000, 1M, Aqueduct
TUESDAY, MARCH 13
Bensalem Stakes, 4&up, $75,000, 6 1-2F, Parx Racing
WEDNESDAY, MARCH 14
Limit Stakes, 3yo fillies, $75,000, 1M, Aqueduct
MORE