Thursday, October 11, 2012
AMERICA'S

BEST

RACING

Thoroughbred Notebook


Presented by

NTRA



PHOTOS OF THE WEEK
top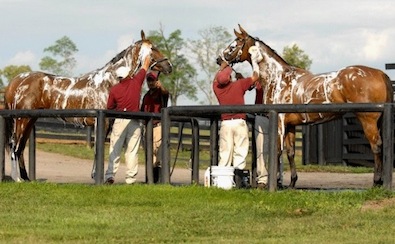 Superstar mares Havre De Grace and Plum Pretty get baths at Taylor Made Farm. (Image courtesy of Justin Wimpy)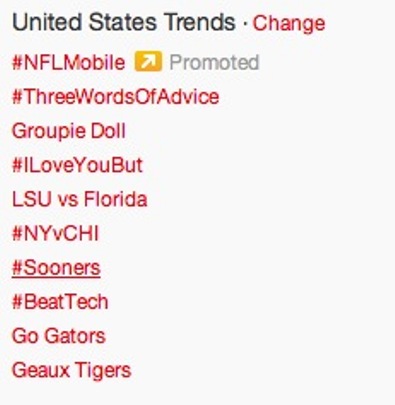 Groupie Doll trends over college football on Saturday after winning the Thoroughbred Club of America Stakes at Keeneland.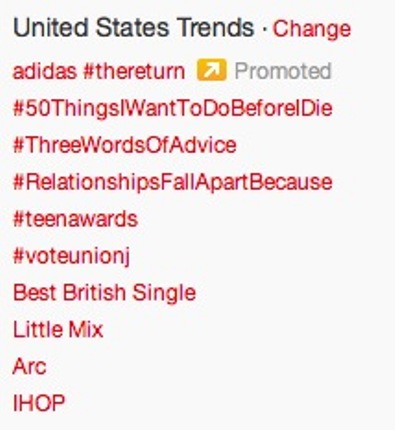 The Prix de l'Arc de Triomphe trends nationally (despite the fact that the race takes place in France!)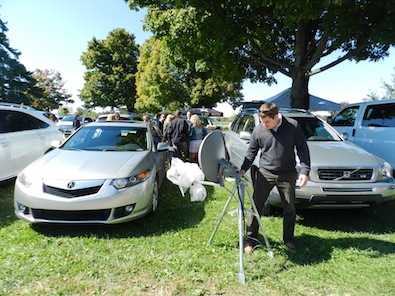 This guy is not messing around! A tailgater at Keeneland sets up a satellite dish so he can catch the action out on the track as well as keep up with the University of Kentucky football game on Saturday.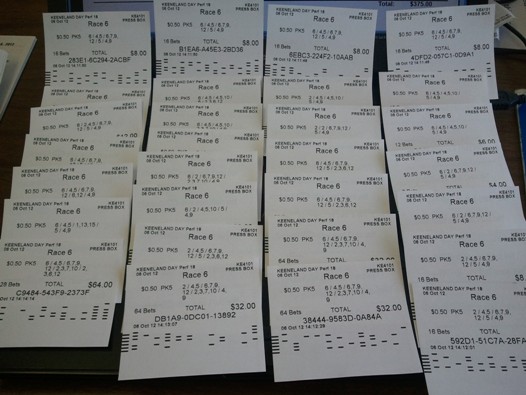 Who says work can't be fun? A racing journalist lays out the day's betting slips in the Keeneland Press Box (Image courtesy of Pat Cummings)
FOLLOW US ON TWITTER

@ABRLive
top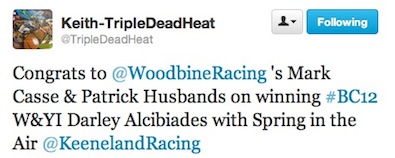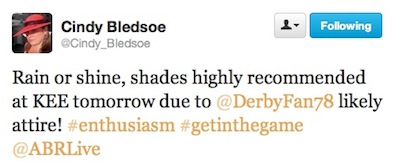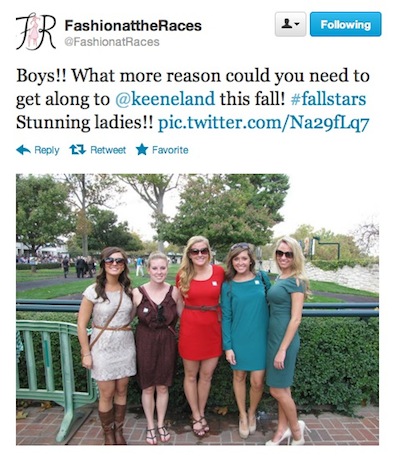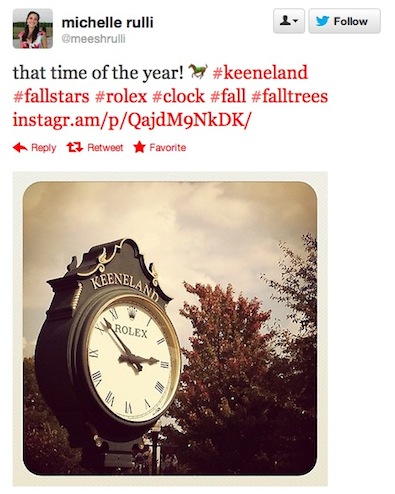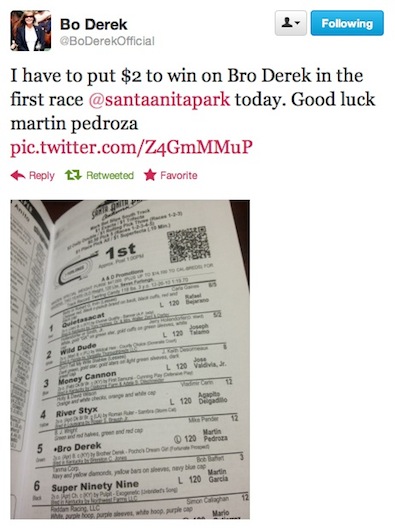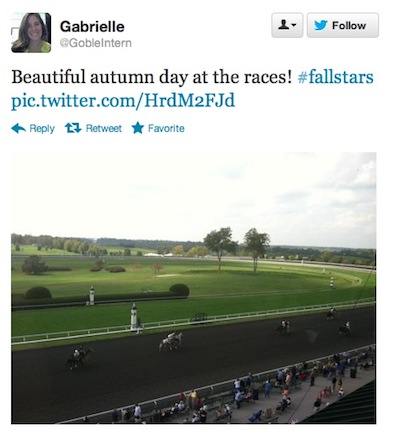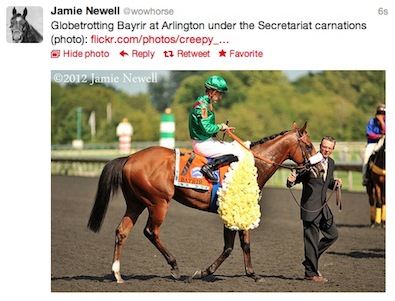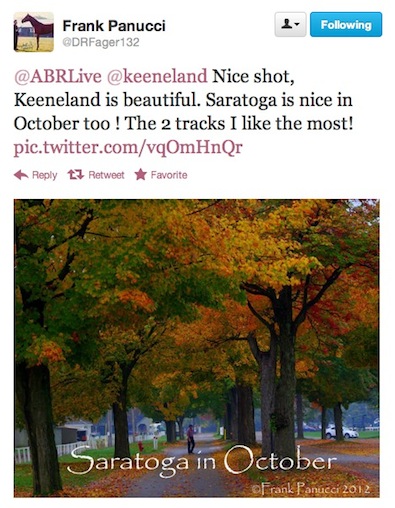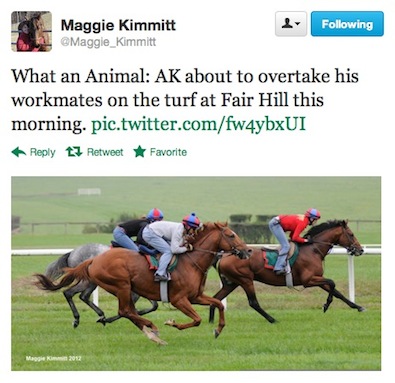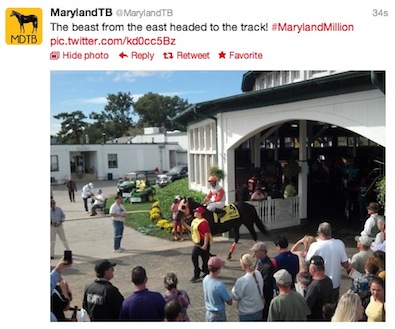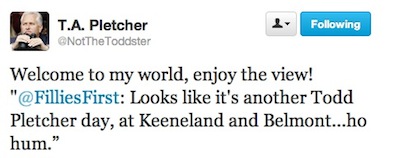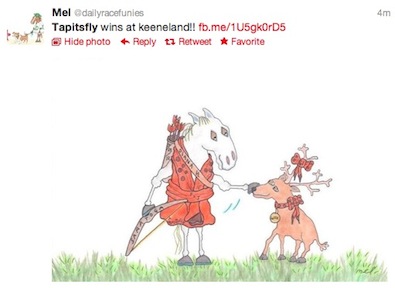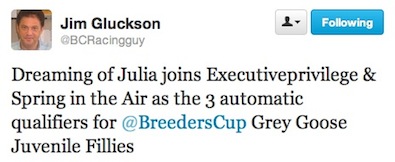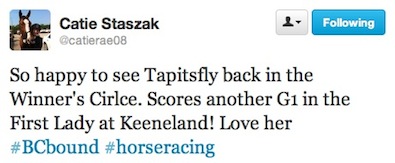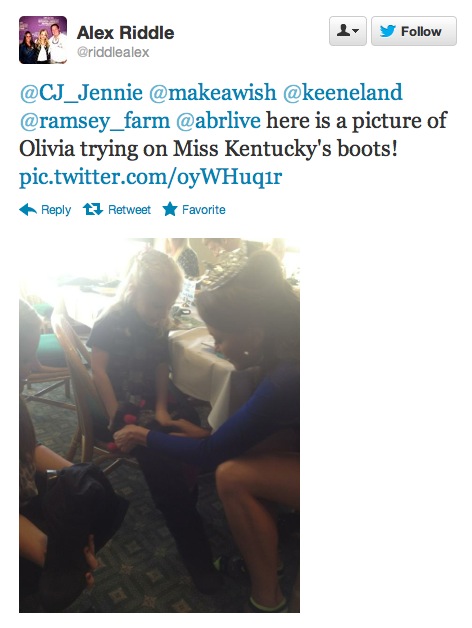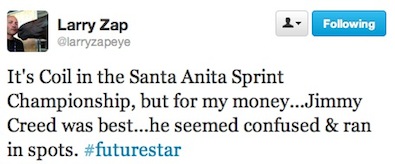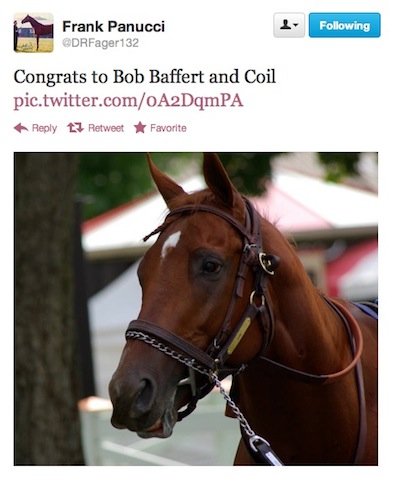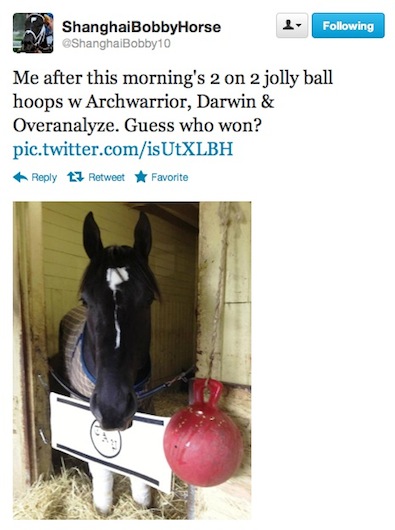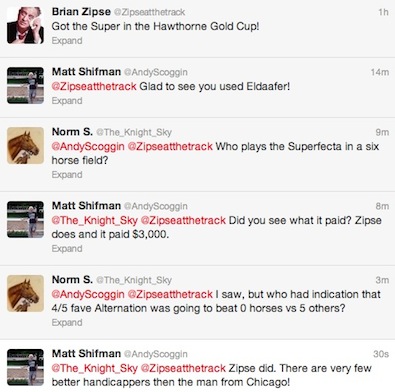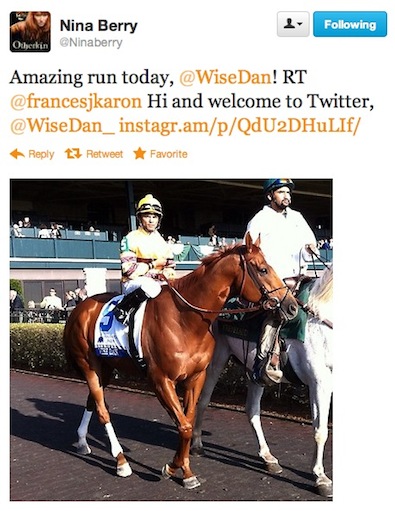 | | |
| --- | --- |
| (Image courtesy of HRTV) | Laffit Pincay III is one of the original members of HRTV's on-air talent stable dating back to the network's beginning in 2002. The son of Hall of Fame jockey Laffit Pincay Jr. is also an anchor/reporter for NBC Sports' Triple Crown coverage and its Breeders' Cup, Road to the Kentucky Derby and Summer at Saratoga telecasts. |
TWO MINUTE LICK WITH LAFFIT PINCAY III
top
Name: Laffit Pincay III

What I do for a living: Sports anchor/reporter (HRTV/NBC)

How and when I was introduced to Thoroughbred Racing: My father was a jockey for nearly 40 years

My favorite racetrack: Santa Anita

My favorite Thoroughbred racing event: Kentucky Derby

Other sports/teams I follow: Ridiculous Raiders fan, Dodgers, Lakers

What I would like to see more of in Thoroughbred Racing: Central leadership

What I would like to see less of in Thoroughbred Racing: Racing! Give the fans a chance to miss the game during an "offseason". Some time off during the year would do the horses and horsemen some good, giving them a chance to rest/regroup. Sometimes less is more.

First Thoroughbred track I ever attended was: Either Santa Anita, Hollywood Park or Del Mar – I was too young to remember.

Favorite All-time Thoroughbred: Swale

My personal best moment in the sport of Thoroughbred Racing: Interviewing Team I'll Have Another in the Derby and Preakness winner's circles for NBC

Best racetrack food can be found at: Christine Lee's. I spend way too much time there whenever I'm near Gulfstream.

My favorite jockey: Aside from the obvious (my dad), it's The Shoe, Angel Cordero and Jorge Velasquez.

My favorite trainer: Woody Stephens

My Heroes: Dad and Jim McKay. And the Gangnam style dude is now in the conversation.

Person in Thoroughbred Racing I'd like to have dinner with: Former Jockey/trainer Walter Swinburn. I'd like to know (first-hand) what it was like to be around and ride Shergar.

My philosophy on life: If you have to think about it, don't hit "SEND."

Favorite quote or motto: Hall of Fame catcher Yogi Berra describing a switch hitter: "He hits from both sides of the plate; he's amphibious."

Favorite animal other than a horse: I'm a sucker for stray anything.

Favorite non-Thoroughbred racing sports event I have attended: The 2005 BCS title game at the Rose Bowl (even if Texas did beat USC). Vince Young…not someone I'd like to have dinner with.

Favorite food: Cuban

Favorite vacation spot: Maui

Favorite city: New York

Favorite all-time movie(s): Godfather, Raging Bull, Snatch

Favorite TV Shows: Newsroom, Entourage, and I'm a Shark Week junkie!

Favorite hotel: Las Ventanas in Cabo San Lucas

Websites I visit daily: Bloodhorse, NFL, ESPN

What I drive: Porsche

Pet Peeve: Being asked what kind of car I drive. (C'mon that was funny)

Favorite movie about horse racing: Seabiscuit

Favorite Radio shows/channels: Jim Rome show

Best Book I recently read: Friday Night Lights

Favorite Memento: My father's "Derby" whip

Favorite Dessert: Black n' white milkshake

What I like about my job: The team effort it takes to produce a good show. Watching it all come together from a rundown on paper to the on-air finished product.

Twitter Handle: @HRTVLaffit

No. 1 Bucket List Item: I've never been to Europe
VOICES
top
FROM THE GRANDSTAND
top
Trainer Charlie Lopresti on whether Shadwell Turf Mile winner Wise Dan might return to dirt for the Breeders' Cup Classic at Santa Anita:
"For him to run on a track that he never has been on and face a horse like Game on Dude that has won over the track would be like throwing him to the wolves."
NPR's Scott Simon on Twitter:
"Told my wife Cabrera is the first player to win Triple Crown in 45 years and she said, 'Why does he run against horses?'"
---
MULTI-MEDIA top
Video: Replay of last Sunday's 2012 Prix de l'Arc de Triomphe, which was won in dramatic fashion by Solemia over Orfevre (YouTube.com Shalakhani)

Video: Now get an idea of how Japanese racing fans felt last Sunday as they watched the Japan-based Orfevre take command in the stretch only to be overtaken near the wire by a horse he had already passed (Kohsuke Miyata's YouTube channel)

Photos: Picture-perfect Fall Stars Saturday at Keeneland (America's Best Racing)

Video: Tailgating part of the fabric of Keeneland's meet (America's Best Racing)

Video: Catching up with trainer Graham Motion in the Keeneland paddock (@trifectabox's Twitter feed)

Video: Fans at Keeneland guess what obscure horse racing terms mean (America's Best Racing)

Video: Hall of Fame trainer Bill Mott discusses the high level of competition at every Breeders' Cup (America's Best Racing)

Video: Arlington Park jockey Tim Thornton takes fans along on one final ride in the final 2012 installment of "Behind the Silks" (YouTube Closing Week)

Video: Zenyatta statue unveiled at Santa Anita Park (America's Best Racing)

Video: Craig Ferguson and his horse mascot Secretariat dance Gangnam style on the Late Late Show (Fergufool's YouTube Channel)
---
IN THE NEWS
top
Pattison Canadian International prospect Wigmore Hall accustomed to frequent flying (Daily Racing Form)
Woodbine's dedicated page for the Pattison Canadian International (Woodbine Entertainment)
Queen Elizabeth II Challenge Cup marks rubber match between Centre Court, Stephanie's Kitten (Daily Racing Form)
Juvenile purses get bump for Cal Cup Saturday (The Blood-Horse)
Farms, industry groups announce support for Thoroughbred Aftercare Alliance(The Blood-Horse)
The Jockey Club will increase fees by $25 in support of the Thoroughbred Aftercare Alliance (The Jockey Club)
N.Y. to act on Racehorse Health and Safety Task Force findings (The Horse.com)
Laurel race finishes with two dead heats (The Blood-Horse)
Another solid month for U.S. wagering, purses (The Blood-Horse)
Jerkens in long line of trainers thriving after 70 (Daily Racing Form)
Leatherbury's numbers, longevity merit place in Hall of Fame (Daily Racing Form)
It has been a trying year for Bob Baffert (ISportsweb.com)
Dullahan recoups for Breeders' Cup (The Kansas City Star)
Grace Hall joins already-deep cast of BC Ladies' Classic (Daily Racing Form)
Arc winner Solemia on the fence for the BC Turf; decision expected by Friday (Daily Racing Form)
2012 Breeders' Cup contenders: Final preps nearly complete (SB Nation)
Acclamation out of Breeders' Cup (The Blood-Horse)
Wise Dan regains lead from Game on Dude in NTRA Poll (The Kansas City Star)
An American in Paris for the Arc (ESPN)
The racy In Lingerie pays off for Eclipse Thoroughbred Partners in Juddmonte Spinster (Forbes)
All in a Day: Keeneland and the Red Mile (Business Lexington)
Pool Play makes a 16-1 splash in the Hawthorne Gold Cup (Horse Racing Nation)
Napravnik to ride at the Fair Grounds this season (The Times-Picayune)
Turf Paradise implements protocol to ensure jockey fitness (Daily Racing Form)
What's missing in the racing medication debate? (Paulick Report)
Putting the horse first (Paulick Report)
Claiming game put under the microscope (Daily Racing Form)
IFHA applauds Jockey Club medication reform efforts (The Horse.com)
'Miracle' horses: Survivors of van accident returning to the races (Paulick Report)
Massachusetts gaming act promises horse racing purse boost (Boston Globe)
Keeneland withdrawing from pro-casino KEEP group (Louisville Courier-Journal)
Breeders' Cup Celebrity Poker Invitational set for October 30 (Breeders' Cup)
A sports psychologist's insight into the horse racing industry (Huffington Post)
Calder to honor retired Thoroughbreds (HorseraceInsider)
OTTB Showcase: Lucky K J aka My Kona Boy (Paulick Report)
---
IN THE BLOGOSPHERE
top
72Some Breeders' Cup morning-line favorites from the linemaker, himself (Xpressbet.com)

Ladies' Classic the right spot for Royal Delta (Xpressbet.com)

Remembering the 1988 Breeders' Cup Ladies' Classic, the greatest of them all (Horse Racing Nation)

Impressions from another Super Saturday (Daily Racing Form)

Quick hits from the big weekend (HorseRaceInsider.com)

Is Wise Dan on track for Horse of the Year? (Horse Racing Nation)

Meadowlands Racetrack opens this weekend (NorthJersey.com)

California apprentice jockey Arnold Perez is taking it one day at a time (Horse Racing Nation)

A million reasons why you should come back to the Maryland Million (WBAL 1090am)

Embracing I-gaming (The Blood-Horse)

Claiborne Farm announces 2013 stud fees (Louisville Courier-Journal)
CALENDAR
top
RACING TO HISTORY
top
Oct. 11, 1924: A crowd of 60,000 assembled at Latonia to watch the third and final International race, for which a French colt, Epinard, was the headliner. Epinard, who had finished second in his two previous Internationals, did so again, losing as the even-money favorite to Sarazen.
Oct. 12, 1920: In the final race of his career, three-year-old Man o' War defeated 1919 Triple Crown winner Sir Barton in a match race, the Kenilworth Park Gold Cup, at Kenilworth Park. Sent off at odds of 1-20, Man o' War won by seven lengths in his 14th consecutive victory.
Oct. 12, 1966: Damascus, owned by Edith W. Bancroft, broke his maiden at Aqueduct Racetrack, winning by eight lengths.
Oct. 12, 2003: Bill Shoemaker, Hall of Fame jockey who won 8,833 races including four Kentucky Derbys, died at age 72.
Oct. 13, 1927: Arlington Park opened. The track, built by H. D. Brown, had a steeplechase course and a polo field and was adjacent to tennis courts, a golf course and a one-mile training track.
Oct. 13, 1956: At age four, 1955 Horse of the Year Nashua won his last race, the Jockey Club Gold Cup Stakes at Belmont Park.
Oct. 13, 1984: At age nine, odds-on favorite John Henry won his last race, the Ballantine's Scotch Classic at The Meadowlands, to earn the richest purse of his career, $740,000, which included a $500,000 bonus for winning both the Turf Classic, run at Belmont Park on Sept. 22, and the Meadowlands' race. John Henry retired as America's then-richest horse with earnings of $6,597,947.
Oct. 14, 1952: Jockey Bill Hartack rode his first career winner, at Waterford Park.
Oct. 14, 1953: After a 21-year hiatus as a professional jockey, Earl Sande, 54, won his first race in a comeback, with Miss Weesie, at Jamaica. Sande's comeback began on Oct. 5 and ended with his win at Jamaica, where he received an ovation from a crowd of 18,184.
Oct. 14, 1968: Sandy Hawley won his first race aboard a two-year-old gelding named Fly Alone, riding at Woodbine Racecourse.
Oct. 14, 1972: After finishing first in the Champagne Stakes at Belmont Park, Secretariat was disqualified and placed second, after bearing in on Stop the Music, who was declared the official winner.
Oct. 15, 1977: In the fifth of their 10 meetings, Alydar won his second victory over Affirmed in the Champagne Stakes at Belmont Park.
Oct. 17, 1970: Nijinsky II ended his career finishing second in the Champion Stakes at Newmarket. In 13 races he won 11 times and finished second twice.
Oct. 17, 1986: Kent Desormeaux made his Maryland debut, in the fourth race, at Laurel Racecourse, Laurel, Md., aboard Shonda's Shickels. He finished second, but was disqualified for interference and placed fourth.
Oct. 17, 1991: Hall of Fame jockey Angel Cordero Jr. rode his 7,000th victory aboard Dont Cross the Law at Belmont Park.
Oct. 18, 1956: Nashua, ridden by Eddie Arcaro, was paraded at Keeneland in his last appearance at a racetrack.
Oct. 18, 1973: The owners of Secretariat announced that his last race would be the Canadian International Championship Stakes at Woodbine Racecourse.
Oct. 18, 1976: MacK Miller swept the top three spots in the Long Island Handicap with his trainees Javamine, Nijana and Fun Forever.
Oct. 18, 1978: Jockey Dave Gall became the first rider to win eight races during a single program. He rode 10 consecutive races for the day at Cahokia Downs, finishing second and fifth in his two losing efforts.
Oct. 18, 2001: Unbridled, the 1990 Kentucky Derby and Breeders' Cup Classic winner, was euthanized after developing colic.
Oct. 20, 1923: Zev, winner of the 1923 Kentucky Derby, defeated England's hero Papyrus, winner of the 1923 Epsom Derby, in a $100,000 match race at Belmont Park. The race, the International Special, marked the first time an English champion had been sent to the U.S. to race. For his victory, Zev was awarded $80,000 and a gold cup valued at $5,000. Public interest in the race was so great that it was broadcast on the radio—a first. Within two days, films of the race were distributed at movie theaters in New York City and, eventually, across the nation.
Oct. 20, 1954: Bill Shoemaker rode his 2,000th winner, Florence House, at Tanforan.
Oct. 20, 2007: Ten-year-old McDynamo won the Breeders' Cup Steeplechase for the fifth consecutive year at the annual Far Hills Race Meeting in Far Hills, N.J.
---
WEEKEND STAKES RACES top
THURSDAY, OCTOBER 11
JPMorgan Chase Jessamine Stakes, 2yo fillies, $150,000, Grade III, 1 1-16M (T), Keeneland

FRIDAY, OCTOBER 12
Buffalo Trace Franklin County Stakes, 3&up (f&m), $100,000, 5 1-2F (T), Keeneland
Rob N Gin Stakes, 3&up, $80,000, 7F (T), Belmont Park
SATURDAY, OCTOBER 13
Queen Elizabeth II Challenge Cup Stakes, 3yo fillies, $400,000, Grade I, 1 1-8M (T), Keeneland
Hawthorne Derby, 3yo, $200,000, Grade III, 1 1-8M (T), Hawthorne
Athenia Stakes, 3&up (f&m), $150,000, Grade III, 1 1-16 (T), Belmont Park
Knickerbocker Handicap, 3&up, $150,000, Grade III, 1 1-8M (T), Belmont Park
Spend a Buck Handicap, 3&up, $100,000, Grade III, 1 1-16M, Calder
Endine Stakes, 3&up (f&m), $100,000, 6F, Delaware Park
Frances A. Genter Stakes, 3yo fillies, $75,000, 1M (T), Calder
Tropical Park Derby, 3yo, $75,000, 1 1-8M (T), Calder
SUNDAY, OCTOBER 14
Pattison Canadian International, 3&up, $1,500,000, Grade I, 1 1-2M (T), Woodbine
E.P. Taylor Stakes, 3&up (f&m), $1,000,000, Grade I, 1 1-4M (T), Woodbine
Nearctic Stakes, 3&up, $500,000, Grade I, 6F, Woodbine
Durham Cup Stakes, 3&up, $150,000, Grade III, 1 1-8M, Woodbine
Ascot Graduation Stakes, 2yo, $75,000, 1 1-16M, Hastings Racecourse
Bulldog Handicap, 3&up, $75,000, 1 1-8M, Fresno
Fantasy Stakes, 2yo fillies, $75,000, 1 1-16M, Hastings Racecourse
THURSDAY, OCTOBER 18
Sycamore Stakes, 3&up, $100,000, Grade III, 1 1-2M (T), Keeneland
MORE
TURN OF FOOT
top
If you trained Wise Dan, which Breeders' Cup race would you put him in?Tweet your answers to @ABRLive!