NTRA Legislative Outreach
Whatever your role is in horse racing, the industry needs your support in Washington, DC. Learn more about how you can get involved.
The NTRA's federal legislative team represents horse racing every day in Washington, DC.  Find out more about the strategy and how you can help.
Buyers, sellers, consignors and their clients may support the Campaign by pledging 1/4 of one percent on the price of horses sold at Keeneland, Fasig-Tipton, Ocala Breeders' Sales Company, Barretts, Breeders Sales Company of Louisiana and the Washington Thoroughbred Breeders and Owners Association. Every $1,000 in a horse's sale price equates to $2.50 to the Campaign.
Consignors, sellers and designated agents may "pre-commit" their pledge by checking the box on Keeneland, Fasig-Tipton and Barretts sales entry forms. Buyers — and sellers who miss the deadline for pre-commitments — can pledge until the close of the sale billing.
For OBS sales, the NTRA requests support following the sales through a letter that details sales activity and lists suggested contribution amounts.
Another way to support the Campaign is through the NTRA's Foal Program.  Owners may contribute $50 per registered foal.
The NTRA conducts a bi-annual direct mail solicitation to fund the Foal Program.  However, owners may send contributions at any time to:  NTRA Legislative Action Campaign, 401 W Main St, Suite 222, Lexington, KY  40507.
100% of contributions to the Campaign are earmarked for Federal lobbying.
If you currently contribute through the ¼ % Check-off Program or the Foal Program, we offer our thanks. Your support is vital to our success and we are grateful that you have chosen to participate.
The Horseplayers' Coalition is the NTRA's legislative voice for horse racing's customers. The Coalition seeks legislative solutions to Federal tax issues that impact horseplayers and pari-mutuel racetracks, and provides grassroots support for NTRA's lobbying efforts on Capitol Hill. The Coalition's Advisory Panel is tasked with helping the NTRA Legislative team identify, establish and prioritize player-friendly legislation.
In 2015, the NTRA made significant progress in its ongoing effort to secure a clarification from the IRS regarding its definition of the "cost of a wager."  This seemingly arcane point is critical to determining whether a winning horse player is subject to IRS reporting and withholding.
Horseplayers wagering on pari-mutuel races currently are subject to reporting of winnings over $600 or more and automatic Federal tax withholding on pari-mutual winnings of $5,000 or more at odds of at least 300-1.  The "cost of a wager," now defined simply as the single winning bet the player makes (versus the total investment made), is at the center of these calculations, which frequently trigger reporting and/or withholding for horseplayers.  Withholding reduces players' liquidity during handicapping and adversely impact pari-mutual handle and purses.  Withholding levels for pari-mutual winnings have been pegged at $5,000 since 1992.  Reporting levels have not changed since the mid-1970s.
Visit the Legislative homepage for updates on the NTRA's work to clarify pari-mutuel withholding and reporting.
Annual membership in the Horseplayers' Coalition is $25. Horseplayers can also join when signing up for the NTRA National Horseplayers Championship Tour (NHC Tour).
If you are already a member of the Horseplayers' Coalition, thank you for your support. Please send us your comments and question – we are always eager to hear from you.
Supporters of the NTRA Legislative Action Campaign programs are eligible to receive preferred pricing from NTRA Advantage, offering products and services from companies like John Deere, Sherwin-Williams, Office Depot/OfficeMax and more.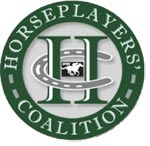 Horse PAC®is the Political Action Committee of the National Thoroughbred Racing Association.  The PAC gives bipartisan support to federal political candidates who:
Serve on Congressional committees that oversee livestock and agricultural issues, Internet gaming, taxation, immigration and the Interstate Horseracing Act
Are established Congressional leaders
Understand horse racing's issues
Have racetracks, OTBs, ADW facilities, breeding farms, training centers or other equine venues in their district
Are members of the Congressional Horse Caucus
Are emerging leaders meriting "early support"
Since 2002, Horse PAC®has supported more than 200 candidates and raised over $3 million.