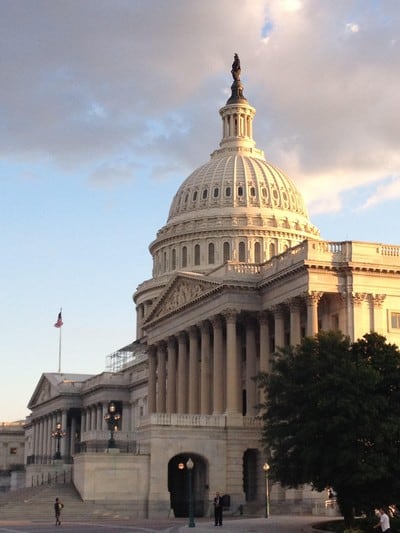 Federal Legislative Advocacy
The NTRA's federal legislative advocacy team addresses issues that have a direct and material effect on Thoroughbred industry participants and their business activities, whether those activities relate to racing, breeding or pari-mutuel wagering.
Along with other industry stakeholder groups inside and outside of racing, the NTRA also supports Congressional education programs on matters like agriculture and immigration which affect all breeds and equine disciplines.
Two programs support the NTRA's work on Capitol Hill.  The Legislative Action Campaign sustains the NTRA's government relations and lobbying efforts.  NTRA's political action committee, Horse PACSM, supports specific candidates for re-election.  Sellers and buyers at public auction, sales companies, owners, farms and horseplayers contribute to the Legislative Action Campaign.  Horse PACSM contributions come from individual NTRA members.
For our industry, it is fundamental for us to have eyes, ears and voice monitoring the activity in Washington. NTRA has provided this leadership and for that I am most appreciative and strong support their efforts.
Our farm lives are demanding enough. It's good to know that the NTRA is there to promote our legislative needs. They have my continued support.
It is of vital importance that every segment of this wonderful industry support the legislative efforts of the NTRA on a national scene. Things just don't happen and we industry stakeholders need to be supportive of groups that see to it that the right things do happen. As a longtime owner/breeder, I have always found the NTRA to be responsive and always taking a leadership role. I do support their efforts and thank them.
As hard as those of us in the industry are working each day on our farms, we can't forget how important it is to have a 'sixth man' like the NTRA supporting our team in Washington.
Background on Effort to Clairfy Pari-Mutuel Withholding and Reporting
2016 Legislative Supporters
We wish to thank the following owners, breeders, and consignors and their clients who have contributed to the NTRA's 2016 Legislative Action Campaign.
A & J Racing
A J Suited
ARH Racing Stable
Akindale Farm
Sheikh Mohammed Bin Khalifa Al Maktoum
Alto Racing
Anderson Farms
Brad Anderson
Mike Anderson
Georgia Andreadakis
Jack G. Arnold
Denny Andrews
Antietam Springs Farm
Douglas Arnold
Ashland Park Stable
Ashview Farm
Ashwell Stables
Carl W. Asmus
B & C Bloodstock
BHMFR
BJD Thoroughbreds
BSW Bloodstock
Jim Ballinger
Rozamund Barclay
Nancy Bell
Vann Belvoir
Bender & Bender
Mr. & Mrs. Howard Bender
Evelyn & Maurice Benoit
Dr. Barrett L. Bernard
Betz Thoroughbreds
Ty Biggs
Bird In Hand Stables
Black Hawk Stable
Black Swan Stable
Blackstone Farm
Ronald Blake
Blue Ribbon Farm
Blue Sky Farm
Bluegrass Thoroughbred Services
Bluewater Sales
Bona Terra Stud
Bona Venture Stables
Kim Bongyoum
Bonita Farm
Erica Bowen
Matt Bowling
Larry & Donna Boyd
Keith Brackpool
Stephanie Bradley
Louis A. Bradvica
Allen & Susan Branch
BranJam Stable
Mark D. Breen
Alvin Bresciani, Jr.
Briar Hill Farm
Bo Bromagen
Brook T. Smith Investments
Brookdale Farm
Brookdale Sales
Chris Brothers
Elise Benedict Browne
Buck Pond Farm
Buckland Sales
Bumbang Equine Clinic
Burleson Farm
Burning Daylight Farms
Stan Burnstein
Bus Stock
CFE Stable
Caduceus Stables
Calabria Farm
Bret Calhoun
Campbell Farms
George J. Castanares
Canvasback Farm
Cara Bloodstock
Centennial Farms
Scott Centers
Chamerolles Farm
Chanceland Farm
Dr. John A. Chandler
Charlton Bloodstock Agency
Gerald Chatterton
Check Mark Stables
Chestertown Farm
Sherman Chin
China Horse Club International
Keith Chudzik
Cicero Farms
Claiborne Farm
Clifton Farm
Club Risque Stable
Coffee Pot Stables
Conover Stable
Conquest Stables
Javier Contreras
Ted Cooper
Cottonwood Stables
Country Life Farm
Crandybrook Farm
Crane Thoroughbred Services
Crestwood Farm
Thomas Cross
Cutting Edge Equine
DJ Stable
DLBI, Inc.
Richard Dancsok
Darby Dan Farm
Dark Hollow Farm
Robert Delaney, Jr.
Raul Delvalle
Frank Demarco
Nick DeMeric
Denali Stud
Cathy T. Denelsbeck
Derby 2011
Dibello Racing Stable
Christian Dickinson
Domenic DiLalla
Richard Dimitri
Joseph Dirico
Michael R. DiTomasso
Dixie Farm
Bobby Dodd
David Donk
Ken Donworth
Double K Farm
Dunn Hill Farm
Jerry Durant
Travis Durr
ELA Racing Stable
EMFO Racing
Eaton & Thorne
Eaton Sales
Donnell Echols
El Capi Racing
Elm Tree Farm
Emcee Stable
Equus Farm
Carlos Estrada
Eutrophia Farm
Jeff Fager
Farfellow Farms
Ferrous Farm
Bernard Flint
Shane Floyd
Flying Diamond Farm
Anthony J. Fontana
Fortuna Ranch Racing
Four Legacy
Four Star Sales
Four Tags Sales
Foxfield Farm Racing
Jerry Frankel
Albert Frassetto
Paulette Franch
Ernest C. Frohboese
Cary Frommer
Funky Munky Stable
Gainesway
Victor L. Garcia
David Geofroy
Glade Valley Farms
Edward Glasscock
Mark Glatt
Glenmalure Farm
Glen Oak Farm
Dash Goff
Richard L. Golden
John Golightly
Robert M. Gorham
Joseph Grasso
Grassroots Training & Sales
Lorna Gray
Deuce Greathouse
Mark B. Grier
Dana Grimaldi
Bruce R. Grossman
Grovendale
Mary K. Grum
Gryphon Investments
HWL Partnership
Mary K. Haire
Tom Halasz
Happy Tenth Stable
Harris Farms
Dr. John C. Harroff
Harry L. Landry Bloodstock
Hartwell Farm
Blake R. Heap
Lee Kyoung Hee
Hebert Bloodstock
S. F. Henderson
Dan Hendricks
Jacob G. Hess
Robert B. Hess, Jr.
Hidden Brook
Hidden Point Farm
Jim & Susan Hill
Hillwood Stable
Carolyn Hine
Hobby Horse Stables
Richard Hoffberger
Michael Horning
T. Bernard Houghton
Horseshoe Valley Equine
David R. Hughes
Hunter Valley Farm
Imagine
Indian Creek Farm
Orrin & Lee Ann Ingram
Joseph Ioia
Daren Ives
JAG Racing
JAH Racing
JAMM LTD
JEH Racing
JR Racing
James Jankiewicz
Michael W. Jawl
JayArDee Stables
Jay Em Ess Stable
Corey Johnsen
Erik Johnson
Mike Jones
Russell B. Jones, Jr.
Jumpsucker Stable
Tonya Jurgens
Richard S. Kaster
Kathleen O'Connor Racing Stable
KatieRich Farms
Carol A. Kaye
Keene Ridge Racing
Kehner Thoroughbreds
Kenwood Racing
Gus King
King's Equine
Kinsman Farm
Kingswood Farm
Kirkwood Stables
Klaravich Stable
John Koenig
George Krikorian
LC Racing
LNJ Foxwoods
LRK Stables
Lake Star Stable
Lane's End Farm
Lawrence Stable
Le Beau Cheval Farm
Ledgelands
Tom Lemme
Let's Go Stables
Bruce Levine
Lizza Racing Stables
Andreas Loizu
Lone Star Thoroughbreds
Longvue Farm
Joege Wilberto Lopez
Terry Lovingier
Robert & Lawana Low
Matthew Lyons
Macahmer Hall
Michael R. Macey
Magic Carpet Racing
Magnolia Racing Stable
Kama Maharaj
Rebecca Maker
Maker Sales
Diane Manning
Maple Lane Farm
John Marceda
David Marshal
Jan Martin
Everardo Martinez
Robert Masiello
Mast Thoroughbreds
Don & Pam Mattox
Kathie Maybee
Bob & Mary Ellen McKee
John D. McKee
Joe McMahon
Ray Juarez Mendoza
Derek Merkler
Midwest Thoroughbreds
Mike Anderson Racing
Miklin Stables
Randy Miles
Mill Ridge Sales
Linda B. Miller
Mina Equivest
Ron Moquett
Fred Morgheim
Monmouth Stud
Mullholland Farm
Joe Mulholland
Mulholland Springs
Mystic Acres
NATO
N W Management
Thomas Nash
Michael Neatherlin
Paul Newhart
Newtown Anner Stud
Justin Nicholson
Nicoma Bloostock
Ralph Nicks
Nomad Farm
Nick Nosowenko
Off The Hook
Old Chapel Farm
Dennis O'Neill
Edward Ortiz
John C. Oxley
Oxmoor Sales
PS Farms
Paddock Proud
Paradise Farm
Paramount Sales
Bill Parcells
Charles Parker
Austin & Brenda Paul
Pegasus Stud
Ben Perkins
Steve & Barbara Perlick
Phillips Racing Partnership
Pick View
Picturesque Farm
Al Pike
Edward Plesa, Jr.
Premier Stables
Q Bar J Thoroughbreds
Quarter B Farm
Quinella Farm
RDZ Farm
RF HF Bloodstock
RJG Stable
R Marie Farms
Jake & Shelly Radosevich
Red Brick Farm
Cynthia Reese
William S. Reightler
Renpher Stable
Andrew Reynolds
Rhapsody Farms
Brian Rice
RiceHorse Stables
Dr. J. David Richardson
Ridgecrest Farm
John Rigattieri
Rigney Racing
Rising Sun Stables
River Hill Breeders Partners
Charles E. Robbins
Rockbridge Bloodstock
Rose Creek Farm
Rose Hill Farm
Rosemont Farm
Andrew Rosen
Roy Investments
Royal Bloodstock
Ruis Racing
Temple Rushton
Jerome & Kristina Russell
SJ Bloodstock
SJ Racing
Samotowka Stables
An Kyu Sang
San Pedro Estate
Jaciel Santos
Saratoga Glen Farm
Scarteen Stud
Kevin Scatuorchio
Matthew Schera
Jennifer & Byron Schunk
Leon Scott
Cecil O. Seaman
Second Chance Stables
Seidman Stables
James A. Shannon, Jr.
Shawhan Place
Sheffield Stable
Siegel Sez Stables
Jules Sigler
Marshall W. Silverman
Robert Simonick
Burton K. Sipp
Slash Ranch
Slow & Steady Stables
Smart Angle
Iris Smith
Smitten Farm
Gary P. Snoonian
William G. Snowden
Solis/Litt
Solera Farm
Southpace Properties
South Point Sales Agency
William S. Sparks
Speedway Stables
Spring Ridge Farm
Springhouse Farm
Springland Farm
Ed Stanco
Larry Steinberg
Stelly Stables
Sterling Racing
Beryl Stokes, Jr.
Stone Bridge Farm
Stone Ridge Farm
Stonegate Stables
Stonereath Farm
Stonerside Farm
Strait Pine Farm
Ralph Stroope
Sugarland Thoroughbreds
Summerfield Sales
Sunnyfield Farm
Sweet Briar Sales
Swilcan Stables
Sycamore Hall Farm
Michael Tabor
TIVIP
Taihei Stud Farm
Taylor Made Farm
Taylor Made Sales Agency
Team Orange stables
Team Stallion Racing Stable
Team Valor International
Nancy L. Terhune
Stella F. Thayer
The Four Horsemen
The Holly and Ivy Stable
The Kindergarten
The Poly Group
Jonthan Thorne
Thorndale Farm
Thoroughbred Acquisition Group
Top Hat Thoroughbreds
Top Line Sales
William Topping
Trinity Racing Stable
Triple T Ranch
Triumphant Trio
Stuart Tsujimoto
Tucci Stables
Ernest J. Tucker
Twin Willow Farm
Two Hearts Farm
Carlo Vaccarezza
Mark Valentine
Donald Valpredo
Richard Vega
Victory Rose Thoroughbreds
Vinery Sales
Philippe Vinh
Gary T. Vitro
Carolyn Vogel
Walking L Thoroughbreds
War Horse Place
John K. Warren
Warrendale Sales
Arthur Watson, Jr.
Wavertree Stables
Wayne Detmer Bloodstock
Weathering Farm
George Weaver
West Point Thoroughbreds
Keith Westrup
Whisperwood
White Cloud Bloodstock
Whitham Thoroughbreds
Christy Whitman
Seth & Rob Wikley
Willow Tree Farm
Willow Wood Stable
Tanner R. Wingo
Wintickett Farm
Bill Witman
David Wright
Xavier International Bloodstock
Steven W. Young
Michael I. Yovankin
Brenda Zietz

Contributions to the NTRA Legislative Action Campaign are
not
tax-deductible. Contributions as reported through September 30, 2016, with the exception of the 2016 Keeneland September Yearling Sale. Names will be added as new information is reported to the NTRA.